Eye-opening Clothing Ad Examples Research And Clothing Ad Tips Summary
Clothing Ad is a fiercely competitive market. How can it stand out among various apparel brands, quickly occupy the market, and gain users' love? Let's first look at the excellent clothing brand advertising case.
5 Winning Clothing Ad Examples: Successful advertising cases of outstanding clothing brands
1. VIO Store – Show specific clothing ad to specific people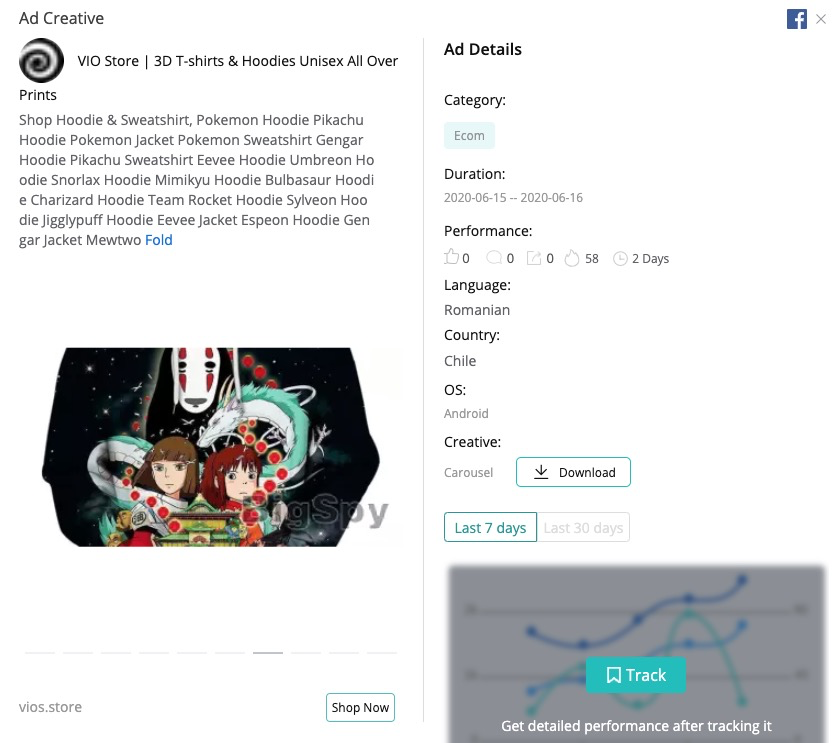 VIO Store is a clothing store featuring anime and games. This shop sells clothes, hats, masks, blankets, Tumblers, and other products related to anime and games. Every month, 50,000 users browse the VIO Store. Its main method of promotion is to place ads on social platforms. Through BigSpy we found that it mainly conducts advertising marketing on Facebook, Instagram and Pinterest.
Key points: The store positioning of the VIO Store is: Games and Anime T-shirts & Hoodies Unisex All Over Prints. VIO Store puts advertisements on multiple social media, the most important thing is to target a precise audience of game and anime fans. The more accurate the audience positioning, the higher the conversion rate of VIO Store. The less advertising costs.
There are many ways to accurately target audience users. BigSpy can spy competitors' audiences, and AdTargeting can find more accurate Facebook ad interest keywords.
2. De Nio – Fashion is the main theme of clothes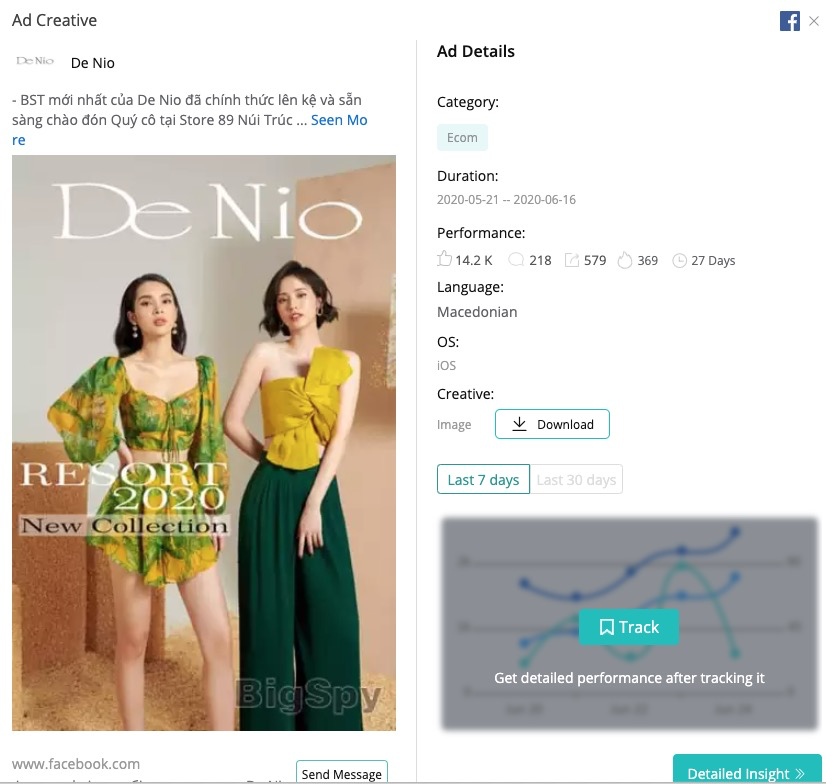 De Nio is a fashion women's clothing store, which is the ads it put on Facebook. This ad was launched from May 21, 2020 to June 16, 2020. In just 27 days, this ad received 14.2k likes.
With the progress of the times, clothing is not just a cold-proof item, more changes are: clothing represents the trend of fashion. Especially for women, buying clothes is more for beauty.
Key points: If your audience for clothing ads is for women, then an element that must not be ignored when designing advertising ideas is fashion. Reflect the design sense of clothes in the advertisement design, and grab the eyes of users with beautiful clothes. If you are in the novice stage of creative design, you can use BigSpy to find the most popular ads. And learn.
3. ZAFUL – dazzling pictures and clear prices
ZAFUL is a trendy women's clothing store that mainly sells summer dresses such as dresses and swimwear. Among them, the swimsuit of his family is welcomed by the majority of women. There are many videos on Youtube about online celebrities buying and trying on ZAFUL swimsuits.
ZAFUL mainly conducts advertising and marketing on Facebook and Instagram. Its advertising creativity is based on simple and elegant pictures, with bright colors of the pictures, which highlight the product focus. And marked the final price of each product.
Key points: ZAFUL's advertising pictures have bright colors and clear prices. In addition, the ad format of the carousel is adopted on Facebook, and multiple styles of clothes of the same type are placed to give users more choices. In addition to the diversity of clothes, large discounts are always an effective way to promote customer orders.
4. ANAYA by Kiran Chaudhry – Personalized advertising pictures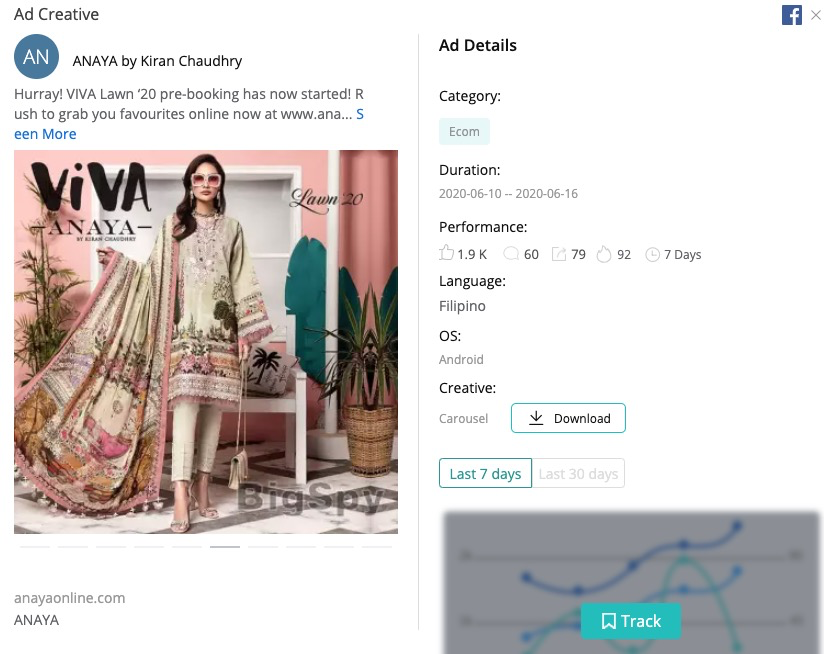 ANAYA by Kiran Chaudhry is a renowned clothing brand that offers premium fabrics to its customers. It focuses on luxury-style dresses and bridal skirts.
Key points: Personalized advertising design can make you stand out from a large number of ads of the same type. Most users do not like advertisements, but they will not hate beautiful advertisement design.
5. Hear Our Voice Store – Hunger Marketing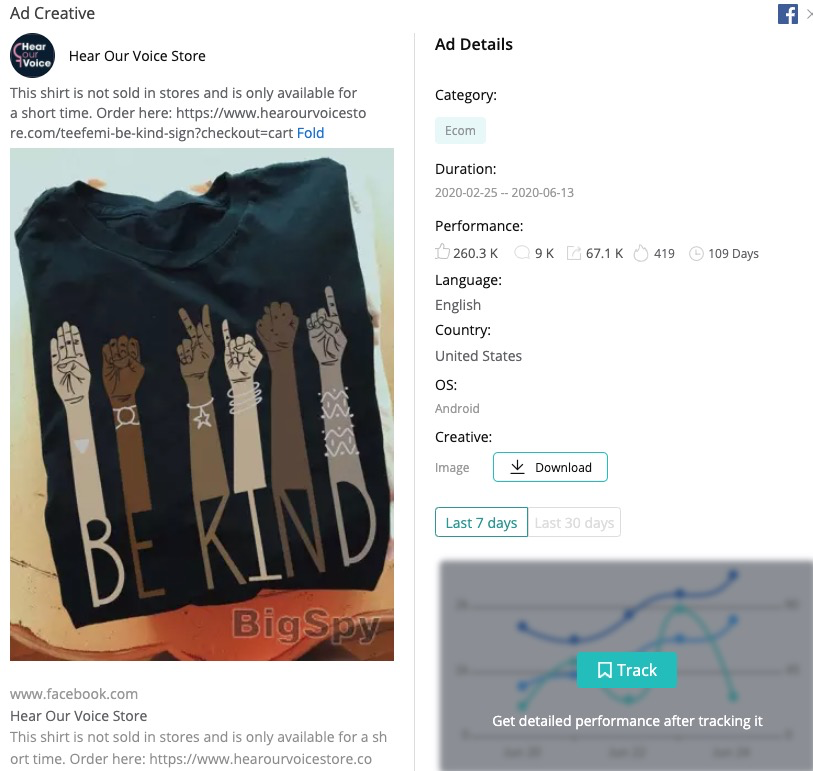 Although T-Shirt has a large market in clothing ads, everyone has a demand for a T-Shirt. But the T-Shirt is fiercely competitive in clothes sales advertising, because many newcomers will sell T-shirts as their choice to start the Facebook ad. So Hear Our Voice Store is not easy to succeed in this fierce market.
Hear Our Voice Store is a clothing store that uses fashion design to bring social justice and equality as its core value.
Key points: T-Shirt at Hear Our Voice Store is unique. These T-shirts are created by independent artists from all over the world. And for these unique T-Shirts, Hear Our Voice Store has increased its rarity in Facebook ads. Its advertising text is: This shirt is not sold in stores and is only available for a short time.
But in fact, this ad has been running for 109 days. Since February 25, 2020, this dress has been on sale. Hear Our Voice Store only uses a small number of clothes and a unique design to promote consumer consumption.
Examples of clothing ad sources:
BigSpy is a social ad spy tool. It can monitor 40 countries, 7 major social media, a total of 1 billion advertising ideas. It is also the spy tool with the largest creative database in the world. It can be used to help advertisers to achieve the best advertising ideas, analyze competitors' ad strategies. From BigSpy, I found the 5 most popular clothing brands in the past three months to help advertisers master the skills of clothing ads faster.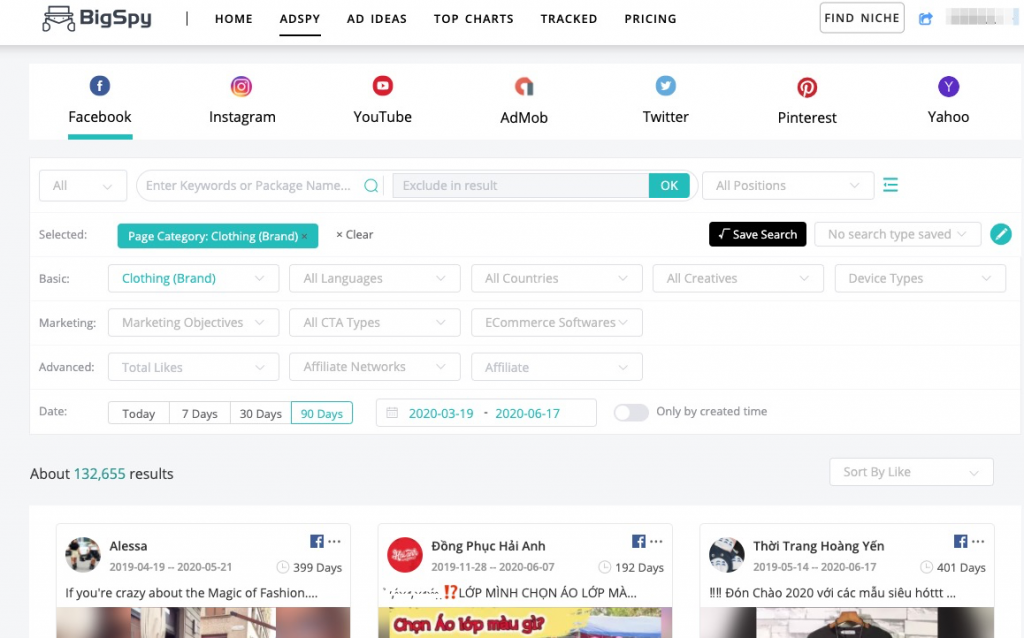 Summary of clothing ad methods:
1. The main social channels used to place clothing ad:
Facebook: Facebook is the most suitable social channel for placing clothing ad, because there are the most comprehensive audience users, a complete advertising system, and low advertising prices.
Instagram: Instagram currently has 1 billion advertising users, but his main user group is teenagers and some adults under 35 years old. Using Instagram, most of them like fashionable clothes. If your audience is the same as the Instagram audience, then you can start a clothing ad on Instagram.
Pinterest: Pinterest is a social platform established in 2010. It has more than 300 million users so far, but 80% of them are women. Pinterest is used by 30% of social users in the United States. Pinterest is dominated by young women. If your users are the same, then Pinterest is a good clothing ad platform.
BigSpy can monitor the ad data of the three advertising platforms Facebook, Instagram, and Pinterest adat the same time. If you want to know the industry advertising information, BigSpy can help you.
Links to related articles: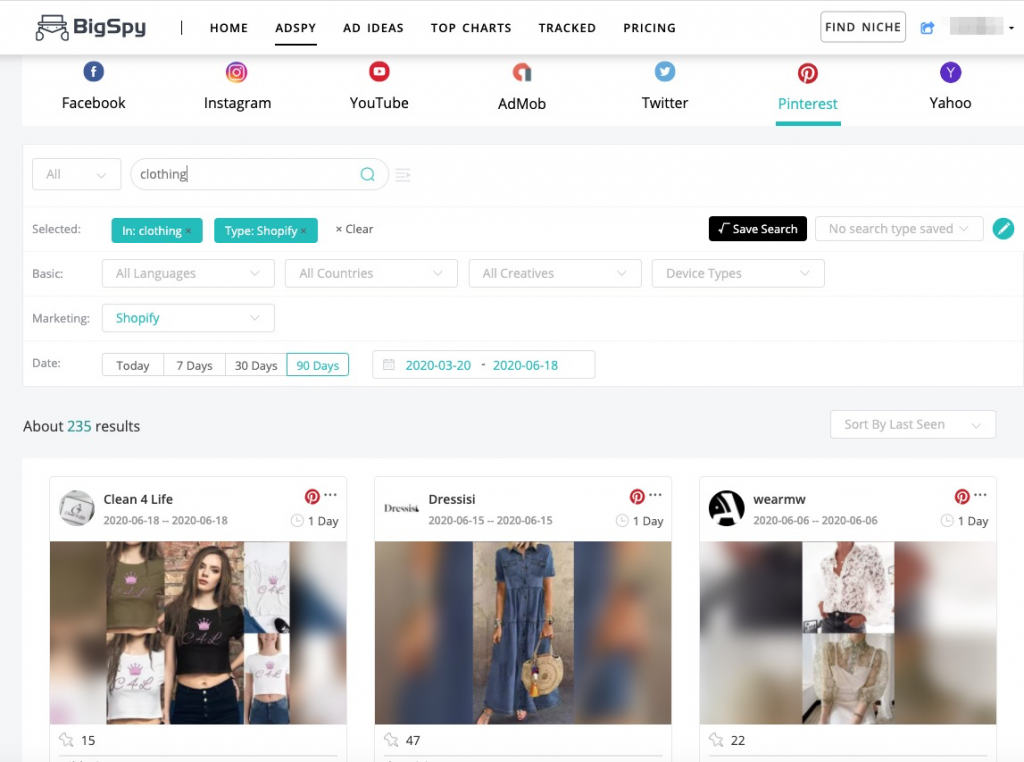 2. The best advertising format for clothing advertising ideas:
Video: Video helps users understand the product better and helps conversion.
Image: The picture is convenient and efficient for clothing advertisements. A beautiful picture of clothing can quickly attract users' attention.
Carousel: Displaying all related products in one ad can give users more choices.
3. Clothing advertising creative tips:
Quote: Marking the selling price or discounts on clothes can attract users, and a suitable quote can impress users faster.
Establish a connection between the product and the user: tell the user the value that this piece of clothing can bring to the user, or tell the user where to use it, which can give the user a sense of substitution.
Personalization: In today's increasingly transparent advertising, advertising creative needs to be updated faster. Use bright colors or beautiful picture backgrounds to quickly attract users.
Different audiences provide different ideas: to design different advertising ideas according to different user groups, you can spend less money to get more ad clicks.
The above is a summary of excellent case studies and skills for clothing advertising. Before starting your clothing advertising, the most important thing a new advertiser needs to do is to understand the market and understand the competitors. That BigSpy is the best tool, it can help you understand competitors and learn excellent advertising cases.