Magic Pinterest Competitor Ad Analysis – BigSpy
Pinterest is a social photo site. In April 2019, Pinterest went public. By 2020, Pinterest's monthly active users will reach more than 300 million. Pinterest is a marketing platform with great potential, because in the United States, although the total global advertising audience (male plus female) of Instagram is almost 6 times that of Pinterest, what advertisers can reach on Pinterest, age 30 There are almost as many women as there are people on Instagram.
Reasons for competitor analysis
More and more advertisers have discovered Pinterest, a thriving advertising market, where the advertising competitiveness is relatively low, and there are enough audience users. Before starting Pinterest advertising marketing, we have to analyze competitors on the Pinterest channel. Only with a detailed grasp of competitors' information can we make an optimization plan and achieve rapid success in Pinterest advertising marketing.
Pinterest ad analysis tool – BigSpy
If you want to analyze competitors' Pinterest ads, it is difficult to manually track down the data yourself, and the data is not accurate. Most advertisers often use ad spy tools to analyze competitors' ads. At present, there is very few ad spy tool for Pinterest channels on the market. Here I recommend a magic spy tool – BigSpy.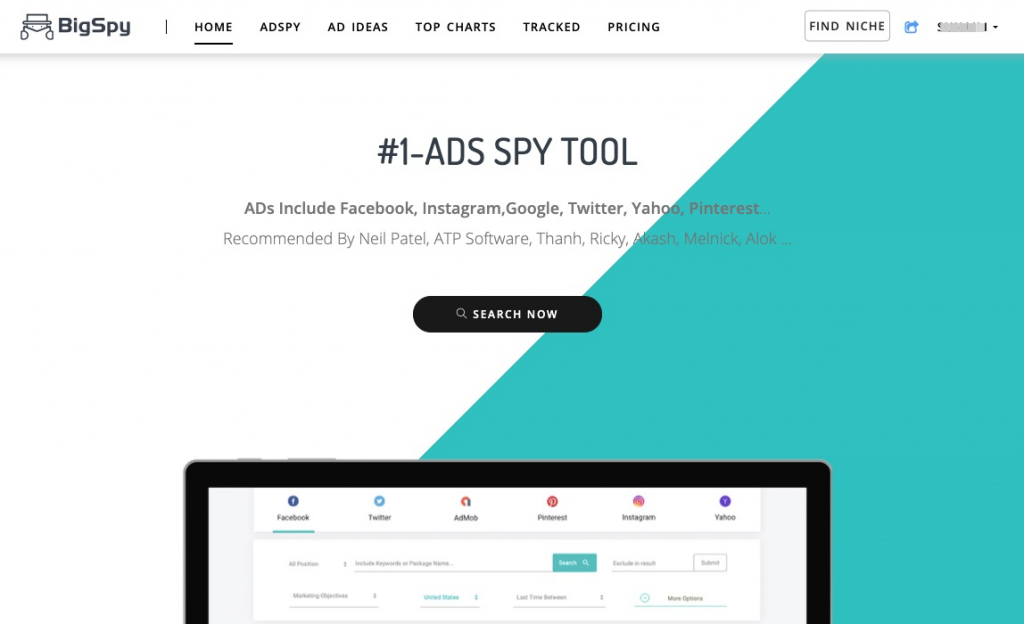 BigSpy is a tool developed for advertisers and media purchases, ad design, and ad agencies. It can currently monitor advertisements in 40 countries, a database of more than 1 billion advertisements, and millions of advertisements per day. increase. It not only helps advertisers find competitors 'ads, but also analyzes competitors' advertising trends.
It will analyze the account ads of your competitors on Facebook, Twitter, Youtube,Admob, Instagram, Yahoo, and Pinterest. And it has been adding more social channels to help advertisers analyze competitors' ads.
Today, we mainly talk about Pinterest competitor ads analysis. Through BigSpy advertising data analysis, we can see that Pinterest ads can also choose the type of Shopify and COD according to our needs, or choose different countries according to our needs. Time screening, etc.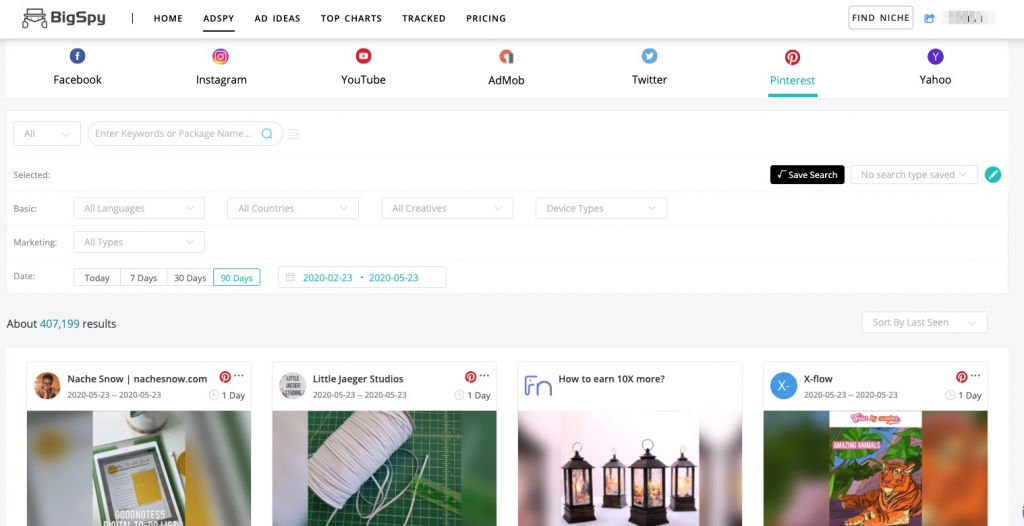 These features greatly facilitate the timeliness of our spy Pinterest ads, and then study our competitors, imitate their ads, or multiple channels to study the types of competitors' advertising channels.
Of course, if you are satisfied, you can also click on the corresponding ad according to the product you choose, and then download the image or function.
The above is BigSpy's Pinterest ads competitor analysis function, you can register and experience, if you feel very satisfied, please don't forget to share it with your colleagues and friends.
How to use BigSpy to analyze competitors' Pinterest ads?
1. Search competitors' Pinterest ads
Open the adspy section of the BigSpy website and click on the "Pinterest" channel. You can see an ad search box, 6 advanced filtering methods, and 3 sorting methods. To find a competitor 's advertisement, just enter the competitor 's username. If there is no clear competitor, and the main focus is on market research, then enter the main product words.
For example: I want to find the best Shopify store in the recent period, I need to set the Marketing type to "Shopify", the time to "Last 30 days", and the sort type to "Sort by Pin" I get the following result: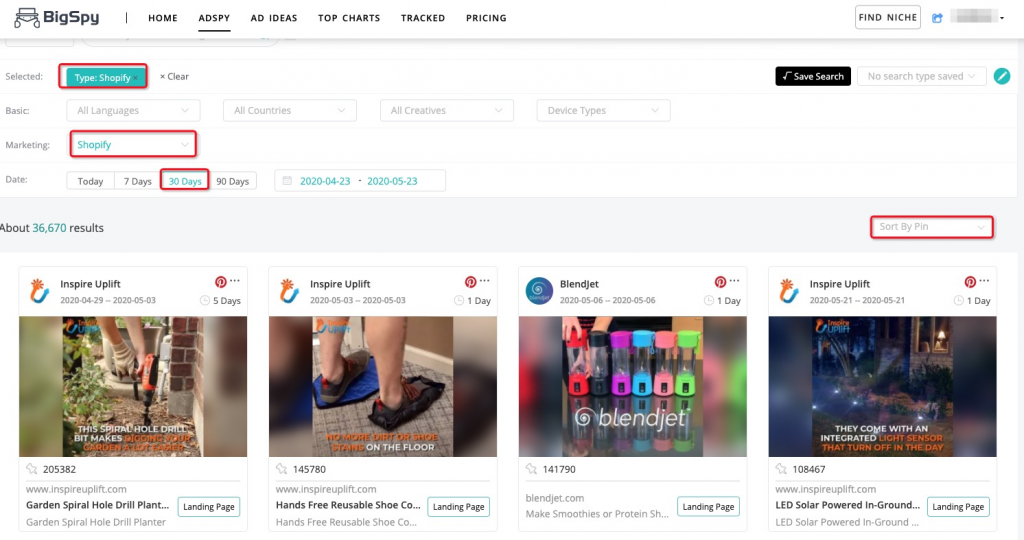 I found that the advertiser named "Inspire Uplift" is most liked by users. I use this advertiser as a competitor. Select any of the advertiser's ads, click "search" in the upper right corner of the ad, you can view all of the advertiser's ads.

2. View competitors 'creatives
After finding the competitor's creativity, we need to analyze its advertising points. E.g: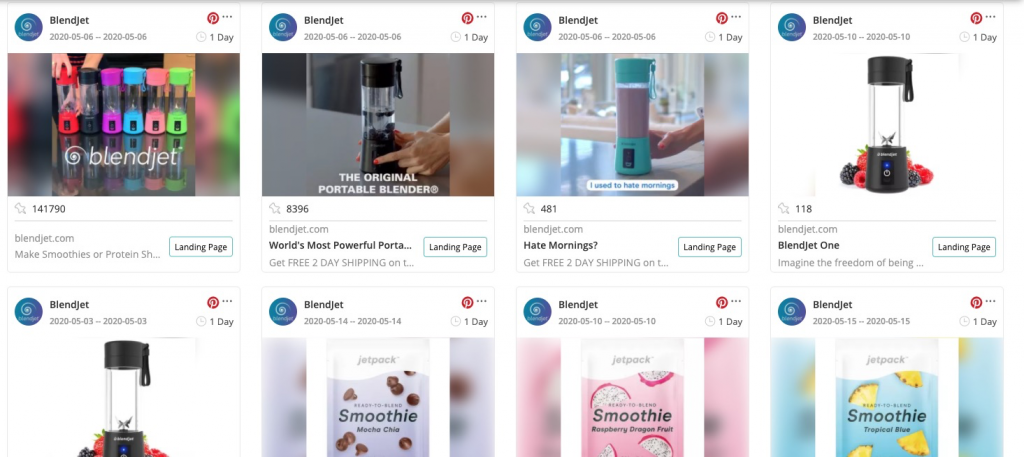 Advertising time: Most ads are only served for 1 day, and the same type of ads are served at the same time.
Creatives: All choose to use images as creatives, the same type of creatives are served together, and the difference between creative content is not big.
Advertising copy: The advertising copy succinctly introduces the function of the product, and explains that the product can be delivered for free within the last 2 days, giving users a sense of urgency to buy quickly.
CTA type: CTA also uses "Landing Page"
3. Analyze the advertising audience
Clicking on the details page of each ad, we can see the basic information of this ad, for example: the time of the ad, the country where the ad is placed, the number of pins the ad creative gets, etc.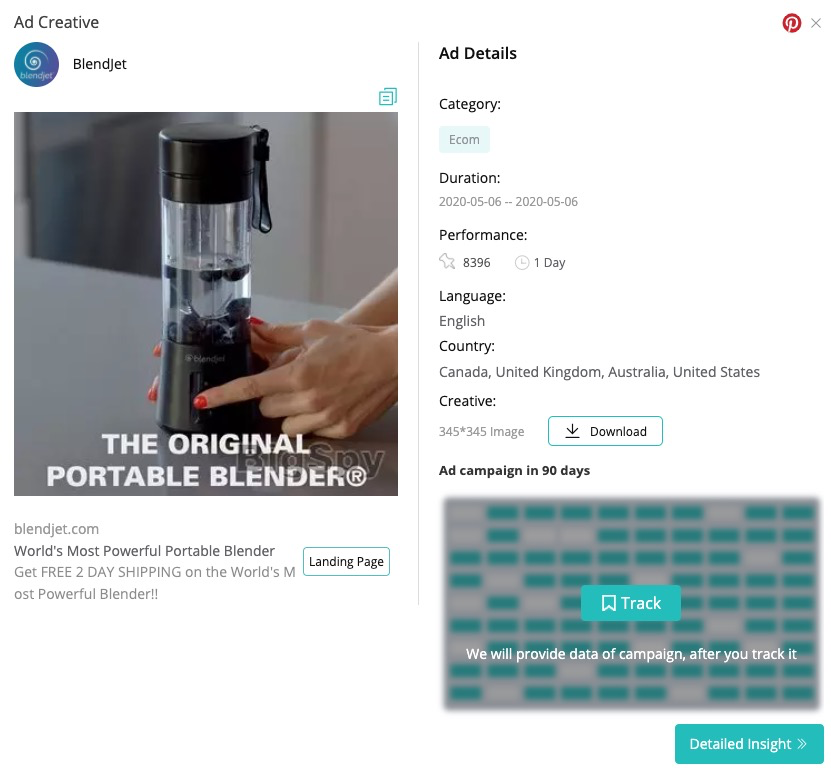 Click "Track" in the picture above, we can track the change of this advertisement at all time. Click "Detailed Insight" in the lower right corner, we can see the analysis data of the excessive audience. Including the age of the audience, gender ratio, and the proportion of the country.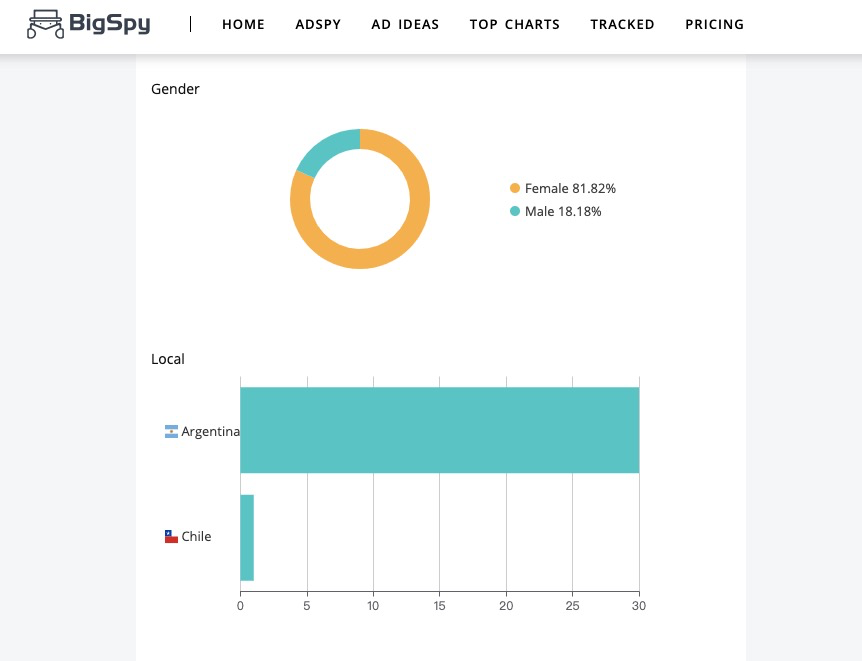 4. Learn the advantages of competitors
Bigspy provides you with Pinterest market analysis, feature ads. Of course, this is not just a competing ad. We can see how good ads are done from advertisements. What is their creativity?
These advertisements are a reference for us. If we are advertising, can we have such ideas, can such creative advertisements attract users 'attention, clicks, and conversion rates?
By analyzing competitors 'Pinterest ads, we can learn excellent advertising cases, find new creative ideas for advertising, compare competitors' audience positioning, and improve advertising effectiveness.