#1 YouTube Video Ads Spy Tool
BigSpy, also known as the YouTube ad library or finder, can help YouTubers, marketers or advertisers gather the best YouTube ad examples to create a more effective marketing strategy.

Want to boost your business with YouTube video ads? Sign up NOW to research & see competitors' YouTube Ads.
Start for Free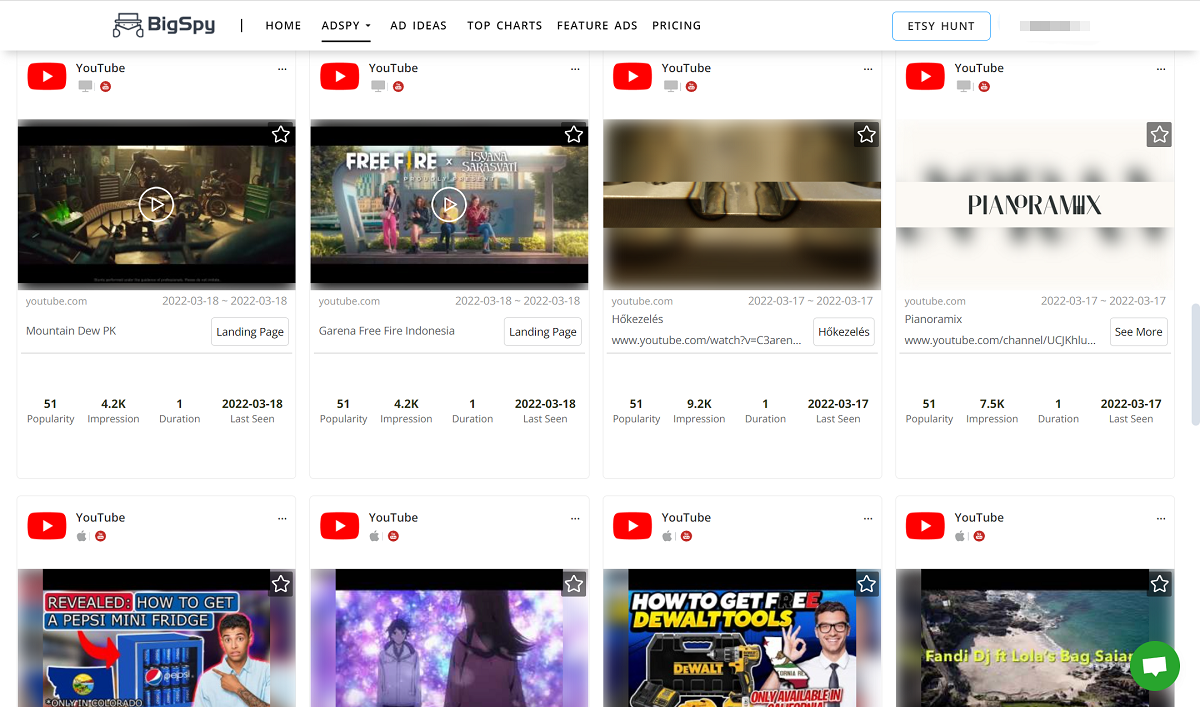 Top Features of Our YouTube Video Ads Library
01 Youtube Ad Finder
Find & See Competitors YouTube Ads

YouTube is the most popular video sharing platform in the world, with thousands of new videos uploaded every minute. Generally speaking, the way you can dig up competitors' ad creatives is to wait or search on YouTube. But that's too time-consuming!

BigSpy can help you reduce your time significantly, especially if you are a player in the e-commerce, gaming or app industry.

Just enter a keyword or advertiser name, you can know what ads your direct competitors are running, or find as many relevant video ads example in similar areas as possible. Even better, you can see the history of these YouTube ads by using the advanced search.

In YouTube marketing, it is crucial to understand your competitors' strategies. BigSpy will be your best YouTube ad finder.
Search Now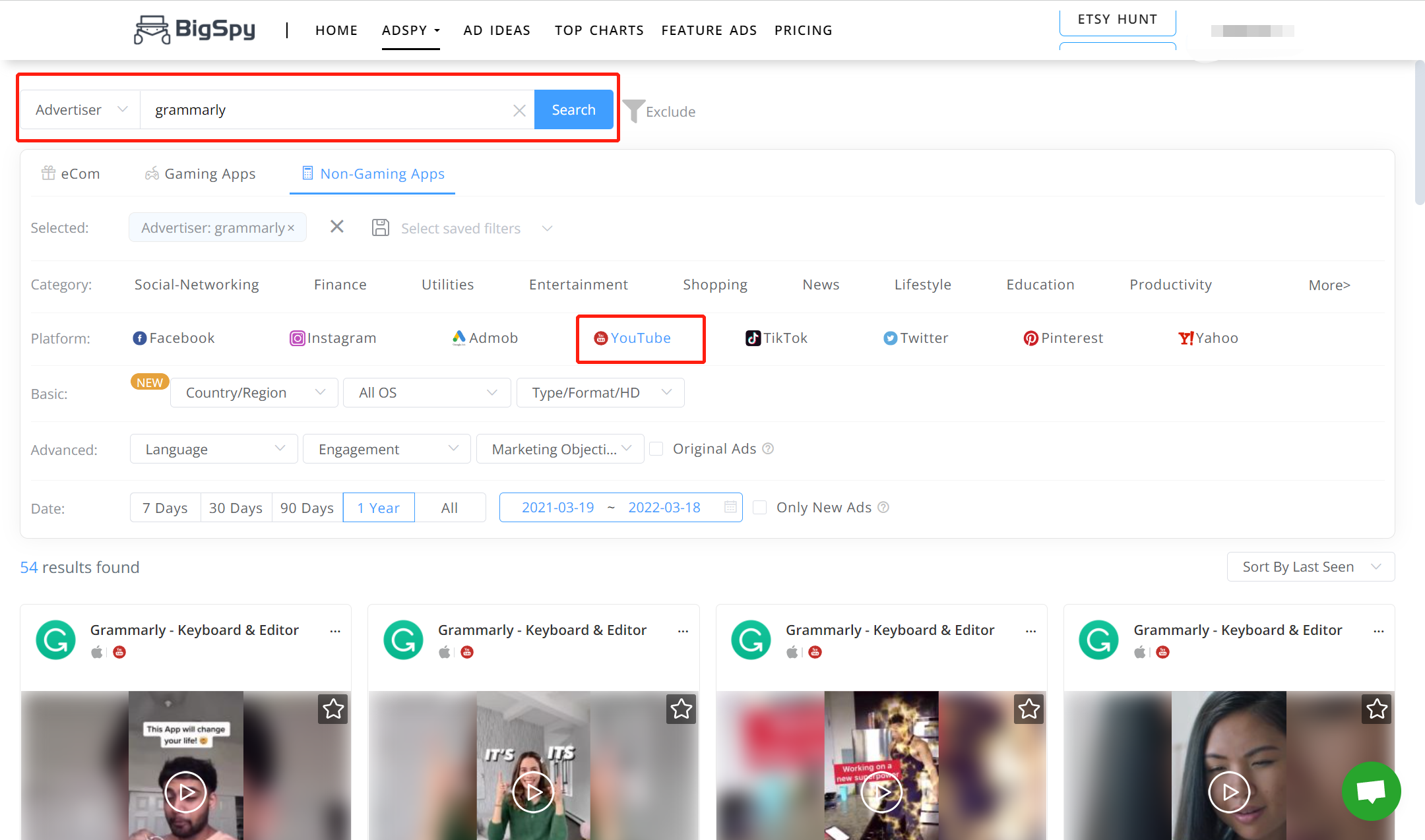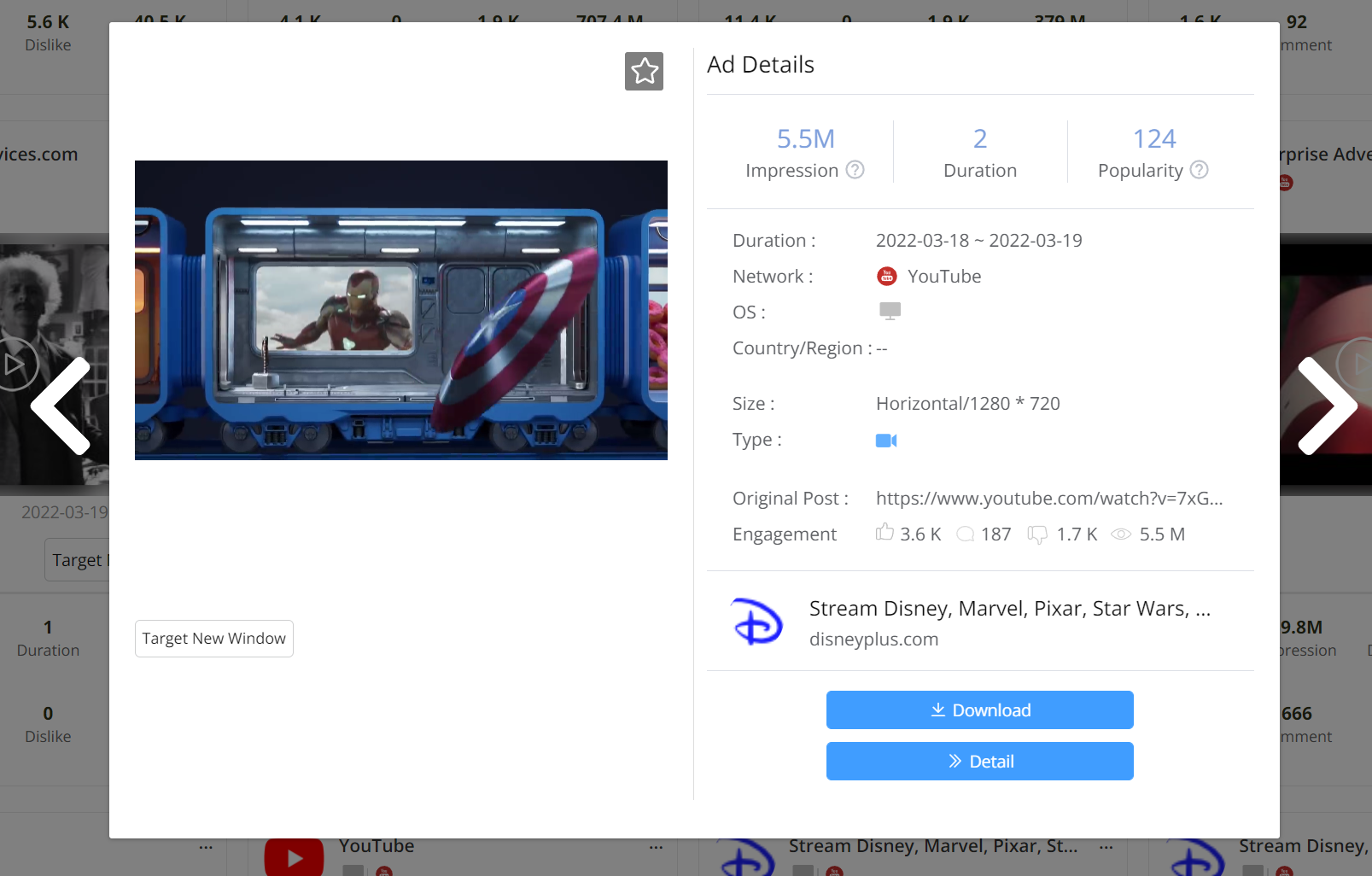 02 Youtube Ad Library
Discover & Track Best YouTube Ad Examples

When you think "best ad examples", you think Facebook ad library, right?

So, it seems obvious that if you're running YouTube ads, you should also consider a YouTube ad library that can help reveal the secrets to winning ads.

However, YouTube only have a YouTube Leaderboard showcases the best ads that people choose to watch each month.

Fortunately, BigSpy has an ad library for Youtube. Similar to Facebook ad library of BigSpy, you can look at different types of YouTube ads, see how they perform, and use the information to create your own high-performing ads.
Check Now
Spy on Your Market's Best YouTube Ads Now!
FAQ
Frequently Asked Questions
1. About YouTube Ads Spy
The YouTube spy tool can be thought of as a searchable library. This library houses ads that are currently running on YouTube as well as ads that have been launched. With the help of this library, you can dig deeper into information such as ad copy, targeting audience, landing page, offers and more.

Tips: The best way to dig into your competitor's YouTube marketing strategy is to rely on a YouTube Ads Spy tool.
When it comes to winning YouTube ads, YouTube ad creatives is often the most important factor. Naturally, to determine if a spy tool is right for you, you need to know the number of ad creatives and filters. With data covering 80 countries and 23 languages, and updated daily, BigSpy is the top spy tool on the market.

In addition, BigSpy not only showcases the current popular ad creatives, but also track exclusive ad campaign that advertisers may have missed. So, whenever you want to promote your business through YouTube ads, BigSpy can provide you a massive amount of real ad data!
YouTube's spy tool is powerful, but it's not perfect.

If you want to implement a content strategy that gets more views and shares, you must identify certain metrics to measure, such as
- How many impressions an ad gets before it's considered popular?
- How long an ad runs is considered a successful ad creative?

Also, if you are unfamiliar with YouTube's competitor analysis or are just getting started, you should first learn about YouTube ads.
2. About YouTube Advertising
As part of Google, YouTube ads operate through the Google Ads platform. Most YouTube ads are displayed as YouTube videos, and some ads may be overlay banner ads or audio ads. For marketers, YouTube advertising is an important part of their marketing strategy.

They can set up different ad groups to reach more users based on their viewing behavior and search history. Meanwhile, they can choose the best one from the following ad formats.
- Video discovery ads: The ads are displayed on search results page or appear as relevant videos on the main YouTube video page.
- Skipable in-stream ads: The ads can be closed after five seconds.
- Non-skippable in-stream ads: The ads play before, during, or after the video, but the viewer cannot skip them.
- Bumper ads: The ads play before the video selected by the viewer and must be less than 6 seconds in length.
- Overlay ad: The non-video banner ad pops up during a video .
- Responsive display ad: The ad appears in the right sidebar above the suggested video listing.
When setting up a bidding strategy, you will have four options: Maximum CPV (cost-per-view),Maximum CPM, Viewable CPM(cost-per-mille), Target CPA (cost-per-acquisition), Viewable CPM (cost-per-mille). In most cases, advertisers bid by CPV. According to Statistics, the average CPV for display ads is about $0.30, while the average CPV for search ads is about $0.10.

Tips: The actual YouTube ad cost will depend on your strategy, target audience, and your video.
To run a YouTube Ad follow the simple steps:

Step 1: Login to your YouTube account, upload your video ads to YouTube and fill in the title, description and tags of your video.

Step 2: Go to your Google Ads account and create a new campaign. Then, under the campaign type, click on "Video".

Step 3: Configure your campaign. Here, you need to set the campaign name, daily budget, start and end date. Next, set the locations where you want the ads to appear, including networks (YouTube search results/YouTube videos/video partners on the Display Ads Network), countries and languages. Finally, set up the types and tags for content exclusions and exclusions.

Step 4: Select your target audience. Define it by options such as gender, age and fertility status on the one hand, and by keywords and topics on the other.

Step 5: Input the YouTube link of the video ad and select the video ad format as well as the URL, CTA and title.

In addition to mastering how to run ads, you must also refine your YouTube channel:
- Make sure visual branding and descriptions have been optimized.
- Make sure the basic brand introduction video has been uploaded.
Our All-In-One Solutions
---
The best and cheapest ad spy tool, with competitive Ads intelligence from 80 countries and 23 languages, covering 7+ social platforms