6 Effective Ways To Make Weight Loss Ads Work Better In 2020
Want to stand out among many weight loss advertisements? Is it just spending a lot of advertising budget to put weight loss ads at will? Today we are learning weight loss ad techniques through detailed data analysis. First of all, we need to understand the market for weight loss advertising.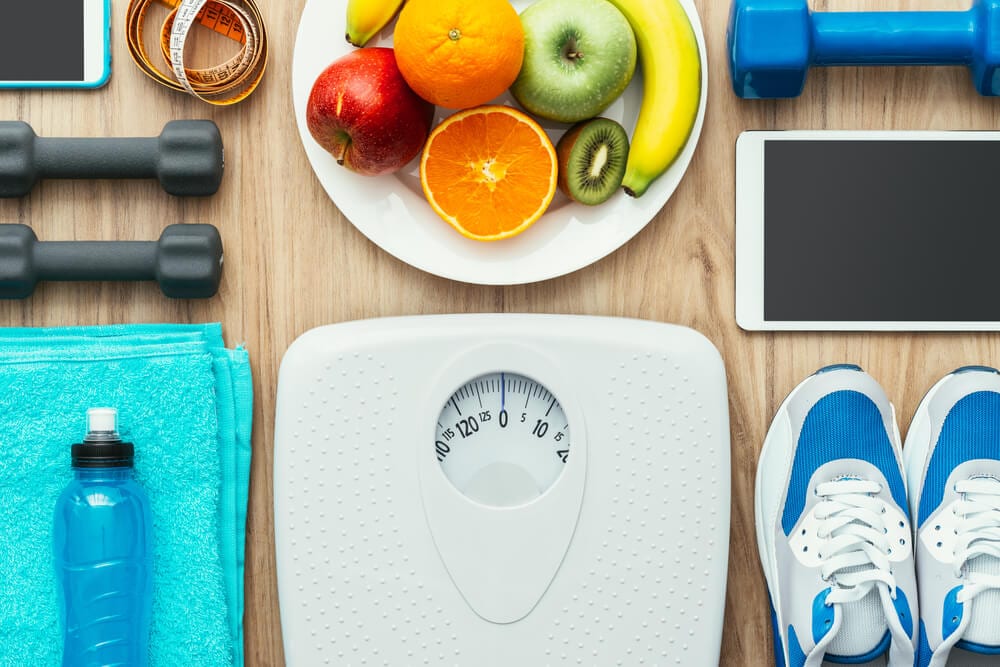 Obesity is an invisible health killer. With the improvement of living standards in modern society, people are paying more and more attention to healthy living, and the requirements for physical fitness are getting higher and higher. There are more and more people who need to lose weight.
The weight loss market is huge. According to the latest statistics, the global obesity population has risen to 1.696 billion in 2020. 49% of people in the United States want to lose weight. Every day, the total cost of weight loss in the United States exceeds 100 million.
There is still a broad market for weight loss. At the same time, the competition for weight loss ads is fierce. With the development of high technology, a variety of weight loss products and methods have emerged. How to effectively promote these methods and let more users accept us?
Here we introduce 6 effective methods to understand from multiple angles to help advertisers better carry out weight loss ads.
1. Find a suitable online platform for weight loss ad:
There are many online platforms that can be used for advertising, such as global search engines like Google, and social hegemons like Facebook. Which platform is more suitable? I use BigSpy to analyze.
BigSpy is a multi-channel ad spy tool. I searched for the keyword "weight loss" on BigSpy and got the following results: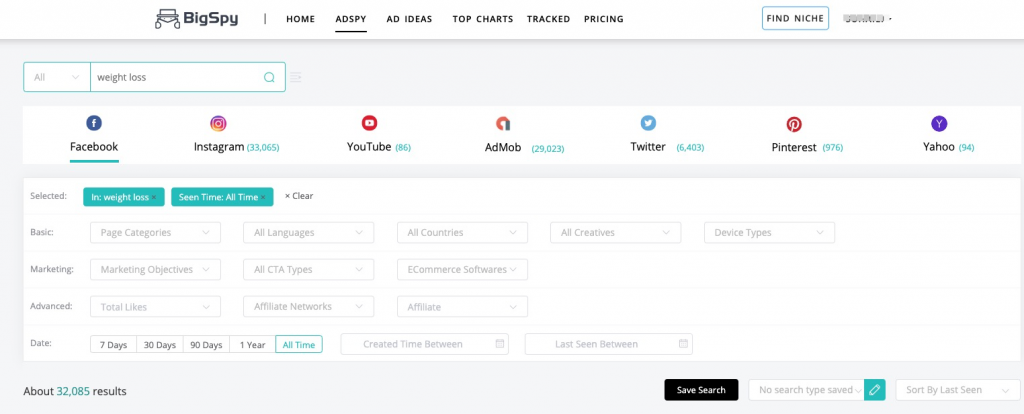 Facebook
Facebook is the largest social network platform, displaying 32085 recent ads related to weight loss on BigSpy. The creative types of advertisements related to weight loss are mainly videos and pictures. Facebook has a variety of promotion methods, and can accurately locate users and cover them across platforms. The placement of weight loss ads on Facebook is the right choice.
Instagram
BigSpy shows that Instagram is also a major platform for weight loss advertising. In the last 3 months, there were more than 7,000 weight loss advertisements on Instagrsam. Because Instagram and Facebook ads can use the same advertising management system, we found that the advertising materials of these two platforms are partially similar.
Youtube
There have been 86 video ads related to weight loss on Youtube in the last 3 months. Youtube is a search advertising platform, advertisers can place video ads under specific keywords. Accurately achieve advertising, let users in need understand the product.
Pinterest
On BIgSpy, we saw that there are 716 weight loss-related image advertisements on Pinterest. Because Pinterest is a platform where women are the main users, the advertising creativity here is more biased towards women, and women pursue higher body management, so Pinterest is also A suitable weight loss ad platform.
Through a simple comparison of the above platforms, we can find that Facebook and Instagram are the most suitable weight loss ad platforms, and they are also highly competitive ad platforms. In addition to the above channels, we can also compare more ad platforms from BigSpy. After choosing the right ad platform, we began to produce eye-catching advertising ideas.
2. Attractive weight loss ad creative:
Weight loss is a particularly strict part of Facebook when accepting or rejecting ads. Fortunately, Facebook's advertising policies clarify acceptable and unacceptable content.
When making Facebook ads, we must first learn the image requirements of Facebook for weight loss ads. Facebook clearly prohibits the use of pictures before and after weight loss. In addition, you can't use unrealistic pictures on Facebook to avoid the wrong perception of users. Therefore, we have to learn excellent advertising cases from the ad spy tool.
Here, I found three excellent common advertising creative types from BigSpy for everyone to learn.
Image ad format
Although there are multiple ad formats on Facebook, images are still the main creative type. The production of pictures is simple, and pictures can vividly express and publicize the core value of the product. A beautiful picture can quickly catch the eyes of users. In addition, advertisers can use multiple pictures to do A/B testing to find the best advertising ideas. The picture creativity of weight loss advertisements is positive. Because the market is full of false propaganda, advertisements mainly make users feel that the product is safe and reliable through advertising content, so that users can generate trust and positive power.
Successful examples:
Trim Down Club provides a healthy recipe to help users lose weight. The weight loss method it uses is safe and healthy, making more users believe that this recipe is a reliable way to lose weight. This ad was launched in December 2019 and received 26.2k likes after 124 days. It shows users the main food in the recipe for weight loss. It looks delicious and low-fat.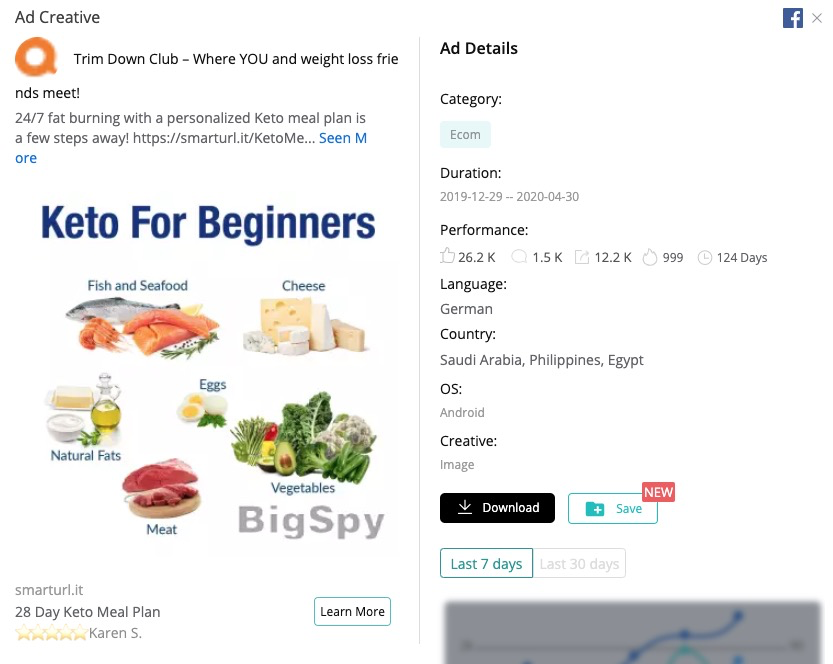 Video ad format
There is no advertising content, which can impress users more than recording real successful weight loss cases with videos. Video can show more details of advertising, and it can also give users a deeper understanding of the brand and products, and a higher conversion rate.
Successful examples:
On BigSpy, we saw a video ad about weight loss: Lei used to be an obese patient, because of obesity she had diabetes and heart failure. Tormented by illness, she considered going for weight loss surgery, but the doctor recommended a low-fat vegetarian diet to her. Now she has succeeded in losing weight through food, and her illness has also improved.
There are very few marketing advertisements for this advertisement. It is more about introducing users to weight loss methods. This advertisement received 24.9k likes in 183 days.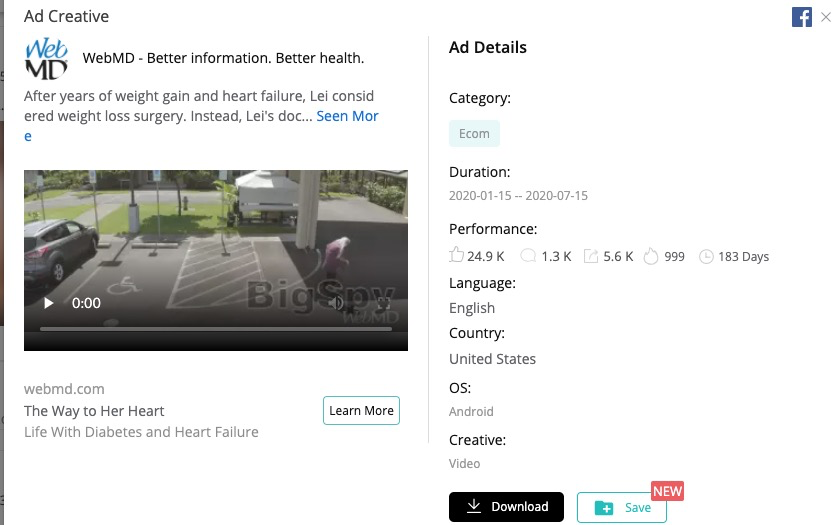 3. Weight loss ad copy:
Excellent and successful advertising copy is the key to the conversion of weight loss advertising users. A good copy can impress users with advertisements, generate emotional resonance, and achieve the purpose of sales! The ad copy can also cover the features and functional uses of the product, as well as its extended functions, emotional significance, etc.!
Learn how to write advertising copy and improve the conversion rate of weight loss advertising. Here are the tips for weight loss advertising copywriting:
Facebook advertising requirements: Do not include content that implies personal attributes, such as a person's race, gender, medical condition (physical or mental), disability, etc. This means that advertisers must be creative when writing ad copy to avoid suggesting users who are losing weight.
Encouraging weight loss advertisements are what users like. Weight loss is a long and boring process. Encouraging advertisements can bring confidence to users.
In addition, you can also use exclamation marks and some emojis to narrow the distance between the ad and the user.
Build your product into a professional brand to provide users with more professional suggestions. Using scientific methods to provide reasonable suggestions makes it easier to gain the trust of users.
E.g:

Title: 28 Day Low Carb Meal Plan

Body: Credible advice from a certified dietitian
If you still don't know how to write a suitable advertising copy, you can come to BigSpy to learn. BigSpy can provide you with excellent ad copy case studies.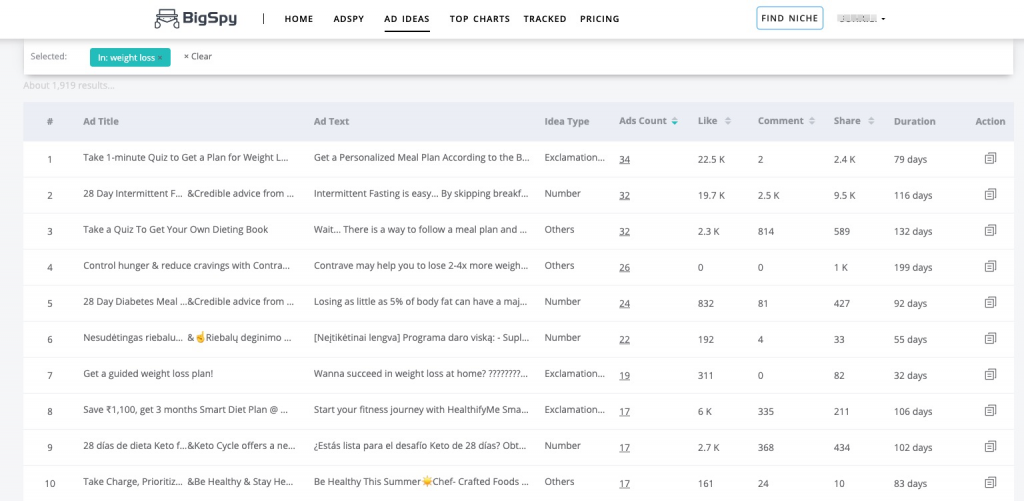 5. Weight loss ad audience:
The positioning of advertising audiences is crucial to weight loss advertising marketing, because accurate audiences can directly increase the ROI of advertising. There are many ways to target audiences, but the three basic methods are:
The scope of targeted advertising is the basis of advertising targeting. Different products have different specific service areas, and it is basic to set the advertising location of products. Here, you can use BigSpy to check the countries where your competitors are advertising.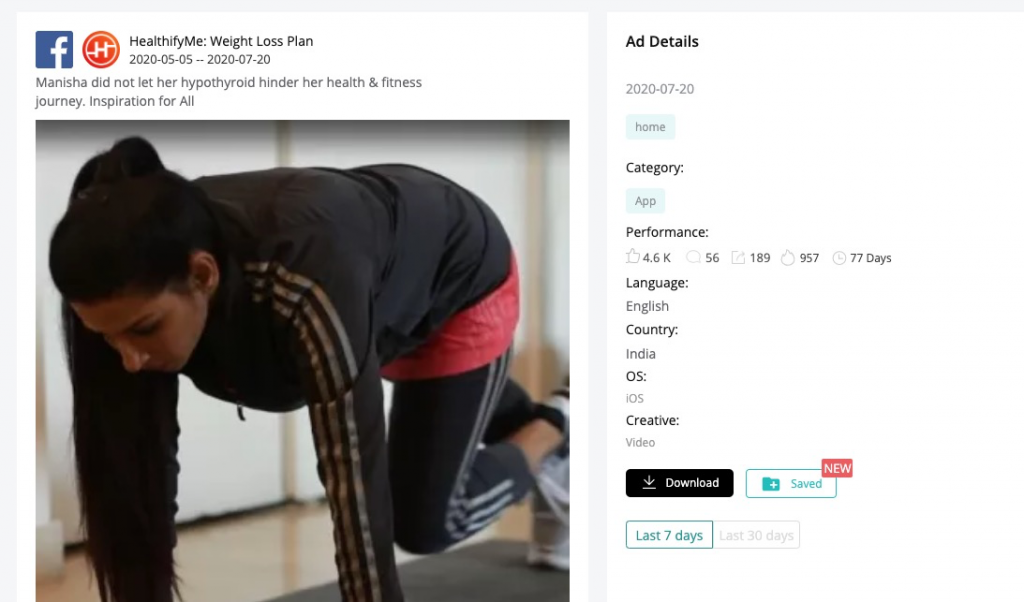 Population information targeting:
The main tags of population attributes include age, gender, education level, income level, etc. Basic demographic information is the prerequisite for accurate audience positioning. Advertisers can obtain accurate demographic positioning information by analyzing competitors' audiences.
Behavioral targeting is a very important targeting method in display advertising. Its framework is to understand user interests based on the user's historical visit behavior, so as to deliver relevant advertisements. Using interest to target audiences is an effective way to accurately target audiences. Although Facebook will recommend some general weight loss interest words, it is not accurate enough. I use AdTargeting to find more interest keywords hidden by Facebook.
Through the Facebook interest targeting tool, we can find hundreds of keywords related to weight loss. We need to classify these keywords and then target audiences with different interests.
I usually divide interests into 4 categories:
General weight loss interest keywords:
Weight Loss (Fitness & wellness)
Fitness Tips
Diet-related weight loss:
Low-carbohydrate diet
Low-fat diet
Exercise-related weight loss:
Sport & Fitness
Physical fitness
6. Weight loss ad landing page:
Each channel advertising platform also has requirements for landing page design. Therefore, when making landing pages, avoid exaggerated advertising and marketing. Usually, the advertisement landing page link is set to the website corresponding to the product. Most advertisers will set the landing page link as the homepage of the website, which is actually unreasonable. We should set the website link as the product detail page, or redesign a product advertising landing page for the product. BigSpy can monitor the creative link of each advertisement landing page, and you can use BigSpy to view more landing page designs.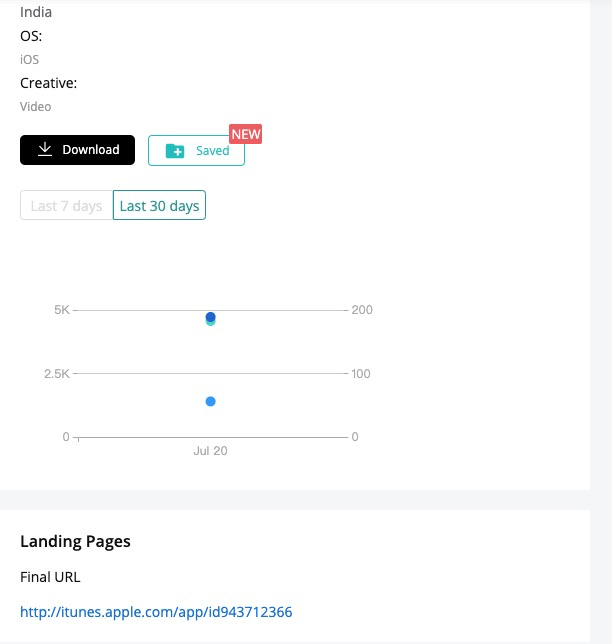 7. Weight loss ad costs:
Advertising bids and budgets directly affect advertising exposure. If you want to accurately grasp Facebook advertising bids, you must collect relevant cost information in many ways, and extract important information for key analysis.
I usually use Adcostly to analyze the bidding strategies of weight loss ads in different periods and different countries. For example, the CPM bids in the United States in the last 30 days show a trend of first increasing and then decreasing. According to the overall trend, the CPM bid for weight loss ads should be lowered.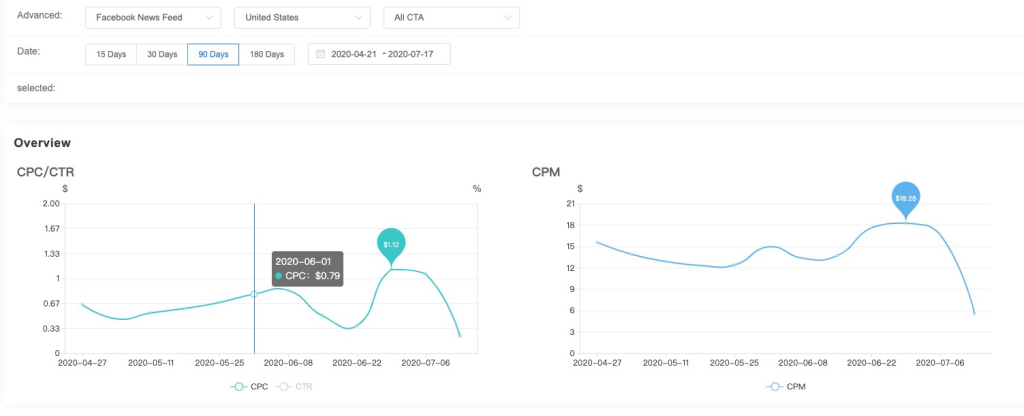 The above are 6 effective ways to help advertisers improve the effectiveness of weight loss advertising in 2020. This method analyzes the optimization methods of weight loss advertising from 6 aspects: advertising channels, creativity, copywriting, audience, landing pages, and costs. At the same time, using efficient ad tools can help us achieve the maximum benefits of advertising faster.