3 Turbo Ad Finder Alternative Chrome Extensions
Turbo Ad Finder is a free chrome extension. It can be used to intercept ordinary posts on Facebook and only keep Facebook ads. Turbo Ad Finder was well-known to users in 2017, and now there are more than 20,000 registered users. However, this tool has not worked since 2019. Below, according to the nature of Turbo Ad Finder, I recommend the 3 best Turbo Ad Finder alternative chrome extension tools.
What is Turbo Ad Finder?
When we usually watch the newsfeed on Facebook, there are advertisements and normal friends posting. After using Turbo Ad Finder, it can completely block normal posts and display only recommended ads.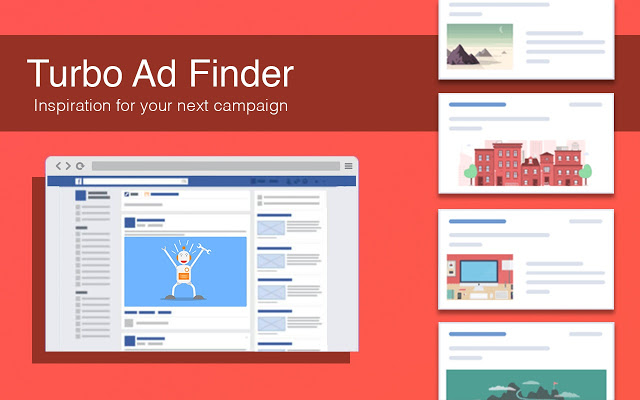 Features of Turbo Ad Finder:
Turbo Ad Finder is very easy to use, just download and install the extension, click the switch button, you can see that there are only Facebook ad posts on Facebook. This tool can help advertisers do the following:
1.Analysis of competitors' advertising trends:
Advertiser's Facebook news center will definitely have many competitors' advertisements. By comparing the advertisements of various competitors, we can clearly see the industry's changing trends. In addition to analyzing competitors' advertising trends, we can also discover a new niche and follow them.
In constantly refreshing recommended ads, find the best ads.
3. Looking for creative inspiration
Good creative inspiration comes from learning. When constantly observing and comparing other people's excellent advertising cases, it can help advertisers find creative inspiration.
Why Turbo Ad Finder not work:
Until now, the creators of Turbo Ad Finder have not explained how the tool suddenly stopped working. This tool was suddenly removed from the chrome store and no longer works. The producer has been trying to restore the tool, and now Turbo Ad Finder has been back online in the chrome store, but the tool cannot be used.
The reason why Turbo Ad Finder can no longer work is due to Facebook's adjustments to its advertising strategy. Because in 2018 and 2019, several Facebook ad tools that are well known by users have stopped working one after another. Facebook itself has launched the ad tools, Facebook Ad Library, which gathers the creatives that are being delivered.
Limitations of Turbo Ad Finder:
This tool is convenient, but it is undeniable that this tool has great limitations. Because it will only show your ads in newsfeed. When each ad is placed, it will target the audience suitable for the product, and the performance of your Facebook account will affect the ads displayed to you.
Due to the limitations of the product and this tool no longer works, here are the three most suitable chrome extensions for Turbo Ad Finder that I have used.
3 Alternative Turbo Ad Finder chrome extensions:
1. BigSpy
BigSpy has two forms: website and chrome extension. BigSpy is an upgraded ad finder tool of Turbo Ad Finder. Because BigSpy is already a mature ads spy tool. BigSpy has a total of 1 billion advertising databases. On BigSpy, advertisers no longer find recommended ads by themselves. You can find any ads you need by searching and filtering. And you can also analyze competitors' advertising strategies by analyzing advertising data.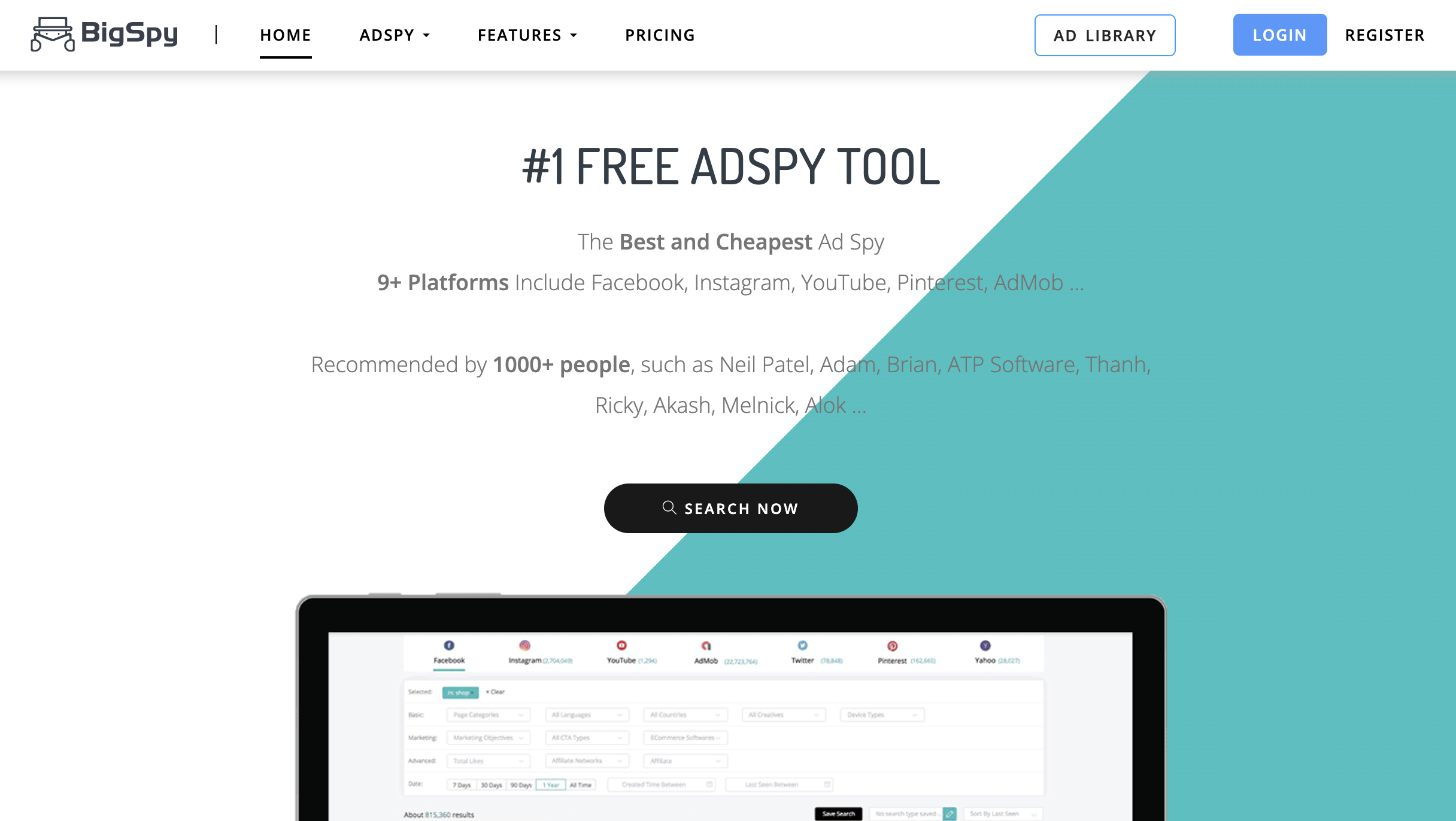 BigSpy is not just an ad finder tool, it can also be used to:
Discover the most popular creatives
Download creative
Find creative inspiration
View competitors' advertising strategies
Track competitors' advertising channels, advertising time, audience, geographic location, etc.
Landing page analytics
Analyze the best advertising copy
find a niche and Shopify ad case study
find affiliate ad
find people tracked ads and save you like ads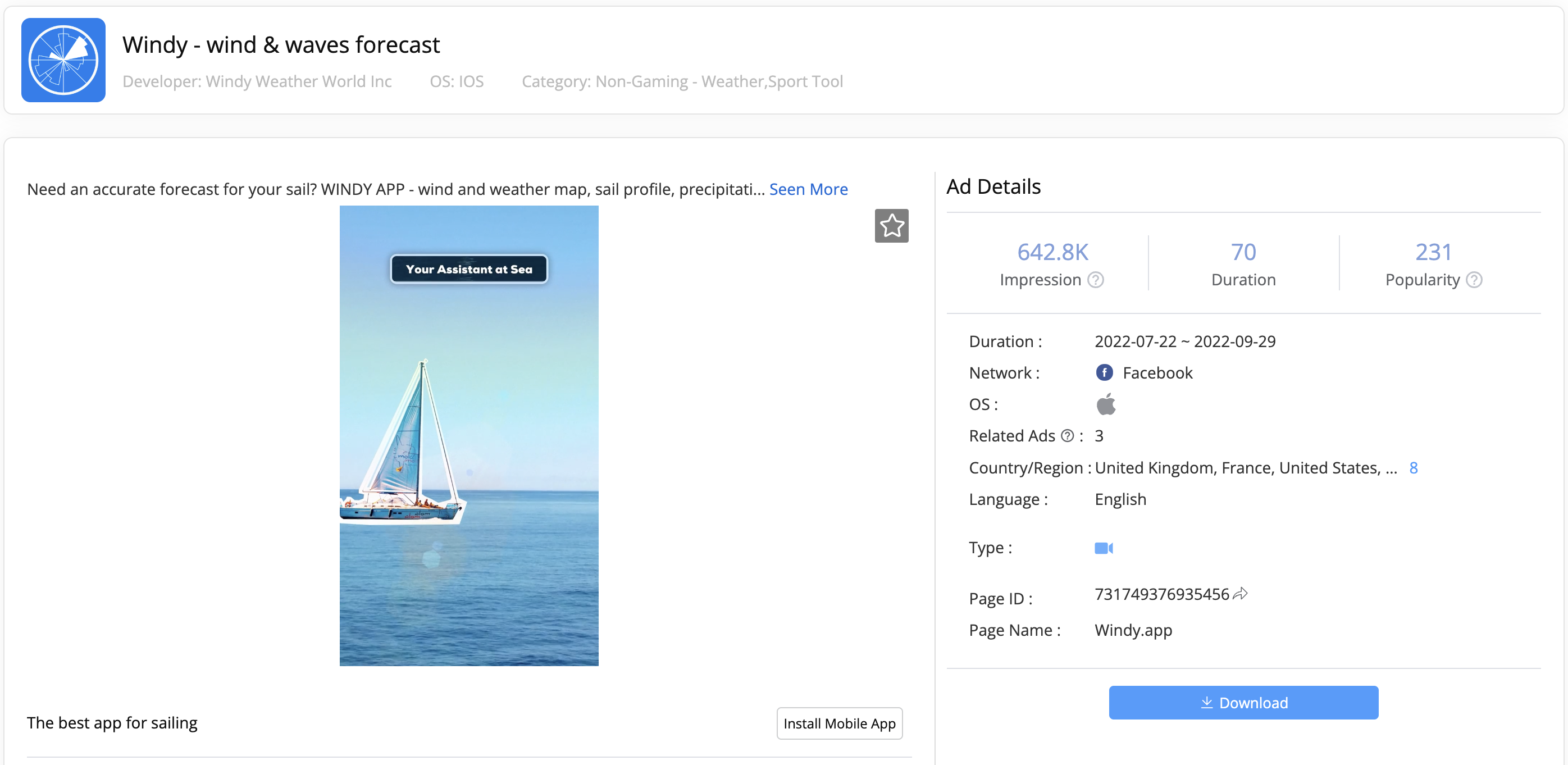 Therefore, I think BigSpy is the best alternative to Turbo Ad Finder chrome extensions. BigSpy has a huge database, powerful functions, and easy to use. Here you can reap more.
2. AdLibrary Helper
AdLibrary Helper is a great tool for Facebook™ Ad Library. Its data comes from Facebook's official ad library. It can provide you an advertising list, which is more convenient and practical than the Facebook ad library. At the same time, it can spy Facebook competitors' ads data changes, so as to better perform advertising analytics. View and Save the Facebook™ ad posts of any advertiser.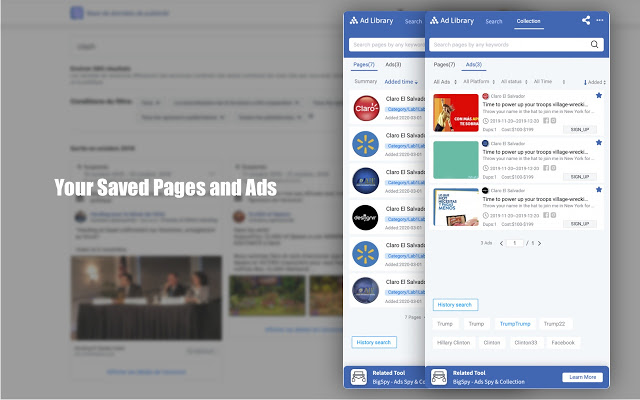 Features of AdLibrary Helper:
Search Facebook ads by keywords
Display Facebook advertising data in the list.
Save favorite pages/ads locally
Track changes in targeted advertising data
Ad copy and material inspiration
Compared with Turbo Ad Finder, the advantages of AdLibrary Helper:
Compare data of related pages directly after searching
Display search results in a list, convenient and intuitive
View ads related to search terms
Can collect and track ads
Therefore, AdLibrary Helper is a great ad finder tool, which can help you find relevant creatives and save them. Although AdLibrary Helper does not have the comprehensive functions of BigSpy, its search and save functions are needed by advertisers, which is why it alternatives Turbo Ad Finder.
3. Ad Finder - Ad Catcher
Ad Finder - Ad Catcher is a chrome extension that automatically collects all the ads on your Facebook page and allows you to bookmark the ones you need to watch for a long time. It also keeps track of how many ads you've collected for the day and in total.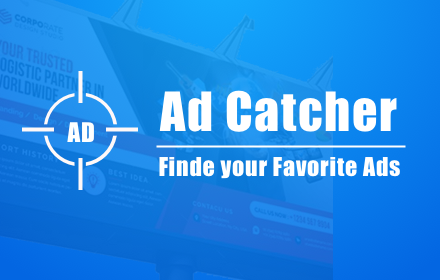 How to use Ad Finder - Ad Catcher?
Step 1: Install the extension on Chrome Web Store;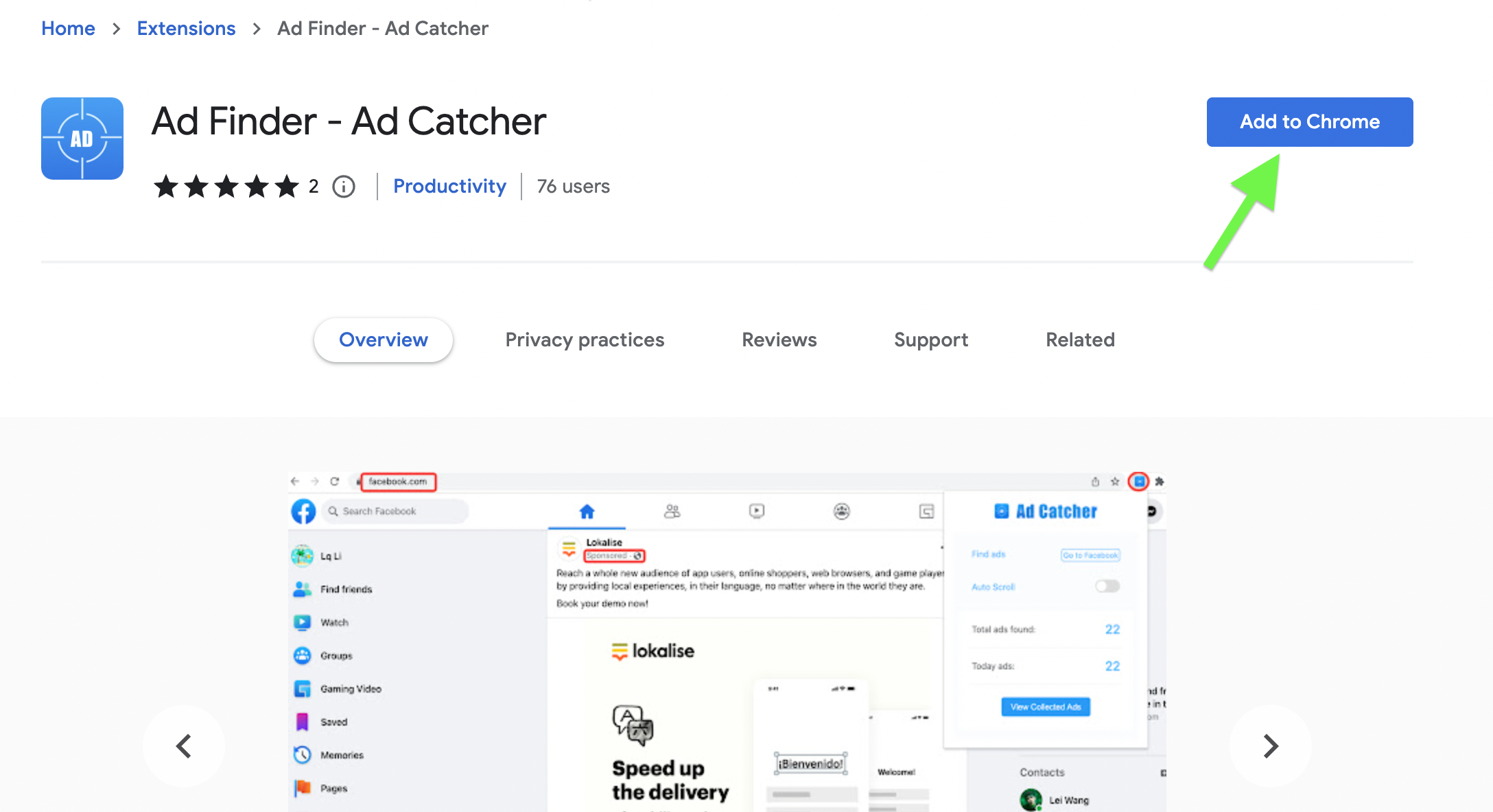 Step2: Open the Facebook news page, enable Ad Finder - Ad Catcher on your browser;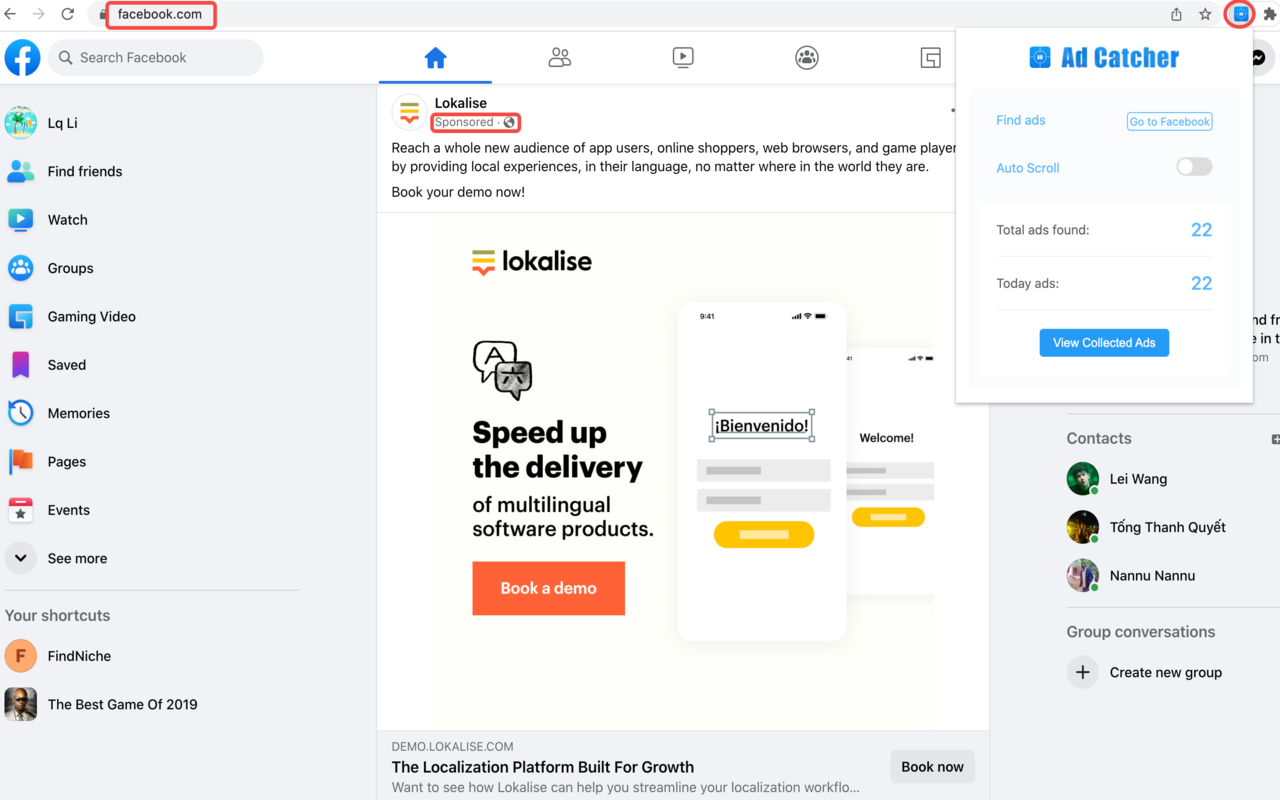 Swipe as much as possible or turn on the [Auto Scroll] button for automatic collection to display more ads. You can go to your ad collection list and use the search bar to quickly find the ad you want to see. Besides, you can also set certain advertisements as your favorite advertisements, and they are saved in [Favorite].
Therefore, this tool is similar to Turbo Ad Finder. It is the most similar tool to Turbo Ad Finder, come and try it.
Conclusion
Through the above analysis, we can clearly see that BigSpy is the best alternative to Turbo Ad Finder. It surpasses Turbo Ad Finder in terms of data, functions, and analysis. I hope you can try BigSpy.