How to start and optimize YouTube video campaigns?
As we all know, Youtube is an important medium for brands and SaaS products to expand market spread and increase ROI. Because the ability of pictures and texts or even short videos to convey information is limited after all, and a brand or SaaS sometimes needs a comprehensive introduction and display, and even cooperates with the communication experience and attempts to really tell users: this is a useful product. However, the production cost of the video is not small, you may find some free YouTube intro makers. It took you a few months to perfect the script, set the plot, add the soundtrack and effects, plus shoot and edit. If such a time-consuming and labor-intensive process does not receive good returns, then the hard work will fail.
I believe you spend so much time, I hope these efforts will get more rewards, including the amount of playback, sharing and conversion rate. Then you must read the following article to understand how to make the time you spend on YouTube ads more valuable.
1. Changes in YouTube advertising in recent years
In recent years, Google has made changes to AdWords, YouTube ads have become hot, and the proportion of video ads on mobile devices has increased. At the same time, YouTube can not only analyze audience preferences through viewing behavior, but also target audiences through Google search records. In other words, you can quickly find users who are interested in your industry or interested in your competitors.
2. 3 types of YouTube ads
TrueView ads are the standard video ad types on YouTube. Advertisers only pay for TrueView ads when they are watching or interacting with the viewer (for example, by clicking on a call-to-action), and can easily customize the video to share various content.
There are two types of True View ads:
1. Video discovery ads (formerly known as display ads)
Video discovery YouTube ads are displayed on the YouTube homepage, search results page, and as related videos on the YouTube video watch page. The ad will appear in the sidebar of the video as a related video.
Before someone watches the video they selected on YouTube, a TrueView in-stream ad will be played. Viewers can sometimes choose to skip the ad after watching it for five seconds. You can also make them play anywhere on the Google Display Network (GDN) or on a website that has purchased Google Video Advertising Space.
How to increase the playback volume of TrueView video?
Since viewers can skip these videos, it is recommended that you do not create standard promotional ads. You can tell a fascinating story in this video, you can also use empathy to trigger communication, or provide a source of entertainment to avoid these videos being skipped.
TrueView ads are often used to obtain audience information and optimize tests. Combined with Adwords to collect the complete number of ad broadcasts and CTA click-through rate, we can understand the targeted population to save money.
Some in-stream ads are not skippable and can be played before the main video, before or after the video is inserted. These are called Preroll ads and last for 15 to 20 seconds.
What content can be included in the preroll video
The pre-rolled ads provide the same degree of freedom as the TrueView ads in terms of content distribution. You can add characters, dialogues, audio and other elements, and find the elements that best represent your brand within 15 to 20 seconds.
Since you ca n't skip preroll ads, it 's best to use call-to-action (CTA) to create these videos so you can optimize your audience 's attention. In other words, encourage viewers to click on your ad and get paid back. Maybe you have already released a new product or promoted a major event this season, and are looking for applicants, please use this pre-roll to get these clicks.
Please note that YouTube sells Preroll video space at a pay-per-click (PPC) price. Make the click worthwhile.
The bumper is the third and shortest YouTube video ad you can use. These ad slots can be played in just 6 seconds before the video selected by the viewer.
Opportunistic video ads obviously cannot tell a good enough story in just six seconds, but they can provide excellent additions to large video campaigns in new product launches or events. Just make sure to use these 6 seconds wisely and only include the brand elements you want your audience to remember.
3. 5 tips for optimizing Adwords video ads
Starting a video campaign is an important step, but before you start paying to fully utilize your budget and bring the highest return to your customers, you need to make some settings.
Define indicators and targets.
When analyzing the results, you can track four main metrics for each video. These are located under the "Columns" drop-down menu in the campaign interface.
Views: Under the "Views" category, you can better understand how many ads a user has watched and how ads have attracted views or views from other videos from your brand.
Audience: This category can be used to track the likes and sharing of each video ad.
Branding: The viewing rate should indicate whether the creatives and messages are interesting or enough for people to watch the ads. By increasing the view rate (VTR), you can reduce the cost per view.
Conversions: Conversions can help you better understand whether your ads are attracting potential customers and bringing a high return on investment for your brand.
Based on the brand 's goals, you should set some goals based on these metrics and formally plan to optimize the creative and try to use different targeting criteria to improve performance.
Track poorly performing placements.
If you are running display ads that will be displayed on the Google Display Network, you can navigate to Video Targeting> Placement> Ad Placement> Display Network via the Google AdWords Campaign Dashboard to view the placement of your ads. Check this list to see if there are any specific websites that are not performing well for the metrics you need. Gradually exclude these sites from your campaigns to increase the average cost-per-view.
When promoting a video on YouTube, you can include a call-to-action overlay that links to the URL. You can link to the login page, product page, information page, career page … any choice. You can also send people to recommend reports or interviews about the brand.
Sometimes, people who are not interested in your product will see your ad. If the content is not relevant, encourage them to skip the ads so that you do n't have to pay for viewing and they do n't waste time watching unrelated ads.
Your competitors will no longer wait for you in place, if you can find good competitors, always observe competitors to view their advertising strategies. Then your results on YouTube ads will be more effective. It is recommended to use BigSpy to view competitors' video material.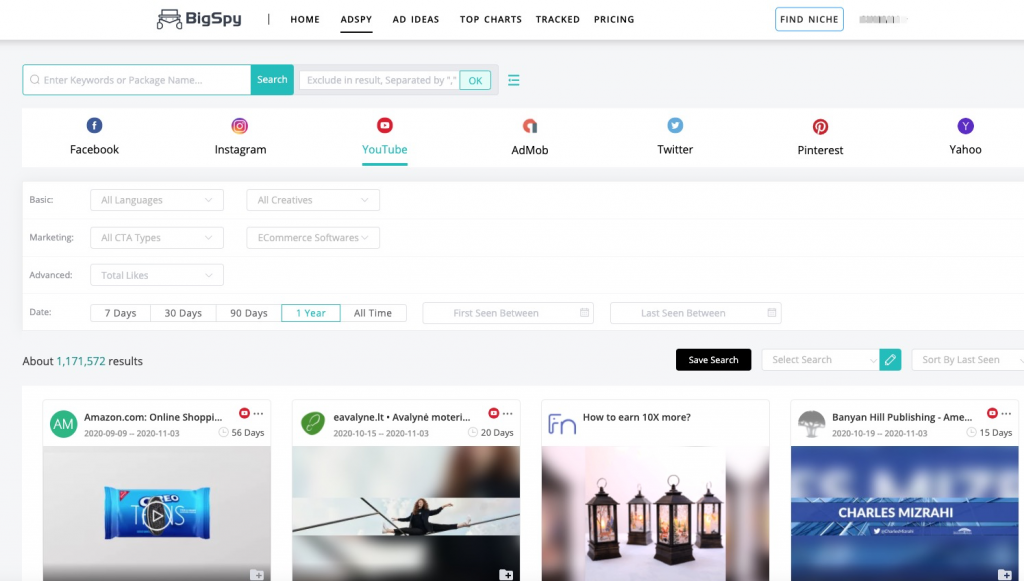 You can use keyword search to view the advertisements your competitors put in. You can also filter by language and time of delivery. You can also sort by video interaction. You can even filter by the range of likes.
The future of video is bright
We have told you before: Video content is an essential part of your content strategy. Now, YouTube allows marketers to target users based on their search history, which is more true. YouTube advertising is more targeted than ever, and it is weaker than the real estate competitive advantage in Google search, because video content is more novel than content and less popular than blog posts.