5 Best Facebook Ad Preview Tools Reposition ad Creative Design
Facebook advertising is very powerful, mainly because it has a variety of advertising forms, advertisers can place ads in different placements. Billions of people are using Facebook, so the potential for Facebook advertising is huge. By using targeted advertising, you can reach exactly the people you want to contact without wasting money on a broad audience that may not be interested in your product.
How can advertisers create a beautiful advertising interface that can quickly impress users? What are some useful Facebook ad preview tools to help us design a Facebook ad faster?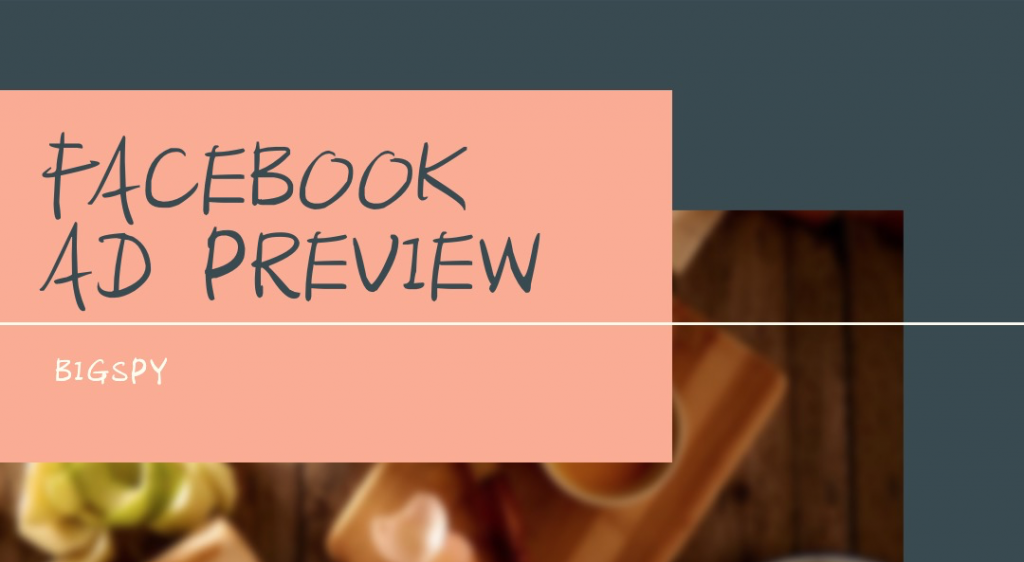 Before previewing the effect of advertising, we must first clarify 3 things, Campaign Objective, ad format, and ad placements. When creating an advertisement, we first need to find the marketing goals of the advertisement. Different marketing goals will limit the formats and placements of some advertisements. Different advertising formats will produce completely different advertising effects in different advertising positions.
Facebook ad formats:
There are 13 types of Facebook ad formats, but there are three types of ads commonly used by advertisers, namely:
Image ad
Image ads have a wide range of use, low production costs, and can quickly complete A/B testing. Use a clear and pure picture to express the meaning of the product itself, so that all users can focus on the product itself. Image ads can be regarded as a perfect interpretation of Facebook ads, because it can help you reach more customers and quickly build their interest. You don't need to spend too much budget, and don't need to invest a lot of time and energy to think about how to create ads.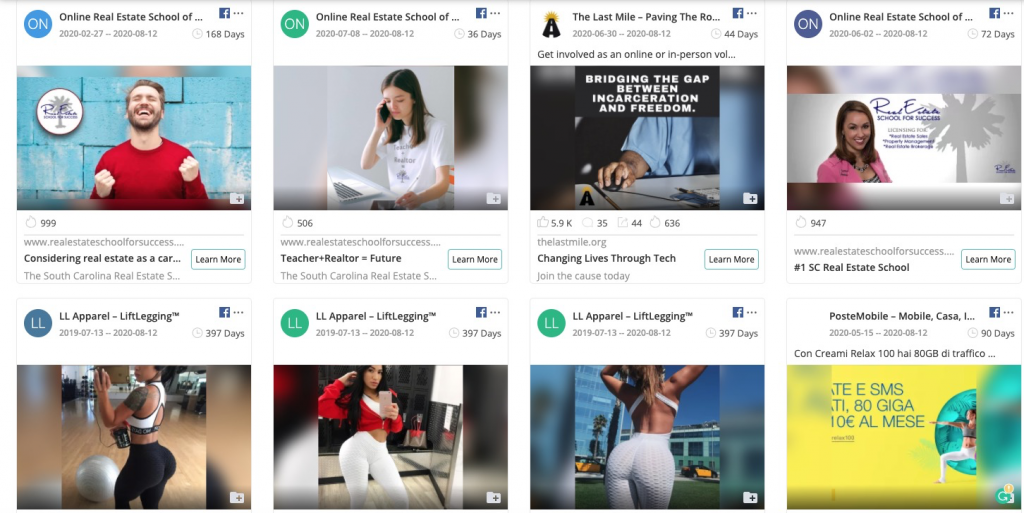 Video ad
Video ads are really great, because you can use your content to tell them in the form of a video, so that users can have a deeper understanding of the product. In addition to promoting catalog products, video ads can be used for any target In the ad.
And according to research, video advertising can increase engagement rates and expand brand awareness.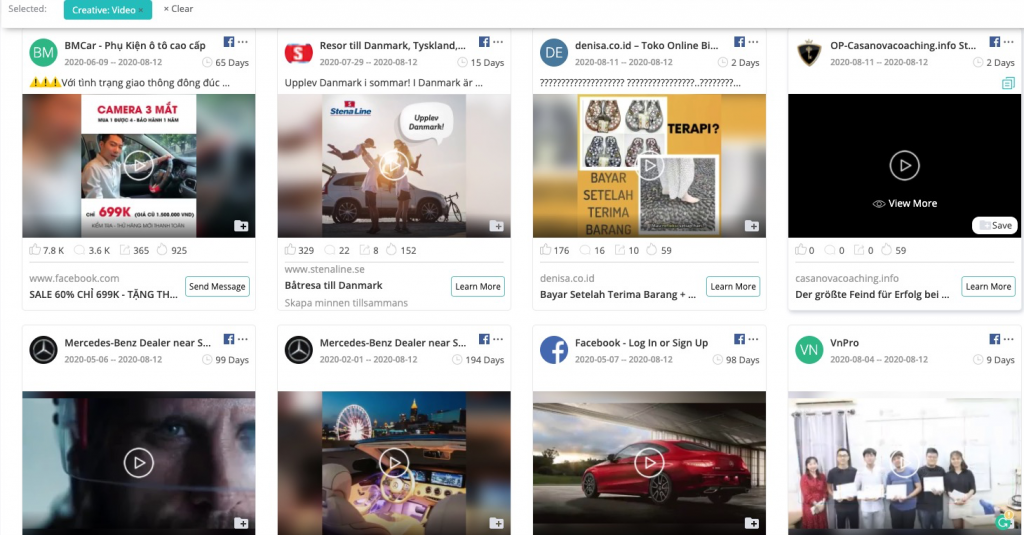 Carousel ad
Carousel ads can be used more flexibly because you can run up to 10 pictures, videos or slides in the same ad, and all these components can be connected to different pages, and your audience can Very rich scrolling through all the content on their devices.
Carousel ads are relatively easier to attract audiences. It combines pictures and videos. Each ad can tell a story. If your product has many features, the story content is very complicated. , Through the combination of images and videos, the story can be divided into small pieces, which is more conducive to the understanding of the audience.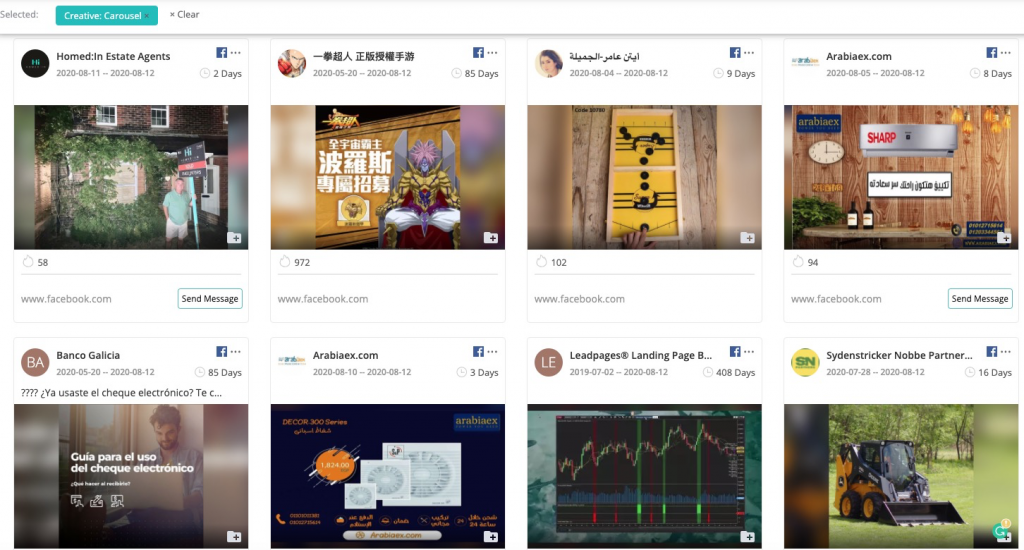 Facebook ad placements:
NewsFeed:
The newsFeed is the most commonly used advertising placements on Facebook. Facebook's definition of News Feed is: our goal of launching news feeds is to show you the most important content to you, so that you can find meaningful content every time you visit Facebook. Your newsletter is a constantly changing personalized content that displays various photos, videos, links, and updates posted by friends, relatives, businesses, and news sources you follow on Facebook.
Because of the high-quality content of NewsFeed, this is almost a prime placements for Facebook advertising, and it is more easily accepted by users.
After clarifying the Facebook ad format and Facebook ad Placements, let's take a look at what are the Facebook ad preview tools and their differences.
Facebook's Ad Manager
Use Facebook's Ad Manager to preview ads during ad creation. What advertisers need to do is to create ads.
Choose a suitable Campaign Objective, then set the campaign name, create an ad set, and finally create an ad.
Enter advertising content:
You can operate in the ad manager, and then enter the content needed for the ad: headline text, ad content text, links, creative materials such as images or videos, CTA, and any other detailed information. And to target the target audience in the appropriate audience targeting, and then the ad preview is below.
You can preview unpublished ads during the ad creation and editing process. Use the preview function to view the display effect of the ad in different positions. Please note that some slots (and preview features) are not available, depending on the campaign you are using.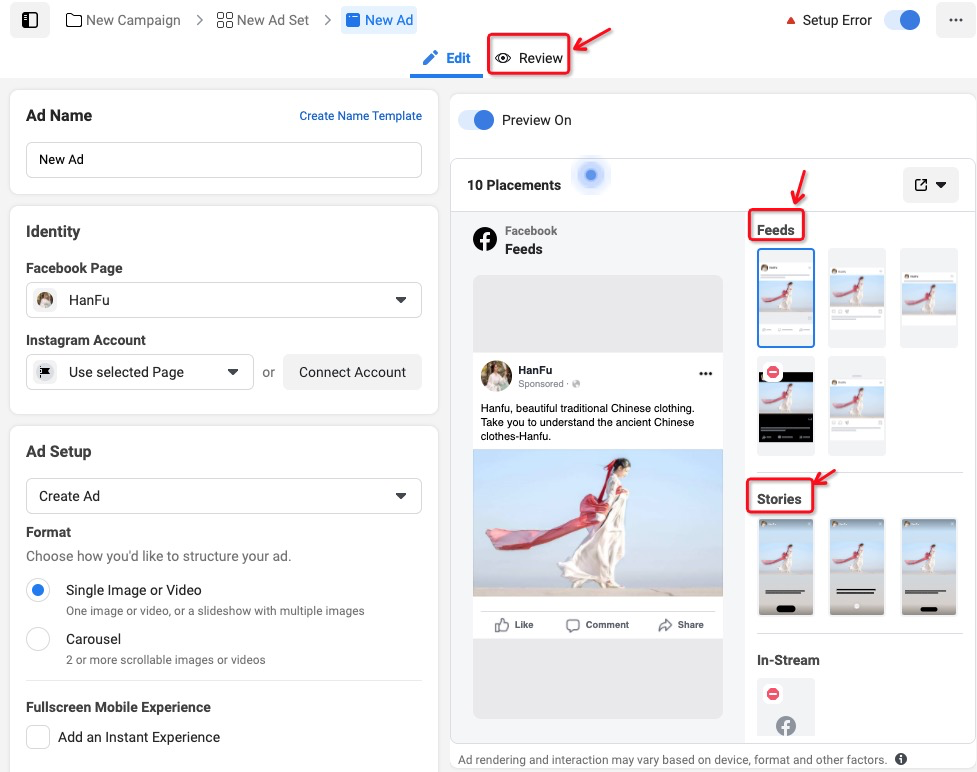 Advantages: This is Facebook's official software, and it is a preview effect generated during the ad creation process. If you are not satisfied, you can modify it at any time.
Facebook's Power Editor
Power Editor is a batch ad creation and management tool, as well as a Chrome plug-in, usually used by large Facebook advertisers or advertisers who need advanced features.
One of my favorite reasons to use Power Editor is the "Unpublished Post" option. The unpublished post looks similar to the regular page post because it has longer text and a call to action button. You can generate a preview link to view Facebook ads.
To use the preview effect of Power Editor, you first need to select the Facebook page associated with the ad. Then, you need to fill in the basic content of the advertisement, including: the creative part, such as text, link description, title, image, etc. Place the ad in the "Preview" area, and you can preview the Facebook ad.
Unpublished posts are great because you can split test ads without having to post multiple times on the page.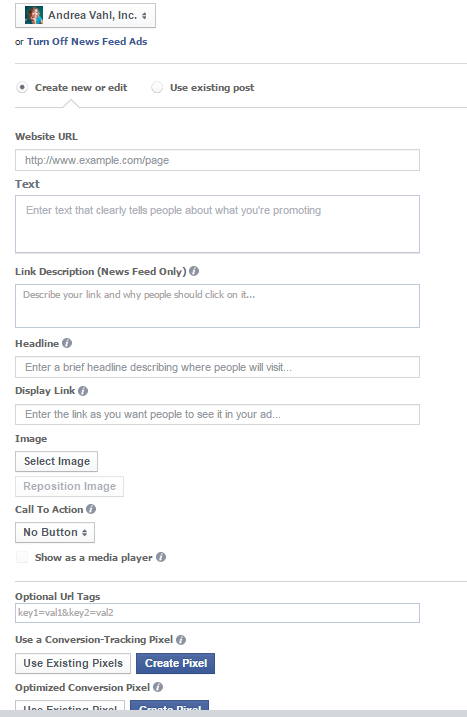 KLICKWUNDER:
KLICKWUNDER provides professional performance marketing strategies to help small and medium enterprises grow rapidly. It provides detailed Google and Facebook analysis reports to help companies bring more customers and corporate revenue.
In addition, it has developed a number of simple small tools to help increase advertising ROI. These tools include Facebook ads preview.
KLICKWUNDER is the most well-known third-party tool. It supports 6 preview options: Website Clicks, Mobile App Install, Desktop App Install, Video Post, Status Post, and Photo Post.
Supports three Facebook ad formats: image, video, and carousel
Support three Facebook ad placements: NewsFeed, Right-Hand, Mobile
Information to be entered:
Advertiser's brand logo
Advertising message
Advertising image or video
CTA
Website link
REACTIONS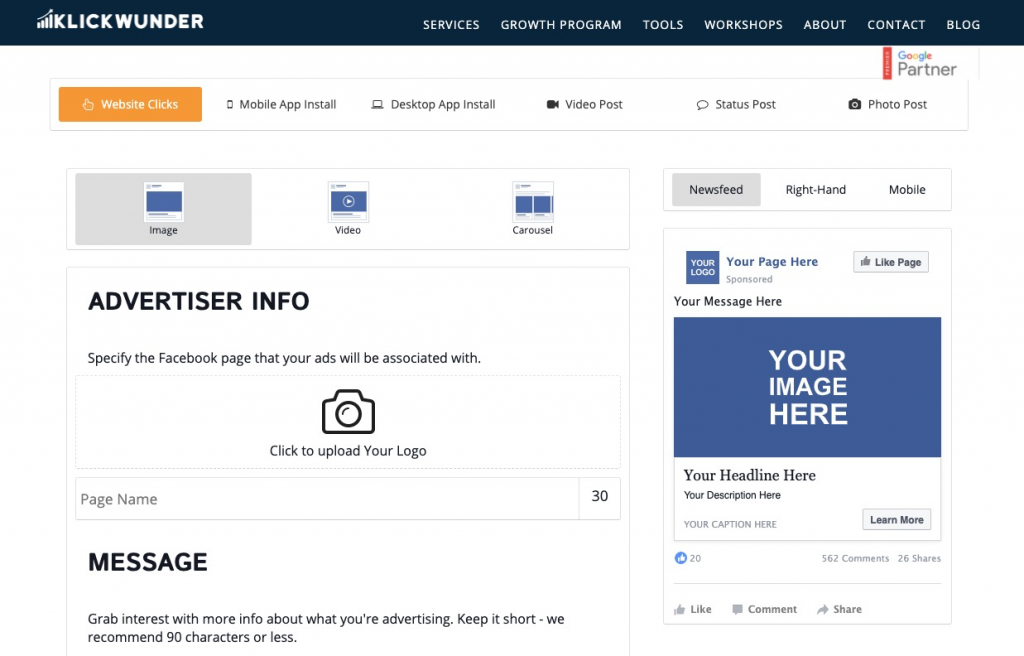 Advantages: This is a completely free tool that helps advertisers not to set up campaigns and target groups, only need to enter information and simply preview the Facebook ad style.
Disadvantages: Facebook advertising formats and ad placements it supports are limited
Adparlor ad mockups
In 2018, Adparlor was born. This is an expert website to improve the effectiveness of Facebook ad online. They are committed to using flexible solutions, creative thinking, and intelligent technology, and efficient digital marketing strategies to enhance advertising ROI. In addition, they also created an ad preview tool to better accomplish this goal.
Ad body
Ad headline
link
Picture or video
Some more advanced features of Adparlor:
Character limit guidelines: When building the model, there will be suggested text limits for all types of ads
After setting the advertisement content, three kinds of advertisement preview effects are generated at the same time, and advertisers can intuitively feel the difference between different advertisement styles
Download model: You can save all placements and advertising styles on the platform as images.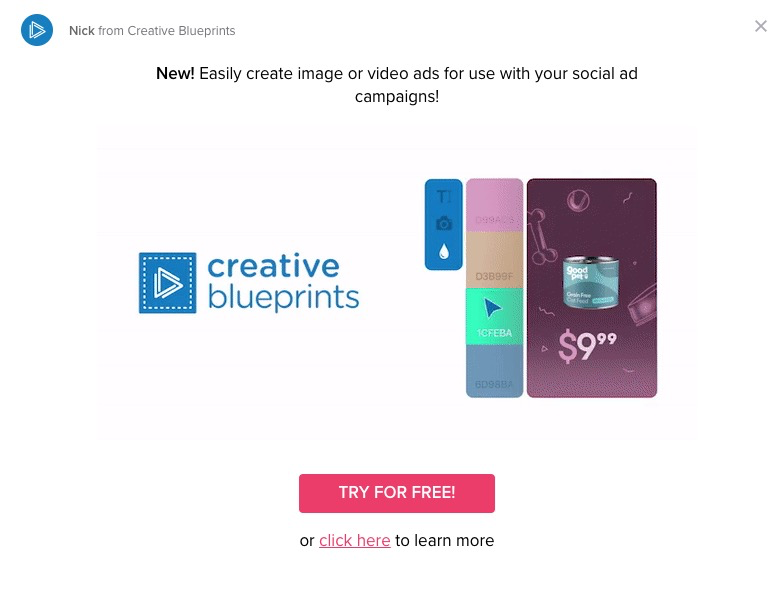 Compared with other tools, Adparlor can optimize the details better, and it can also download and compare different ad preview effects.
Disadvantages: The tool opens slowly and the user experience is poor.
BigSpy
BigSpy is not a fully compliant Facebook ad preview tool. But it helps you successfully complete the ad preview interface design. Most advertisers use the Facebook ad preview tool because they want a better display of the advertising interface. And BigSpy can let you see the emergence of popular ads on Facebook by searching and filtering.
Because BigSpy is an ad spy tool. There are billions of Facebook ads stored in its database. Advertisers only need to enter keywords and sort them according to their likes to see how the successful ad preview interface should be set up. Most ads must use the display interface to attract users within 5 seconds, otherwise, it will be ignored. And BigSpy provides such a platform where advertisers can learn how to set up the Facebook ad preview interface.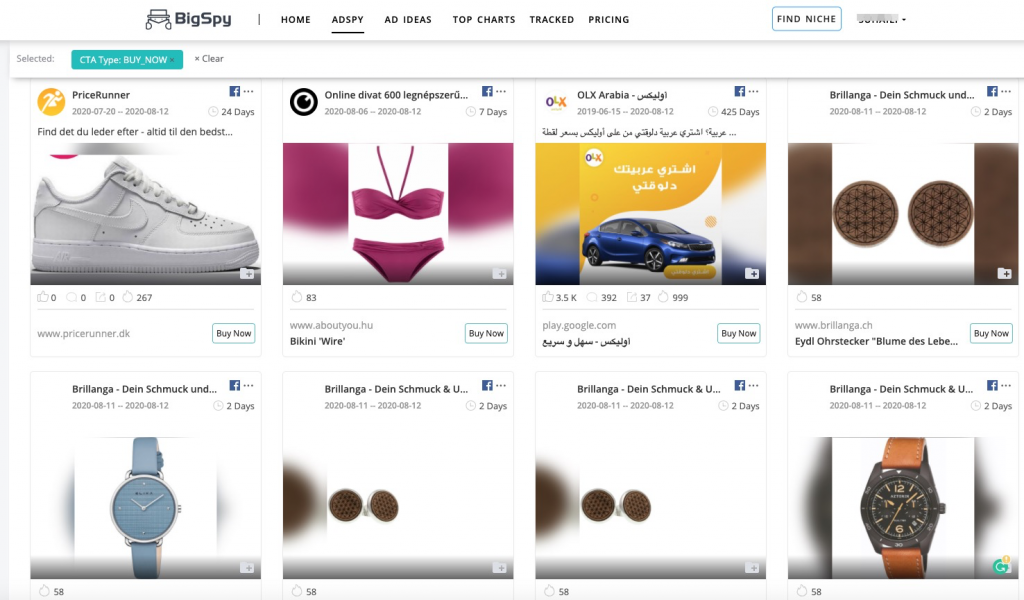 Advantages: The amount of advertising data is large, which is helpful for reference and learning, and to understand the latest industry news and competitors' advertising trends.
Disadvantages: lack of real simulation results.