Why You Should do Automated Dropshipping?
Today, the digital economy has swiped the whole world with impressive effectiveness and swiftness, which also gives birth to automation. We are now overwhelmed by the high-tech and automated services, including automated customer service, responses, and office automation, etc. It leads to a great reduction in time and a huge productivity improvement.
Undoubtedly, dropshipping is also the fruit of the digital economy and is an effective way to do eCommerce. But doing dropshipping takes a great deal of time and energy to get all things done, and most of the time is for simple and repetitive tasks and work.
So why not automatize your dropshipping business to save energy and time for more important things?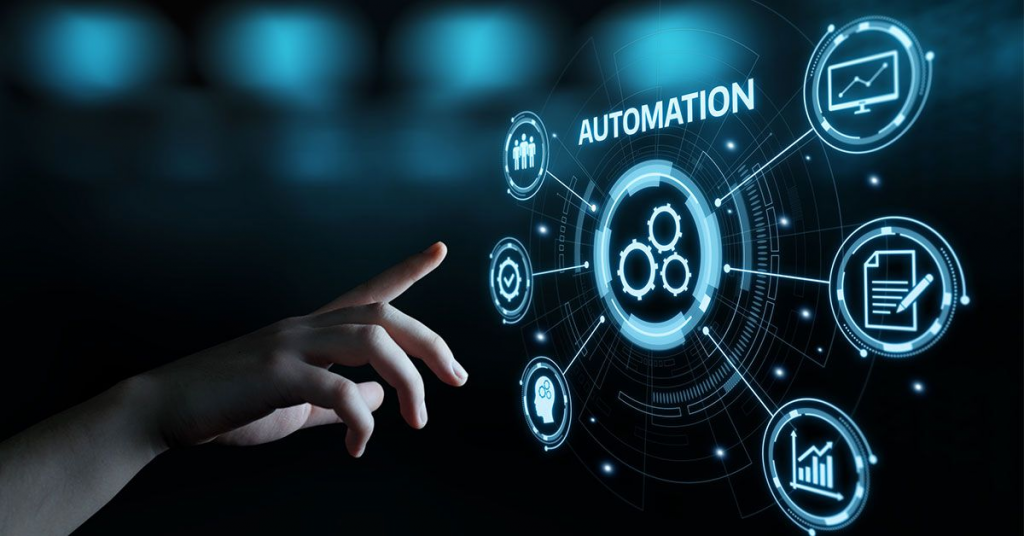 What is Automated Dropshipping?
Automated dropshipping is to use information and task processing technologies to help you handle tasks, especially repetitive ones which you have to do again and again while running a dropshipping store. To simply put, it is designed to free you from lengthy and boring tasks including managing inventory, updating product quantity, syncing or exporting orders, etc.
Also, automated dropshipping can be realized by a third party. Several specialized platforms can help you with their services and functions. The specialized platform is like a combination of technology and labor, making sure that the automated system is doing the tasks right.
Why You Should Choose Automated Dropshipping?
An automated dropshipping business can be a relief to your full schedule. The main reasons are as follows:
1. Save Time
You may complain that you are running out of time for the dropshipping business. There are only 24 hours in a day, but the tasks and work can be piled up just within a minute. When automatizing your business, you can have more time to spend with your family or scaling up your business. Otherwise, you will be drowned in a sea of simple tasks, such as copying information, uploading descriptions or images of products, or checking and tracking numbers, etc. Dealing with these hundreds of simple tasks can be a boring and tedious process. However, if you run the dropshipping business through other platforms like CJdropshipping, things can be much easier.
To cut it short, time is invaluable, especially doing business. An automated dropshipping business can save a lot of time for you, with which you can have a rest and expand your business at a speedy rate.
2. Save Money
At the very beginning of your business, you will face a bunch of tasks and works. For example, setting up your website, finding winning products, uploading your orders and tracking numbers, etc. Employees are needed but hiring them can be expensive. So automated dropshipping software or platforms can be very helpful. By automatizing your business, you can save more money. Less cost is definitely going to help your business grow, especially at the beginning.
How can CJ help to automate your dropshipping business?
1. Product-Listing
Listing products one by one can be torture for you have to check product category, description, shipping methods, and other necessary information every single time. A merit of using CJdropshipping is that you can list products with a few clicks. All you need to do is browse and click, then you can just list them at your online store. Just within a short time, these products you want to list will be shown in your store with detailed information, including title, category, images, description, variants, etc.
Furthermore, CJ is equipped with a bulk listing function, helping customers to save more time by adding products to the queue and list them at the same time in one click. It helps users to make the listing easier and faster.

2. Product-Sourcing
Finding the right product you want to sell is the first stepping-stone in your dropshipping career. But researching products is one of the most time-consuming tasks, and the problem is that it's really hard to find the exact product you want with a reasonable price that can still give you profit. And CJdropshipping can help you with that.
Noticeably, CJ is offering a sourcing service for specific products you want. For example, if you find a specific product you want, you can post a sourcing request to CJ, and we will get back to you within 2-3 days. Or if you don't find your existing products on CJ but want to change the supplier, you can post a sourcing request as well. All you need to do is upload pictures, titles, tags, and URLs, and our CJ team will help you with the rest.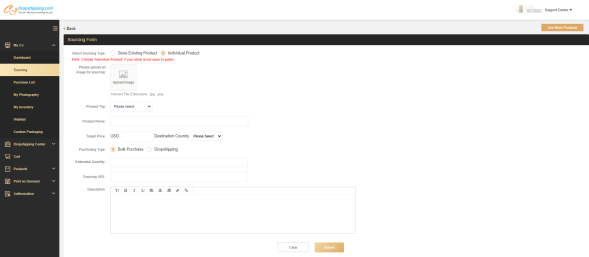 3. Automated Order-Processing
Processing orders can be a real headache given that a lot of information is waiting to be collected and replied to. For instance, when a customer orders from your website, you need to send the customer details to your supplier. So they can ship packages directly to customers. But with CJ, you can skip the process of delivering messages by clicking buttons.
When orders come in, CJ can help you with the process of delivering customer details to suppliers and informing them to prepare for the shipment. This automated service makes lengthy and jumbled tasks much easier. Even if you begin to sell products in a large quantity, the delivery can also be made smoothly.
Additionally, your customers will ask you for the tracking numbers of their delivered products. Once delivery is made, you can check and copy the tracking numbers, and then send them to your customers. It helps you to build a reliable and trustworthy image.
4. Order-Syncing
On CJ, order-syncing is a prerequisite for automated order processing. So you need to sync your orders to CJ before using its automated order-processing feature. Luckily, CJ has made the process easy for users. You can import orders by syncing orders from your stores or uploading Excels. In doing this, CJ can help to process your orders automatically as soon as orders are placed, helping you to contact suppliers, filling the delivery details, providing tracking numbers, etc.

Final Words
Automatizing your dropshipping business is helpful and frees you from tedious tasks and full schedules. Leaving those manual tasks to automated software or platforms, you can spare more effort and energy on the development and expansion of your business. For example, find low competition niches with high profit.
Don't be drowned in repetitive tasks, but be more engaged in decision-making!