Why Are Perfume Ads So weird? What should you do?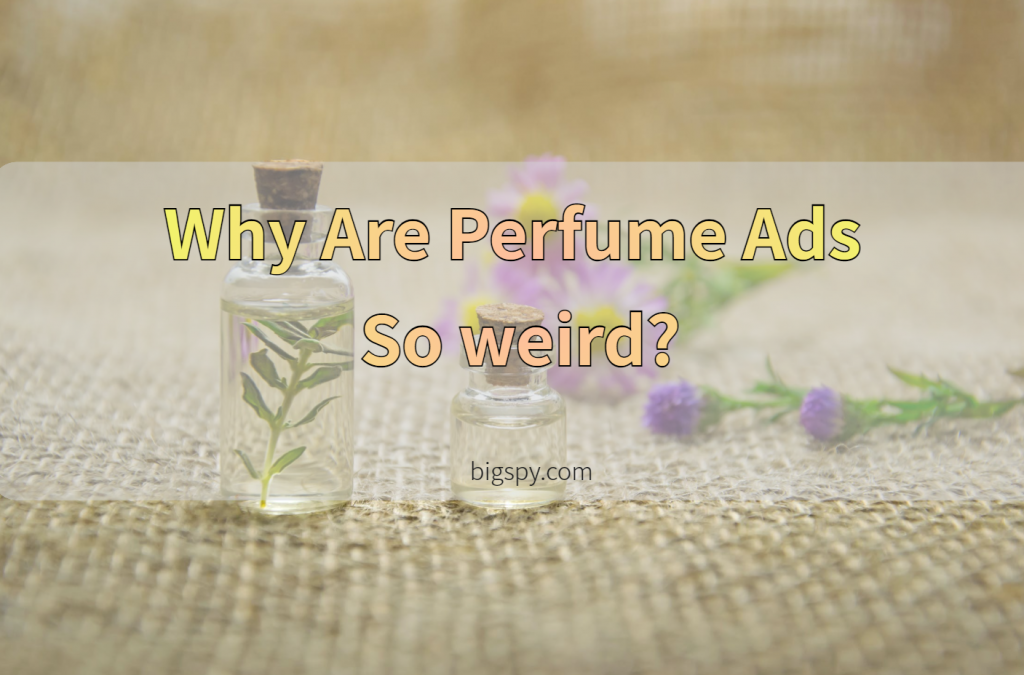 I've always wondered why perfume ads are so weird. Why brands sell the intimacy or to be more explicit, sexual content with perfume ads. It has nothing to do with perfume.
When I talked to the creators and saw many perfume commercials, I understood. It is not weird, but the style or the market pull. When creators push limits, people like it, and there is an increase in sales. Whoever captures these creative shots considers them beautiful and ideal for the brand to represent on a global stage. Even the makers acknowledge sometimes the ads are weird or awful, but that's how it works.
Perfume commercials promote their brand commercials with unrealistic beauty. The strategy is unique, and because of high competition, brands use extraordinary ways to attract customers.
Below are a few factors that can explain why female perfume ads are so weird:
Producing Glamour: Perfumes are luxury goods. They're not targeted at any individual but a specific set of consumers who are willing to spend money for the best scent. That's why brands promote glamour heavily in the picture. By triggering the wildest of your imaginations, they passively force your mind to keep thinking of this. They hire the most beautiful and bold celebrities who are willing to promote products in not-so-simple ways.
No Dialogue: The perfume commercials that do not have dialog in any form. They promote through emotions, dreams, music, and pictures (without any translation). Now this lack of translation is covered by adding more depth to the energy and producing seductive and attractive scenes, which hardly makes any connection with the perfume itself.
Recurring Theme: Perfumes are always promoted with seduction inside them. All the perfume companies use the same concepts but with different bits and pieces. In all the meanings, they target wild fantasies and trigger your mind to buy the products, and the same things may happen to you.
Elite: Brands use the idea of not targeting the mass market because they promote the elitism of products. They simply trigger the fantasies, and once a customer buys it, he can survive because of FOMO (Fear of Missing Out).
Obsession: "Emily in Paris" is an example of a weird commercial. Emily is an American girl who works in a marketing agency in France. After a while, she starts making fragrance commercials. Their model walks on a bridge surrounded by suited men gazing at her. A naked woman is the dream of every man, and it is not sexist because it's the women's dream to become the desire of men. That's how the obsession began, and they create an image of brands by advertising.
Now here comes a thought; how to improve the effectivess of perfume ads?
Let's see the following 7 good perfume ads first and notice the elements they have put to make their ad stand out.
7 Best Perfume Ads Examples To Inspire Your Next Campaign
1. BIRCHBOX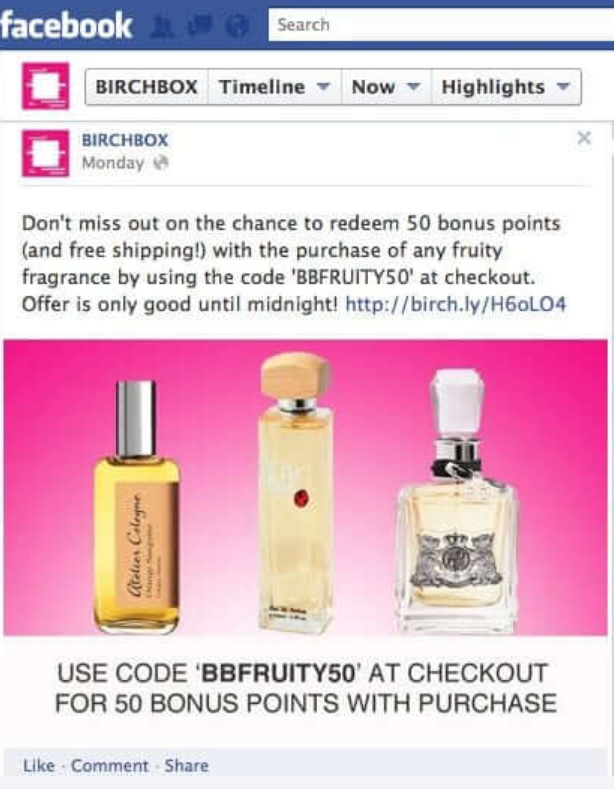 BIRCHBOX is a perfect example of using Hook/Call-To-Action Buttons for your perfume advertising. This way, customers are converted quickly, and you get a bumper of leads. By displaying a special coupon of "BBFRUITY50", they're allowing discounts for users, which is the second hook to convince the users. The Shiny glimpse of the bottle is one of the best ways to display products to the users. A link is also added at the end through which customers can visit the website and see other products as well. While crafting your campaign, you can also use all the features to attract many customers. In the end, don't forget to use hashtags to target a huge customer base.
2. Scents By Enny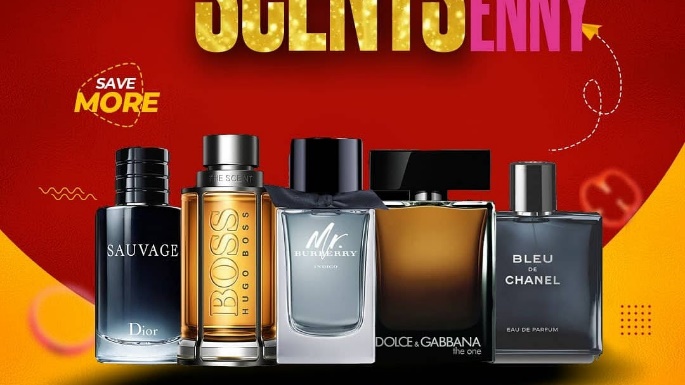 Scents by Enny gives a perfect view of a perfume marketing campaign where you can show a variety of scents with a colorful background. If you look carefully at the poster, there is a Save More Graphic added to convince the users. Everyone is selling numerous perfumes in the market, but what special you are offering is the key, and this is what Enny has successfully achieved. The different shades and glossy looks of the bottles contribute to the smooth texture of the label. Visit the website, and you'll be able to see a lot more about the varieties of campaigns and images used.
3. Michael Kors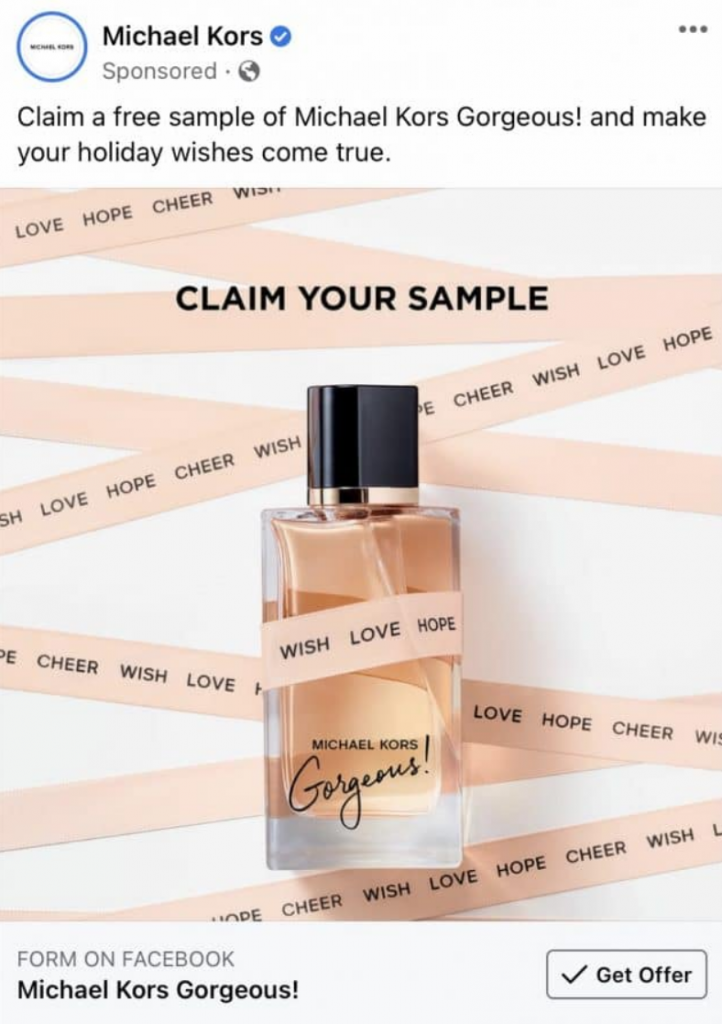 Michael Kors is using the free sample strategy for their perfume advertising. The strategy works in such a manner that customers are convinced because everyone likes free stuff, especially when it comes to expensive ones. In modern practices, everyone is trying this by providing free small trail perfume bottles to the customers. Also, customers feel protected that the money is not wasted. Earlier, they had to purchase large bottles, and if they didn't like the scent, then the money was wasted. The free sample strategy is the best approach to push your new brands toward customers and make them stick to them. Once there are captured in your scents, then you can simply send them reminders and emails to purchase the products using exclusive discounts.
4. The scent of a women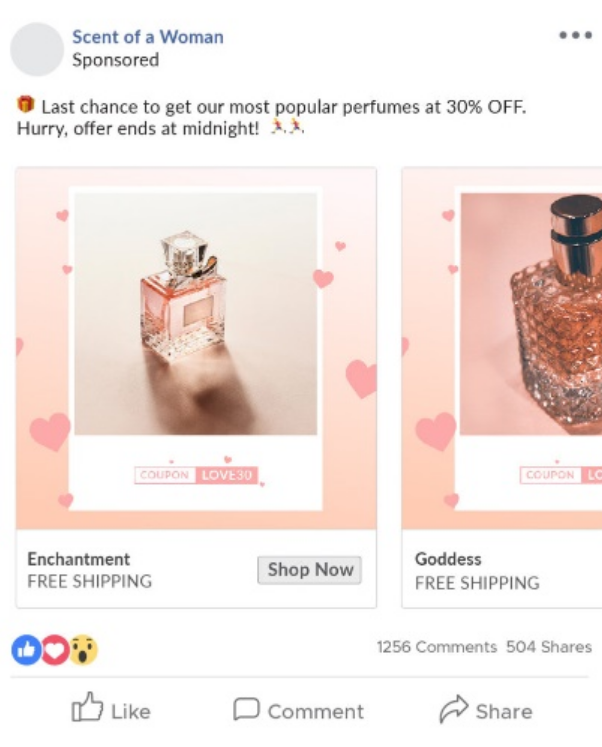 The scent of a woman is used occasionally, targeting users to push the new products and offers. The Valentine's Day special offer revolved around spending time with your partner, and that's how they are targeting and convincing people around social media platforms. Hashtags are heavily used in these campaigns as people who are looking for valentine's Day post-receive this type of content. One tip is to analyze and store the database of the users whom the brand is trying to Cater to. Based on the products, you can split your recent perfume ads into the categories Male, Female and other. Choose products and then run campaigns on gender appeal for better efficiency. Use demographic changes to target a specific customer base.
5. New Arrivals
New Arrivals is a great technique for introducing new collections you've launched recently. We have seen it in the old and recent perfume ads. However, keep in mind the occasions coming up because if you launch all the products at one event, then it may be difficult to cope with the other events and send appropriate gifts. Also, try to use the colors as per the occasion. For example, use Pink when Valentine's Day is near and use red when it's Christmas. This way, you can coordinate with the market trends.
Type Better captions: For better captions, use the figures like FOMO (Fear of Missing Out) and Limited Period Offer, Stock Running out to push the urgency.
Best Selling: Mark the products as bestselling to make sure customers know it is the trending one. Now when you are targeting best-selling products, only choose specific attributes like geographic location and gender. This way, you can contribute more towards the marketing.
6. Estee Lauder – With the Stars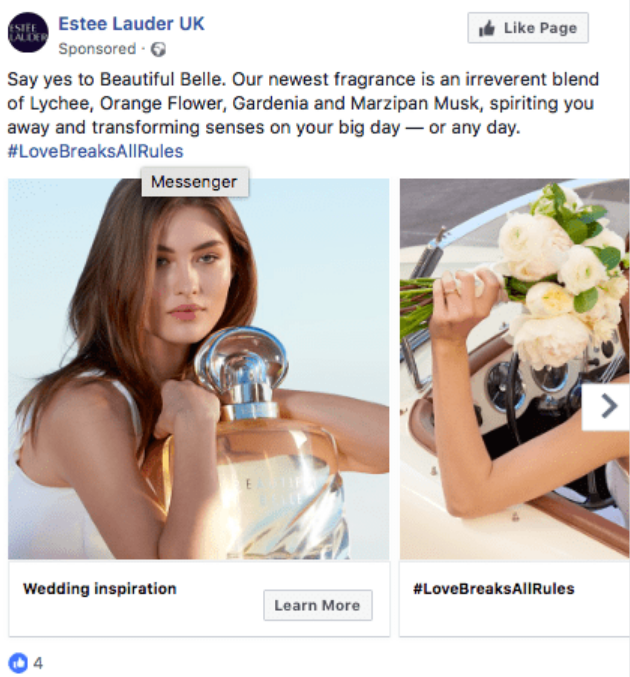 Hire a famous personality for your campaign and see the inventory getting finished. Nowadays, people are crazy about social media influencing and following their favorite stars. Adding one Call to action button helps in this amazing turnaround of the visitors to customers.
Use Eye-catching Visuals: Eye-catching visuals force people to stop scrolling and look at your post. Even if they are not interested, they will wait and see what's there. This buzz is important for aggressive marketing.
Figure Out Template: Your brand should have one template to be easily recognizable. Try to make a template where you can put multiple images and then spread them across social media platforms.
Social Proof: Giving social media users proof of why they should buy this product is the best way of marketing. People are always finding what unique or special this product has, and that's where the marketing is best.
7. Valentino Voce Viva (EDP)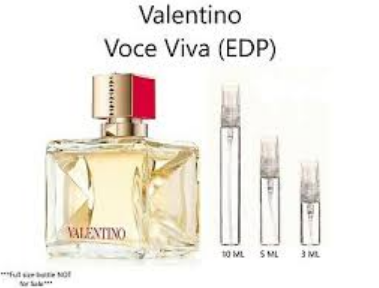 Use the Limited-Edition perfume marketing technique to quickly release the inventory in the market and create a buzz. Tell your audience about the limited number of products you have. Keep a few of them reserved for the contest and get a pull from the market. Enhance the user experience by providing them with easy access to the website or include call-to-action buttons. Try to engage with social media influencers or movie stars for better reach. Use hashtags to figure out the best database of customers and then start campaigns. Make sure your campaign doesn't get stuck anywhere, and there are no issues. Use offers like 10% discount to top 10 visitors/customers for quick response.
9 Tips to Improve your ROI in Digital Ads for Perfume marketing
Get to Know Your Target Audience:
Knowing your audience is the key to success for any business. You can create any product, but who is going to purchase it? What should be the ideal qualities? When you answer this question, you'll come one step closer to your customers. To define your target audience in a better way, create the ideal personalities of potential customers and check if your product is a perfect fit for them or not. Know your audience, give it a perfect shot, and disrupt the market.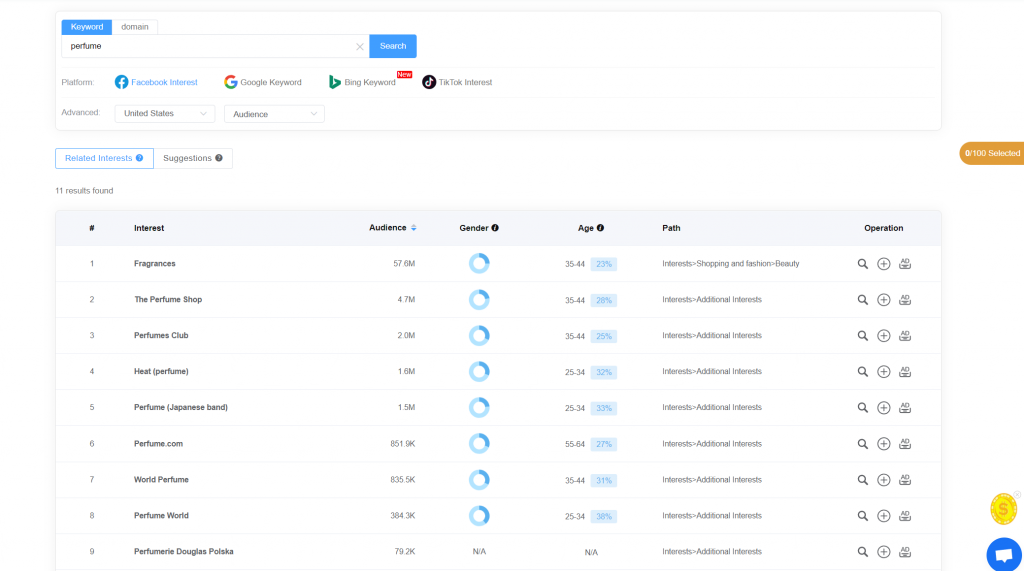 Think SEO and Content Marketing:
You cannot achieve high sales or success without considering Search Engine Optimization (SEO) and Content Marketing. The world is moving online very fast, and it is important to cope with that. Even if you check with your competitors, they must be using different online communication channels with the customers like DIY videos, Podcasts, or YouTube Videos. All this is to keep the customers engage and don't let your competitors steal away.
Also, when customers look after your brand, it should appear at the top. This is what SEO helps in gaining the topmost position of the SERP (search engine result page). Now, the topmost positions receive the best traffic, and the conversion rate is also high. It is the Best ROI you can get.
Enhance Your Omni-Channel Strategy:
Providing a seamless experience through a channel is known as creating an omnichannel strategy. For an efficient Omni-channel strategy, you should first consider content as the priority. Consider all the channels through which you are providing various personas of different phases of the buyer's journey. Always keep in mind best content attracts users and informs/engages the audience while promoting the brand.
Enhance Centricity:
In the era of engagement, enhancing centricity is mandatory for the best omnichannel experience. Hereby understand the way to serve the customers, marking online presence, and posting pre-sales or personalized questions, you can get faster responses, and better engagement is established.
Optimize Your Landing Pages:
Optimizing your landing pages or website is very important for good SEO. Search engines won't consider your page if it doesn't load quickly or is not optimized. Irrespective of how much content marketing you do, don't compromise with SEO.
Choose the Right Online Media Outlet:
Based on your experience and what your competitors are using, choose the best media outlet. The most common of them are Facebook, Instagram, Twitter, and LinkedIn.
Add Creative Elements:
Adding creative elements in the process leads to the betterment of the customer journey; for this, first, try to analyze the things your competitors are doing and then figure out the unique things you can do. Start with the website as it is your Internet Home and then gradually increase creativity towards social media marketing. Here, keep in mind that whatever is the point of interaction, you have to make it creative in unique ways. This can make your brand stand out in the market.
Look at the Right Data:
Considering the right data means a better understanding of various factors like ROI (Return on investment) and conversion rates can give you a better idea of what to do and what to not. For example, if SEO provides a better ROI in comparison to all the other methods, then it makes sense to invest more in SEO. Similarly, if you have multiple channels of advertising, understanding the conversion rate can give an idea of which channel has maximum efficiency.
Data helps you in solving the problem and in understanding the performance of the process. This way, you can compare and choose the best ones and improve your investments.
Experience Hassle-free Ad Spying
BigSpy is the best and cheapest ad spy tool covering 7+ social platforms
Start for Free