How Much TikTok Ads Cost and How to Improve ROI on TikTok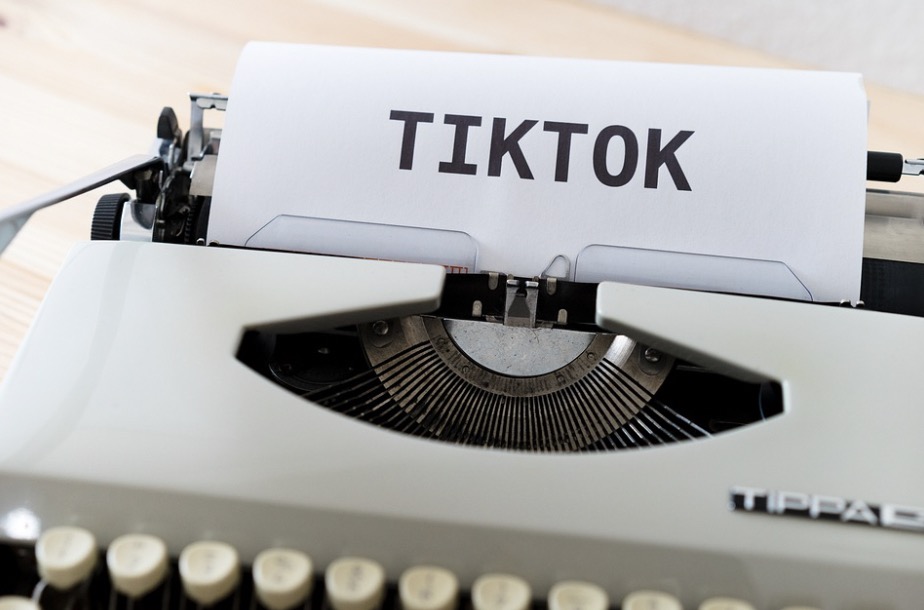 Since its introduction to the global market, TikTok has become the center for viral content within a short time. One can attribute this success to the culture of creating short and very easy to consume visual content and sharing it across to billions of users. You may be wondering what this has to do with TikTok ads cost or why it's even important.
The success of running TikTok ads depends on this information. Understanding the potential of your content and what it takes to go viral will make your TikTok ads cost very small compared to how much profit you can make.
This post focuses on TikTok advertising in 2022, essential things that should guide your ads strategy and the breakdown of how much TikTok advertising costs. It also simplifies the TikTok ads creation process, including audience targeting, and emphasizes how to make sure you get maximum returns on your investments. Let's get started.
2 Things to Know Before Advertising on TikTok
The major demographic on TikTok
The context of TikTok development and features more specifically targets young females. Context here means the most common activity on TikTok, like short video clips of users dancing, lip-syncing, or challenges that involve either or both of these activities.
So, if the TikTok ads cost for your business is relatively high, and your target audience falls in the young or female category, you have little to worry about. However, if your primary audience is the older population, you may want to practically weigh your options and decide if the TikTok ads cost won't be too much of a risk for such a small population.
This does not mean that older populations don't spend time on TikTok. After all, 18-year-olds that joined as early as 2019 would have crossed the teenager threshold by now. It's simply a nudge to be smart about where you invest your marketing efforts.
Best-selling products on TikTok and why
As you may have guessed, the best-selling products are also related to the major demographic. Businesses in fashion and beauty, health and fitness, entertainment, electronic accessories, food, and maybe animals automatically have a large audience on TikTok. The younger your business targets, the higher your chances of well-spent TikTok ads cost.
How much does TikTok advertising cost in 2022
So, how much exactly do TikTok ads cost? The precise amount you'll spend on TikTok ads depends greatly on the ad format and duration. However, the basic idea is that TikTok ads cost start at $10 per 1000 views of your ad. Now, this may not seem like much, but when you analyze your goals and audience (we'll get to this in a few minutes) and find that you want to get a million views within a short time, then $10 becomes $10000.
The more robust your goals, the higher the numbers go. That can be a little scary for small businesses because, compared to other platforms, it's not the cheapest option. You can also adopt an online TikTok CPM calculator to determine how much it'll cost for a certain number of targeted impressions.
The good news is if you do your due diligence and perform adequate research using relevant tools and digital marketing experts and analysts, the returns and benefits could be huge. TikTok ads cost would also depend on the bidding methods you choose to use before you launch your ads. Some bidding methods on TikTok are:
CPM: It means cost per mile and describes the amount you pay to get 1000 impressions of your ads.
oCPM: It means optimized cost per mile and refers to the amount you'll pay to create 1000 impressions.
CPV: This means cost per view, which describes the price you pay per thousand views of your ad.
CPC: This is the TikTok ads cost per click method that focuses on the price you pay per click on your ad.
You have the choice to select any bidding method you want, and in most cases, your TikTok ad objectives decide the best bid. You'll learn more about that in the following section.
How to Run TikTok Ads
Create an ad account
This is the first step to running an ad on TikTok. Visit the TikTok ads homepage and select the create an adoption. You'll see a new page that allows you to fill in some personal details and submit them. Typically, a representative would reach out to you within 48 hours of submission to complete the ad account creation step.
Create a campaign
Now you have an active TikTok ads account. Your next move is to create a campaign by clicking the create button on the campaign tab. This is the stage where you select the objective of your ad.
Do you want to raise awareness of your product? TikTok ads cost per mile may serve you better in this case.
Are you interested in more traffic to your website? TikTok ads cost per click would be the best bidding method for this goal.
Are you interested in app downloads?
Is instant TikTok ads conversion your main focus?
You must have a definite answer to this so that the ad setup process will be smooth. Once you've selected the objective, you'll see an option to pick between daily budget and lifetime or total budget under the settings tab. Whichever option you choose, you can't set below $500 as your budget.
Define goals and target audience
Your campaign and objectives are ready. The next thing to do is targeting - goal, placement, and audience specifications. This is where you also pick keywords (up to 20) that are most related to your business and products. You can match your brand and ads to a specific audience by filtering based on location, age, gender, and, most importantly, interests. Interestingly, TikTok ads have a reach beyond the TikTok platform itself, so you can select if you want the ads to appear on other partner platforms like BuzzVideo.
After this careful selection of the right options, you're free to upload images and videos, add links, and other relevant components of your ads. Another brilliant feature of TikTok advertising is that if you're sure of specific users that will be interested in your product, you can provide their IDs in this section.
You'll agree that all of this can get overwhelming as you try to filter out the right target for your ads to optimize your TikTok ads cost and campaign. Luckily, there are tools that can help you with this step, and one of them is AdTargeting's TikTok interest targeting tool.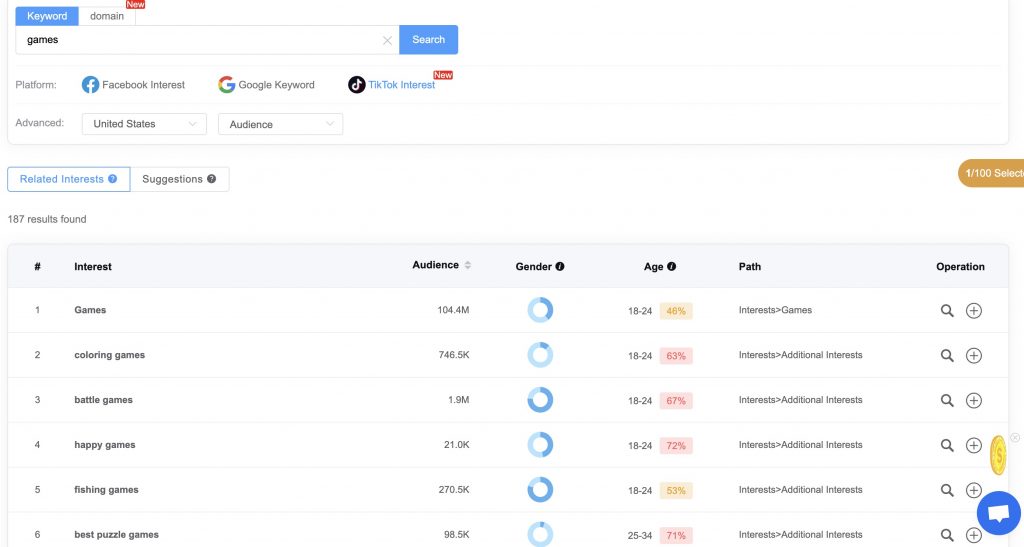 With a free account on this tool, you can access relevant and related keywords to your primary keyword and audience analysis, including gender and age group. Its interactive feature makes it easy for you to navigate your search results and understand the numbers.
And in case you skipped that part, you can access all of these benefits for free. All you have to do is create an account and start testing.
Launch the ads and track
The final step in running your TikTok ads is, of course, to click the launch button. Before you do, ensure that you have selected or customized your ads to suit your goals. Customization can be as simple as changing the video or image orientation from vertical to horizontal or adding a final touch of visual effect. Finally, check your call to action buttons and launch.
With TikTok ads manager, you can track the performance of your ads and determine if your TikTok ads cost was a profitable investment. The dashboard of the TikTok ads manager gives you information on active campaigns, performance over time, and the amount you have spent. It also has a reporting section that gives you a better overview of your TikTok advertising.
How to Advertise on TikTok - 3 major approaches
Hashtag challenges
Hashtag challenges are unarguably the most popular form of content on TikTok and, unsurprisingly, the most engaging form of TikTok ads. This ad approach is time-bound and can last between a few days and, at most, two weeks. You can opt for this approach for many reasons, like creating awareness for a new product addition to your brand or amplifying your brand's core values. It can also be helpful to collate a bunch of user-generated content that you use in the future for other ads or organic content promotion.
Here's how to advertise on TikTok with hashtags. Be creative. You want to create a challenge that your target audience would dare participate in and even share with their friends. Remember that the longer your challenge lasts, the higher it's likely to cost. The reported average cost according to Hubspot is $150000 for six days.
Infeed ads
This term describes TikTok ads that use short videos and sometimes static images. Usually, the goal for in-feed ads is awareness; to get impressions and views. As the name suggests, TikTok displays this kind of ad as part of the videos queued upon a user's feed or at the bottom of their feed. Some marketers would argue that they are the most affordable because of the relatively high TikTok ads cost.
Most affordable or not, be sure that the goal of your campaign aligns with the benefits of this kind of ad before you select it.
Brand takeovers
This is a somewhat exclusive type of TikTok ad that is currently restricted to one advertiser in a day. It plays immediately after a user opens their TikTok app for the day. Hold this information tightly in your palm because it implies something very crucial. You have only a few seconds to hook the viewer - at most 5 seconds. And when you hook them long enough to watch the entire ad, you want to support that with a very clear call to action and a smooth customer journey.
What's the point of hooking a potential customer only for them to click on your call to action and encounter resistance, right? Brand takeover TikTok ads cost relatively higher than others, not because of different CPM rates but because of the limited reach and potential loss if the customer journey is poor.
Simple Tips to Improve ROI on TikTok Ads
Focus on value: TikTok is faithful to the philosophy that good content will travel far. In other words, if the first few people that view your TikTok ads are even slightly hooked to your message and interact with your content, you have a huge chance of success. If this set of people likes it, other people with similar interests are likely to engage with it. Before you know it, your ad has gone viral - it's really not rocket science.
Take advantage of the available features: If you have managed to validate your product or service and confirm that your audience is surely on TikTok, then you need to wield that information like the power it is. With your defined goals and audience targeting, which AdTargeting can help you with, your TikTok ads conversion rates will blow even your mind.
Promote your brand or TikTok channel on other platforms: Simply put, familiarity can improve the likelihood of people engaging with your ads. TikTok ads cost enough that it's tempting just to wait for the results to come in after launching the ad. However, a better approach is to continue other organic marketing efforts diligently. If you've managed to build trust across other platforms, you're more likely to get engagements from initially passive customers. It's a ripple effect from there - your numbers will keep growing.
Conclusion
TikTok ads cost a lot compared to other social media and advertising platforms. But also compared to others, it has higher daily active users, higher customer targeting and reaching potential, and highly transparent measurement tools to track your performance.
Being familiar with the peculiarities of running TikTok ads, such as the different advertising methods and TikTok ads cost, is important to get the best results. Always remember that the core demographics of TikTok are young folks, most especially females. Also, ensure that there is unique creativity to your TikTok ads from the beginning down to the last second of interaction. At the end of everything, your engagement truly depends on the instant or perceived value you can provide to your audience in the shortest time frame.
Save 50% on Advertising Costs!
Maximize your ad ROI with little cost! Come join us!
Get Started for Free