PowerAdSpy vs BigSpy
Advertising marketing is a constantly changing world. If marketers want to achieve greater success in this constantly changing field, they need to constantly understand the latest marketing knowledge and constantly study competitors' advertising strategies. And marketers can't do without ad spy tools if they want to understand the dynamics of competitors. There are many spy tools on the market now. After comparing ad inventory and advanced filtering methods, we found that there are 2 good tools. They are PowerAdspy and BigSpy. Which of these two tools is the best? Let's compare.
PowerAdspy
PowerAdspy is a mature ad spy tool for monitoring competitors' ads. Here, only a simple search can analyze and learn from competitors' ads. PowerAdspy can monitor a total of 50M ads in 20 countries. It is used to help advertisers find successful ads and learn and use them. In addition to spy competitors, PowerAdspy also has powerful search and filtering functions to help affiliates understand the market and quickly start making money without testing.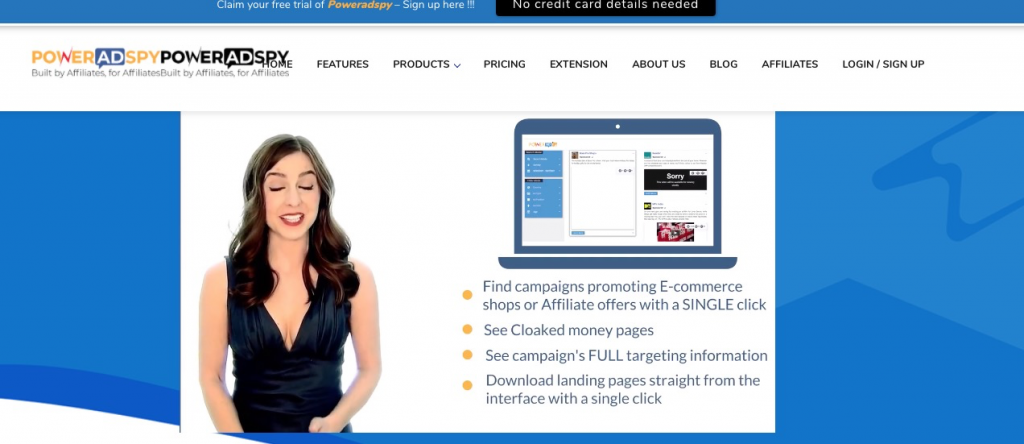 BigSpy
BigSpy is a social ad spy tool. He can grab advertising data from 40 countries, 76 languages, and 14 networks. BigSpy is committed to helping more advertisers get more revenue in the marketing field, and impress users with the most creative materials. Whether it is an advertising designer, media buying, ads agency, BigSpy can help you break through your existing situation and open up new marketing markets. In addition, it is also a source of product inspiration. BigSpy monitors and analyzes billions of ads from multiple angles such as creatives, ad copy, and ad audience, and tracks the user performance of each ad. BigSpy uses big data analysis capabilities to help advertisers improve ad data performance from multiple dimensions, optimize creatives, and increase ROI.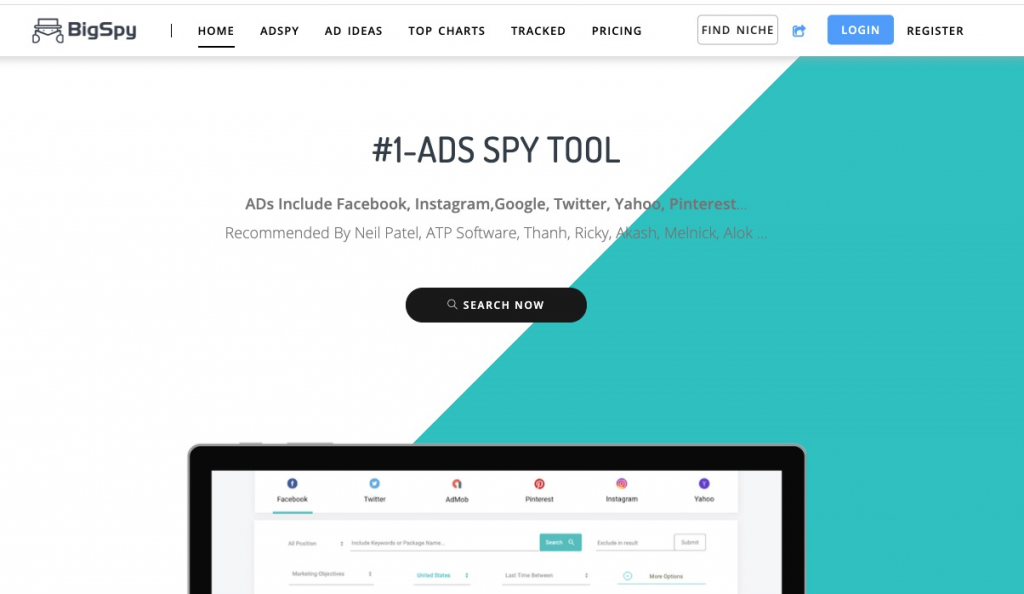 The above is a brief introduction to the two tools. For the ad spy tool, the three aspects that users need to pay attention to when using it are: the total amount of advertising data, the filtering function, and the data analysis ability. Below I compare PowerAdspy and BigSpy in detail from these three aspects.
1.Comparison of advertising data volume:
Poweradspy:
A total of 50 million ads
Advertising data crawling in 20 countries
Add the latest 10K ads every day
BigSpy:
1 billion advertising inventory
Analysis of advertising data in 40 countries
Crawl creatives in 76 languages
Facebook channel adds 10K of newest ads every day
Comparative analysis: BigSpy is tens of times larger than Poweradspy's advertising data, and BigSpy's daily increase is more and more.
2.Comparison of the number of monitored social channels:
Poweradspy has 4 main channels:
Facebook
Instagram
Google
Youtube
Reddit
Quora
BigSpy has 7 main channels:
Facebook
Instagram
Youtube
Twitter
Pinterest
AdMob
Yahoo
Comparative analysis: The mainstream channels of these two tools are similar, with Facebook, Instagram, Youtube, and Google. BigSpy has more channels and is more focused on social channels. PowerAdspy focuses on Q & A type of channel.
3. Comparison of search and filtering functions:
Poweradspy's search and filtering are divided into three modules:
keyword: keyword,domain,Advertiser,Text in image
Ad text: Search content in comments
Likes:
Sort:

Sort By Newest
Sort By Running Longest
Sort By Like
Sort By Comments
Sort By Share
Sort By View
Date:

Ad Seen Between
Post Date Between
Domain Registration Date
CTA:
country:20 countries
Ad type:Image,video
Ad Position:News Feed,Side Column
Gender:Male,Female
Language:50+ languages
Ages:6 age groups
Tracking tools:Voluum,AdsBridge,TrackingDesk,BeMob
Ecommerce:Shopify,WooCommerce,Magento
Funnel:
Source:Desktop, Android, IOS
Search by niche:15 categories(eg.health)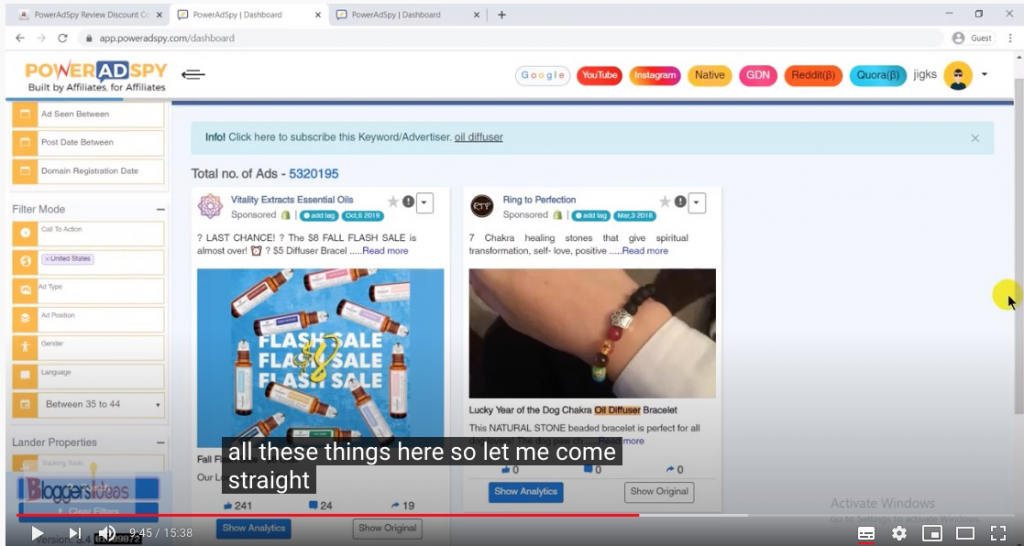 BigSpy's search and filtering are divided into three modules:
Keyword search: Enter keywords related to any advertisement
Keyword location search: advertising title, text, advertiser, landing page URL
Keyword exclusion search: enter excluded keywords
Keyword search by category: Prompt the subdivision of these three categories (Game, Ecom, APP)
There are a total of 13 filtering methods, which are divided into 4 types according to the needs of different users. They are:
Basic:

Page Categories:According to the industry selected 50 commonly used page classification
All Languages:76 languages
All Countries:40 countries
All Creatives:image,video,carousel
Device Types:IOS,Android,PC

Marketing:

Marketing Objectives:PPE,WC,COD,App Install and other
All CTA Types:All used CTA
ECommerce Softwares:Shopify,WooCommerce,Magento,PrestaShop,BigCommerce,OpenCart

Advanced:

Total Likes:
Affiliate Networks:9 Affiliate Networks
Affiliate:Enter Affiliate ID or Offer ID

Date:

Today,7 Days,30 Days,90 Days,Optional time
Only by created time
Sorting: 6 sorting methods

Sort By Last Seen
Sort By Created Time
Sort By Like
Sort By Comments
Sort By Share
Sort By Heat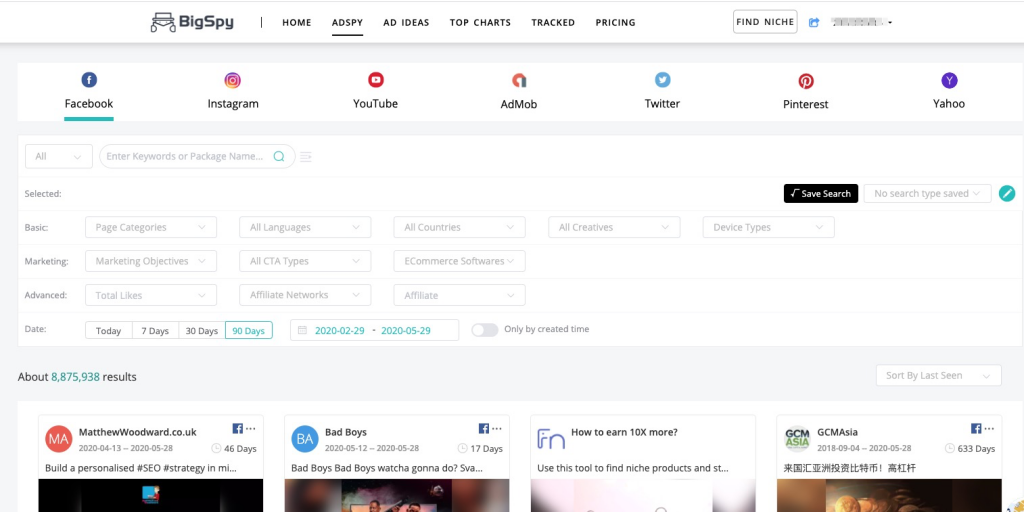 Comparative analysis: The search and filtering functions of PowerAdspy and BigSpy are very detailed, but in terms of practicality, BigSpy's filtering is the winner. Because BigSpy has a richer selection of advertising countries, languages, creativity, Affiliate, and ECommerce Softwares. It provides a more subdivided choice for advertisers in the game, app, and Ecom industries. Compared with BigSpy, PowerAdspy provides screening for the source of crawling ads, and the gender and age of the audience. But the source of advertising is not important data for users.
4.Comparison of advertising analysis and tracking functions:
Poweradspy
PowerAdspy analyzes each ad and displays the specific information of the ad as follows:
Ad collection: Save any ad you like
Ad time: shows the start and end time of the ad
social engagement: advertising likes, comments, share over time curve
country: the country where the audience is located
age: the age distribution of the audience
gender: audience gender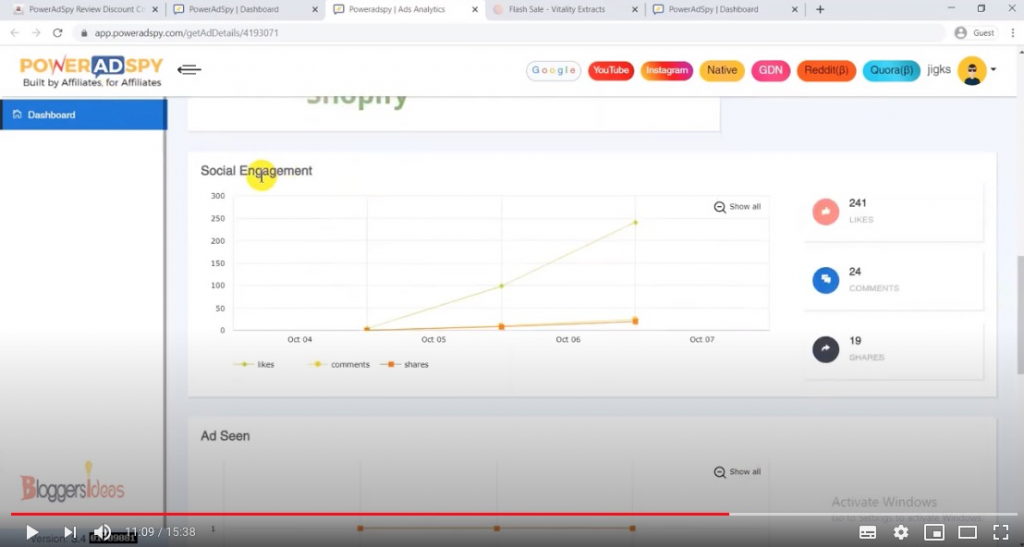 BigSpy
Click on any searched creative idea, we can see some basic information about this ad, including:
Advertising analysis:
Advertising classification: APP, Ecom, Game, other
Ad duration: the start and end time of the ad
Advertising performance and advertising popularity: Likes, comments, shares and advertising popularity
Language description: 76 languages
Countries where ads are served: 40 countries
Advertising devices: IOS, Android, PC
Advertising creative types: image, video, carousel
Ad creative download: Click "Downland" to download any creative
Advertising Tracking: Click "Get Access" to track and view the performance of this ad in the last 7 days and the last 30 days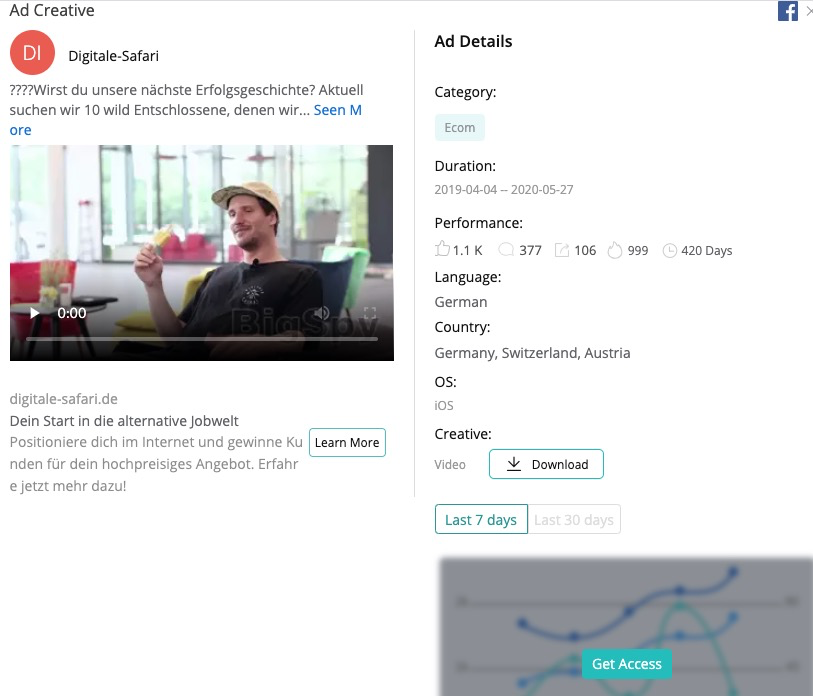 Landing pages: BIgSpy tracks the landing pages of every ad.
Audience analysis: BigSpy analyzes the gender ratio, age division, and country proportion of each audience in detail.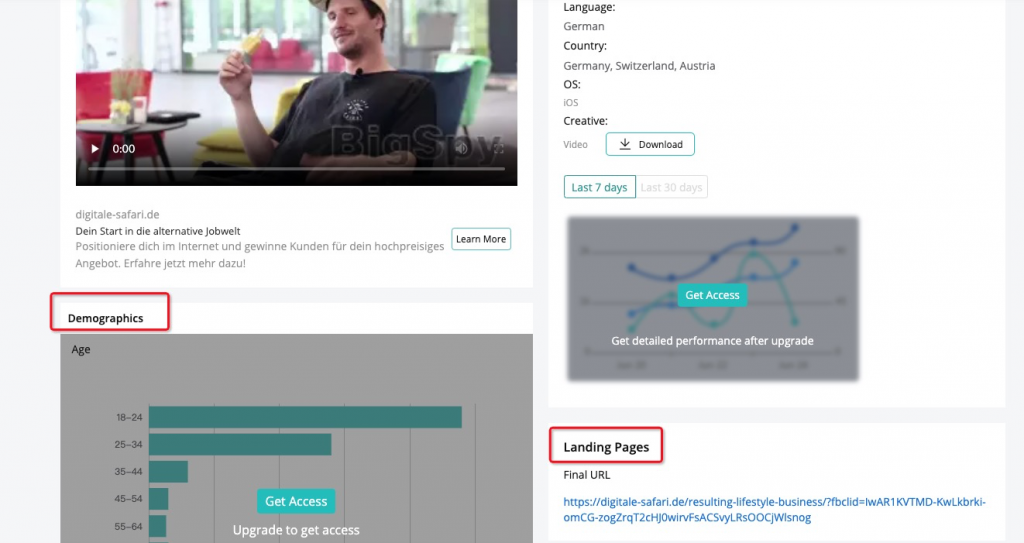 Comparative analysis: Both PowerAdspy and BigSpy have a basic analysis of advertisements, such as: time of advertisement, demographics of the audience, country of residence, social engagement obtained by advertisement, etc. But BigSpy has a more comprehensive analysis of advertising. BigSpy can also download creatives, and any competitors 'advertising pictures and videos can be downloaded. And tracked the demographic information of competitors.
BigSpy's advertising analysis is not limited to the advertising idea itself, it also monitors the advertising copy to help advertisers find the best ad text.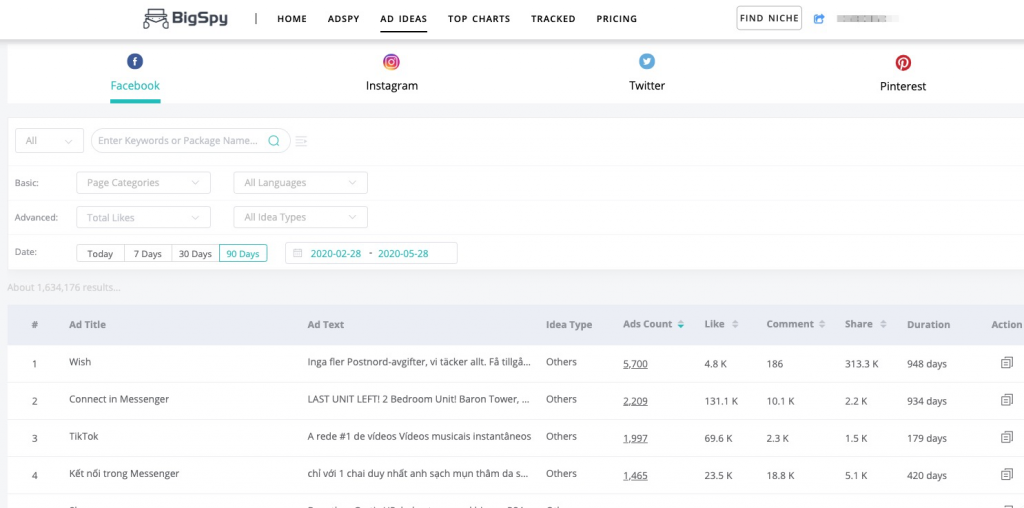 5. Spy on competitors' function comparison:
Poweradspy
PowerAdspy can find competitors' ads through a variety of filtering methods.
BigSpy
In addition to the normal search method, if you search for any competitor 's advertisement on BigSpy, you only need to click "search" in the upper right corner of the advertisement to see the advertiser's advertisement collection. And BigSpy analyzed the advertising creativity and copywriting, advertising audience, advertising time, and user response of each advertisement. By comparing all the advertisements of the advertiser, we can judge the advertiser's advertising strategy and find successful advertising ideas.

6. Comparison of usage methods:
Poweradspy
PowerAdspy must install the chrome extension before it can be used, and its registration process is complicated. It requires you to provide detailed personal information such as phone numbers.
BigSpy
BigSpy is an online tool that can be used after opening the website, and its registration process is also very simple, just a mailbox.
7. Pricing comparison:
Poweradspy:
$ 49/month: Facebook search function
$ 99/month: Some features of Facebook and Instagram
$ 149/month: full functionality of the three channels
$ 249/month: full functionality of the four channels
$ 299/month: full functionality of the five channels
$ 349/month: full functionality of the six channels
Free: Most functions can be used for free after registration
$ 9 / month: Facebook and Instagram channels are available
$ 99 / month: all channels are available
Invite 2 friends to use BigSpy to use the $ 99 function for free for a week
So what's the difference between BigSpy and PowerAdspy?
| | | |
| --- | --- | --- |
| | BigSpy | PowerAdSpy |
| Website type | online website | chrome-extension |
| Number of countries | 40 | 20 |
| Facebook ads | ✅ | ✅ |
| Instagram ads | ✅ | ✅ |
| Twitter ads | ✅ | ❌ |
| Google ads | ✅ | ✅ |
| Pinterest ads | ✅ | ❌ |
| Yahoo ads | ✅ | ❌ |
| Youtube ads | ✅ | ✅ |
| Ad Search | ✅ | ✅ |
| Filter ads | ✅ | ✅ |
| Exclude ads | ✅ | ❌ |
| Tracking ads | ✅ | ✅ |
| Ad sorting | ✅ | ✅ |
| Ad download | ✅ | ❌ |
| E-commerce software filtering | ✅ | ✅ |
| CTA type filtering | ✅ | ✅ |
| Categories filtering | ✅ | ❌ |
| Ad copy spy | ✅ | ❌ |
| Top Charts analytics | ✅ | ❌ |
| Featured Ads | ✅ | ❌ |
| Pricing | free,$9,99 | $49~349 |
Conclusion: BigSpy and PowerAdspy are good spy tools. But by comparing the two tools, we can clearly see that BigSpy's price is more advantageous, and its functions are more comprehensive than PowerAdspy.