Magic Instagram Competitor Ad Analysis – BigSpy
In the United States, more than 80% of companies have chosen to advertise on Instagram. Instagram started in 2013 and has now become a global social media tool in a short time. More and more companies have become loyal advertisers of Instagram. With the development of Instagram, the advertising competition here has become more and more fierce. Analyzing the competitors of Instagram advertising has become an inevitable event that we should do.
Reasons for analyzing competitors' ads on Instagram:
Instagram is the most popular social media among young people around the world, with a mature and complete advertising system. Teenagers are becoming the main consumer in the world, and more and more companies want to be recognized by young people. Instagram ads are their preferred advertising platform for young users, so more and more advertisers are flooding here.
As more and more companies settle in, Instagram marketing has become difficult, and it has become an inevitable trend to analyze the ads of Instagram competitors. Only by knowing more about your competitors' ads can you quickly succeed in Instagram ads.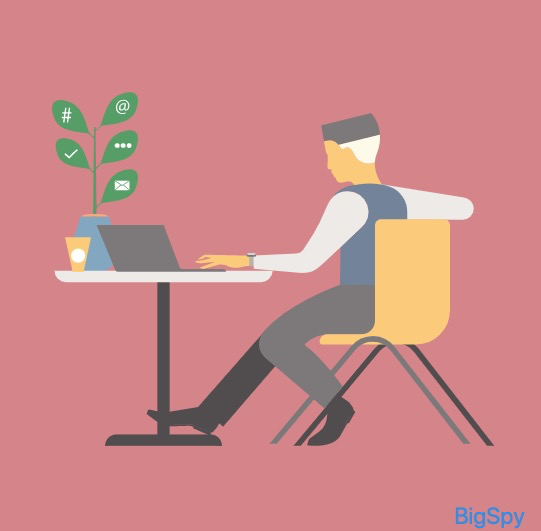 A tool to analyze Instagram competitor ads – BigSpy
If we manually track competitors' Instagram ads, it is difficult. Fortunately, there are many tools for Instagram competitor ad analysis, and BigSpy is the best Instagram ad spy tool. BigSpy can monitor millions of Instagram ads in 40 countries.
BigSpy is a professional competitor spy tool, it supports keyword search and exclusion, 6 kinds of ad advanced filtering methods, 6 kinds of ad sorting methods, etc. A variety of ad search methods can more efficiently target competitors' ads.
BigSpy has classified a variety of advertisements, especially e-commerce advertisers. If you are still worried about product selection and Shopify advertising creativity, come to BigSpy for research.
BigSpy is not only a competitor ad search tool, but it is also a competitor ad analysis tool. Click on any competitor's ad, and you can learn about the competitor's ad material, delivery events, audience, ad performance, etc.
In addition to monitoring competitors' Instagram ads, BigSpy can also monitor a total of 7 ad network platforms including Facebook, Youtube, Pinterest, Twitter, AdMob, and Yahoo. BigSpy analyzes competitors' ads from multiple angles, channels, and elements.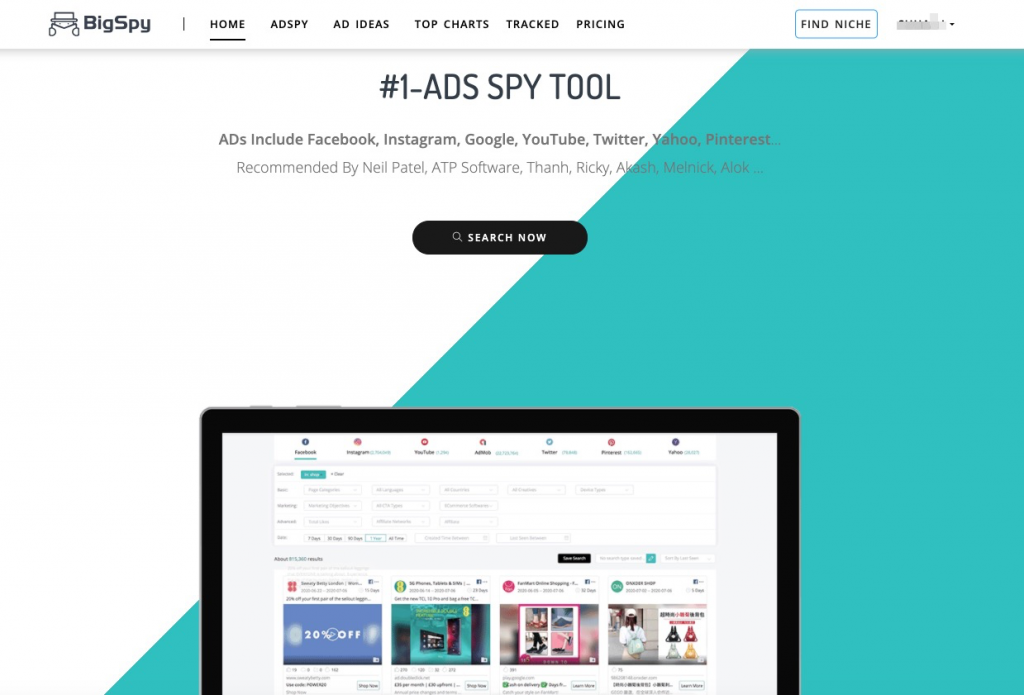 How to use BigSpy to analyze competitors' Instagram ads?
1. Search for competitors' Instagram ads
On BigSpy, open the "adspy" section page, select the "Instagram" channel, enter the competitor's brand name, and you can find all competitor-related Instagram ads.
Find any competitor's ad, click on the ":" in the upper right corner of the ad, and click on "Search" again, so that you can find all the ads that have been placed under this advertiser.
For example: I am a Shopify store owner dealing in pet toys, and now I want to find ads related to competitors from BigSpy.
I only need to enter "pet" in the search box, select the marketing type as "Shopify", and choose to sort by favorite, and I can get the following results: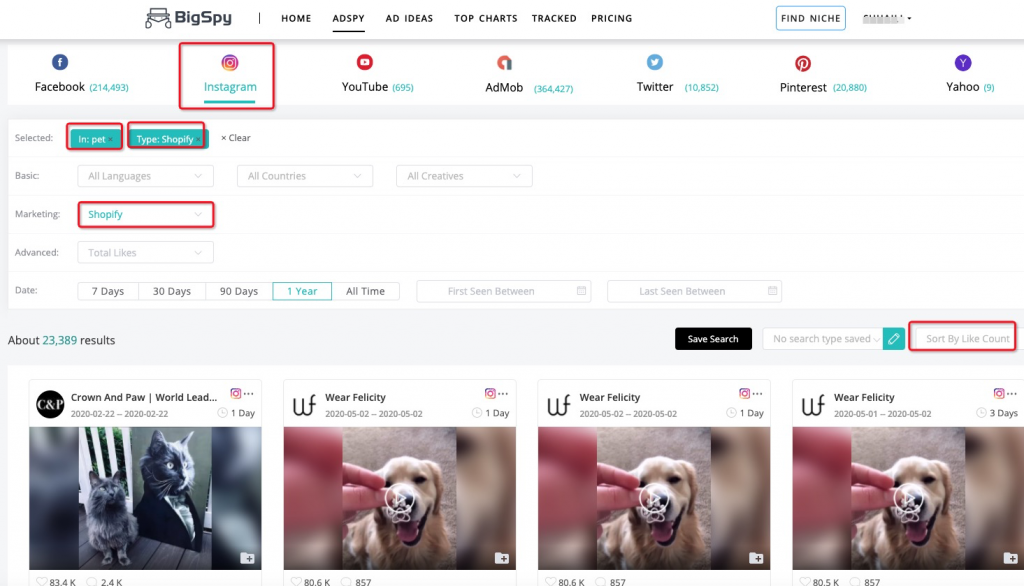 Then I selected the advertisement with the advertiser "Wear Felicity" from these advertisements for research. This is a shop that customizes necklaces for pets. I checked all the advertisements it puts and got the following results: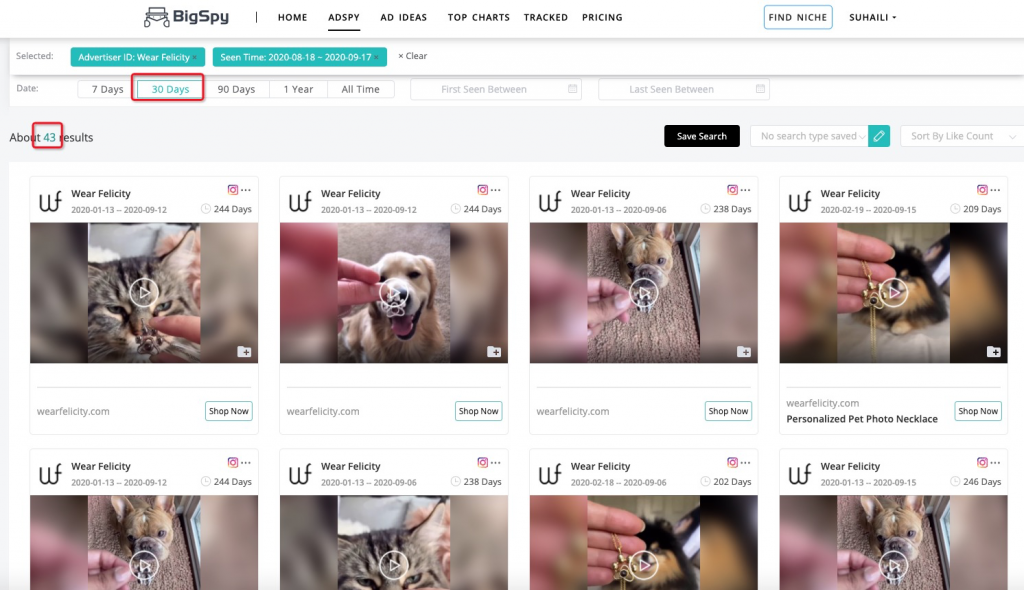 2. Check out competitors' ad creative
After finding all the competitors' ads, we need to analyze the competitors' creatives, advertising strategies, and especially the most successful campaigns.
Judging from the competitor advertising cases found above, the competitor has placed 43 Instagram ads in the last 30 days, and all advertising formats use video.
Creative: Video
Creative style: The video is often less than 1 minute, the cover of the video is with pets as the background, and the necklace is emphasized
Ad copy: Emphasize "personalization", "50% discount", "help pet", etc.
Advertising time: The advertising time is very long, basically more than 100 days
CTA type: all use "SHOP_NOW"
3. Analyze advertising audiences and landing pages
Click on the creative, and you will see a detailed analysis of the advertisement, including the country, language, time, and equipment of the advertisement. Click "Detailed Insight", and you can also analyze the audience and landing page of your competitors.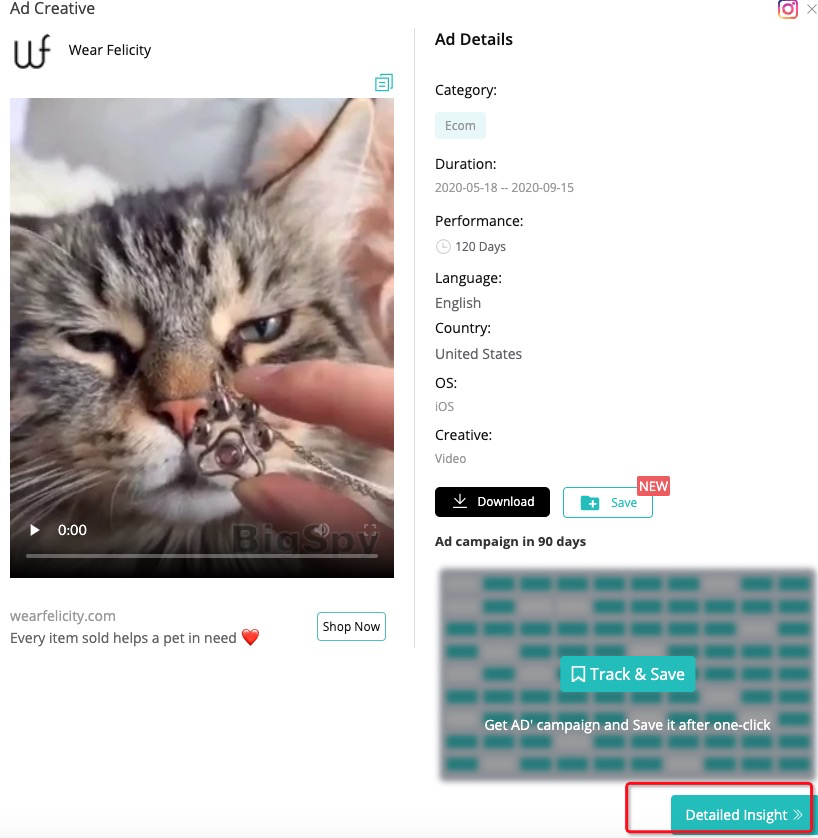 4. Learn the advantages of competitors
Whether it is looking for a competitor's Instagram advertising or analyzing a competitor's Instagram advertising strategy, the ultimate goal of a company is to find a way for the competitor to succeed. Let us know more about the secrets of competitor's advertising success, understand the advantages of competitors, and learn these advantages, and then surpass competitors.
BigSpy provides such a competitor monitoring platform to make advertising more transparent. Companies can use big data to analyze and learn the advertising advantages of competitors, so that advertising is no longer a metaphysics, and marketing becomes simple.