2022 Guide for Searching the Facebook Ad Library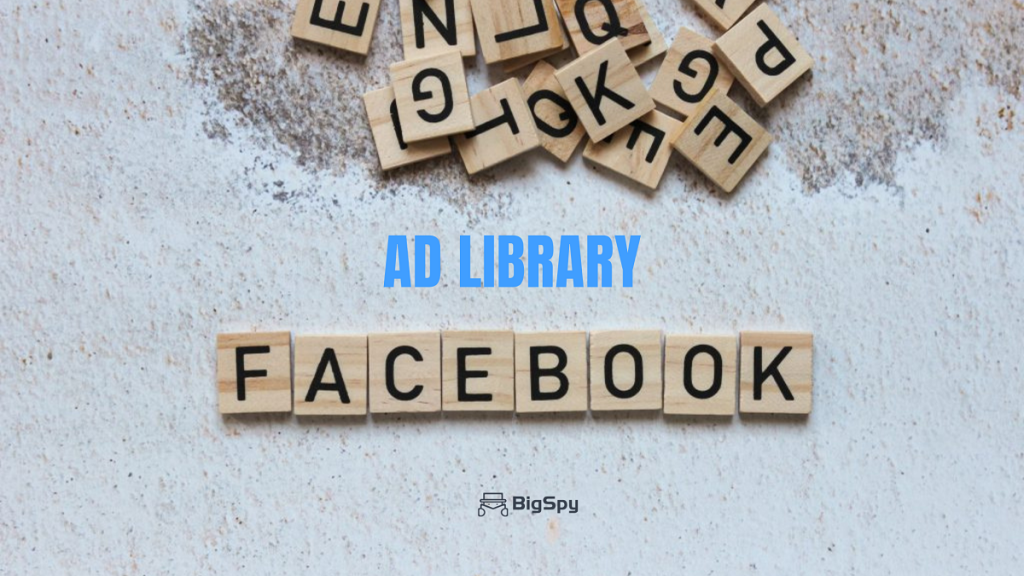 Reaching the right user at the right time. This seemingly simple statement is not easy to do. And how do those marketing experts do it?
Searching the Facebook Ad Library is one of their most important tools.
What is Facebook/Meta Ad Library?
For new marketers, the term may be a little foreign. But once you get to know it, you'll realize how powerful it is.
As a part of Facebook's transparency policy, the Facebook Ads Library (now renamed the meta Ads Library) is an online library for marketers. It stores all the paid ads published on Facebook, Instagram, Audience Network, and Messenger. It's completely free. After logging in, you have access to every advertisement placed by all types of brands, even those from 7 years ago.
What Can You Get from Facebook/Meta Ad Library?
Search Ads
Searching on the Facebook ad library is easy. There are two ways to access the Ad Library.
Method 1: Directly go to the Facebook Ad Library and then search.
Step 1: Head to facebook.com/ads/library and log in.
Step 2: Set up categories
Before looking up an ad, you'll have to set your location and choose a keyword or category.
Facebook has separated issues, elections, and political ads from all other ads. So, there are only two categories —— All ads and Issues, elections, or politics. If you're looking for a commercial ad, click on "All ads", as shown in the picture below.
Step 3: Optimize your search
Now, you can search for any phrase or term.
Commonly searched terms include companies' names paying for ads on social issues, political figures, politics or elections, or particular pages or advertisers. If you're looking for ads that are related to a particular subject, you can also use a combination of keywords.
Then, you can narrow your search by various options like date, media type, or impressions.
Impressions – An impression is calculated each time your ad is displayed on a search results page. The higher the number of impressions, the more effective the campaign will be.
Media Type -- Which is visually dominant, video or images? If you check the competitors' ads by impressions, you will get the answer.
Duration -- The duration of one ad campaign is something that many people tend to overlook. But the truth is, if a particular ad has been running for a long time, there is a good chance it has been a success.
Message - Find the hottest posts, then focus on the headline of the copy, the value proposition it conveys, and the CTA. Also, have a look at what their discount strategy is. Free shipping? Or discount codes?
Method 2: Through the Facebook page, you can also access the Ad Library.
Step 1: Follow your competitor's Facebook page.
Step 2: Find the "Page Transparency" box in the right column and click "See More". Then click, "Go to Ad Library"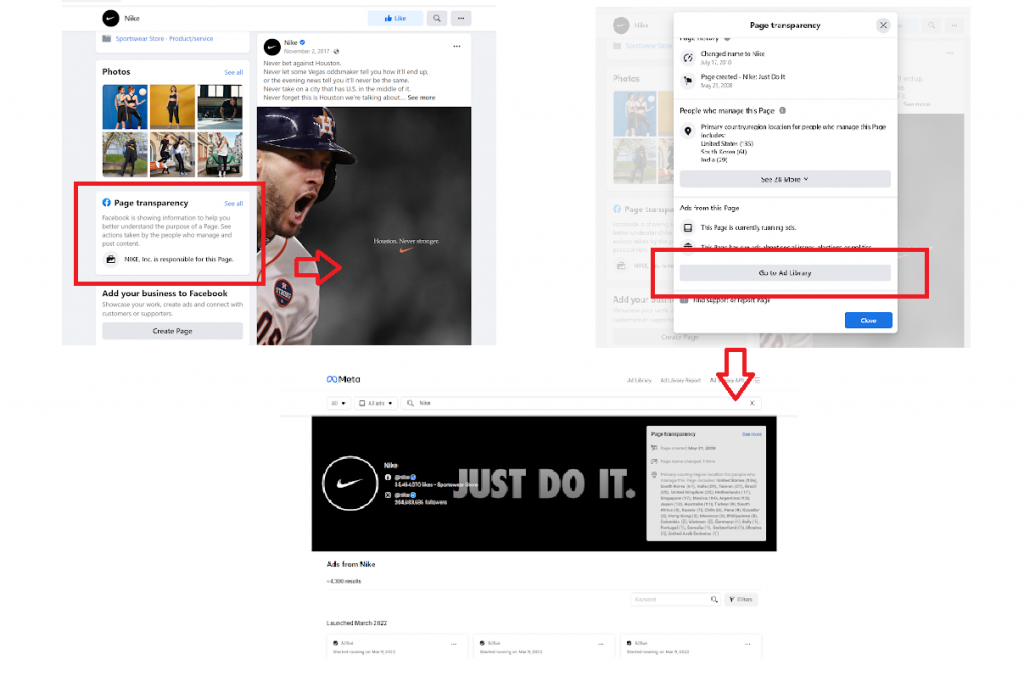 Track Advertising Trends
As you may know, the Facebook Ad Library can help you know where your competitors are spending on advertising, which ads they are running, how they are engaging their audience when they are promoting offers, and which platforms they're using.
In other words, you will get a clear picture of your competitors' ads, the most effective formats, the interaction of users with their ads, and the ads receiving the most incredible attention.
If you check this Library only once a month, you will be able to notice the main trends and strategy changes.
Top Facebook/Meta Ad Libray Alteratives
Some of the benefits of the Facebook Ad Library have already been mentioned, but you should be aware that it does not meet all of your needs.
You can't save anything. You can only see ads from the Facebook affiliate platform. You can't have all of your favorite ads in one place in the ad library.
This issue raises the question - Is there a more powerful ad library tool?
Let's learn about some Facebook Ad Libray Alteratives.
1. BigSpy: All-In-One Ad Library for Ecommerece and Gaming
BigSpy is an all-in-one ad library for Facebook, Instagram, Google, Tiktok, etc. It contains more than 600 million ads, which are based on real ads campaigns.
Unlike Facebook Ad Library, Bigspy provides you with better filters in the dashboard. The user interface is intuitive and straightforward. You can use 10 + filtering features to search and get pure data. Such as:
Ad Info: including keywords, advertisers name, ad copy, landing pages
Website Type: eCommerce, gaming app, or non-gaming app
Creative type: mainly includes formats such as video or image, landscape or portrait, and clarity
Ad Copy: it can be language/country, the number of engagements, like, share, the time of ads, or CTA
Ad Format: Original Posts, COD
Moreover, you can sort the searched ads in 5 ways:
Sort by last seen
Sort by first seen
Sort by like
Sort by comment
Sort by share
In a word, what you should do is filter ads and find out the ones which will help you the most.
2. Poweradspy: Built By Affiliates, For Affiliates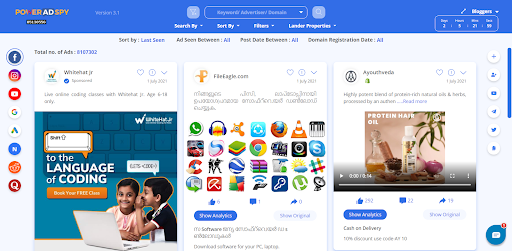 Similar to BigSpy, most of the features of Poweradspy are inside the dashboard. Its search function is based on three categories - Domain, Advertiser, Keyword. And it supports filtering ads by the following segments:
Text in images
Brand image (i.e. brand name in the image)
Objects in the image (brand name in the image)
Celebrity image (i.e. influencer/celebrity image)
In addition, Poweradspy has a database of 50 million ads from over 100 countries/regions. Its database is updated with over 50,000 ads every day.
Compared to Facebook Ad Library, Powderadspy is able to provide its users with a marvelous experience in spying activities of your competitors.
3. AdSpy: Searchable Database of Facebook and Instagram Ads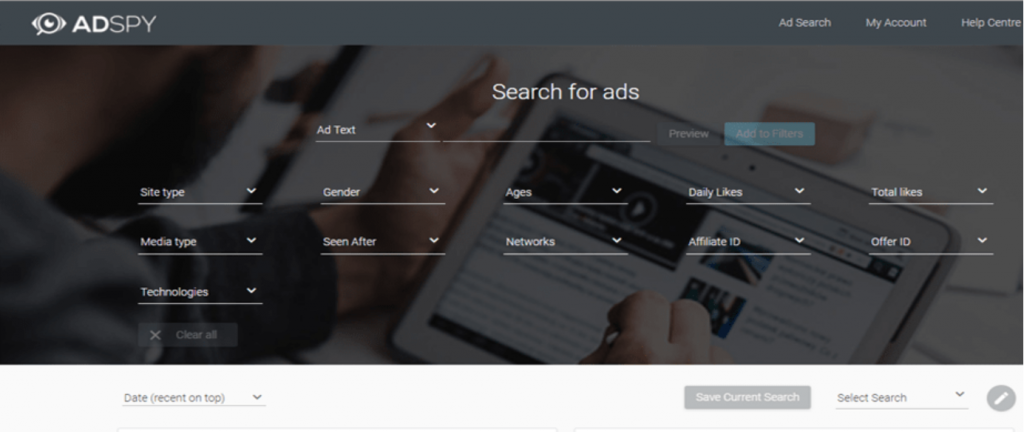 AdSpy is one of the best ad spy tools. It is very similar to BigSpy, Poweradspy, but it doesn't have as many spying features as they do. Its ad library focuses on ads displayed on Facebook and Instagram.
BigSpy has a database of about 90 million ads that are collected from millions of sources around the world. It has basic and advanced filters to help you find ad text, review and landing page URLs, as well as ad types.
Take Away
Below is a brief overview of all the highlighted features of these three ad libraries.
Bigspy
Poweradspy
AdSpy
Database
· 600M+ Ads
· 23+ Countries
· 5M+ Ads,
· 15+ Countries
· 10M+ Ads,
· 216 Countries
Search
Google, Yahoo
Google
×
Social Media
Facebook, Instagram, Youtube,Twitter, Pinterest, TikTok
Facebook, Instagram, Youtube, Pinterest, Reddit, Quora
Facebook, Instagram
Ecommerce
√
×
√
Search Options
√
√
√
Filter Options
√
√
√
Featured Ads
√
×
×
Top Charts
√
×
×
Original Copy
√
√
√
Track Ads
√
√
×
Download Ads
√
×
×
Free Trial
√
×
×
Pricing
$9, All$99
$9, All$99
$149
Final Thoughts
Hope this article has helped spark your interest in Facebook spy/ ads library tools. Take some time to test out these tools. You'll soon be able to see what wonderful Facebook ads have been running lately.
Experience Hassle-free Ad Spying
BigSpy is the best and cheapest ad spy tool, with competitive Ads intelligence
from 80 countries and 23 languages, covering 7+ social platforms
Start for Free