How To Target Facebook Ads To Fans Of A Competitor Page?
After entering the 21st century, we find that more and more products are homogenized and more and more products with the same function. What differentiates products is the added value of the brand, which is caused by different marketing and promotion. In the marketing market, not only do we need innovative thinking, but more importantly, we analyze competitors 'advertising trends and accurately target competitors' audiences.
To analyze the strategies commonly used by competitors in the market today, only by facing the difference between us and our competitors can we detect product and marketing loopholes, and make product upgrades and promotion strategy changes.
Targeting competitors 'audiences accurately can save more marketing and conversion costs. And targeting audiences directly to fans of competitors 'Facebook pages is a good way to quickly capture the market.
1.Target competitors 'Facebook ads
In marketing promotion, Facebook is a big advertising platform not to be missed. It occupies one-third of the world's population and has an accurate advertising audience targeting system. This is a platform that every brand marketing must not miss. Therefore, we analyze competitors starting with Facebook ads.
Analyze competitors' advertising strategies-BigSpy
When analyzing competitors, the most taboo point is to use your subjective judgment to speculate on the business layout of your competitors. In this information age, we must learn to use a variety of beneficial tools to help us use data to analyze facts.
BigSpy is an ad spy tool that can monitor billions of advertisements on 7 social platforms and 10 affiliate networks. And its advertising inventory is still increasing.
Before targeting competitors 'audiences, advertisers should first need to understand competitors' advertising strategies. You can use bigspy, as long as you search for the usernames of competitors on BigSpy, you can know which platforms the competitors have advertised on, and learn about their creative ideas and details.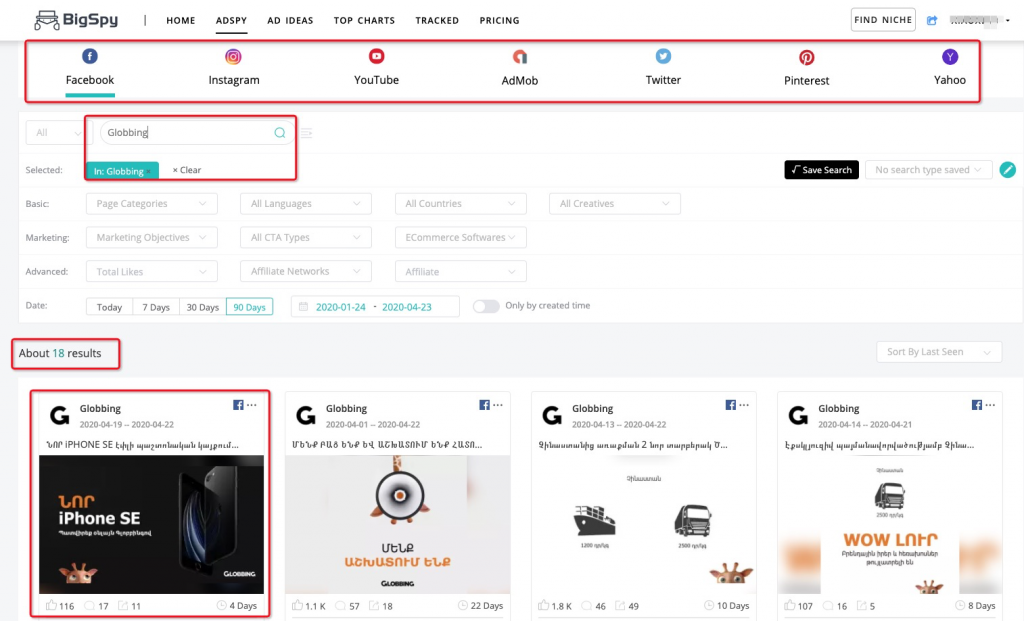 Track demographics and geographic location of competitor audiences-BigSpy
BigSpy can also track competitors 'ads and analyze detailed data on competitors' ads. This includes specific audience demographic information and geographic location.
For example: Adidas and Nike, both belong to the sports shoe industry, and the target audience is also mainly male teenagers. However, with the development of the industry, the market is subdivided, which brand can quickly occupy the new subdivision area, this brand will get faster development. Therefore, the demographics of the brand and the location of the audience are the basis.
After finding the competitor's ads through search and advanced filtering in BigSpy, click "view more" and get the following results: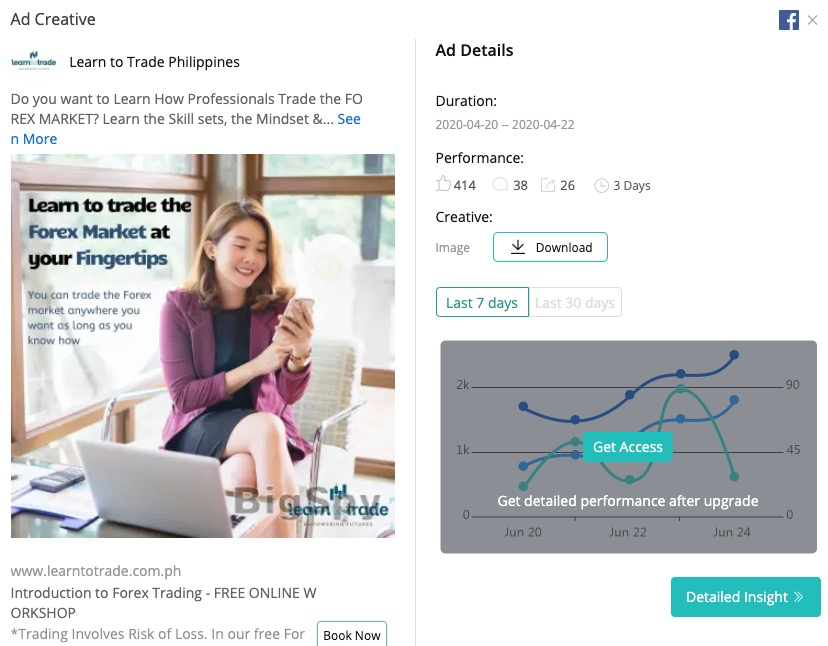 After upgrading the account, click "Get Access", you can see the detailed audience analysis. BigSpy counts the ratio of men and women in the advertising audience, age division, country, and geographic location map.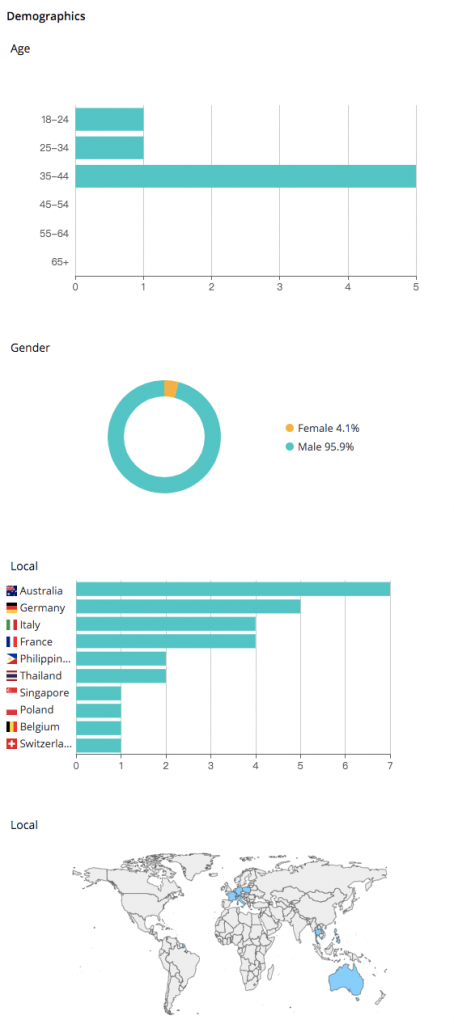 BigSpy helps users locate the geographic location and demographic information of competitors 'Facebook advertising audiences. This is the detailed data of the Facebook ads of competitors and the basis for advertisers to target competitors.
2. Use interest to target competitors' Facebook fans
How to use the interest to target competitors
We all know that Facebook has 3 audience targeting methods, core audience, custom audience, and lookalike audience. Among them, the core audience is very powerful, and it is also the common audience method for advertisers to place Facebook ads. There are four types of positioning for the core audience: Location, Demographics, Interests, Behaviors. For the geographical location of the advertising audience, the characteristics of the crowd and user behavior we have determined through BigSpy, and its adjustable range is very small. However, interest positioning is flexible, and the use of interest positioning can greatly narrow the audience of advertisers and accurately target the audience of competitors.
The most direct way to target competitors 'audiences is to use competitors' brand names or website domain names as interest, such as Nike. But if the competitor's traffic is small and not enough as interest, we have to analyze the interest words of competitors' audiences in detail. We can use the Facebook interest targeting tool.
For example: you are a Shopify store that does skateboarding. The preferred word of interest for targeting competitors is "skateboard". In addition to skateboarding, you can also choose "Word Skateboards", "Street League Skateboarding" and more. Interest words.
How to target more precise interests-AdTargeting
Facebook's interest options are opaque. The interest that advertisers can see is only a small part. To find more precise interest, you must use the Facebook interest targeting tool.
AdTargeting is a Facebook interest targeting tool to help users locate more accurate Facebook audience interests. After I searched for the word "skateboard", I got the following results: It showed the interest and audience numbers related to skateboards in detail.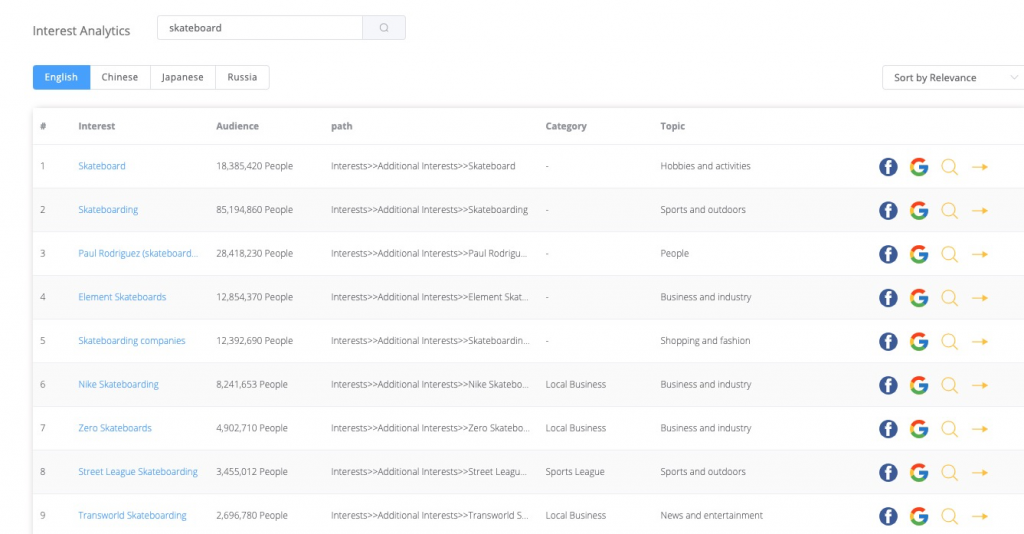 Click on any interest in the picture, you can get a detailed analysis of interest audience: it clearly shows the proportion of people with this interest and the associated Facebook Page.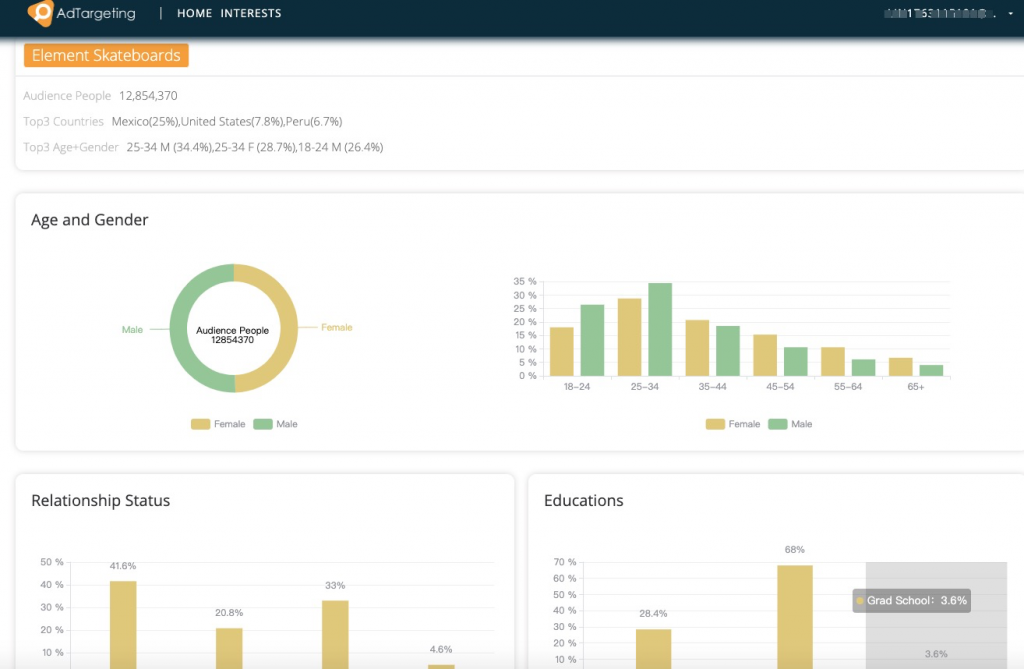 3.Lookalike audience
Lookalike audience is an effective method on Facebook to help us get accurate audiences of the same type. Install Facebook pixels on the website and create a Custom audience with the best advertising results. These audiences have certain common characteristics. Facebook will find similar people based on these same characteristics.
Using a Lookalike audience to target competitors 'Facebook Page fans is an effective method. Because your products are similar, the audience overlap is high. Just grasp the same characteristics as your competitors and fans. Using the principle of Lookalike audience, you can locate competitors' Facebook Page fans.
Lookalike audiences who target Facebook ads to competitors 'pages are not overnight. It takes time to target the right audience and analyze the detailed characteristics of competitors 'Facebook page fans. Compare the advertising audience of advertisers so that you can create a most accurate custom audience to target competitors 'fans.

4.Expand channels and audiences
Targeting Facebook ads to fans of competitors' pages is an effective way to expand the advertising audience. In addition, advertising can also consider some new social channels, such as Instagram.
Facebook acquired Instagram in 2012. Now Instagram and Facebook share an advertising system, and Instagram is currently the favorite social app for teenagers. Therefore, if your users are mainly teenagers, you can target social media channels on Instagram.