How to Find An Ad You Saw on Facebook
Hey there! Do you have such distress? I saw a Facebook ad while browsing Facebook, but it was very difficult to find it later. Then this article will bring you two ways to find an ad you saw on Facebook. The detailed steps are as follows.
Use Bigspy to find an ad you saw on Facebook
Bigspy is a powerful Facebook ad spy tool, where you can easily check the advertisements on Instagram, Facebook, YouTube and other 5 channels. The tool is also equipped with a variety of filters, you can filter according to time, likes and other content. It is worth mentioning that you can view the advertisements you have seen by entering keywords. In addition, you can also find a lot of competing product advertisements. In the comparison you have expanded more products, which is very friendly to buyers. The following are the detailed steps.
Use Bigspy to find an ad you saw on Facebook. As long as you remember the brand name or the keywords of the ad, you can easily find it. This is a Zendesk ad I saw on Facebook, and then I will find it through searching in Bigspy.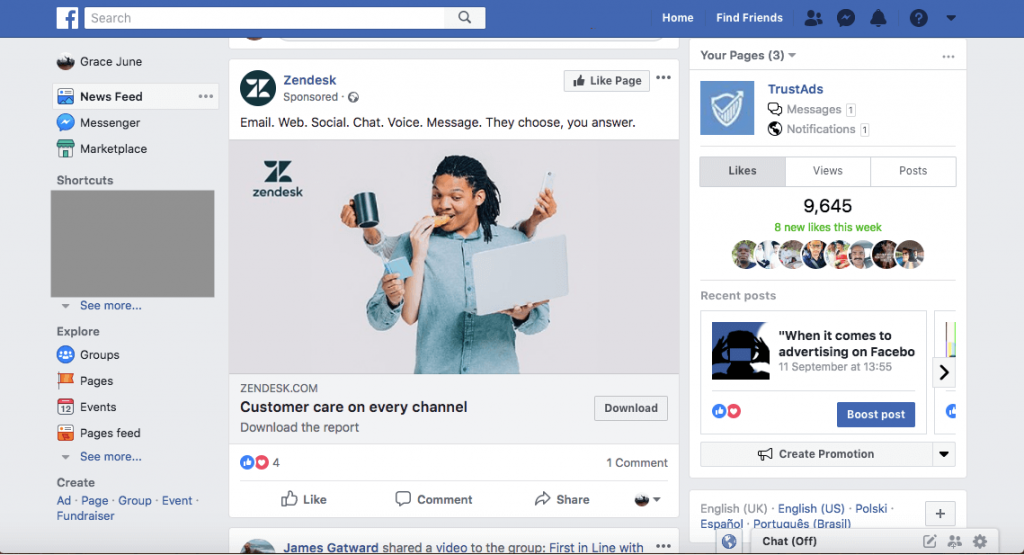 Open Bigspy's adspy function, select Facebook channel here, and you can enter the advertising keywords you remember in the search bar, which can be information such as advertising copy, advertiser and so on. Of course, in order to narrow the scope of the query, you can choose the language of the advertisement and the time range (choose the time as long as possible). You can also choose other content if you have an impression. The more filters you choose, the more likely you are to find your target advertisement.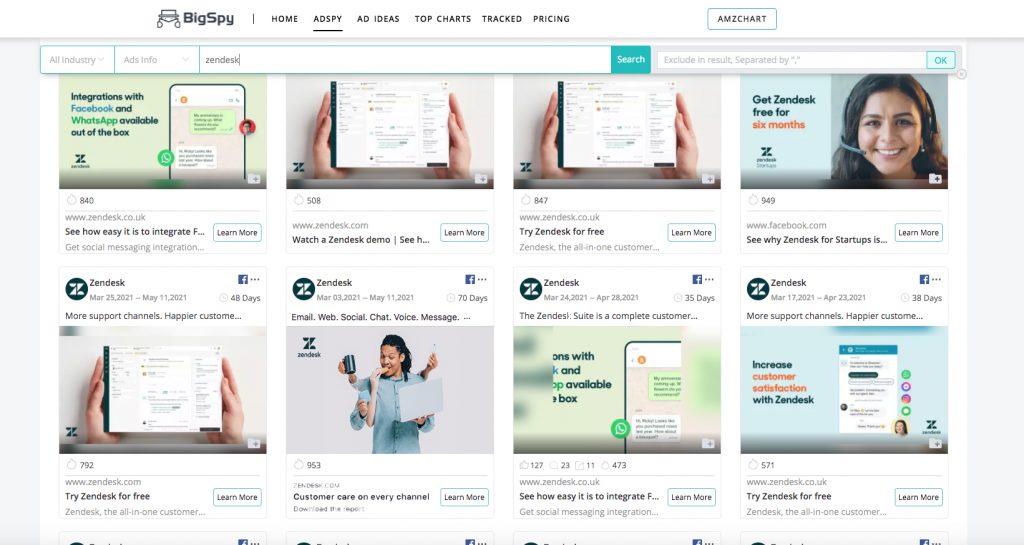 I set up Bigspy's filter content and easily found Zendesk's ads. What's interesting is that I also found a lot of Zendesk ads. They are also helpful to me. Of course, in the process of filter selection, I also learned about Zendesk's many competing products. In contrast, I also got more choices.
Regardless of whether you click on the target ad on Facebook, you only need keywords + filters to easily get the ad you want to view
In addition to target advertisements, you can view competing product advertisements to increase the chances of product research
Disadvantages: You need to have some data memory for the target advertisement, if you don't remember any keyword information, you can't make a query
Use Facebook record to find an ad you saw on Facebook
I don't know if you have noticed that there is a "Recent Ad Activity" function in Facebook on your mobile phone. The "Recent Ad Activity" seems to show the ads you have clicked, liked, commented or shared in the past three months. There is also a label for ads that you save purposefully.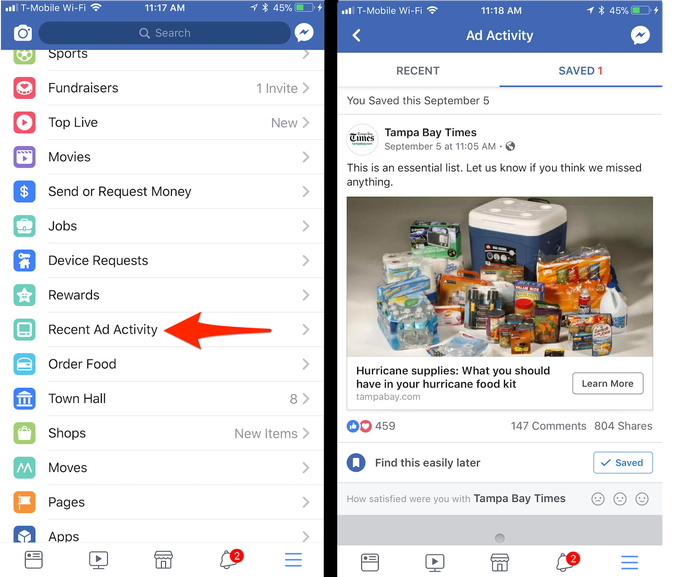 So as long as you have performed relevant operations on the target advertisement at that time, you can easily find it here. Click "Recent Ad Activity", there will be two data sections, the first is "RECENT", the other is "SEVED". "RECENT" is the advertisement for which you perform actions such as likes and comments, and "SEVED" is the advertisement for which you clicked the save label. Through this operation, you can easily get the ad you saw on Facebook.
Advantages: You can directly operate Facebook to view targeted advertisements.
Disadvantages: strong limitations, if you did not click or save the target advertisement at that time, you will not be able to view the advertisement.
Summary
The two ways to find the Facebook ads you have seen have their own advantages and disadvantages. Choose a reasonable one when facing different situations. If you operated on the target ad, it is very fast to find it directly on Facebook. If you did not take any action on the target advertisement, then Bigspy will be a very good choice for you. Not only can it help you find the target advertisement, you can also find more interesting advertisements during the ad query process.