Facebook Ad Policy 2022: The Complete Guide for Facebook Advertisement 2022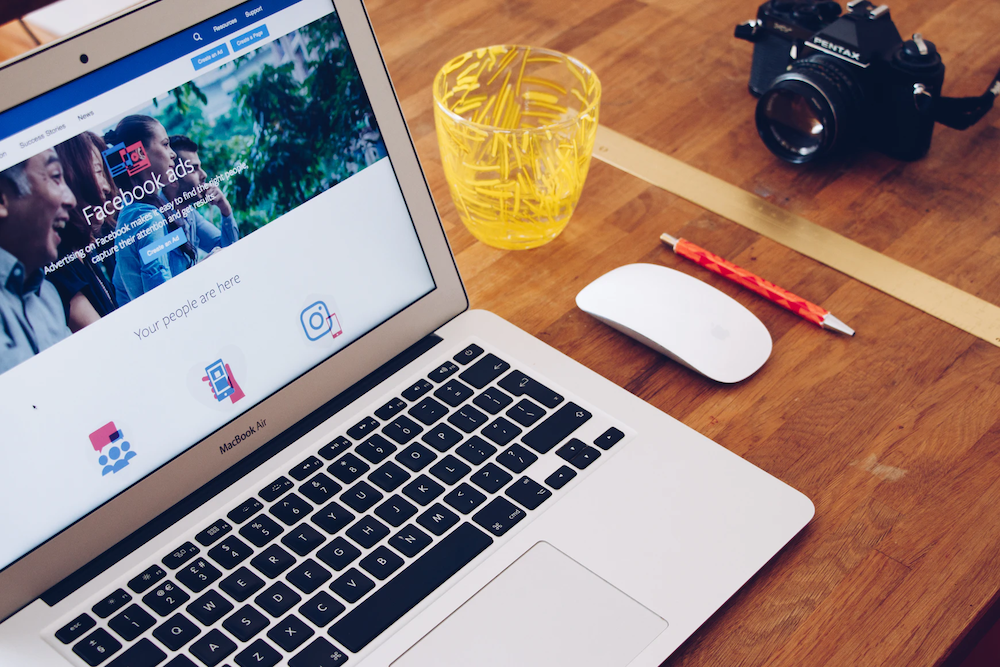 There are 2.8 billion monthly active Facebook users from around the world. If you use the platform correctly complying to Facebook's ad policy 2021 and for 2022, you have the chance to grow by targeting a global demographic.
There's a cutthroat marketing competition when we talk about Facebook ads. Every brand wants to slash its rivals by making striking ads that are according to Facebook's advertising policies.
However, many marketers have felt the Facebook ads' sting due to the strongest advertisement policies including violation of community terms, prohibited and restricted content. A few believe that organic outreach at Facebook is extinct, and constantly changing advertising policies for 2021 and 2022 might knock you out of the game forever.
Marketers are also stuck in a financial bind and most of their efforts quickly go sideways with minimal yield. That's because they aren't targeting the right target. You can also use tools like BigSpy with advanced algorithms that help businesses gain marketing insights by crawling into competitors' brains and taking out some tried and true advertisement ideas for you. Using BigSpy will give you an extra edge and refine your ad campaigns.
With the BigSpy advertising tool, you will get additional support for initiating Facebook ads and increasing turnaround time. The advertising software will provide you with ad ideas in your niche that are standing out and gushing with user responses so you can embed them in your marketing campaigns. This saves your time, effort and money.
If you want to be successful in Facebook ad marketing, you will have to study Facebook ad policy 2021 and 2022 so you don't miss out on any rules.
So, we have done our part to help you and organized this comprehensive guide for you, you can also get in touch with the experts or take advantage of modern ad spy tools in the field. They follow the appropriate measures and make your ads stand out, let's dive in and find out the basics and the important details regarding Facebook ad policy 2021!
Let's take a quick look at the main points of this article.
5 Common Types of Facebook Ads in 2021-2022
The first step to excel at anything is to know the nitty gritty of the field. The rule stays the same when it comes to Facebook ads.
Knowing different kinds of ad styles will help you reach your demographic effectively.
Here are common Facebook ads that you should know as a marketer.
1. Image ads on Facebook
The use of picture adverts on websites like Facebook has increased significantly. Companies must offer high-quality images that best reflect the ad's objective to serve these ads. They should strictly comply with Facebook advertising policies.
As more marketers become conscious of this, they are including more and more photos in their advertisements.
To Do:
The visuals used in images in Facebook advertising must be appropriate, as failure to do so may result in a low click-through rate (CTR). Rather than a picture of just the product, use people's portraits using it and integrate it into their social fabric (which may be easily scrolled over).
Facebook Image Ad Requirements:
Headline: 40 characters
Link description: 30 characters
Body text: 125 characters
Campaign objectives: All except video views
2. Video Ads on Facebook
During the last few decades, video ads on Facebook have grown popular. You can generate Facebook video ad campaigns using an Ads Manager or promote a post from your Facebook page that complies with Facebook page policy.
To Do:
You can use Facebook video advertisements to Showcase your product, service, or brand innovatively. Video ads can be useful to highlight the key qualities of your brand's narrative.
Your video ads, like your images according to Facebook ad policy for 2021, should be aesthetically attractive. If you didn't record in high definition and trim it properly, your Facebook ads may not catch the attention of your target audience.
Facebook Video Ad Requirements:
Headline: 40 characters
Link description: 30 characters
Body text: 125 characters
Campaign objectives: All except catalog sales
3. Ads on Facebook Slideshow
Slideshow advertisements are the latest in Facebook's advertising policy, allowing advertisers to construct visually engaging ad presentations. They are also excellent for boosting the ad's material with movies, photos, GIFs, and text.
To Do:
As a technique to use slideshow video in your social media advertising, view Facebook ad policy 2021 and put your efforts to convey additional data regarding the company.
Use high-resolution, well shot graphics for Facebook Slideshow to maximize audience reach. If your company provides a service, you can use Slideshow advertising to walk your customers through the process.
Facebook Slideshow Ad Requirements:
Headline: 25 characters
Link description: 30 characters
Body text: 125 characters
Campaign objectives: All
4. Facebook Instant Experience advertisements
Instant Experience Facebook advertising in 2021 is the type of ad marketing that shows users full screen ads demonstrating your product's features or benefits to hook their attention with appealing graphic visuals.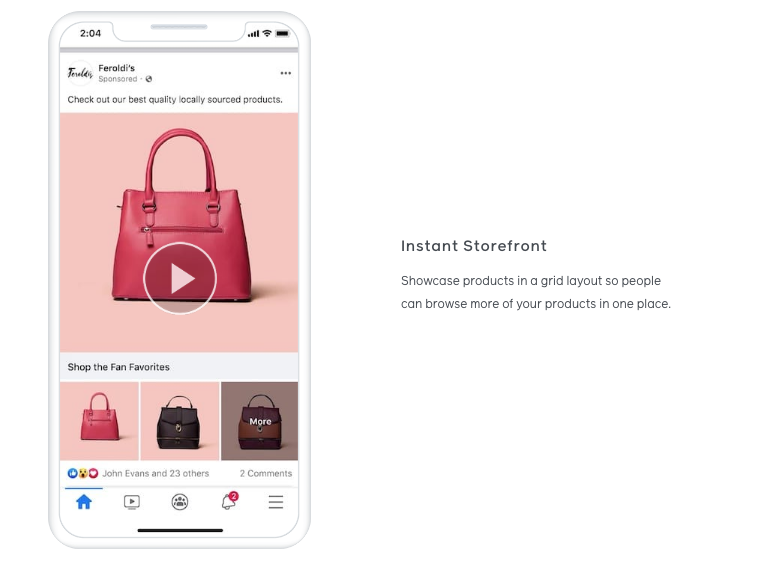 To Do:
If you want to provide your target audience a quick guide about how they can interact and benefit from your brand, Facebook instant advertisement will give you fruitful results.
As per Facebook ad policy in 2021, you should display full-screen features of your business, services, and products to users including photos, animations, carousels, and presentations.
Facebook Instant Experience Ad Requirements:
Text Blocks: Up to 500 words each
Button text: 30 characters
Campaign objectives: All except lead generation
5. Carousel ads on Facebook
Another common type of Facebook ad in 2021 is carousel advertisement. This advertisement typically displays graphics and videos in the sequence that the user will find most intriguing.
By virtue of carousel ads, users of Facebook can now view entire pictures and videos without searching through all of them.
To Do:
If your company wants to promote a product or service, it might include images of each item as it appears on the product line. According to Facebook ad policies 2021, carousel ads can also include a video that demonstrates how to use each item in their new product line to the customer.
This is advantageous since it helps users learn more about the product or service that you are offering.
Facebook Carousel Ad Requirements:
Headline: 40 characters
Link description: 20 characters
Body text: 125 characters
Campaign objectives: includes all excluding video views and engagement.
Next, we want to tell you about how much a Facebook ad costs.
How Much a Facebook Ad Costs?
Although there is no tool for predicting how much you will pay for a Facebook click or search result, you can apply some Facebook ad guidelines.
Facebook ad policy has revised the costs. They have risen considerably from 2017 and 2022, so you should indeed be prepared to invest up to $3 per ad click at this point.
It's quite an investment so you can't be irresponsible with sponsored ads. How to make sure that you are doing it right before you dive in? There are different intelligent software that handles your Facebook marketing from start to finish. Most of them are free as well so you get the best of both worlds: No investment or risking money while getting the trending advertisements at your fingertips.
Now that we know the basic types of ads and costs according to which you can try to market your business, it's time to seek answers for a most common question: Are Facebook ads rejected for no reason?
Usually, Facebook doesn't reject ads without a reason. If it happens to you, you are overlooking something so viewing Facebook ad libraries can be good for starters.
As for details, you are going to know all about Facebook ad policies in this section.
Facebook Ads Rejected For No Reason: What to Do?
Facebook has proved to be a platform that facilitates numerous marketers to advertise their products or businesses. Therefore, there is scarcely any change that your ad would get rejected without having a rational reason.
Why do my Facebook ads keep getting rejected in 2020?
Your Facebook ad gets rejected because you are overlooking certain Facebook ad policies that are introduced to serve as a framework to help a business develop and generate successful Facebook ads.
These ad policies declared by Facebook determine the kind of information Facebook will now give permission to in advertisements.
So, don't worry if Facebook ads are declined for no defined reason. You can still make changes based on Facebook's suggestions or ad policies and apply for re-evaluation.
If you want to run a Facebook ad, you will have to examine the ads against the given regulations to never encounter a "Facebook ads rejected for no reason" moment again.
Let's dive into the Facebook ad policies thoroughly. In the long run, you will save a bunch of resources.
Reasons for Facebook Ad Rejection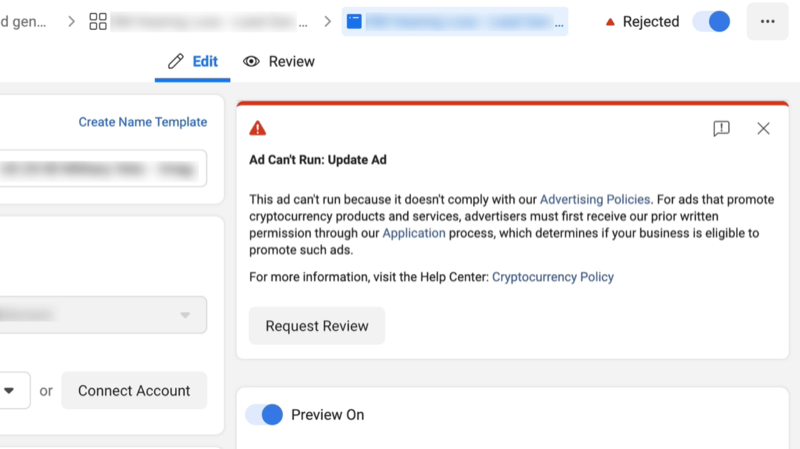 Why do my Facebook ads keep getting rejected in 2021?
There are several reasons why Facebook can reject your ad. In this part, we'll go over the most prevalent reasons. One of which is you are probably using the words that Facebook has banned in their Facebook ad policy 2021.
Facebook ads banned words 2021
A variety of factors can lead to an ad breach considering Facebook's Community Standards which is why we should also know about Facebook ads banned words 2021.
No direct addressing. Use stories or reviews instead.
Age, Religion, Gender, Race
Facebook banned words that point to someone's personality.
Facebook banned words that are Sensitive
Words that trigger a reaction like 'tired of failing your exam?' or 'Can't lose/gain weight?'
Facebook has banned words that address 'turning rich in a day.'
No profanity or abusive words. Otherwise, Facebook ad policy 2021 will decline or block your ad.
These are some Facebook banned ads words that you need to avoid at all costs if you want to lead a productive advertising campaign on Facebook.
Facebook Ad Policy 2021- Violation, Prohibited, Restricted Rules
Many of the violations, prohibited or restricted Facebook ad policies you must already be aware of but it's good to have a review.
Violation of Community Standards
● Weapons
The Facebook review team will detect props, prohibited by Facebook ad policy in 2021, like guns or weapons, and reject your ad.
● Dangerous Individuals/Organisations
Ads with Terrorist organizations or organized racist movements, or trafficking organizations.
● Suicide and Self-harm
Facebook will reject ads that in any way encourage suicide and self-injury.
● Discrimination and Abuse
Any material that insults or disrespects another person discloses personal details or threatens individuals.
Prohibited Content
● Tobacco and its Substitutes
On Facebook ad policy 2021, any portrayal of tobacco or tobacco-related items is outlawed. Include tobacco products, vapes, and any other device that represents tobacco.
● Nudity
Any representation of porn, sexually provocative or graphic material, or actions that indicate sexual activity are considered adult content. Facebook ad policy 2022 also prohibits exposed cleavage.
● Weapons
Weapons, ammunition, or explosives are prohibited. Facebook prohibits ads that include any of the -mentioned items.
● Confusion
Facebook will reject ads with false claims. Also includes claims that third-party inspectors or authorities have refuted. As a result, cross-check your details.
● Poor Grammar
Ensure your ad has perfect grammar and no vulgarity.
● Payday Advances
Ads promoting short-term loans of 90 days or less are not permitted on Facebook.
● Malware
Ads containing virus malware or other deceptive software are not permitted on Facebook.
● Body Parts Auction
Facebook disallows advertisements that encourage the sale of human body parts or substances.
If you've verified that your ad doesn't include any forbidden content, you may be dealing with a restricted content problem.
Restricted Facebook Community Standards
Your advertisement contains restricted content, as per Facebook ad policy 2021, if it has the listed content.
● Alcohol
Alcohol-related advertisements are restricted in Facebook ad policy 2021 for various countries like Afghanistan, Bangladesh, Norway, and middle eastern countries.
However, alcohol-related advertisements can be authorized in other countries if they adhere to local laws, industry regulations, norms, permits, and approvals.
Facebook will take your target into account to ensure that you are marketing to the appropriate age brackets.
● Casino and Gambling
This covers gambling, contests, lotteries, sports betting, poker, and contests, as per Facebook ad policy 2021.
● Cryptocurrency
Currently, virtual currency is a hot issue in the digital world. However, Facebook wants prior written authorization for bitcoin advertisements.
● Political campaigning
To get any political commercials allowed, you must follow all local election regulations in the locations you're targeting and go through a unique authorization process. It is a crucial factor in Facebook ad policy in 2021.
When it comes to Facebook ads, you have to play by the rules. Slight breaches could result in your ad being rejected, costing you important time. Greater Facebook ad violations may result in the suspension of your ad account—scary? It is.
Now that you're familiar with Facebook's advertising standards, keep up with the most recent Facebook News Feed algorithm adjustments.
Takeaway
Our guide provides an excellent summary of Facebook ad policy 2021, and there are additional intricacies and specifics to be aware of for changes.
Implementing these standards will, in conclusion, help you get your advertising authorized faster and establish confidence with Facebook ads.