6 Tips for Optimizing Facebook Car Ads – BigSpy
Affected by the virus, the automotive industry in 2020 will be hit hard. Take European and American countries as an example. In the UK, car sales in April fell by 97%, the lowest level since 1946. In the same month, car sales in the United States also fell by nearly 50%.
Even though the automobile market in Europe and the United States is sluggish, automobile companies still insist on advertising. Because advertising and marketing have a long memory, current advertising can still bring traffic conversion in the future. In advertising, Facebook car ads are still the first-choice media advertising for various auto companies.
As a social giant, Facebook has a large enough audience base and precise advertising technology. Now stick to Facebook car ads, even if consumer spending drops, it can maintain the brand's exposure in the eyes of consumers and deepen brand memory.
On the other side of the planet-China, due to stable epidemic control, national policy support, and other favorable conditions, car sales have fully recovered in April 2020, and 31% of people have increased their willingness to buy a car due to the impact of the epidemic, The automotive industry is rapidly rising. From this, we can predict that the automotive industry will still have a lot of market space, and the current Facebook car ads marketing can still provide a good foundation for future car sales.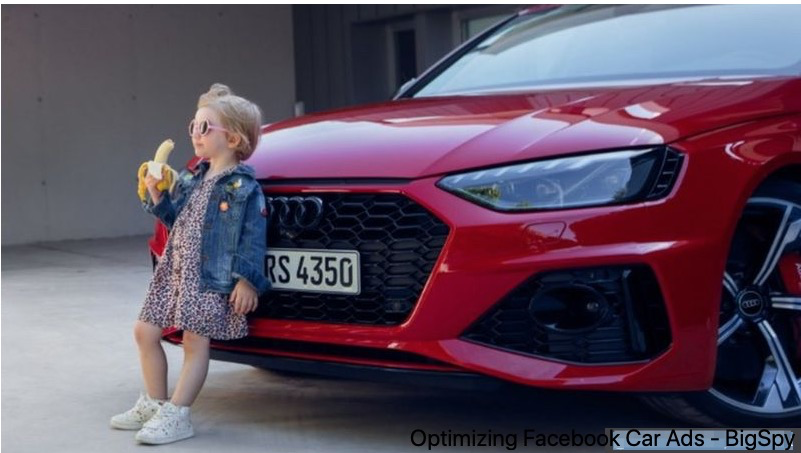 Good Facebook car ads can impress users. Now I have analyzed the 100 most popular Facebook car ads from users on BigSpy, and summarized the following 6 tips to improve the effectiveness of Facebook car ads to help car dealers improve Facebook ad ROI.
1. Meet the emotional needs of users-MG Cars
MG Cars launched a Facebook ad in Thailand. The entire ad lasted 4 minutes. It described a mother who rescued a daughter trapped in a flood with the help of a rescue team. This ad uses emotions to impress users. According to BigSpy statistics, the ad received 206.4k likes in 48 days. No matter when emotion is the most effective way to impress users.
This advertisement divides the expression of emotions into 4 stages, focusing on emotions—satisfying emotional needs—increasing the degree of emotional infection—influencing consumers to establish brand emotional awareness. Infecting users with the emotions in the advertisement, and subtly the excellent performance of the car is where this advertisement succeeds.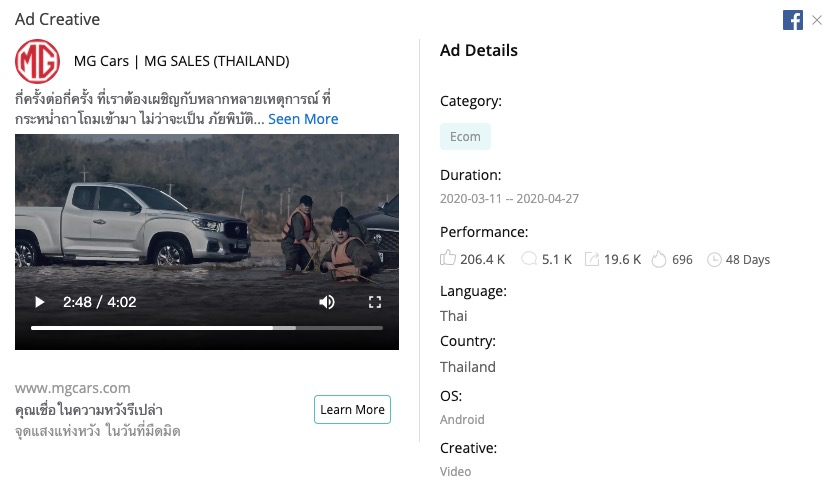 2. Full-screen Immersive Ad Experience – Hyundai
The most important aspect of car advertising in China is to impress users and make users remember the car brand they once liked when buying a car. Because it takes a long time for car users to transform from potential customers to real buyers, the more classic car advertisements can impress users. When a user decides to buy a car, the recall of the advertisement may determine the user's purchasing power.
In order to improve the recall of advertisements, Hyundai adopted full-screen Immersive Ad Experience for their Facebook car ads. The full-screen Immersive Ad Experience can allow users to experience the advertising screen more comprehensively and immersively, reducing the resistance of the advertisement to users.
Hyundai created Video Ads, which will open a full-screen instant experience on the mobile terminal when clicked. This drove an 8.5 point improvement in advertising recall. And according to BigSpy statistics, Hyundai's ad has received 10.9k shares and 243.3k likes in 29 days.
3. Use Facebook Lead Ad to find potential customers
For large consumer goods such as automobiles, most users will not have the possibility of impulsive consumption, so it is extremely important to find potential customers. For car dealers, pre-marketing is the most important link in the entire sales process. And Facebook Lead Ads can help advertisers simplify the information submission process for their target audiences, and enhance the power of marketing campaigns for acquiring new customers.
Facebook Lead Ads can simplify the lead development process. Users only need to touch the ad, and a form will pop up on the interface, which has been pre-filled with the contact information they shared on Facebook. After the form is filled out, it will be sent directly to the merchant.
In order to find potential customers and promote car sales and leasing, Toyota Motor launched Facebook Lead Ad to find potential customers. After clicking on a Facebook ad, a form will appear to fill in. These forms contain names, email addresses, phone numbers, and postal codes.
Note the following when using Facebook Lead Ad:
Give full play to the advantages of the mobile terminal: the advantage of collecting potential customers on the mobile terminal is greater.
Reduce the abandonment rate in the middle: ensure that most of the information in the contact form is pre-filled in the lead advertisement, and reduce the abandonment rate in the middle.
Identify important potential customers: accurately locate customers
Set the problem reasonably: Don't set the problem that is too long or too complicated.
Integrated CRM: Consolidate the collected information and feed it back to the car dealer.
4. Dynamic advertising experience
Customized advertising ideas help increase the submission rate of the form. As we all know, advertising creativity determines advertising performance, but sometimes the best advertising plan for each audience is not obvious. In fact, advertisers often need to spend a lot of manpower and material resources to create multiple advertising programs in order to find the best combination of pictures, videos, and copy. The dynamic material function collects the basic elements required for a Facebook ad and uses these elements to create a series of different ad versions. Subsequently, the system will place different versions of advertisements in different positions to ascertain the performance of each creative combination plan. For example, lead ads can help you show suitable car models and colors to users most likely to be interested.
5. Actively give back to car fans and users – TOYOTA
In the operation of brand users, the two most important things are acquiring new users and maintaining old users. In today's market, we have to admit that the cost of acquiring new customers is getting higher and higher. If you are stuck in the "quagmire" of acquiring new customers for a long time, it will be very tiring to build a brand. Therefore, in addition to continuously acquiring new users, brands should make efforts to increase the stickiness of old customers.
When searching for the user's favorite Facebook car ads on BigSpy, a video of TOYOTA feedback and thanking all fans and users was widely spread. A group of experienced fan users is the prerequisite for the continuous development of the brand, and the same is true for automobile brands. TOYOTA used a 20-second video to draw a beautiful blueprint of the city for fans. Although the video is only 20 seconds, it reflects the brand's intentions and sincerity everywhere. So this ad has garnered 365.3k likes within 35 days of running on Facebook.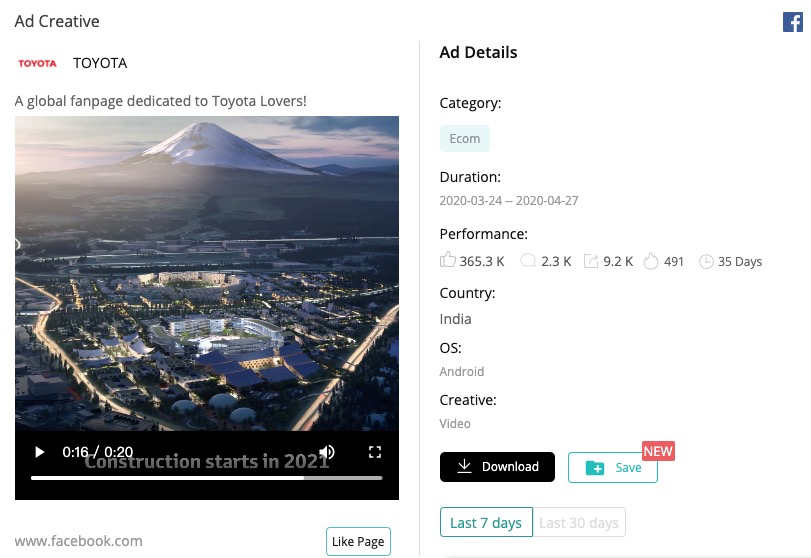 6. Accurate user needs – Volkswagen
On BigSpy, we saw an ad about Volkswagen, which received 13.3k likes and 586 shares in 33 days. The content of this Facebook car ads advertisement is that a family of 7 gets in the car calmly and set off safely. Because of its large capacity and multiple child seats, Volkswagen's vehicle is aimed at parents with multiple children.
This advertisement is aimed at a segmented audience who buys a car. This car is very friendly to users with many family members. Therefore, for Volkswagen's advertisement to gain potential customers, it is important to accurately target the audience. The current user market is becoming more and more segmented, and serving every customer in need is a sign of brand maturity. Volkswagen can grasp the needs of niche users and take this service to the extreme, so its Facebook car ads can be recognized by users.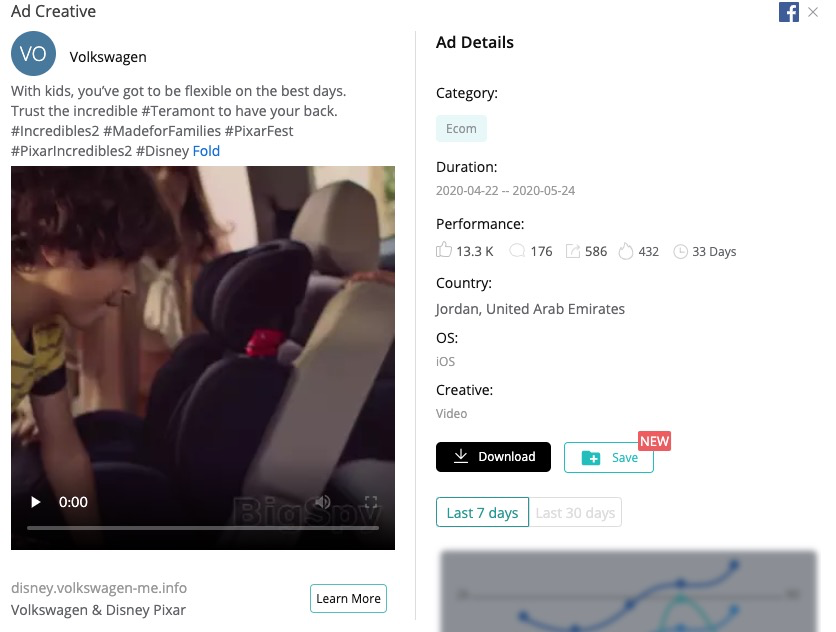 Summary: Against the background that economic decline has become an inevitable trend, auto dealers are also facing severe tests. This period is a test as well as an opportunity. As an effective customer acquisition channel, Facebook car ads still need us to create more impressive ads. The above shared 6 tips to improve the effectiveness of Facebook car ads, hoping to help everyone effectively improve the recall of car brands.
In addition, BigSpy is a magical ad spy tool, which provides unlimited advertising creativity and advertising methods. I hope it can also help more marketers in advertising creativity.