5 Defeat Dropshipping Product Research methods in 2021
What is Dropshipping?
In layman's terms, drop shipping can also be understood as "direct shipment" or "transshipment delivery". As a retailer, you don't have to backlog a large amount of merchandise inventory, or even use zero inventory, and when there is an order, transfer the order to the corresponding supplier or manufacturer, and they will directly ship to the customer designated by the retailer.
Transshipment distribution is a way for retailers to achieve sales without product inventory. Contrary to tradition, when a retailer wants to sell goods, the retailer sends customer orders to a third-party supplier, and the third-party supplier directly sends the goods to the customer.
This leaves the retailer with no physical contact with the product from start to finish.
The biggest difference between transshipment distribution and traditional retail model is that transshipment distribution retailers do not need product inventory!
In contrast, retailers only wholesale goods at suppliers when they are in demand—usually at wholesalers or manufacturers—to complete orders.
So, how can we find the best dropshipping products?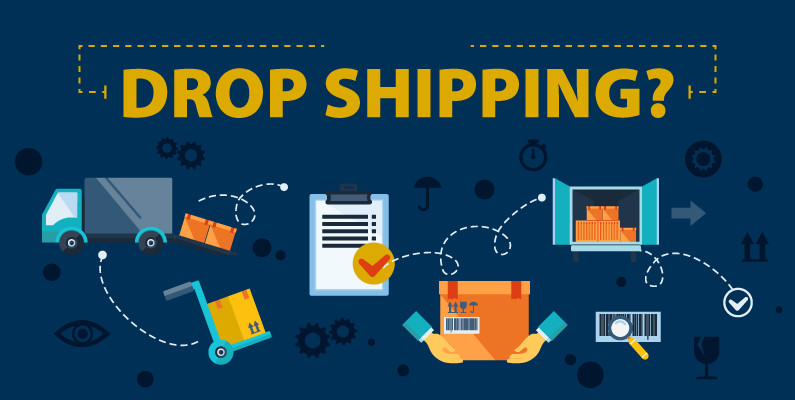 How to find the best Dropshipping product?
The important thing about Dropshipping is to pick a product that will be as hot as possible in the future at the right time. Only in this way can you maximize the value of the product, and you can also get more benefits.
1. Research on ads for dropshipping products
BigSpy is not a professional selection tool, but it can clearly reflect the most popular products on the market in a short time. BigSpy is an ad spy tool. It can monitor and analyze the advertising data of 7 major social media such as Facebook, Instagram, Pinterest, Twitter, Youtube, and so on. There is already 1 billion ad inventory here, which is still growing with 100k ads per day.
On BigSpy, you can easily find the most popular Shopify products, just select the appropriate filtering method. For example: I choose "Shopify" as the e-commerce software, the advertising time is the last 30 days, sort by the number of likes, you can see the most popular Shopify products in the last 30 days.
Here, you can see the advertising time, product pricing, and audience of each advertisement.
And BigSpy not only monitors Facebook's advertising on one channel, but now more and more brands are advertising on Instagram and Pinterest. BigSpy can also monitor all ads on Instagram and Pinterest.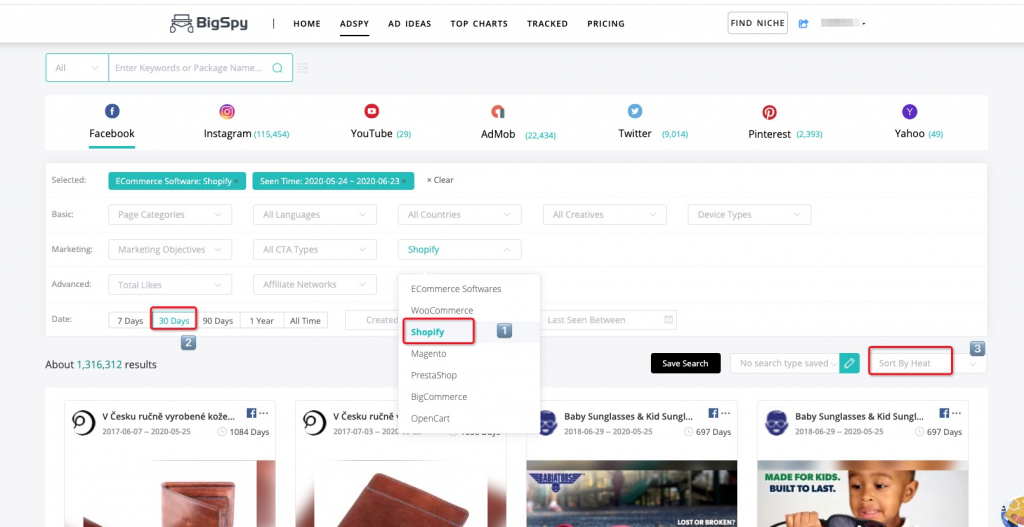 The specific research of the advertising data obtained through BigSpy:
Advertisements with a high number of likes and interactions indicate a strong demand for this product in the near future.
The more accumulated data under the advertisement, the stronger the recent advertisers' delivery, and the sideshows that the advertisers can make a profit and can cover the advertising expenses.
Well-performed advertisements are the source of inspiration for selecting products, and even the operation of some products can be copied directly. Therefore, we must continue to accumulate high-quality advertising content through BigSpy to serve Dropshipping product selection.
2. Competitor Dropshipping product research
Researching competitors is the fastest way to find potential products. The competitor's Dropshipping products are market-proven products with certain risk resistance. So researching competitors' products and imitating competitors' products is a stable method of selecting products. Be alert to competitors and stay competitive. The market is complex and rapidly changing. If competitors are selling the product you are considering, but you cannot purchase the product at a similar price, there may be problems. It is now best to remove this product from your list. Once you have established a strong brand and customer loyalty, you can reselect the product.
BigSpy: BigSpy can monitor competitors' advertisements on major social platforms, and it provides basic information for SMEs. You can use BigSpy to research competitor products.
SocialPeta: SocialPeta is an advertising intelligence tool that can monitor the advertising data of 45 network platforms. It provides competitor data research for large e-commerce companies.
Google: The product research of competitors should always persist. Google's quick search of products can highlight a series of competitors in seconds. From there, a quick browsing of the website will provide you with enough information. This simple and efficient product research method can quickly bring your product inspiration.
3. Find Dropshipping products with an upward trend
This tool is almost a must-have product!
If you can't judge whether a product has a market or can bring sales, then I suggest you first search on Google Trends for the product's popularity and trend. Imagine if the trend of a product declines year after year, then the chance of an explosion is very small.
Google Trends is a free tool that can not only check the search volume of products, but also know whether the product trend is rising or falling. An additional benefit is that you can know the search volume in different regions.
Product example: The mobile phone case is a Dropshipping product in an upward trend. It has been on an upward trend since 2004.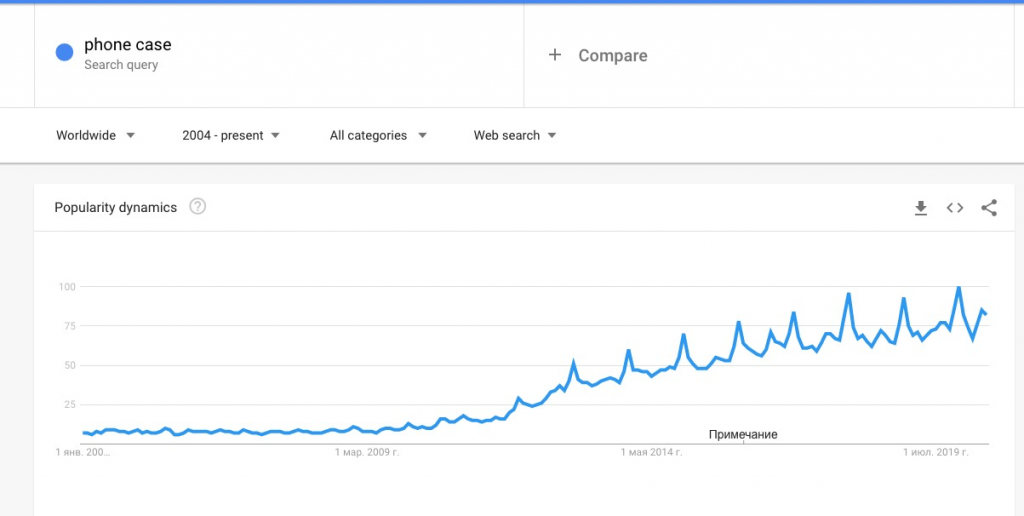 4. Find Dropshipping products with FindNiche
FindNiche is a free niche analytics tool for AliExpress and Shopify, It collects information from more than 1,000,000 products, 11,000 Niches, and 700,000 Shopify stores. With which, you can easily discover winning and trending products, not popular but high margin niches, it also displays top Shopify stores, your new competitors, and drop shippers to help you choose the best niches.
AliExpress is a commonly used Dropshipping product selection tool, and FindNiche has analyzed the popular commodities on AliExpress in many ways, allowing you to easily choose the right dropshipping niches. And it will also analyze the order changes of this product in the last 30 days. The advantage of FindNiche lies in the huge amount of data. You can find almost all products on Aliexpress, and you can query the data performance of each product. For products with exceptional performance and profitability, FindNiche will provide more detailed data analysis to help us choose direct sales.
In addition, there is a very attractive feature-Top Shopify. Here you can search for the Shopify stores of the competitors you want and link directly to the homepages of those stores. Understand competitors' store operations and advertising strategies.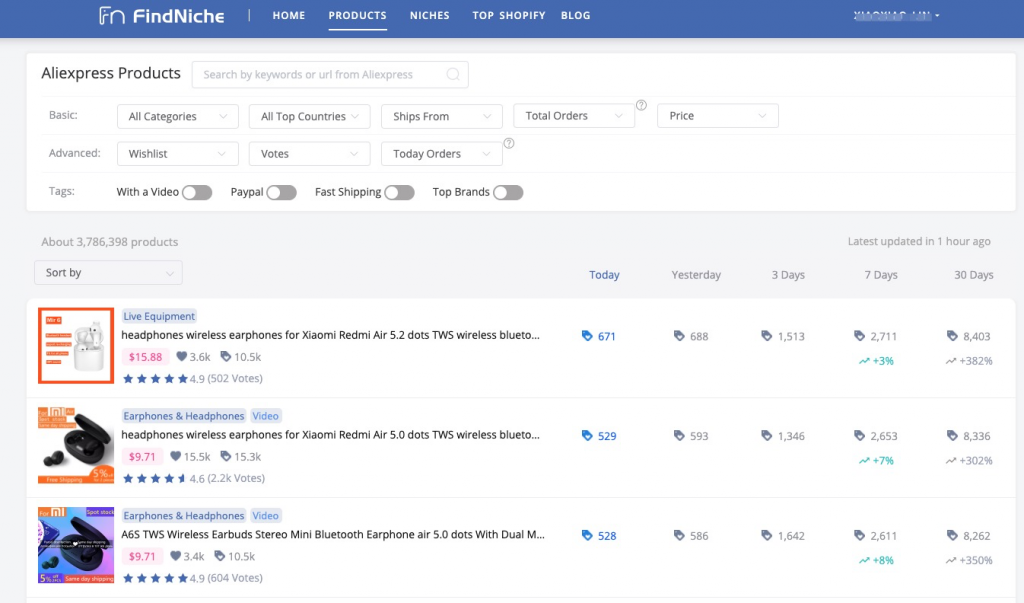 5. Industries with certain knowledge
Although there are many selection tools on the market, most of the people who started Dropshipping started according to their industry or hobby.
Familiarity with a certain field in the past can indeed help you research Dropshipping products, but this selection is too limited. Fixed thinking will limit the direction of selection. So we should not take our own understanding of the industry as all, it should be a reference.
What data do I need to research after finding the best Dropshipping product?
Through the introduction of the above methods, we found that in fact, there are many ways to select products, such as using tools, looking at product trends, looking at product sales, looking at user reviews, etc… But selecting products is not just about finding good products, You also need to carry out Dropshipping product research. In general, we need to study the following aspects of products:
1. The intensity of the product
Products are not just what users like, but also need to consider the degree of fierce competition. For example: Women's clothing is a hot market, but the competition for clothing is too fierce. This is a market that is already fully saturated. Without a certain brand accumulation, it is difficult to make a quick profit in the short term, so the selection of products not only depends on the user's favorite, but also depends on the intensity of the product.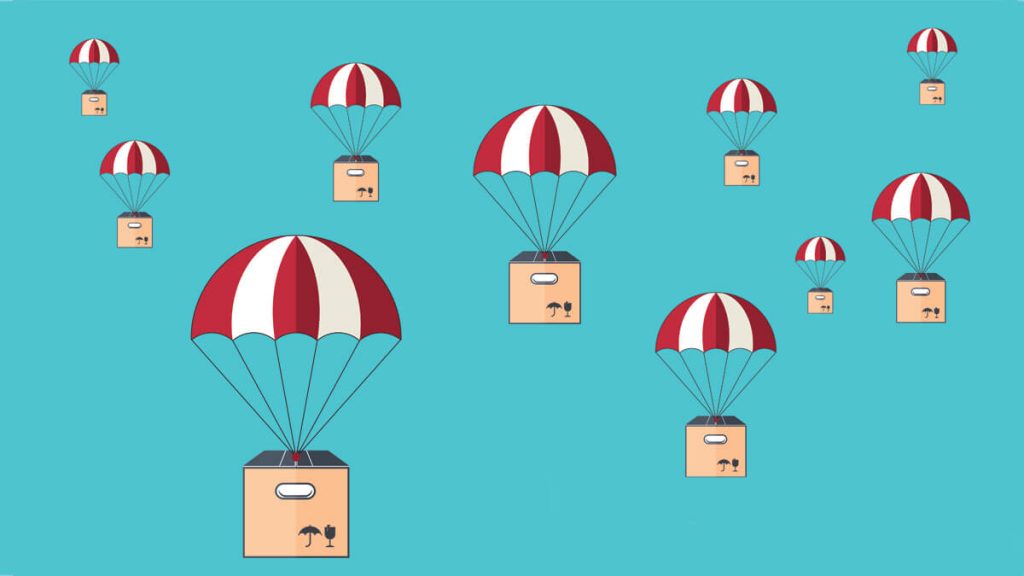 2. Product audience analysis
Audience. We generally consider unidirectionally when selecting products, such as the market demand for this product, data, profit, and competitors. But many did not consider the audience.
In fact, the audience is particularly important. What kind of people is behind your audience? After you understand their characteristics clearly, it will be better for you to choose products in a targeted manner, so that you can do them more easily Marketing, the chance of success is greater.
3. Product pricing
The pricing of Dropshipping products determines the purchasing power of users. We recommend that the general product is priced at 20 to 80 US dollars. This is a price that most users can accept. Of course, more detailed pricing requires market research.
4. Product promotion methods
The promotion methods of Dropshipping products are diverse, but the commonly used methods are SEO, Facebook ads, Instagram ads, and other social ad marketing.
There is an ad spy tool - BigSpy, which can help you find better advertising inspiration, help you analyze the advertising data of products, analyze audiences, and advertising bids. BigSpy makes the advertising world more transparent, it can help you reduce advertising costs and increase ROI.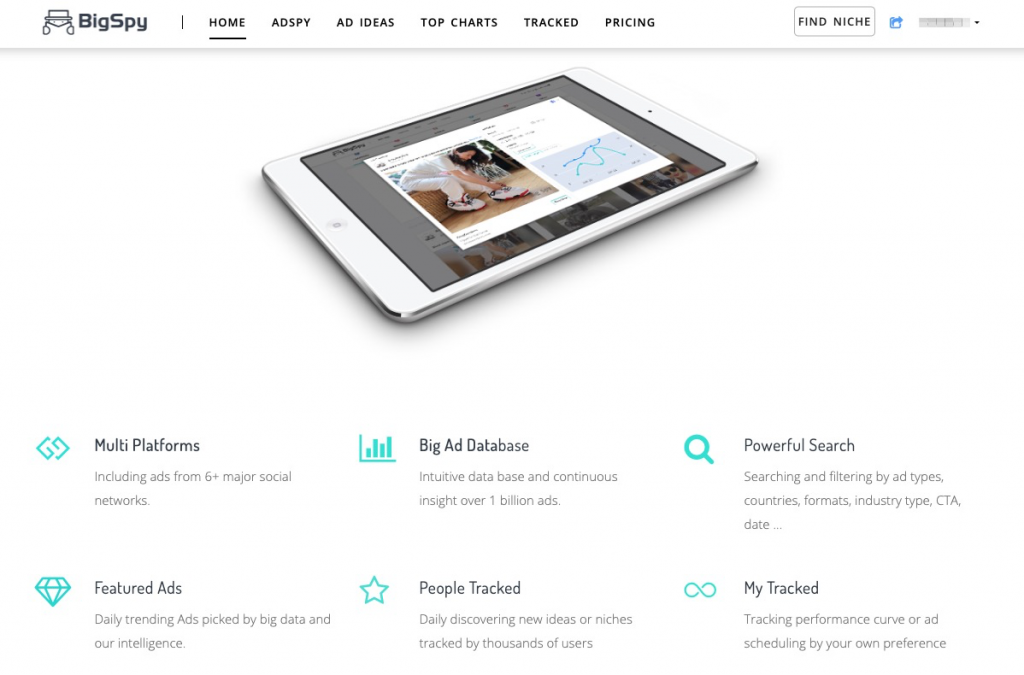 The above is a summary of the simple methods of Dropshipping product research. The choice of Dropshipping products determines the profit of later sales. The selection of products requires your market research and product analysis. Therefore, the selection of products can not be impulsive, we must use the tool to find the most suitable product.