6 Miraculous Dresses Facebook Ad Case Study – BigSpy
With economic development, the world's clothing consumption has shifted from a single consumer demand for food and clothing that shelters the body from the cold to a consumption trend of fashion, culture, brand, and image. The clothing industry is facing pressure from transformation and upgrading, and the growth rate of industrial-scale continues to decline. Women's clothing is the largest segment of the apparel market, and many countries are facing over-saturation of women's clothing brands. The cake has not become bigger, but more and more brands have entered the women's clothing market, especially dresses, occupying an important position in women's clothing.
To quickly stand out among the many dresses facebook ad, you must have a deep understanding of Facebook advertising rules, and then you must understand your audience, and finally, you must understand fashion. In this way, you can redefine the dresses apparel market, truly impress users, and become the winner of dresses Facebook ads.
6 Facebook dresses ad creative and examples case study
1. Life Clothing Co. – Audience segment users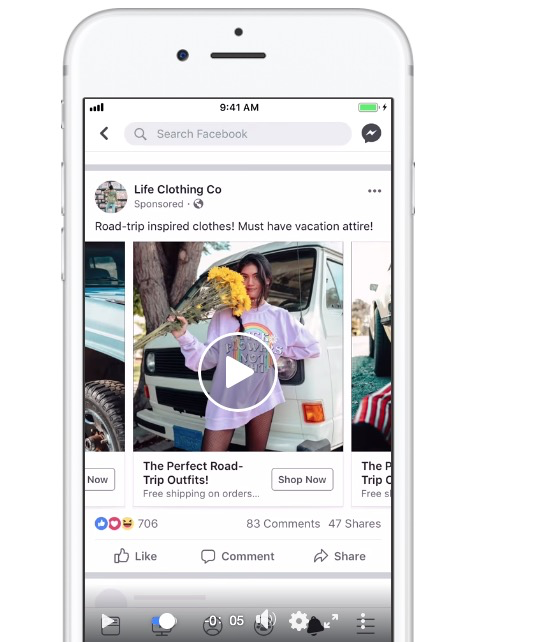 In order to find an audience who might plan to go to warm-climate countries on vacation, Life Clothing Co. turned to a feature in Facebook Ads Manager, which was originally created for travel customers, called Travel Notes. By considering travel, advertisers can contact people who are interested in travel but have not yet indicated their intention to go.
Moreover, Life Clothing Co. once again attracted past customers through publicity and emails, lookalike audiences similar to past customers, and people who expressed interest in buying travel clothing.
These two operations of Life Clothing Co. are very accurate in positioning the target users and are fully prepared for its dress sales advertisements.
When it officially launched the advertisement, Life Clothing Co. chose a carousel format so that it can display multiple images of travelers wearing different products, such as next to an old VV truck. Retailers make sure to create mobile-friendly ads so that they can run properly on mobile phones. By selecting automatic placement, Facebook can determine where the ad will be displayed on Facebook, Instagram, and audience networks.
2. Dolce&Gabbana – Copywriting that attracts users to explore
We have completed the list of Facebook clothing advertisement examples with this beautiful picture of Dolce & Gabbana. I like their trailer "Don't miss the most wanted work…". I don't know exactly which pieces they are referring to, but this will definitely arouse my curiosity. In any case, this may be their goal!
3. NYD – Free Shipping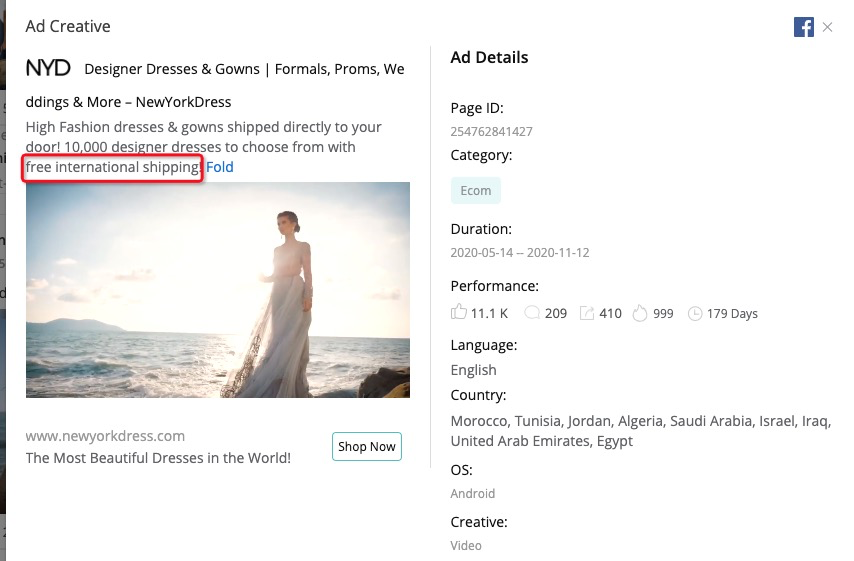 I have to say that free shipping is never out of date. Users are willing to pay for beautiful clothes, but they are carefully calculating the shipping costs of the clothes, so free shipping is the last step to promote users to pay.
In addition, without sticking to traditional photography methods, it seems that luxurious design dresses must appear in luxury hotels. Now NYD breaks this tradition and shoots promotional videos of dresses on the beach. The sunset and the sparkling sea are really displayed. The high-level beauty of the skirt.
Judging from the performance of BigSpy data, this ad has received 11.1k likes in the six months of its launch, and has been recognized by users in dozens of countries.
4. discount promotion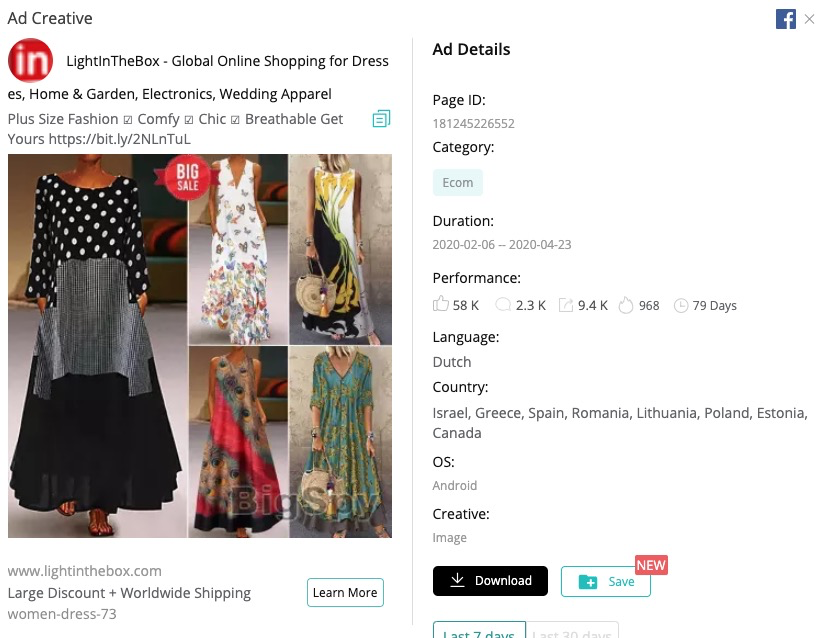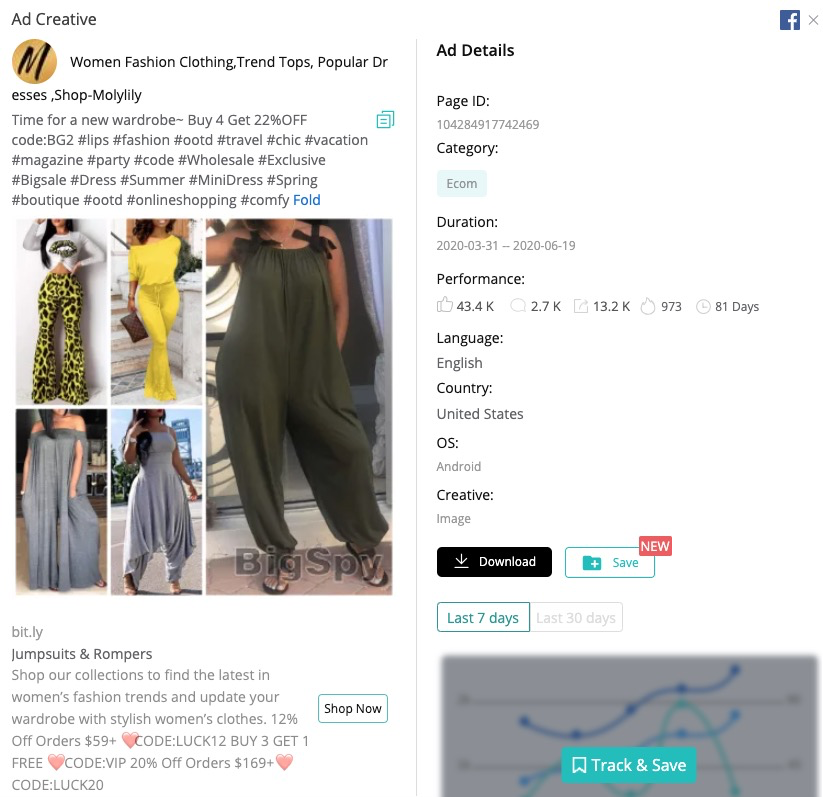 Search for the keyword "dresses" on BigSpy, and then sort them according to users' likes. You can see that among the top ten most popular dress ads by users, 2 are promotional ads with similar styles, and they all use a picture to display 5 sets of the same type of clothing, with keywords such as "Discount" and "Get Off Code".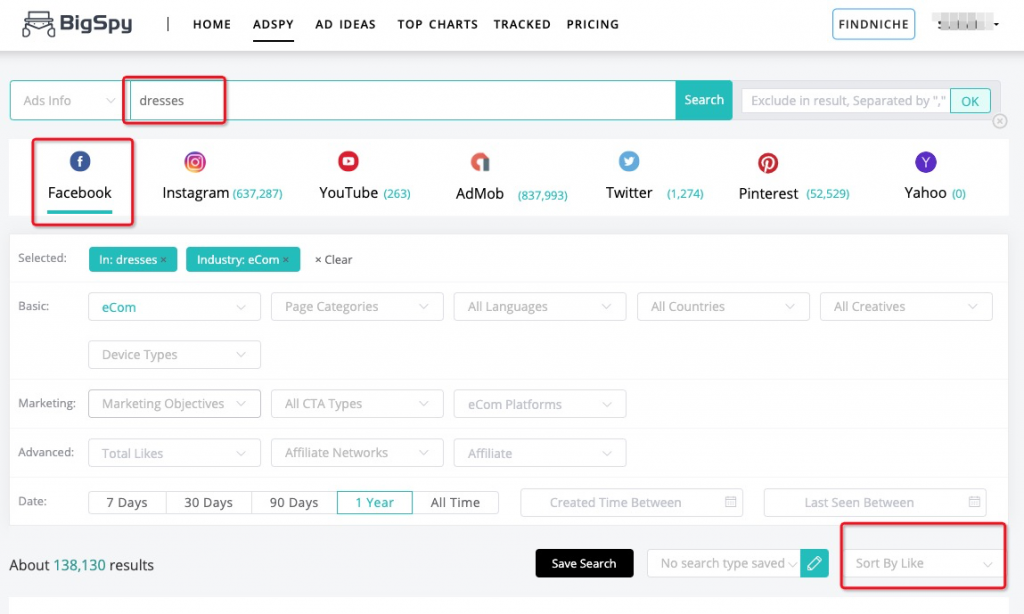 Advertisements for discounted dresses always seem to be attractive. People's enthusiasm for promotions is not entirely attracted by the addition, and there is another way that they don't want to miss the opportunity to "picking up bargain". Therefore, businesses should take advantage of the opportunity for discounts and promotions. Promotions are not necessarily about emptying inventory, but also about attracting new users.
5. RetroStage – the pursuit of personalization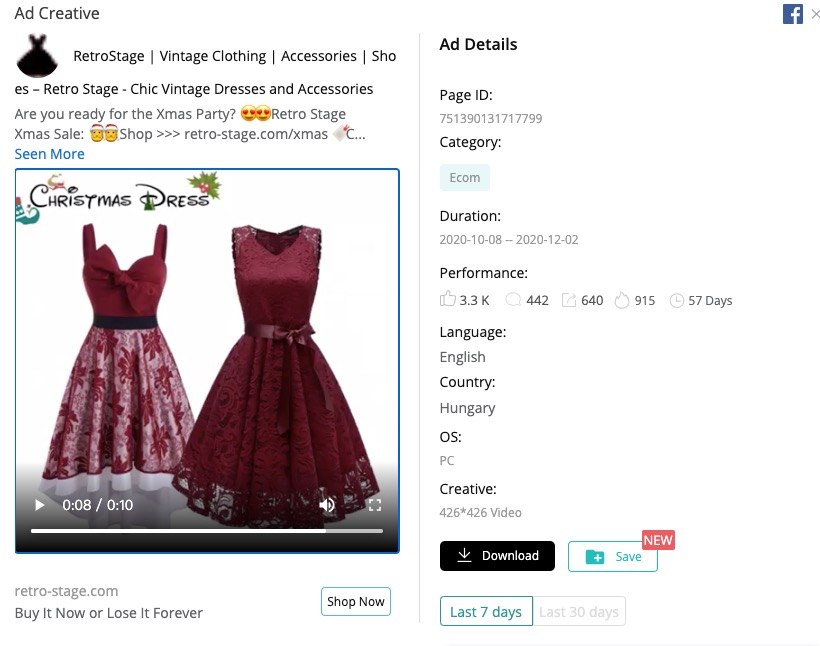 The same kind of clothing is seen every day that women in the new era are increasingly pursuing individuality. How to highlight individuality? When Christmas is approaching, it is a good choice to wear a Christmas dress. RetroStage launched 10 sets of dresses suitable for Christmas party, each one is exquisite and beautiful. For girls, Christmas is an important festival that needs a sense of ceremony. Wearing a beautiful Christmas dress is not only suitable for the scene, but also highlights the personality.
6. H&M – Introducing new concepts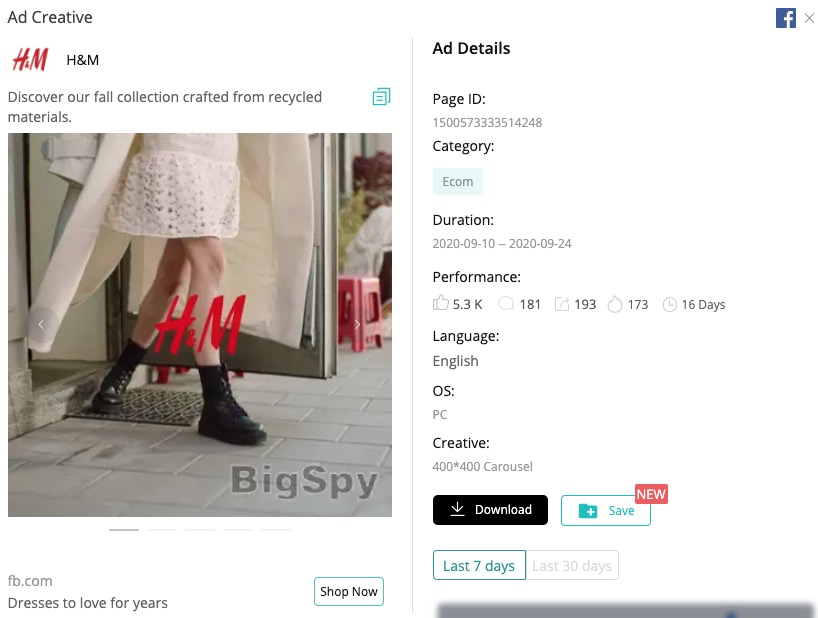 The autumn dress series launched by H&M in 2020 is made of recycled materials. The introduction of new concepts can arouse users' curiosity, and H&M's advertising pictures are also very creative, because it only intercepts a part of the hem of the dress, users will want to explore the whole picture of the photo. On BigSpy, we can see that H&M has advertised for 16 days and received 5.3k likes.
The above are 6 dresses facebook ad ideas and successful examples. If you want to learn more about dresses Facebook ad, you can find it in BigSpy search. In addition, apart from Facebook, Pinterest and Instagram are also effective advertising channels for dresses. If you don't know how to start advertising on other channels, BigSpy will help you.