Try 5 Best Creative Inspiration Websites When Your Creative Inspiration Dries Up
In the field of art and design, creative inspiration is particularly important. Good creative inspiration is a ray of light. A moment of inspiration can help you open your mind and complete a better creative design. Creative inspiration bursts out during continuous learning. If you are still worried about not having creative inspiration, you can learn and refer to more creative materials.
Here are the 5 best websites that collect the creative inspiration used in the market. You can search for any materials you need on these websites. This includes not only pictures but also videos for you to download.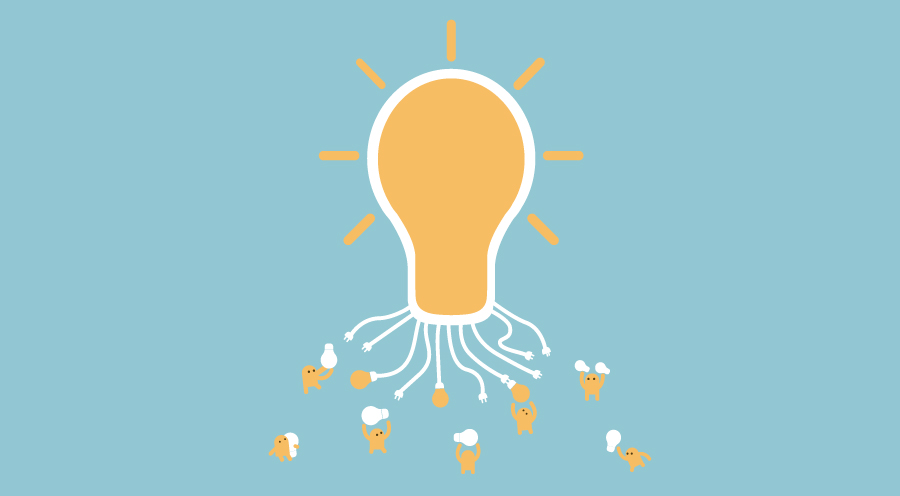 BigSpy – social ad creative inspiration
BigSpy is a social ad creative search tool. BigSpy currently has 1 billion creatives and is still expanding more materials at a rate of 10k per day. BigSpy's advertising data can be traced back to 2018, so you can get creative inspiration from BigSpy. Not only can BigSpy help you find your favorite creatives through search and advanced filtering, but you can also download them directly.
7 channel sources
You can currently search for 7 social media material ideas from BigSpy. Of course, BigSpy is also adding more social channels. The 7 social channels it currently supports are:
Facebook
Instagram
Twitter
Youtube
Pinterest
AdMob
Yahoo
The audience of the website:
BigSpy's creatives cover a wide range of topics, and its creative inspiration is not only reflected in the art's superb skills, but also tends to attract and impress users. Let more users want to buy and understand products.
So BigSpy's creative inspiration is not only provided for artists, but also for the following people: advertising design, marketing, product packaging, etc.
Source of creative inspiration
The founder of BigSpy is an advertising marketer. He found the importance of creative inspiration in advertising design and built this website. BigSpy's creative material comes from the advertisements that have been released by users of various social channels. We sorted it and sorted it according to the degree of users' likes, which formed the current creative inspiration material collection.
How to find the best creative inspiration
BigSpy has the most powerful keyword search and advanced filtering methods. Open the AdSpy page, enter keywords, and perform effective filtering, you can get the creative material you want. Get creative inspiration from the study and research of these materials.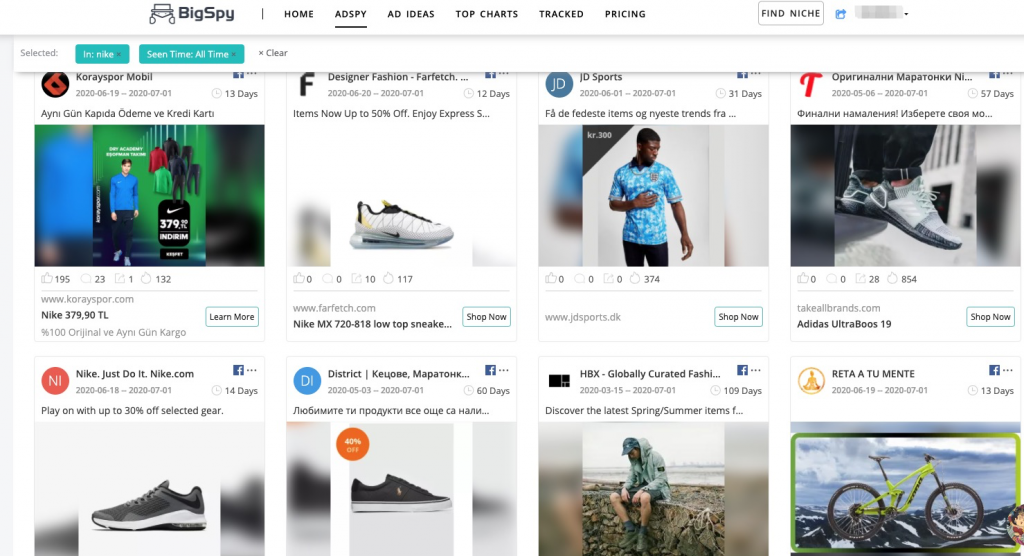 SocialPeta – material inspiration
SocialPeta has been planned since 2015, and it has been 5 years until now. The purpose is to meet the needs of customers for advertising tools and help customers solve various problems encountered in advertising or advertising analysis. The current overall analysis direction Creative, advertiser, cost, app analysis, etc. can help customers develop their business in all directions.
SocialPeta was originally designed to find better creative inspiration. It gathers advertising materials from 68 global platforms, including global network platforms such as Facebook and Google, as well as local networks with national backgrounds. and so it can provide you with more comprehensive creative materials.
SocialPeta advertising creative module is divided into a total list, a new product list, my collection, display advertising, copywriting inspiration, and trial advertising. It mainly displays the creativity and the copy, ranking, etc. related to creativity. The data display mainly includes the material itself and the data dimension related to creativity.
The audience of the website
Because SocialPeta has more material data and more inspirational analysis of the material, its price is higher. Its main audience is designers, market planning, and product promotion of medium and large enterprises.
Creative inspiration search
After logging in to SocialPeta account, open the Ad Analytics page, where you can find wonderful creative inspiration from multiple angles. In Display Ads, there are 68 online platform creatives for you to choose from. For brand marketing using online materials, this is the best platform to provide you with creative inspiration.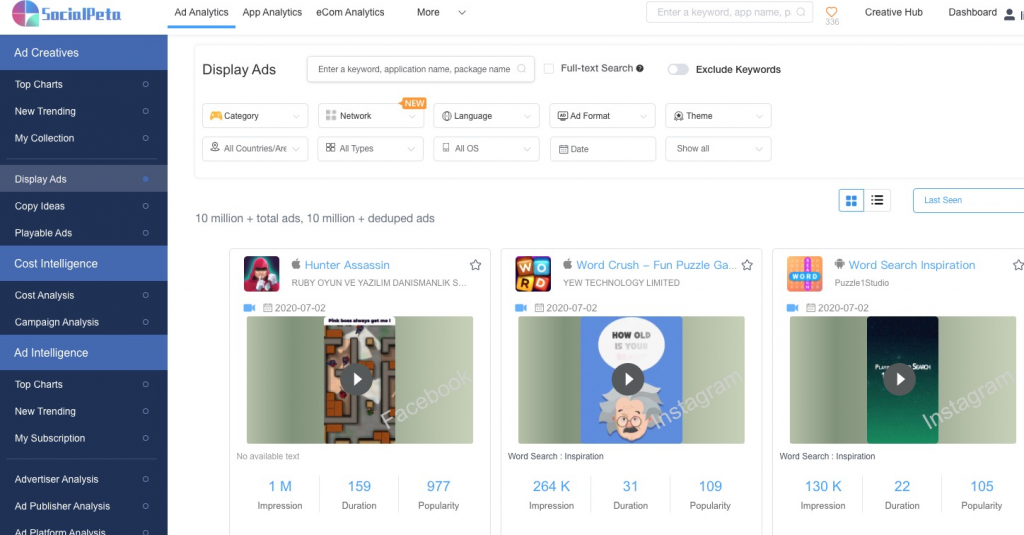 LandingSpy-Creative inspiration for landing pages
LandingSpy is a free landing page spy tool. LandingSpy, with the number one landing database, can help you find inspiration for landing pages, including images, copies, and data.
LandingSpy contains 600K Landing Page Examples from Facebook, Instagram, Google, Twitter, Pinterest, Yahoo…
View excellent landing page design cases
LandingSpy is a paradise for designers to find inspiration for landing pages. It is a leader in landing page materials. LandingSpy helps you collect and find excellent landing pages on all channels. You can use it to collect inspiration, save useful landing page material, get the best landing page picture for inspiration.
Creative design of landing page
The landing page is the key to goal conversion. A beautiful landing page can quickly impress users and general consumption. And LandingSpy not only provides you with a single floor page picture material, its advantage is that it replicates the integrity of the floor page, so you can not only find beautiful picture material here, but also learn the framework and copy layout of the floor page design. Creative inspiration is not only reflected in the beautiful picture design, but an excellent copy is also the finishing touch.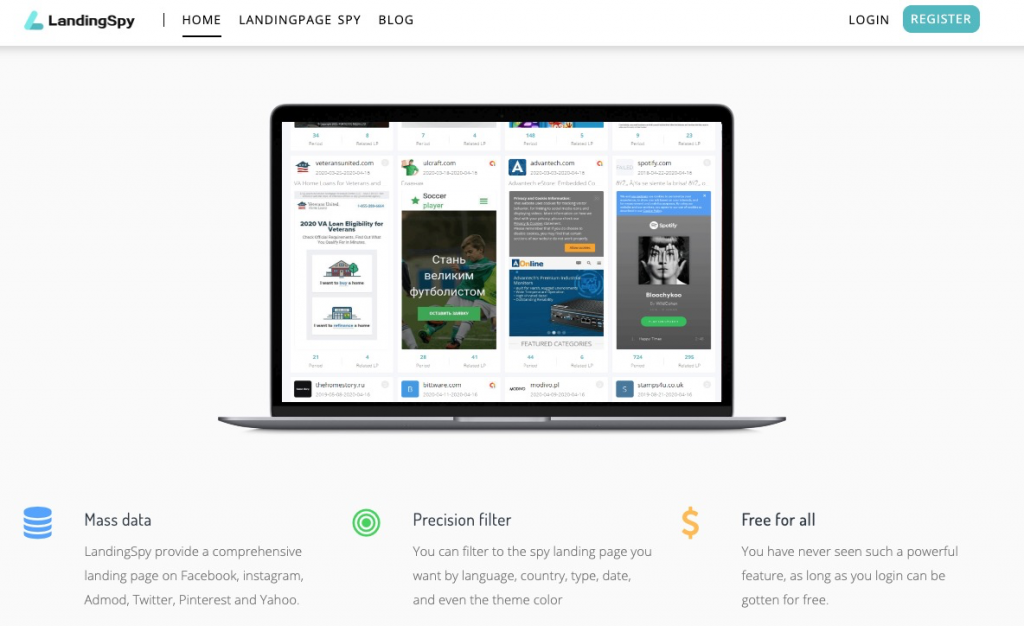 AdLibrary Helper – Facebook post creative
Creative inspiration is not just looking for beautiful pictures, it is also generated in daily posts. There is a website here called AdLibrary Helper. Although its data comes from Facebook, it is more convenient and faster than Facebook. Because AdLibrary Helper displays the search results in a list, it is convenient and intuitive. You can directly compare the data of related pages after searching.
AdLibrary Helper allows you to:
Search Facebook ads by keywords
Display Facebook advertising data in the list
Save favorites page locally
So there are favorite posts you can directly collect here, find creative inspiration from popular Facebook posts.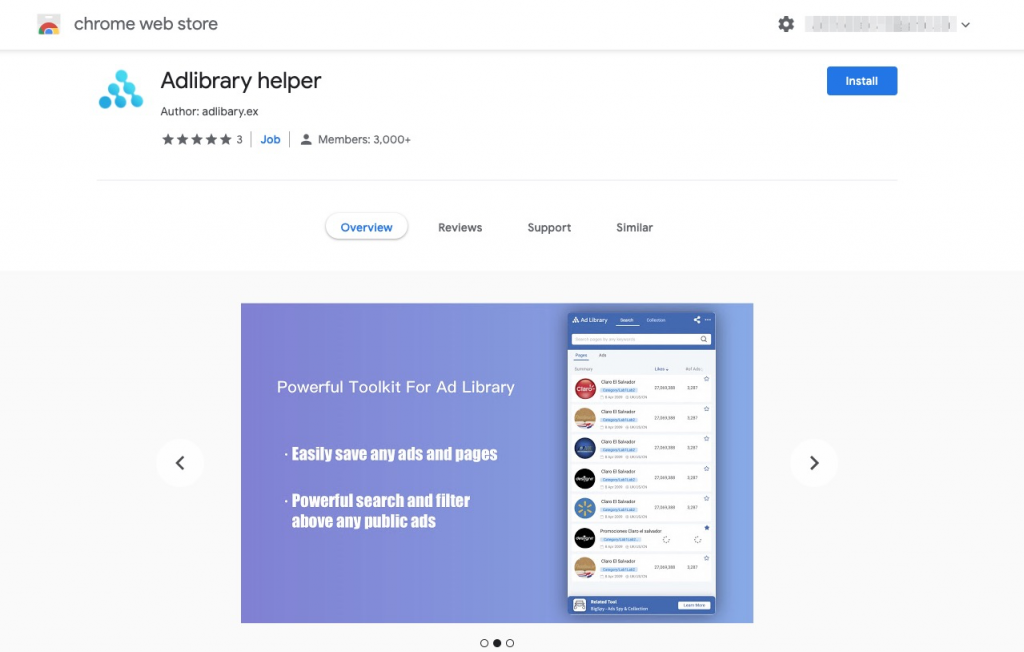 Canva – Picture creative inspiration
Canva is an image material website. Here users are allowed to create social media graphics, presentations, posters, and other visual content. It provides a lot of material templates, users can edit directly on the website, free to change the pictures and pictures on the template.
Compared with the role of providing inspiration for picture materials, Canva is online graphic design software. It serves more creative designers who do not have much foundation. It provides designers who are not professional with an opportunity to participate in creative design.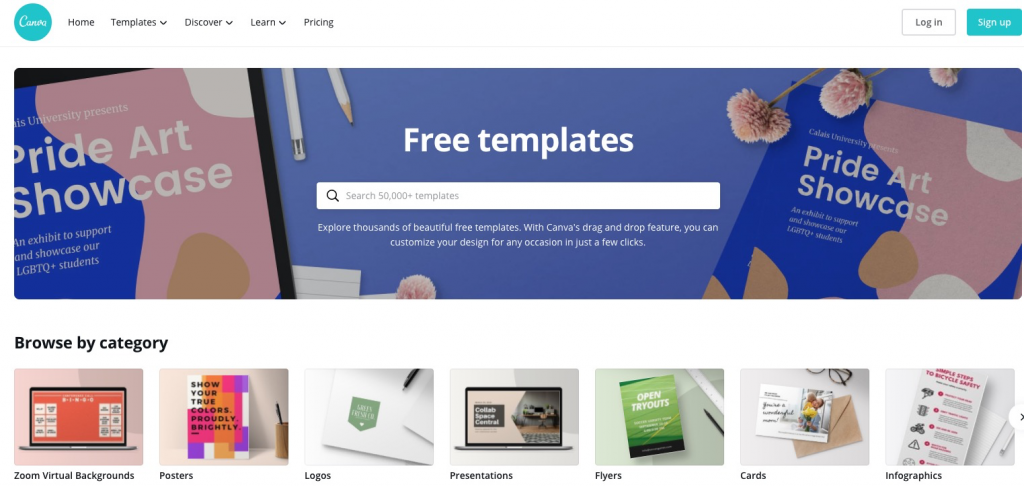 When your creative inspiration is exhausted, you can use the above 5 sites that provide creative inspiration. These sites collect inspiration from a variety of commonly used online platforms, and they cover two types of creative materials, such as pictures and videos, which are worth using!