BigSpy Ad Library Gives You More Inspiration
Ad creativity has become more and more important, because Internet advertising has become impossible to ignore today, and tens of thousands of advertisements are produced and pushed to users every day. However, for advertisers, the production of advertising creative has become one of the important matters for advertisers. Advertisers need more creative inspiration and more innovation to ensure their advertising effects.
Find ads in a huge library of ad ideas and get inspired
Ad copy is an indispensable ad element
Quick access from the advertising creative list
1. Find ads in a huge library and get inspired
BigSpy's powerful filtering capabilities are industry benchmarks because it understands advertising marketing data better and has powerful advertising data capture and processing capabilities. He has a lot of filtering capabilities to help users.
keyword query

The search box supports the search of advertisers, advertising copy, landing pages and other related words. This search provides users with multi-dimensional query methods.

Category, Platform, and Country Screening

Site type and APP type are the first step in the preliminary classification of advertisers, and also the preliminary division of similar competitors. Advertising channels represent advertising restrictions on different platforms, and advertising creatives that do not go through advertising channels are usually very different. The creative styles of advertisements found in different countries are different, so users usually use the country as a rough filter.

Filter by creative type

Creative types mainly include format such as video or picture, format such as landscape or portrait, and definition. The creative type is the characteristic that every advertisement will be identified with, it is the characteristic that is branded on the advertisement.

Language and CTA Screening

For most ads, copy and a call-to-action button are essential elements.

Engagement and original posts

In BigSpy, there are some original post advertisements. These advertisements are obtained through the original information flow, and you can see interactive values such as likes and comments. By filtering such advertisements, users can learn about the user influence of advertisements.

Filter by time, new ads, and various sorts

Ads discovered during a time period or first discovered are important to the user. Users can also combine different sorting methods to view and compare, so as to help get more valuable information.
Powerful search and filtering can ensure that users can find advertising inspiration more accurately and quickly in the huge ad library.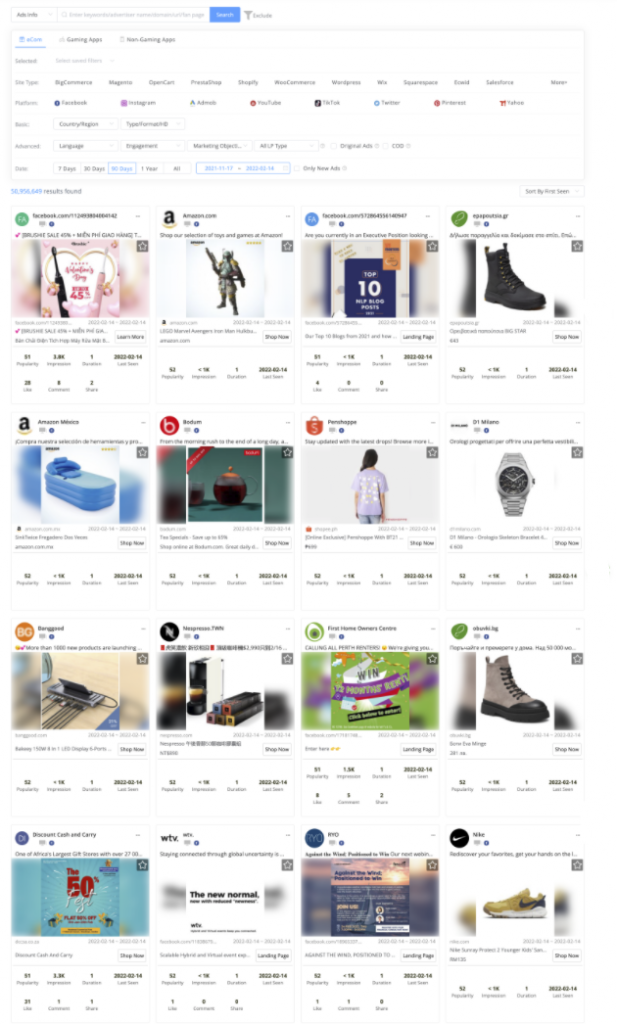 2. Ad ideas is an indispensable ad element
From the ad copy, you can find the current popular ad words, and even the targeted words of the ad for users.
BigSpy supports copywriting search, and you can find the corresponding ad titles and copywrite through keyword search. At the same time, through the industry, language type, platform type, and feature type of the copy, you can further view the recommendation of different advertising copy.
In the search results, the support of different ad texts is sorted by duration, estimated impressions, and the number of related ads, helping users to select ad texts that are more in line with their goals.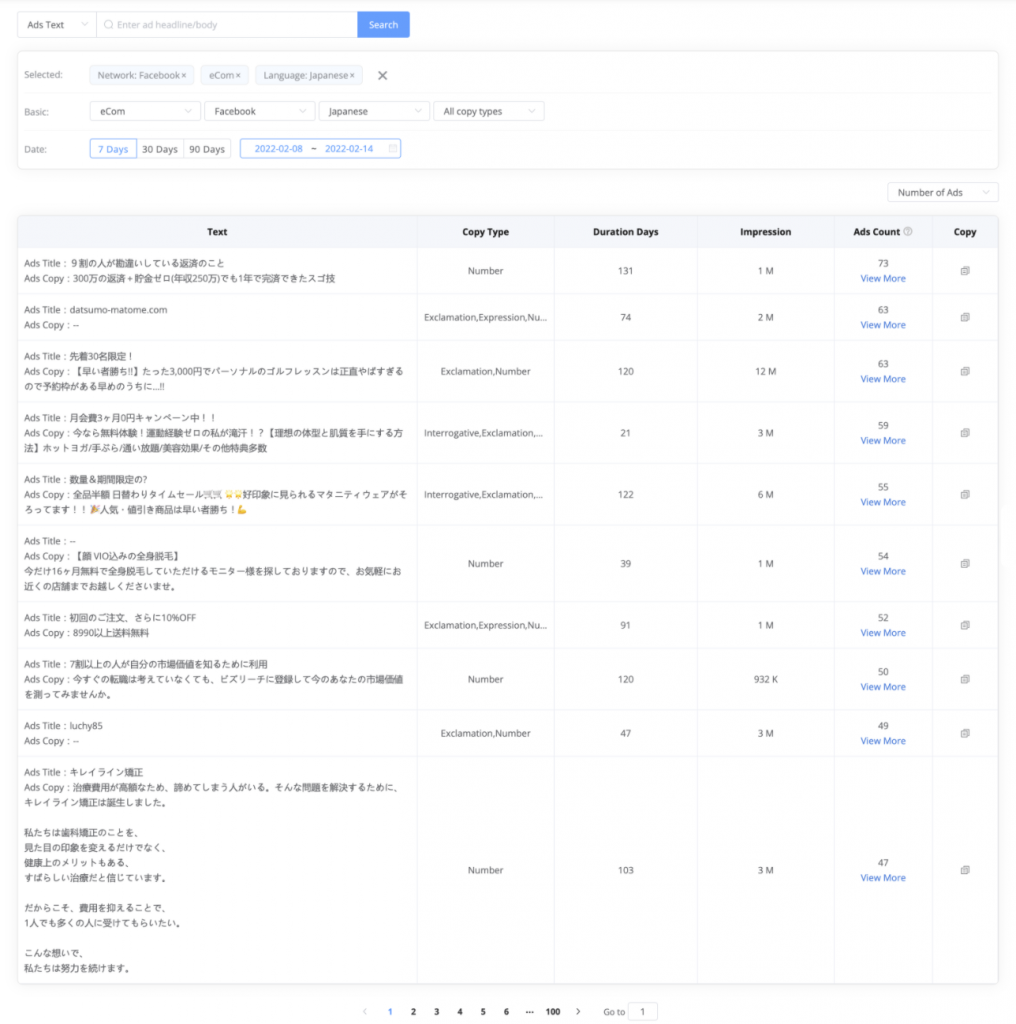 3. Quick access from the Top Charts
BigSpy's advertising creative list mainly serves the e-commerce industry. The advertisement creative list supports two types, including the general list and the new list, which are sorted according to the estimated display of the advertisement creative.
The list of the e-commerce industry mainly provides two types of sub-lists, purchase category and influence category. The purchase category mainly refers to the fact that the advertising behavior orientation is paid for purchase, and the second influence category does not have this special feature. This is to help e-commerce customers better distinguish performance ads from ordinary ads.
In addition, users can also search for different categories, countries, and creative types in the list to obtain different advertising lists.
This is a surprising feature that many users have reported, but it is only open to Pro and VIP customers.