Best Watches ad creatives can't miss in 2021-BigSpy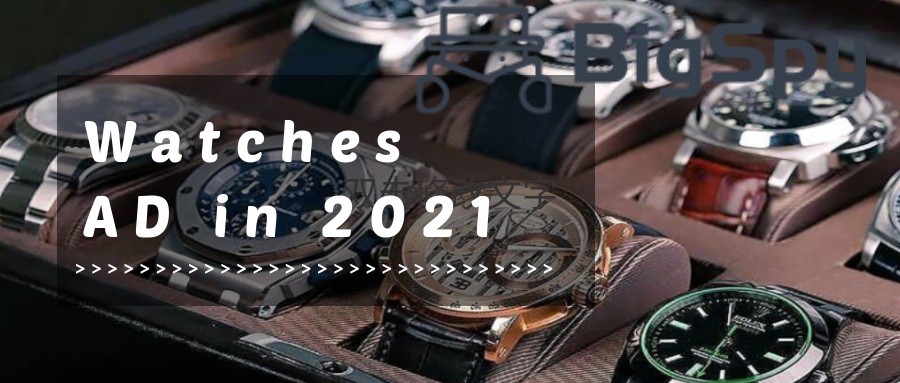 In the rapidly developing 21st century electronic Internet era, mobile phones have replaced the functions of watches, wallets, compasses and even TVs and speakers. So why is the watch, a product that is still developing for a long time, and good watch brands are still being sought after by people? If you are responsible for selling watches, placing advertisements in the watch industry, or the person in charge of branding for watches, then this document for watch advertisements should not be missed.
Watches are destined to never go out of style, because they are not just a simple timing tool, but more of an accessory or a status symbol. People who buy watches pay more attention to the effects of the brand and the quality of the products than those who buy other products. So how to attract the attention of these people? Take a look at the following suggestions.
Excellent idea for watches
To understand what kind of advertising attracts users, we might as well take a look at what are the outstanding ideas worthy of reference in watch advertising.
Omega has gained a reputation as one of the successful wristwatch brands in the world for 170 years.At the same time, Omega's Speedmaster Professional is the first watch worn on the moon. This advertisement is a new #BondWatch series watch advertisement launched by Omega in 2020-2021. This advertisement uses a black background with a light-colored strap to bring out the high-end and steady atmosphere of the watch.With simple copywriting to emphasize the new type of strap and concise and resolute main points, and add series name tags to promote the spread of the brand. Received 2.1K likes on Facebook.
Longines is a representative of romance, elegance and femininity. Unlike many high-end watch manufacturers, Longines produces a large number of different styles of watches. Compared with the dignity and atmosphere of Rolex, it is more fashionable, compact and comfortable, which attracts a large number of female audiences.
This video advertisement is very creative. At the beginning, it attracted the attention of the audience with the time rotation of the watch dial and the blue ocean scenery. It introduced the most classic historical story of Logines, and brought out the new launch with the evolution history of watch styles. Watch style. The whole video is full of romantic and elegant sentiment to attract female audiences, and the story of historical evolution hints at the long history and quality of the brand. It only got 14K likes after being launched on Facebook for 15 days.
When someone says Cartier, your first thought might be jewellery. Indeed, Cartier was famously jeweller to the kings. But this world-renowned designer started off making watches. Cartier has become one of the best luxury watches on the market with its excellent watch design.
This advertisement is very different from other luxury watch advertisements. It boldly uses complex watch background patterns and quick detection switching, coupled with strong drumming music and style switching, which attracts trend-following crowds to luxury and fashion The pursuit of style design.
The Todor watch is a brand created by Rolex founder Hans Wilsdor in 1926. The founder hopes to introduce a brand that is comparable to Rolex in terms of accuracy and durability, but is more modern and cheaper to suit the taste of the younger generation. Its brand slogan "born to dare" has attracted the love of many explorers and sports stars. It is worth mentioning that his spokesperson David Beckham has brought great influence to it.
This advertisement uses a simple light gray background map with a blue dial to demonstrate the brave but firm brand tone and the "Navy Blue" series. It has been posted on Facebook for just 10 days and it has won 15.8k like.
When everyone puts gems and gold inlaid on their watches, someone must be looking for a low-key and high-quality watch version. In this way, Rado is famous for its ceramic watch series. Since most Swiss watch brands use metal, the brand's innovative use of other materials has earned it the nickname "Material Master".
These watches are lightweight, stylish, available in metal or matte finishes and a variety of colors, light weight, hypoallergenic, and highly resistant. He greatly attracted young people's preference for modern technology, and thus stood out among the chasing luxury brands.
This advertisement uses a black background with a black dial to maximize simplicity and mystery. It also emphasizes the sense of technology with a simple shape and a silver-gray strap, which attracts a group of low-key middle class in the new era. Just 4 days of posting on Facebook and getting 58.6K likes are enough to show how young people love it.
To sum up
Watch users tend to pay more attention to brand reputation and tone than other types of products, and the pursuit of shortness and speed in effect advertising is not suitable for watch advertising. In addition to beautiful and attractive advertising pictures and copywriting, the combination of brand positioning and audience is the top priority of watch advertising, which often requires more design costs and thoughts.