Best Monitor Ads Creatives Tool 2020-BigSpy
Bigspy is the best tool for monitoring creatives. Bigspy was founded in 2017, and in the past three years, BigSpy has more than 500,000 registered users. Bigspy was previously a free tool to help marketers create more compelling creatives; help advertisers understand competitors' advertising strategies; help brands analyze advertising trends.
In order to improve the user experience, Bigspy has been constantly rectifying and adding new features to the product. By 2020, Bigspy will start charging operations, and free users will be limited to some features.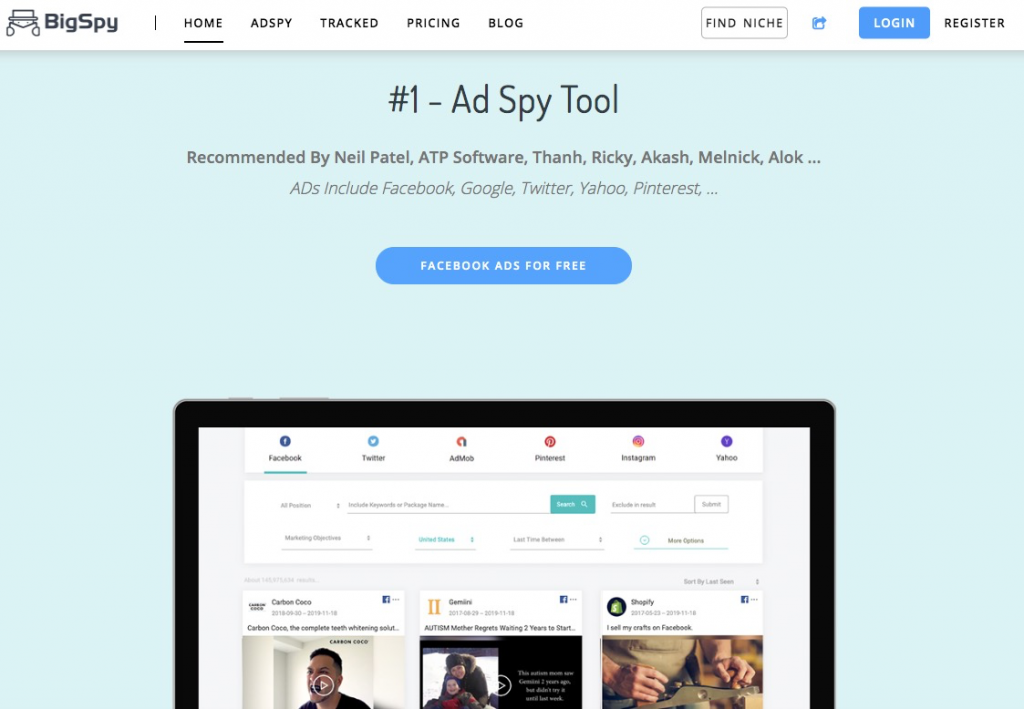 Bigspy original function:
Multi-platform: Facebook, twitter, AdMob, Pinterest, Instagram, Yahoo
Bigspy can monitor 6 advertising platforms, including the world's major social media platforms and browsers.
Search: title, text, advert meta
Bigspy supports three search methods, and any keywords appearing in ads can be searched out in Bigspy.
Filtering: Campaigns, ad creative, category, CTA type, Categories, E-commerce software, country, time
There are 8 filtering methods in BigSpy. Bigspy can filter ads in 40 countries, more than multiple ads spy tools. BigSpy also has a unique filter item, which is E-commerce software. Bigspy organizes the e-commerce software commonly used by users, such as shopify, WooCommerce, etc. Help some users who do e-commerce better do facebook advertising.
Tracking: In the upper right corner of the searched creative, click "track". You can track the performance of this ad in the last 7 or 30 days. In "My Tracked", you can see all the ads you track.
Sorting: Bigspy has 5 sorting methods to help you find the most popular creatives.
Download: Bigspy supports downloading all creatives. Click on any creative and click "Download" in the pop-up window.
Advertiser query: Bigspy can query advertisers by keywords. You can also click "Search" in the upper right corner of any creative. You can see all the creatives of the advertiser who posted this ad.
The above is the introduction of bigspy's basic functions. In 2020, BigSpy's operation has entered a new stage. In order to achieve better monitoring of creative materials, we have introduced new functions.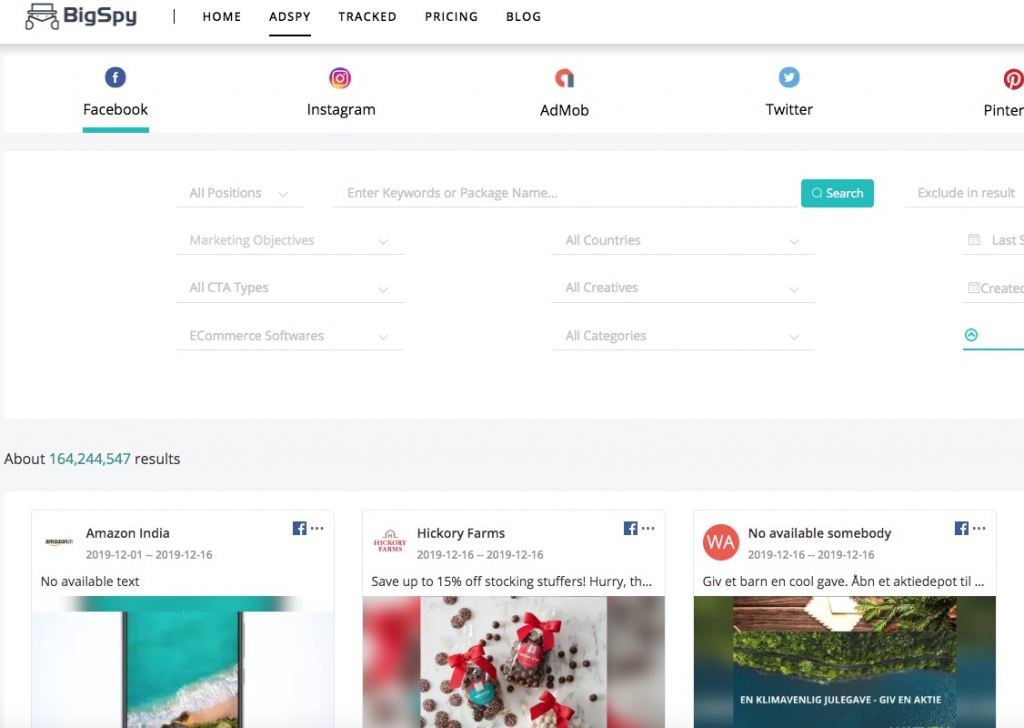 New features:
Keyword exclusion
Bigspy added a keyword exclusion option to the filtered list. Easier to find what you need.
campaign
Bigspy adds a campaign filtering item to each platform, and the campaign helps to screen better-performing ads.
Featured Ads
BigSpy finds well-performing ads from millions of ads every day. And then tracks the likes and shares of these ads for the past 7 days. If the data of this ad shows an upward trend within 7 days, Bigspy will recommend these ads to users as featured ads.
People Tracked
Bigspy shows users ads that everyone is following. Bigspy counts and updates the ads that users are tracking daily. You can find ads that people like people tracked and use them.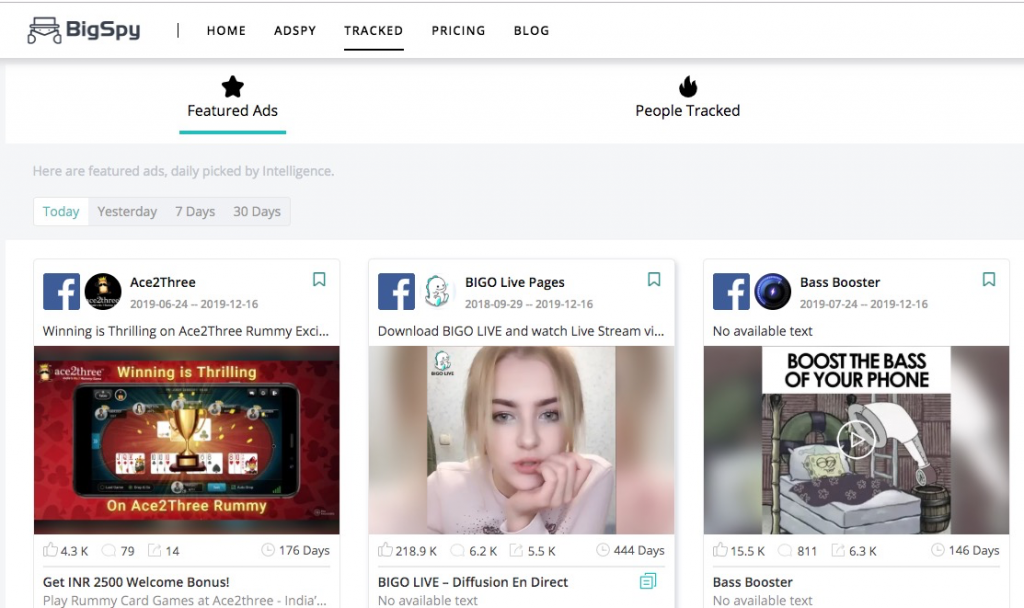 Pricing:
FREE
Networks: Only Facebook
Queries: 10 queries daily
Limited search features
Limited filtering features
Limited results
BASIC
Networks: Facebook, Instagram
Queries: 25 queries daily
Unlimited search features
Unlimited filtering features
Download: 25 daily
Featured Ads
People tracked Ads
My tracked Ads: 25 daily
Email support
PRO
Networks: All platforms
Queries: Unlimited daily
Unlimited search features
Unlimited filtering features
Download: 250 daily
Featured Ads
People tracked Ads
My tracked Ads: 250 daily
Email & Online support
advantage:
1.bigspy is cheap. Full features are available for $ 99 per month. $ 9 for basic features.
2.Multiple platforms: Bigspy includes 6 social platforms and is the tool with the most ad monitoring platforms.
3.Easy to use. Bigspy is a web page, all operations can be completely completed in one web page.
4.Many creatives. Bigspy can filter materials from the last three months, or from two years ago. The amount of Bigspy materials is as high as 160 million. Compared with other spy tools, Bigspy can track the creatives of 2018, and it is the most spy tool with accumulated creatives.
5.Multiple filtering: bigspy supports multiple filtering methods, and filtering functions have recently been added.
6. Track favorite ads: Bigspy tracks 90 days of data for each ad. Click on any creative and you can see how the ad has performed in the recent past.
This concludes the introduction of the best creative monitoring tools in 2020. Bigspy has been breaking through itself for three years, and provides users with free support. Now that BigSpy starts to pay for operations, Bigspy will continue to introduce new features to help more users.