AdSector VS BigSpy: Which One Is The Best Ad Spy Tool
Ad spy is the most effective tool for understanding competitors' marketing methods. In the age of technology in digital marketing, whoever can grasp the information faster will occupy a favorable position. Therefore, the marketing analysis of competitors is particularly important. How can we better understand competitors? The spy tool is a good choice. A more effective spy tool can help us better understand industry changes and the latest marketing methods. Which ad spy tool is better?
There are two powerful ad spy tools, AdSector and BigSpy. They are the most popular tools, which one is better? We compare in many ways.
1.Comparison of operating methods
Adsector
Adsector is an advertising intelligence tool designed for e-commerce and advertisers. Adsector is used to view and analyze the dynamics of Facebook's competitors. In Adsector, advertisers can find the most suitable ads for themselves through multiple filtering methods, download the complete landing page, and find pictures that resonate with customers.
Adsector is an online tool. After registering and logging in to the website, we enter the main interface. This is a neat and easy to use homepage. The left side of the page contains various filter boxes. You can see that Adsector is divided into three main modules, namely search mode, filter mode, and lander. Below we will compare the search and filtering functions in detail.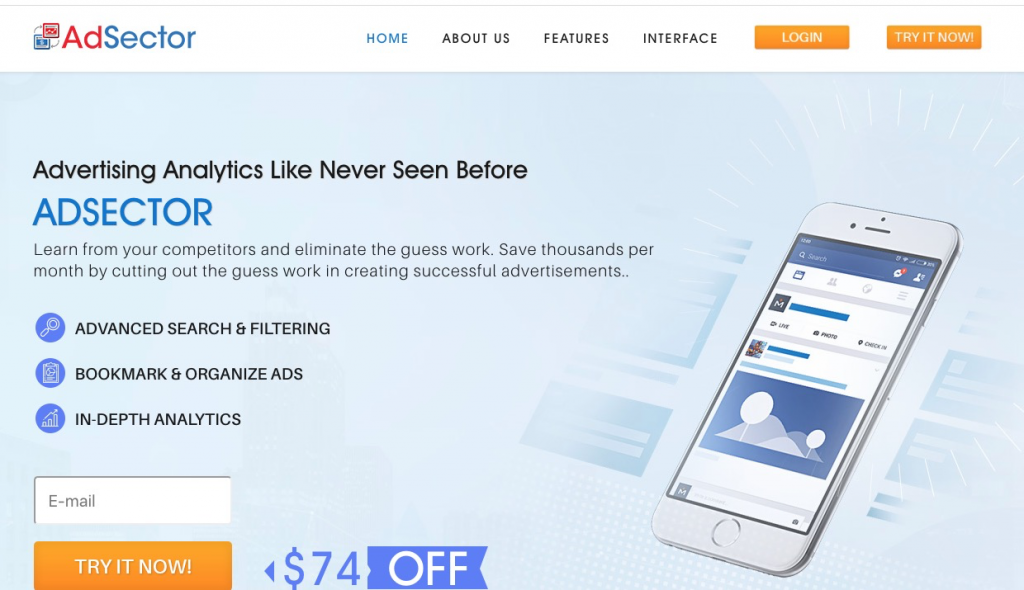 BigSpy
BigSpy is a traditional advertising spy tool. BigSpy is specifically used to gain more users for SMEs, advertising agencies and marketers. BigSpy finds suitable ads through advanced search and filtering, analyzes ad performance, downloads creatives, and tracks ad audience. BigSpy is not only a creative material library, but also used to find design inspiration, break the market wall, and acquire more high-quality customers.
BigSpy is also an online tool. After logging into BigSpy, you can see that BigSpy is divided into three major modules: adspy, ad copy analytics, and ad tracking.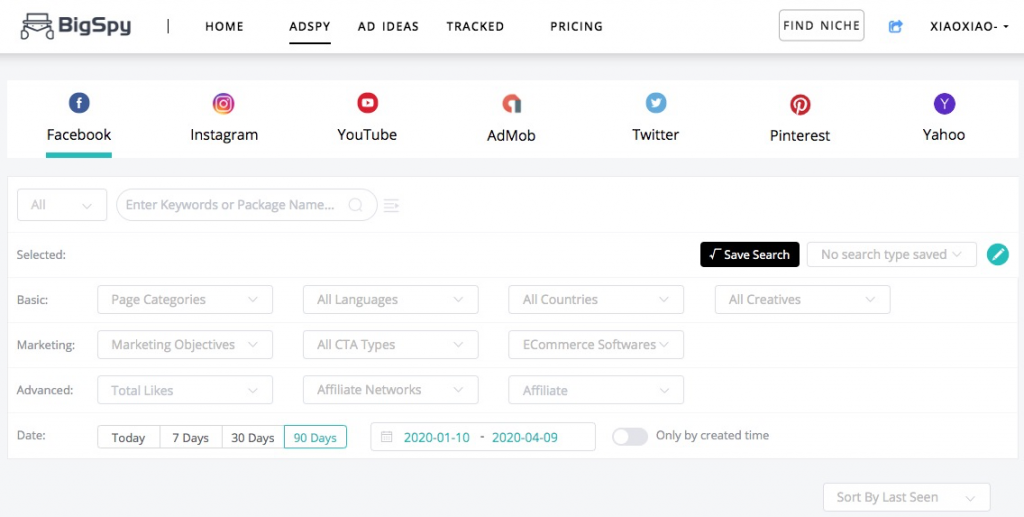 BigSpy can monitor the advertising data of 7 social media, which are:
Facebook
Instagram
Youtube
Twitter
Pinterest
AdMob
Yahoo
BigSpy can search and filter the ads of each channel and sort them. After searching for a suitable advertisement, click on the advertisement to see the detailed data of the advertisement.
When making Facebook ads, writing ad copy is also a headache. BigSpy helps users find the most suitable advertising copy by searching and filtering.
BigSpy finds suitable advertising copy by various methods such as industry, language, country, likes, elements and time used in advertising. And analyze the advantages and development trends of this copy.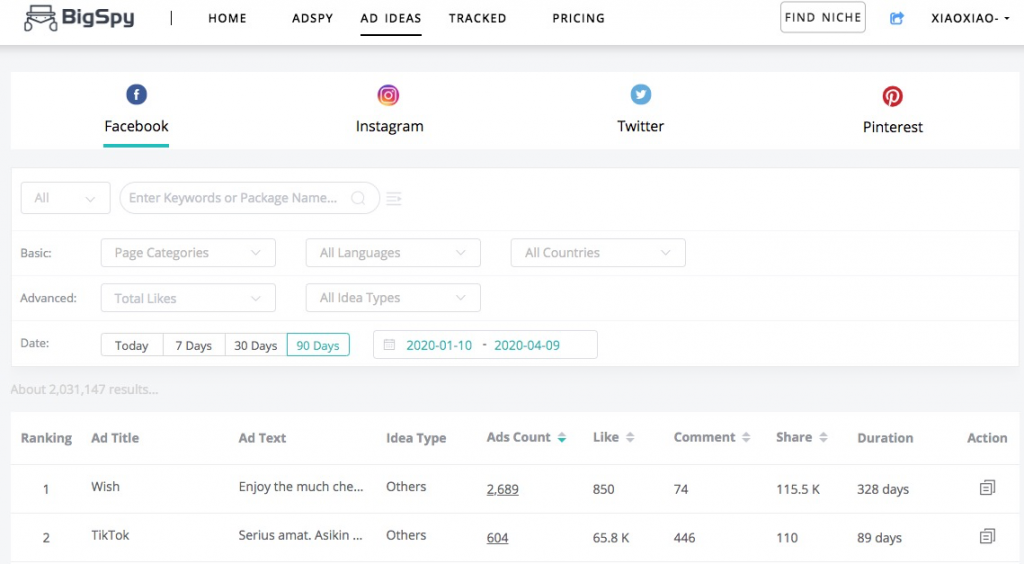 Featured ads: BigSpy selects and recommends ads that performed well in the past week.
People tracked: The ads that the user is bookmarking are displayed here.
My Tracked: This is a collection of advertisements collected by users themselves, which can only be seen by users themselves.
Summary: The main functions of Adsector and BigSpy are similar, both are to help users find the most suitable creative. But their additional functions are different. Adsector pays more attention to the association of materials and recommends more similar pictures for users. BigSpy gives users suggestions from various aspects such as advertising copy and advertising trends.
2.AD database comparison
The size of the advertising database is the core of the advertising spy tool. Enough creatives can inspire users and monitor competitors 'advertising trends more clearly.
Adsector
Adsector can search for ads on Facebook, and the ad database contains a total of 1.3 million ads. Users can find advertisements in the last 30 days on Adsector.
BigSpy
BigSpy has a total of 7 social media channel advertisements, with a total inventory of more than 1 billion ads. Among them, there are about 170 million Facebook ads, and users can track down the 2017 ads on BigSpy as early as possible.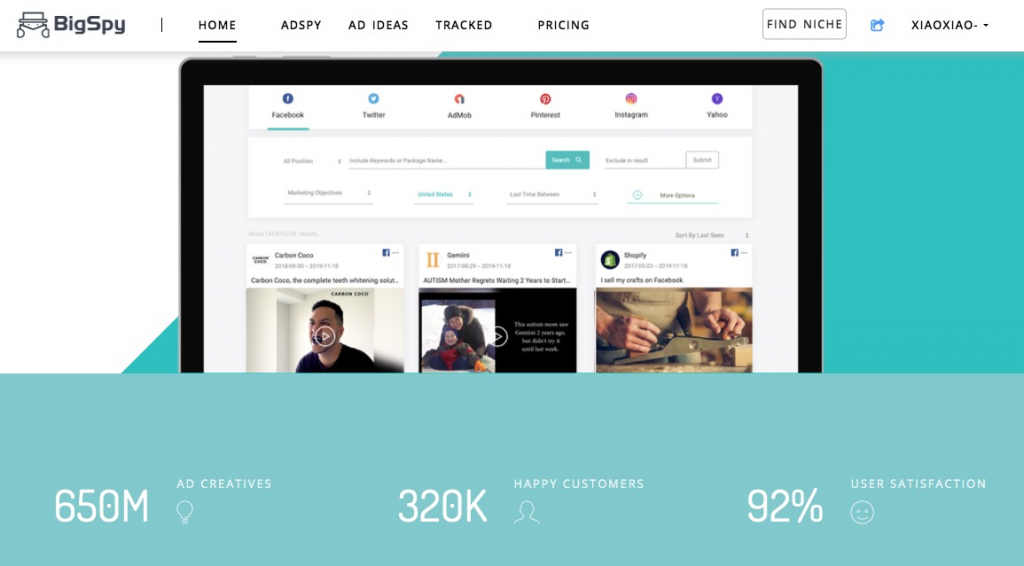 Summary: BigSpy's advertising volume and social media channels far exceed other similar spy tools. If you want to find the most comprehensive advertisement, BigSpy is the first choice, because it is more powerful than the Facebook ad library.
3.Search and filter comparison
Searching and filtering are the core of spy tools. Only from the user's perspective, effective and effective filtering functions can be designed to improve the quality of search results and give users a good product experience. The following is a search and filtering design for two products:
Adsector
After logging in to the Adsector account, the search and filtering modes are included on the left side of the Adsector main page.
Adsector contains 3 search methods, namely:
Keyword
Advertiser
Publisher
Adsector contains 7 search methods:
country
type
position
gender
relationship
age
interest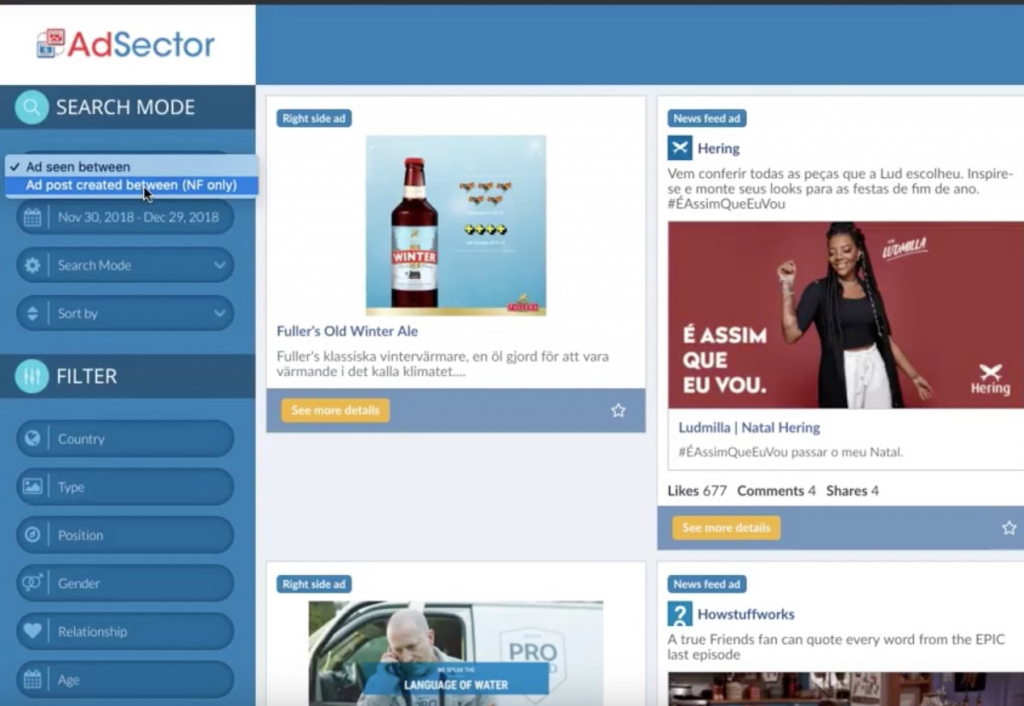 BigSpy
Open the adspy section of the BigSpy website, select the social media channels you need, and you can see a variety of search and filtering options at the top of the page.
BigSpy contains 7 search methods.
Keyword category search: you can specifically search for all ads in APP, Ecom, and Game industries
Advertising location search: In Title Or Text, In Advertiser Info, In LandingPage URL
Keyword exclusion search: Enter unwanted keywords to exclude related ads.
BigSpy contains 11 filtering methods. They are:
Page Categories
Languages
Countries
Ad Creatives
Marketing Objectives
CTA Types
ECommerce Softwares
Total Likes
Affiliate Networks
Affiliate
Time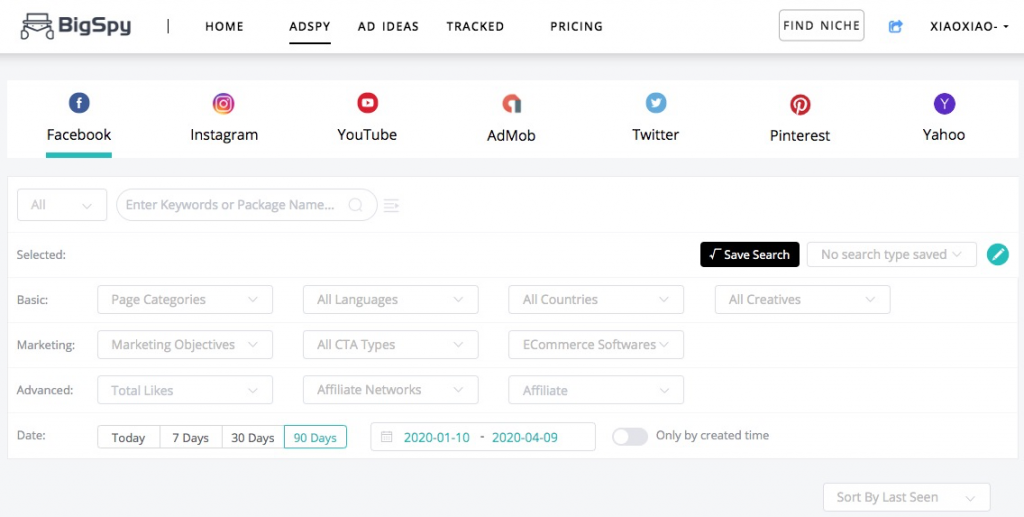 The search functions of Adsector and BigSpy are both powerful, but BigSpy is superior because BigSpy has an additional keyword exclusion option, and its search design is more intelligent and friendly.
Adsector filtering methods include geographic location, user interest, age, relationship, and gender. The filtering method of Adsector is based on user classification, filtering suitable ads according to users. This filtering method is inaccurate because Adsector is not completely accurate in positioning users when crawling Facebook ads. Differences in user classification may result in inaccurate filtered ads.
BigSpy's search methods are diverse, including geographic location, language, likes, CTA type, etc. BigSpy's filtering is based on advertising elements, and filters suitable ads from the set rules of the ads, so that the accuracy is higher.
4.Ad tracking comparison
Adsector
After the user finds a suitable advertisement, click the yellow label "see more" below the advertisement to see a detailed analysis of the advertisement. Adsector analyzed the advertising performance from 8 aspects.
social engagement: Like, comment, and share changes of ads in the most recent period
week trend: Statistics of the total performance of each week before the advertisement
interest targeted: collect user interest tags
country: track the country and proportion of the advertising audience
gender: tracking the ratio of male to female
age: track the proportion of advertising audiences at all ages
relationship status: track the social relations of the advertising audience, for example: single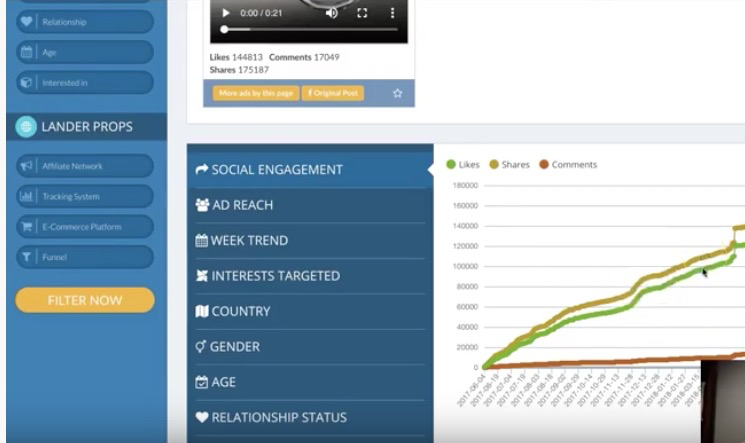 BigSpy
BigSpy's analysis function is a major feature of it. After you find the ad you want, click "detailed" in the upper right corner of the ad, or click the creative to see the detailed ad analysis. BigSpy tracks the seven elements of this ad.
Advertising time: Track creative creation and deadline times
Creatives and downloads: track the type of creatives used and support material downloads
Advertising Performance: Track the number of likes, shares, and comments of ads in the most recent period
Country: the country where ads are tracked
Age: Track the age of the advertising audience
Gender: Track the gender ratio of the advertising audience
Landing pages: Track landing pages and links used in ads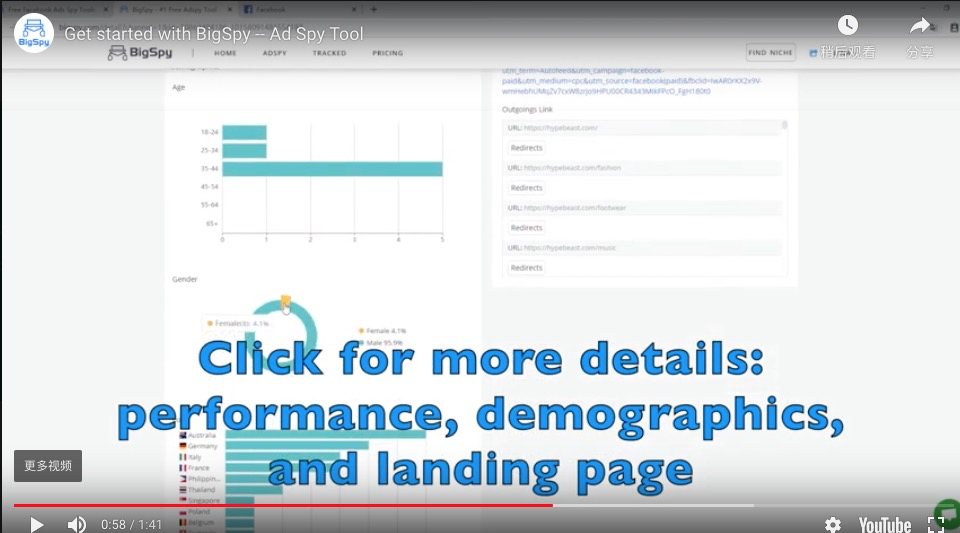 5.price comparison
Adsector
Adsector does not have free features and does not support the trial. The price of Adsector is $ 249 / month
BigSpy
Free: Only Facebook
Basic: $ 9 / month (Networks: Facebook, Instagram)
PRO: $ 99 / month (All functions)
The final decision:
The main functions of BigSpy and Adsector are not much different. But BigSpy has a larger database, and the price is lower. Therefore, BigSpy is an ads spy tool that is more cost-effective.