5 Effective Ways to Make Beer Ad Work Better in 2021
Summer is coming, and it's the peak season for beer sales. Beer, as an indispensable drink for parties, has become particularly important in daily life. But with the popularity of beer, people have a greater pursuit of high-quality beer. For the marketing of beer brands, beer ad has become particularly important. The creation of advertisements is the most direct way to create brand effects.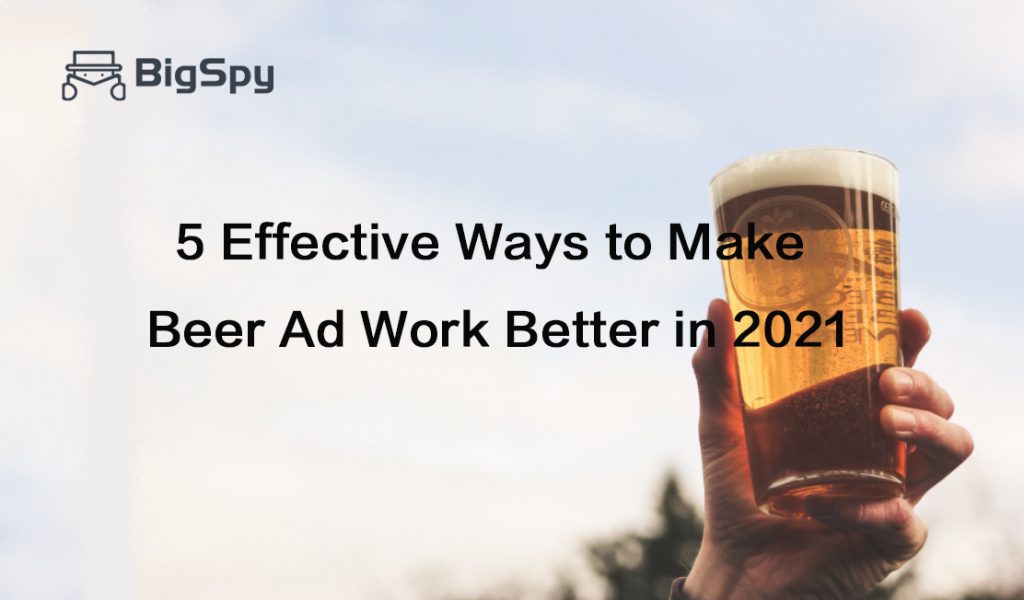 As beer ad has become very common, how can we create more effective and attractive beer ad? Next, Bigspy will help you make the best beer advertisement from the following five aspects.
Find an effective platform for your beer ad
Which platforms are more suitable for beer ad? The conventional platforms for Internet advertising are mainly Google ads and social media ads. In recent days, under the impact of social media advertising, Google advertising has begun to show a downward trend, and social media advertising led by TikTok and Facebook has become more reasonable and effective. As users develop their social media habits, it will be more natural to place ads on social media pages, and the user's click-through rate will increase.
The data shows that Bigspy can count 184,287,181 Facebook ads. This is a very large group. Instagram and Youtube are also very effective platforms, with the number of ads reaching 551,031,291.

Beer ads can be searched for 58857 ads on Facebook, and the creative types of beer-related ads are mainly videos and pictures. Facebook has many types of advertising and has become the most mainstream advertising platform. There are many types of advertising that can be referred to. The most used and effective ones are image advertising and food advertising. Facebook is a very good advertising platform.

Instagram, YouTube, and Pinterest are also very good advertising platforms. A large number of beer ads can be found here, but we found that many ads on these channels overlap with Facebook ads, and the number of ads is not as good as Facebook. Therefore, when choosing an advertising platform, you can synchronize the advertisements to multiple channels. For example, you can use the same advertisement again on Instagram after being placed on Facebook, so that you can make full use of your advertising content. Of course, Facebook is still the first choice when choosing an advertising platform. More beer advertising data can be viewed at Bigspy.
Edit an interesting beer ad idea
Interesting advertising creativity is a necessary condition for advertising success. With the improvement of people's material living standards, people have a greater resonance for interesting things. Conventional beer ads are often shots of beer and party scenes. Such advertisements are very common and often do not attract customers. So you need to add something interesting to your beer advertisement so that people can see it and generate a desire to buy.
Bigspy has a powerful advertising creative library, which contains millions of advertising creatives that can bring you different surprises. Sorted in descending order by the number of ads likes, I saw an ad that appealed to me very much.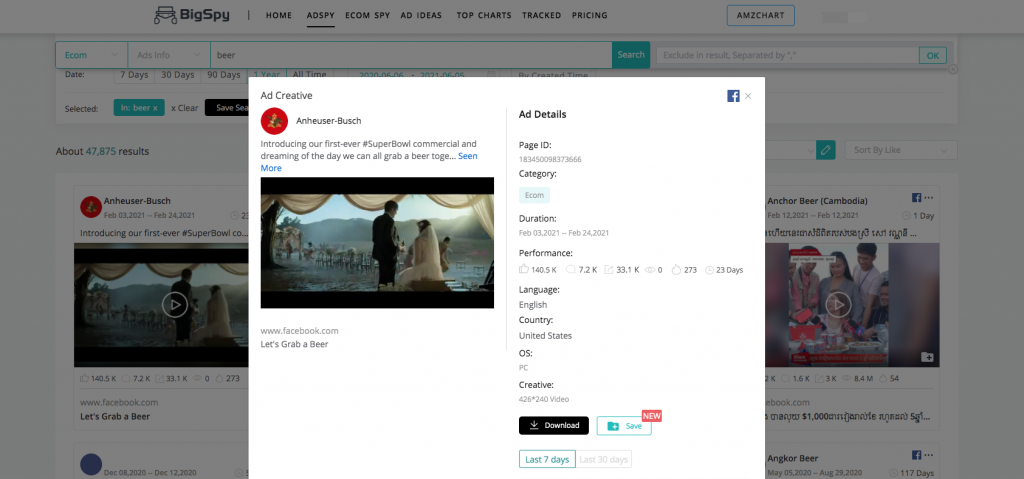 Anheuser-Busch created a beautiful world with the theme of "Let's Grab a Beer", where beer can wash away all sorrows and double all happiness. Beer is the flavor of life. Anytime a glass of beer can promote the relationship between people, this is very subtle. The short film describes a lot of life scenes. I enjoy every plot in the advertisement, which makes me like it very much. This advertisement has only been running for 20 days, but his likes reached 140K and the number of comments reached 7.2K. It can be seen that this is a successful advertisement.
From the more beer advertising ideas that Bigspy showed, I got some interesting patterns. Good beer advertisements often describe interpersonal relationships. Beer can double happiness and alleviate sadness. This is an essential medicine in life. When you are thinking about advertising creativity, you still need to start from life and find people's resonance. At the same time, you can add content such as music, visual effects, etc., so as to be sufficient for your advertisement. Yes, music may be more suitable for beer.
Write attractive advertising copy
When your advertisement has a good enough creativity, you need to match an excellent advertisement copy. The text is often the first impression of users seeing the advertisement, and it determines whether users will open your advertisement. So you need to think about your ad copy. The following is the beer advertisement copy text searched by Bigspy, you can cause thinking.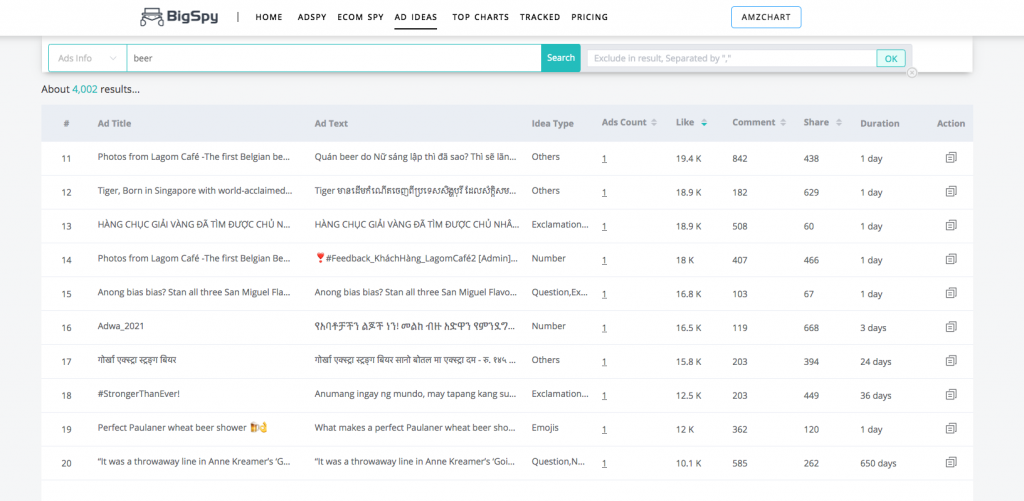 Some commonly used beer advertising techniques summarized from these ad copy:
Use emoji🍺 , your ads will be closer
Make good use of interjections to mobilize users' enthusiasm
Coupon temptation
Celebrity linkage, celebrity effect
Hot content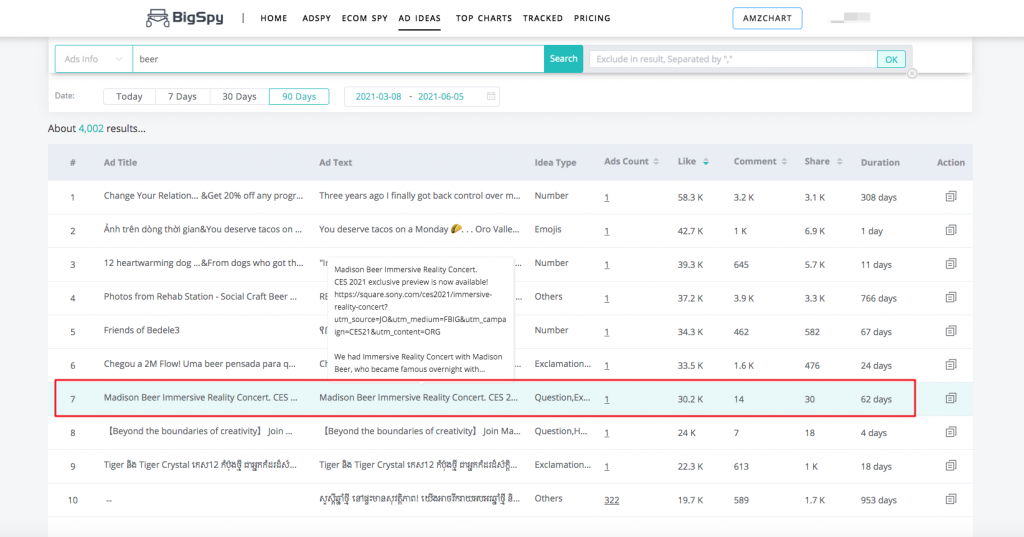 It's worth mentioning that I saw a joint commercial for beer and music. Yes, I mentioned it above. It must be interesting. This ad also received 30K likes, you can also try it.
Find effective beer audience
When your ad is designed, you need to send your ad to your audience, or you need to find a group of people who like beer. To place an advertisement on Facebook or Instagram, you need to fill in the audience information and the appropriate interests, which will make your advertisement appear in front of the people who need it.
AdTargeting is a Facebook interest targeting tool, where you can view a lot of beer advertising-related interests, and each interest will have a detailed audience number and analysis, which is necessary for advertising.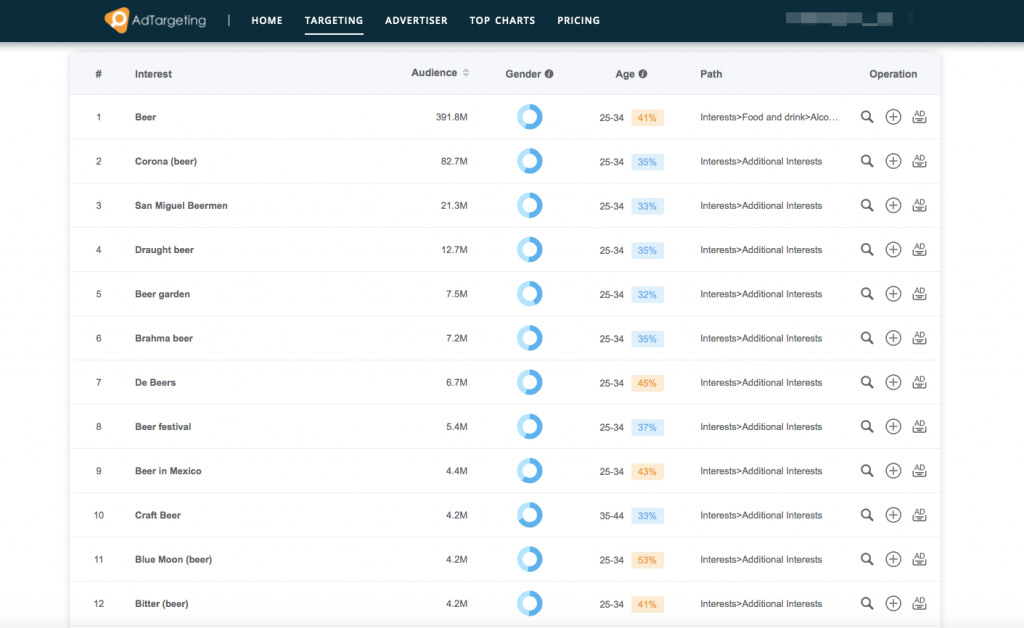 Develop beer ad budget based on benchmarks
Finally, you need to develop a reasonable advertising budget for your beer advertising. The bidding method often chooses CPC, CPM or CPA. So you need an industry benchmark report to bring you some standards to help you make better bids. ADCostly is a Facebook ads cost tool that can bring you CPC, CPM, CPA, CTR at any time and industry. Here are some standards.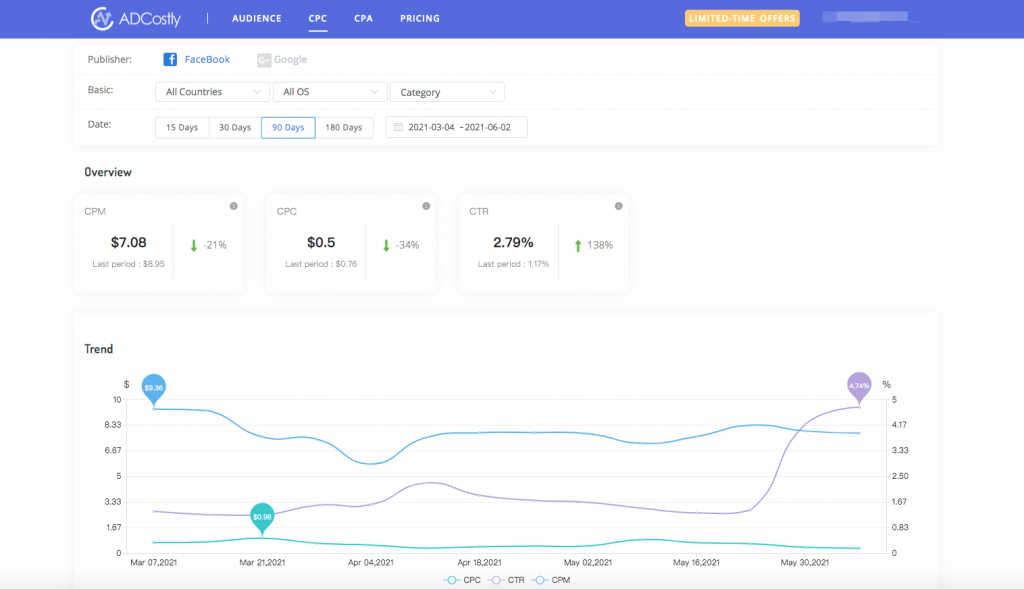 Summary
The above are 5 effective methods to create successful beer advertising in 2021. These methods require you to conduct continuous research and comparison to do better. Efficient tools are essential in this process, and these contents can help you create excellent advertisements.