5 Best Dropshipping Tools in 2021 – Bigspy
Dropshipping tools allow you to deal with your e-commerce business more effectively and gain an edge over your competitors.
What are Dropshipping Tools?
Dropshipping is a modern method of e-commerce that allows you to build a retail business without storing or maintaining stock. It's a highly effective and competitive market that is already being pursued by millions of people worldwide.
Hence, this method of business already has fierce competition. So, if you are new or have already spent some time in this field, you can get an advantage over your competitors by using the best Dropshipping tools.
These tools help you manage your business and website with more effectiveness and enhances the user experience. It gives you the ability to manage a variety of products, as consumers explore through them.
There are mainly three categories of Dropshipping tools.
Dropshipping Ad Selection Tools
Ad selection tools help enterprises select the perfect ad for their campaign or product. These tools can analyze millions of ads worldwide based on your preference and find the best ad suitable. You can also track the niches through these tools.
Dropshipping Database Selection Tools
These tools help you turn your website into an effective and well-designed e-commerce store. They link you to the thousands of global suppliers for your preferred product and also sync the chosen products to your website.
Dropshipping Plugins
The plugins or extensions are tools that are integrated with your browser and help you analyze and manage your e-commerce store. Furthermore, such tools can also be used to analyze social media and other websites to find product gaps or niches.
5 Best Dropshipping Tools in 2021
There are a lot of tools available today that can be used for Dropshipping. These tools provide you with a variety of options to analyze the market and potential customers and manage your e-stores more effectively.
In this article, we will share with you the best of those tools that can help you build a successful e-commerce business and beat the competition in the market.
This is the best and cheapest ad selection tool for Dropshipping. BigSpy is recommended by thousands of professionals and enterprise bloggers like Neil Patel, Adam, Brian, and many more.
It is considered a must-have Ad Spy tool for every team as it comes with a variety of features and helps you locate the best ads and analyze stats to find the niches and new ideas for your Dropshipping e-business.
This AdSpy is based on a massive database that covers all the major global social media including Facebook, Instagram, Tiktok, YouTube, Pinterest, etc. Hence, you can boost your business in a much more effective and faster way with this tool.
This platform is perfect for your Dropshipping business because it provides you with a variety of features that help you in ad selection and provides you real-time data with social proof.
Adding to this, Bigspy also has support teams at the cheapest rates that can help you grow your e-business. If you are facing an enterprise problem, you can also contact the BigSpy team to help you with a solution.
BigSpy offers you a free plan for your business with limited features. Among the paid plans, the Basic plan costs $9/months which is the cheapest plan among the Adspy tools. The highest price plan of Bigspy costs $99/month.
So, whatever your plan is for the future of your Dropshipping business, BigSpy has got you covered.
This tool helps you in the database management of your Dropshipping business. The biggest challenge that you face in such a business is the selection of products that you are going to sell.
Oftentimes, users select products that have no market in their target area and that causes them to lose money. FindNiche provides you with the best dropshipping niches from major platforms like Shopify and AliExpress on a daily basis.
Hence, you will be able to fill your online store with products that have demand in the target area and have positive reviews. The analytical tool of FindNiche locates the best products for you to sell.
FindNiche crawls and searches e-com stores of Shopify and AliExpress using the integrated advanced algorithms and provides you with detailed information of more than 30 million products that you can use for dropshipping.
Through this amazing tool, you will be able to find the market potential of the products in targeted areas. This will help you select the best products for your consumers.
If you want to find out the perfect products to sell on your e-store, that have progressing performance, high profits, and massive demand, FindNiche will help you with its advanced search tool that has over 20 innovative search filters.
This platform is being used by over 150,000 drop sellers who have made millions in profit. The perfect tool to enhance and boost your Dropshipping business.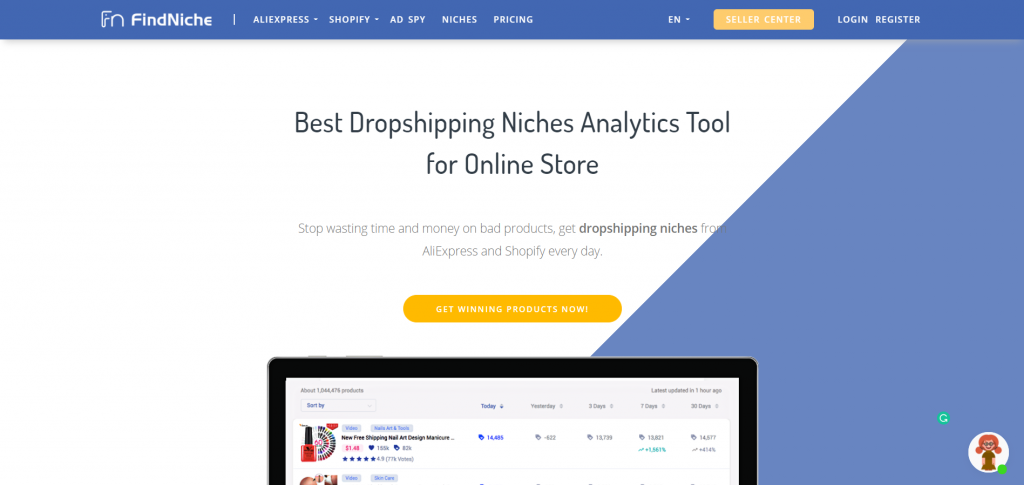 3. Oberlo—Best Dropshipping tool for Self-Made Businessmen
If you have an online store that you use for dropshipping and you need a tool that can help you locate the right products for your online business, then Oberlo is one of the most ideal choices for you.
It is a highly effective database product selection tool that helps you find the hidden gems of the market, products that have explosive potential and can earn you a large portion of profits.
This database is free to use and is equipped with a variety of effective features that help you fill your online store with hot selling and high potential products. Oberlo helps you in managing the store as well.
This platform provides 24/7 effective customer support. They are always available to help you with any questions you might have for your Dropshipping business. Moreover, if you have trouble contacting suppliers, they can help you out with that as well.
This Dropshipping tool allows you to select and customize the products that have the best potential and sync them directly to your online store. You can personalize the pictures and details to give your customers a better vibe.
Oberlo also provides inspiring stuff for self-starters to read and listen to that will help them establish and grow their business. It helps you streamline your entire business and enhance its prospects.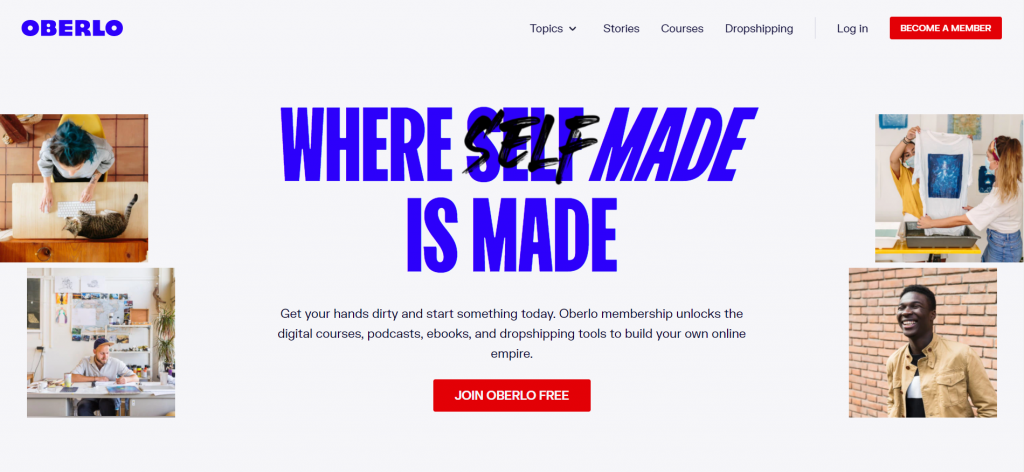 4. WooCommerce—Best Platform to Build your Website for Dropshipping
This is one of the best open-source e-commerce platforms on the internet that allows you to build the website you want for your business.
WooCommerce is filled with a variety of extensions that you can handpick and customize to build the perfect e-store for dropshipping.
This platform is built on WordPress, which is one of the most trusted website builders. Over 65 million websites are based on it and over 400 million people visit it every day.
WooCommerce also provides you with plugins that can be integrated with any WordPress website that you have and allows you to set up a personalized e-store in minutes.
Adding to this, this platform is completely free to use and provides you variety of customizing choices for secure payments, shipping options, and much more.
The official extensions from WooCommerce can be used to enhance the functionality of your Dropshipping online store.
One of the best features of this platform is its versatile compatibility. You can manage your dropshipping business from anywhere on the smartphone with the official WooCommerce app.
This platform falls into the category of database product selection of drop shipping and is trusted by numerous agencies and store owners.
Moreover, this tool is user-friendly too. The enhanced REST API allows it to integrate with any service.
The best platform to start your Dropshipping business and built a web store from scratch.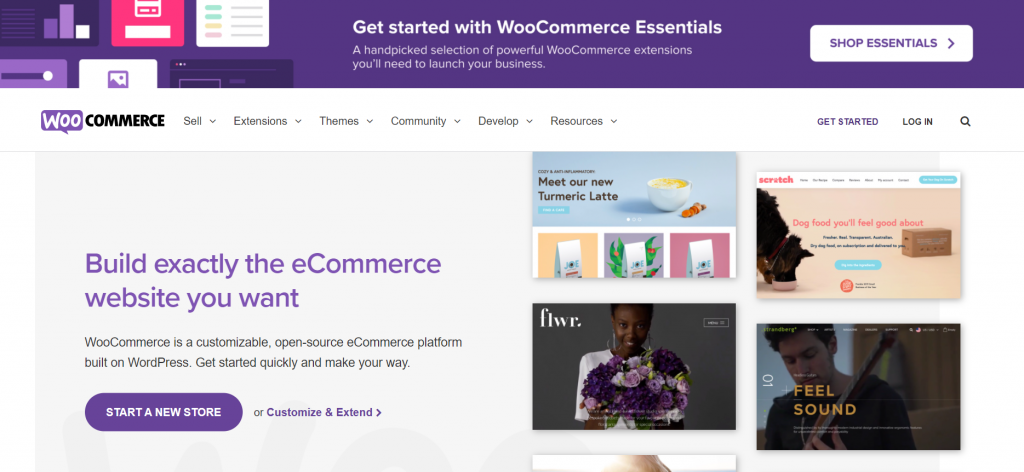 5. SocialAnalyzer—Best Plugin for Dropshipping
This is one of the best free tools that can be used for social media analysis and monitoring market statistics. This plug-in is free and integrates itself with your web browser.
This tool helps you gain an idea of the potential products that are in demand among your target audience. You can use Social Analyzer to get the audience profile and trending topics from social media.
It is considered the best tool for analyzing the social sentiment of platforms like Facebook, Instagram, Pinterest, etc. to gain ideas for products in demand.
Hence, by using this tool, you can fill your e-store with products that have high potential as you will have an idea of trending demands.
One of the best features of this platform is the variety of powerful filters that can be used to find the right trends.
Adding to this, the monitoring of social media mass videos and posts is very easy with this plugin. You can get accurate reports that will help you advance your dropshipping business.
This free-to-use plugin helps you in analyzing the public opinion on your targeted keyword to find out the products with maximum marketing potential.
Dominate the online market with hot-selling products and build your ideal e-commerce empire with Social Analyzer.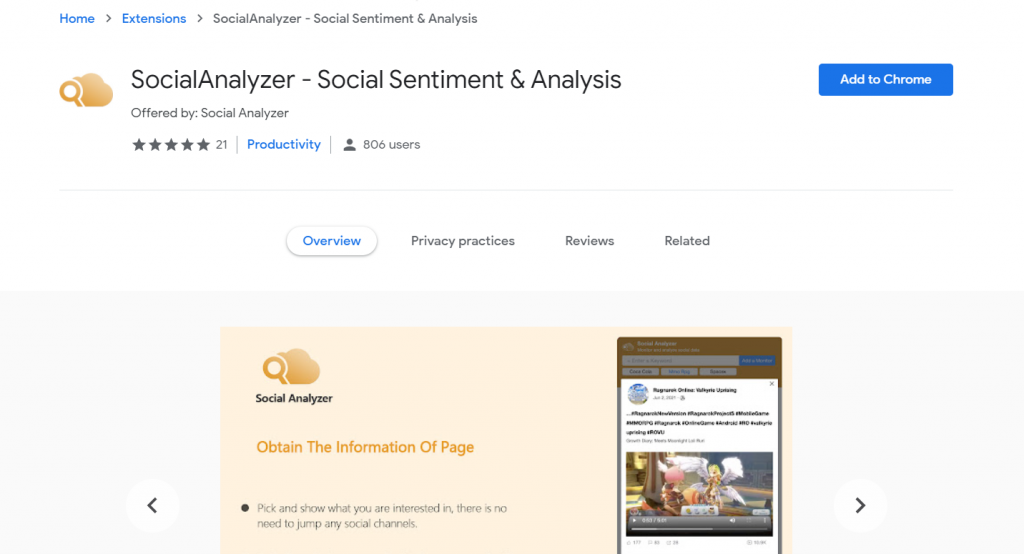 Benefits of Dropshipping Tools
If you want to build your online business through Dropshipping, you will face fierce competition. Already millions of people have started their own e-stores.
The Dropshipping tools help you enhance your e-commerce store in a lot of ways. These tools help you find the right products that are in demand and have high potential.
Moreover, these tools also allow you to customize the details and pictures of those products to give them a personalized appeal before syncing them directly to your online store.
These dropshipping tools are also equipped with many powerful search filters that help you select the right product for your audience.
There are also certain plugin tools that can be used to analyze the opinion of the masses and gain insights into their preference.
If you don't have these tools, you might fill your e-store with products that have no market potential and will be a waste of both your time and money.
With these tools, you have analytical reports of trending keywords and products in demand, monitoring of audience opinion, customizing options for appealing enhancements, and much more.
A Few Shortcomings
One of the few shortcomings of these tools is the availability of limited features in the free version.
The paid packages are equipped with advanced tools and features that help you dominate the market.
In our opinion, you should start with the free version and then later upgrade to advanced packages for a boost in sales. It is the perfect and ideal investment.
Frequently Asked Questions
1. Which Dropshipping tool is best for e-commerce businesses?
Considering all the important factors and features, BigSpy is the most advanced and number one tool for your dropshipping business. It helps you locate the right products and advance to the next level of e-commerce marketing.
2. Are Dropshipping tools free to use?
Many dropshipping tools are free to use but they come with limited features. You can also get trails for pro-versions that have advanced features. Even the free tools are equipped with basic features that can help you make a great start.
3. Are the paid packages of Dropshipping tools worth it?
The paid packages are equipped with advanced features that give you an edge over your competitors. You can find products with the highest potential in the market with advanced stats of the audience. So, yes, they are worth it.
Conclusion
Dropshipping is one of the rapidly growing businesses on the internet today. It allows marketers to manage everything from a single computer or smartphone without the need to maintain stock, employees, or storage space.
The competition in the Dropshipping market is fierce and starting from scratch has become very difficult. However, there are certain Dropshipping tools that can be used to enhance your progress.
These tools help you find the right product for your target audience and monitor their advanced statistics. Moreover, they also provide you with a variety of innovative features.
To conclude, the Dropshipping tools help you enhance your online business and gain a superior ground to your competitors. Take your online business to the next level with these tools.
Related Posts
---
For more related content, please click the following content to view.