2021 Native Ad Spy Tools Collection – Bigspy
What is native ad?
When the advertisement can be paid to be placed on a separate platform, such as facebook, YouTube, and this form is suitable for the browsing environment of this platform, the advertisement is called a native ad. Native ad is a profit model based on the user experience of the website and app. It is driven by advertising content and integrates the visual design of the website and the app itself (in simple terms, it integrates the advertising of the website and the app itself. This kind of advertising will become Part of the content of websites and apps, such as Google search ads, Facebook's Sponsored Stories, and Twitter's tweet-style ads all fall into this category).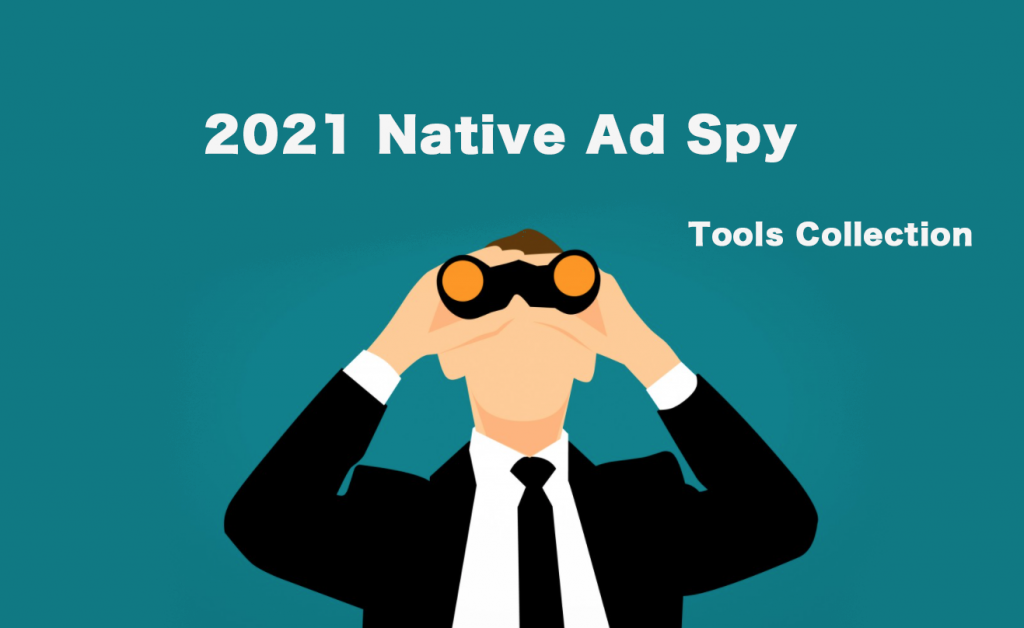 What is native ad spy tool?
In order to better serve native ads, advertisers need a lot of advertising tools to help their ads maximize the benefits. The native ad spy tool aggregates a large number of advertisements on various platforms through big data. These advertisements involve various industries. When advertisers do not have creative ideas, they can use the native ad spy tool to perform keyword filtering to view competitors' ads. At the same time, a large number of native creatives and ad copy can help advertisers to produce an effective native advertisement as quickly as possible.
Bigspy has compiled the 5 most outstanding native ad spy tools, and fully explained the product prices and recommended reasons. Let's take a look.
Bigspy
Bigspy is a tool that covers advertising spy on 7 platforms including Facebook, Instagram, Google, YouTube, Twitter, Yahoo, and Pinterest. It can monitor all forms of advertising, not limited to native ad. Bigspy advertising spy features include advertising ideas, advertising copy and creatives. At the same time, there are dozens of filters that can quickly filter industries and countries. Top charts classify advertisers, list top advertisers and have detailed data analysis. At the same time, the target advertisement can be tracked, and the change of the advertisement can be checked over a period of time.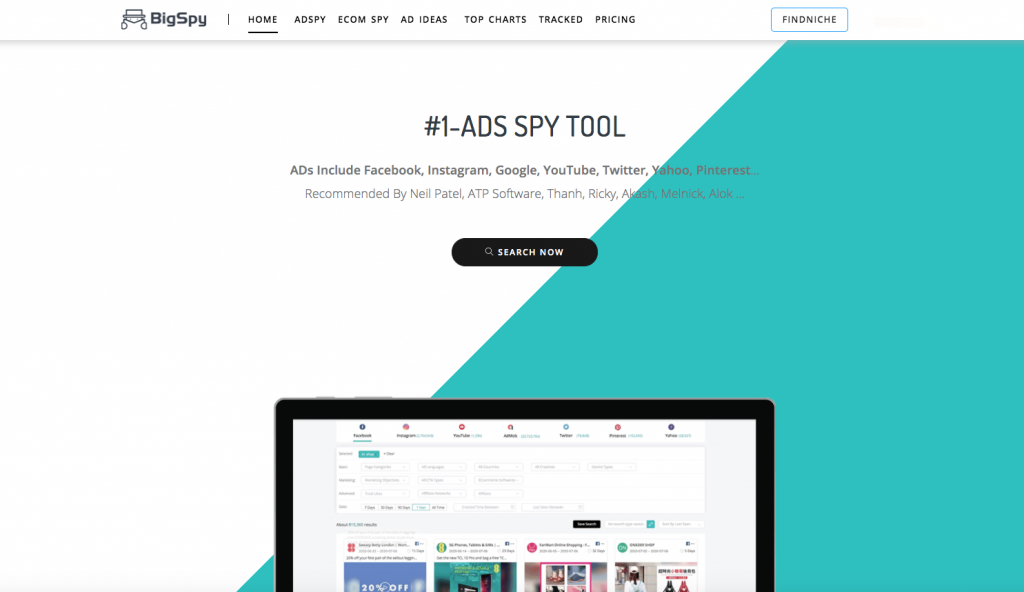 FREE;
BASIC:$ 9 / month;
PRO: $ 99 / month;
VIP Enterprise: $ 199~499 / month
Nativeadbuzz
Native Ad Buzz was founded by Peter Trueman in 2016. It has only one spy tool (not providing social media data), the total number of advertisements has reached 5 million+, the country covers 12, and there are 10 advertising platforms. It can provide advertising networks, countries, and prediction filtering. Compared with Bigspy, he cannot provide competitor advertising monitoring and alerting. The number of users of Native Ad Buzz can't be queried with similarweb at present, and you can't preview ads, so you can't try products without paying, which is frustrating.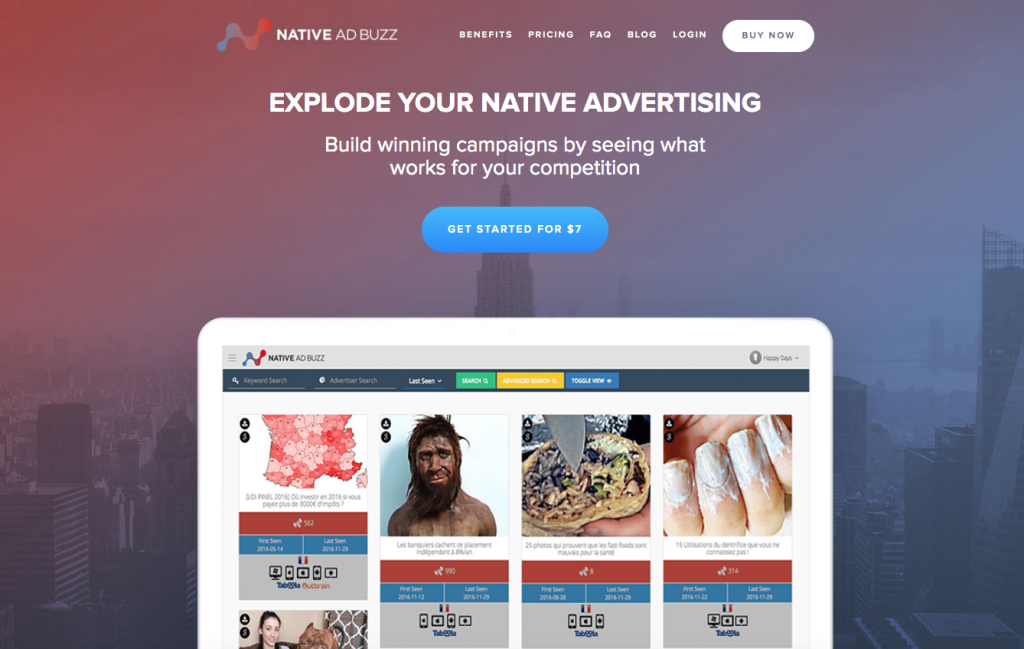 STANDARD: $47
PRO: $97
PRO AGENCY: $750
7 DAY TRIAL $7
Adbeat
Adbeat is a tool to spy your competitors' strategies. Adbeat provides unparalleled insight into the complex digital advertising world. Leading companies such as Box, Ancestry, and Lending Tree all use Adbeat for relevant advertising strategy detection. Using Adbeat, advertisers can see what their direct competitors are doing and how they are doing it. In addition to viewing only the advertisements and used messages, Adbeat can also show you the source of traffic, including how the media is purchased and the publisher where the advertisement is placed. As your business grows, Adbeat can help you spend more wisely on advertising.
Standard:$249/ month
Advanced:$399/ month
Enterprise:Call
Anstrex
Anstrex has 10 million+ ads, covering 27 ad networks and 80 countries, which is a very advantageous number. Anstrex helps you monitor competitors' ads to create your advertising campaigns. It can help you save a lot of time and advertising expenditures. It can also help you build excellent landing pages. This is a very good full set of services. It is worth mentioning that Anstrex filters, you can use various filters (such as advertising networks, categories, countries / regions, devices, affiliate networks, tracking tools, etc.) to quickly filter ads. Sort ads by popularity, duration, date, etc. Of course you can also search by keywords or advanced Boolean.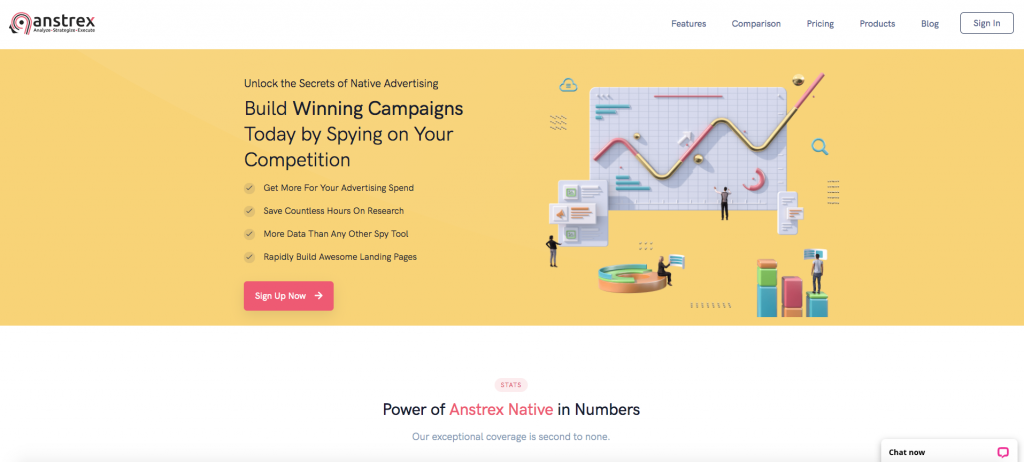 Solo Plan:$69.99/MO/USER
Bundle & Save:$139.99/MO/USER
Advault
Advault is a powerful native advertising monitoring tool. In addition to spy competitor ads, it can also identify and filter daily, weekly, and yearly popular ads, keywords, and advertisers through redirects. Save advertisements and favorite searches in your gallery. At the same time, you can contact each advertiser in the database and export the complete CSV. Advault's search and filtering includes advertising keywords, landing pages, advertiser addresses, publishers, countries, devices, networks, date ranges, and more. It can monitor 13 networks and 19 countries, which provides sufficient preparation for advertising monitoring.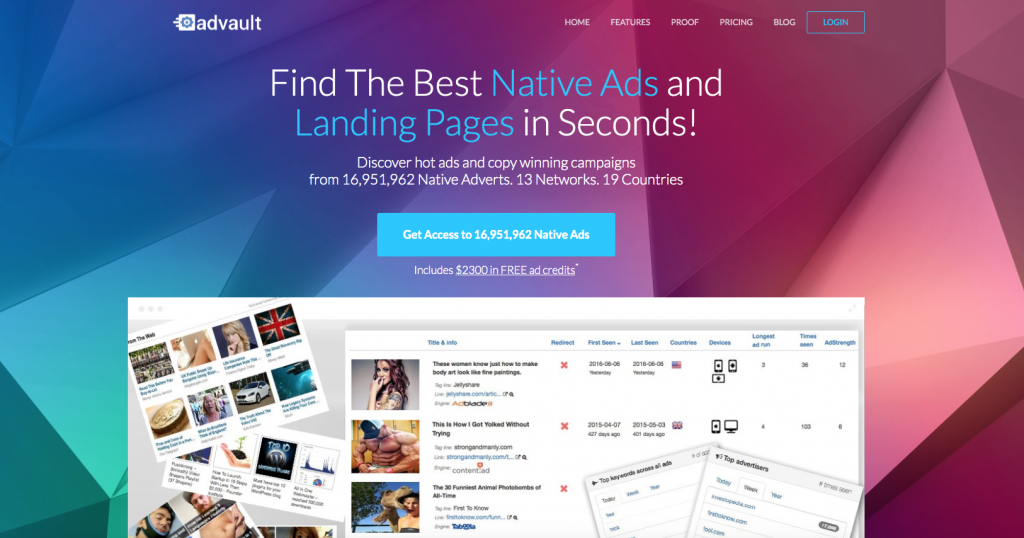 Network:$1499 PER MONTH
PRO:$97 PER MONTH
Final thoughts
Bigspy, Nativeadbuzz, Adbeat, Anstrex and Advault are all very good native advertising spy tools, but in terms of price and functionality, Bigspy will be your better choice. Bigspy's price classification is the most among the 5 products, which means you can have more payment methods, and currently launches a $1 trial for $99 permission activities, you can spend the least money to experience the best service. The advertising creativity of Bigspy 650M is very attractive, which helps millions of advertisers to better create their advertising campaigns. In order to quickly surpass your competitors, quickly try Bigspy to create ads!