Speaking of advertising spy tools, everyone is familiar with it. After all, in the era of advertising, it is very important to have an adspy tool.
So the problem is, there are a lot of adspy tools are charged, and the price is not cheap, for the average small business owner and individual users to find a free adspy tool is very fortunate.
Today, I will give you a Recommend a free trial adspy tool – Bigspy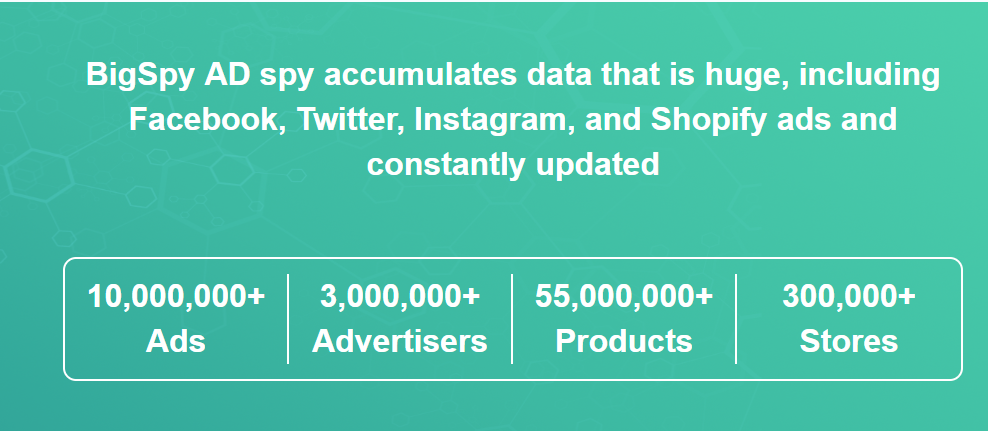 Bigspy is having a huge database that almost covers every ads type, niche and also any country. It has more than 100,000,000 ads from more than 40 countries and regions and more than 40 ad types, and is growing growing. You can easily social media ads And funnels in a matter of seconds.
Bigspy also provides an imtutive layout for both the beginners and the pro ones.
This tool allows you to search ads according to your keywords, country, Types , landing page and many more in a row that will help in finding the best Ads possible. and In addition to knowing about ads on Facebook,
You can also learn about ads on admob ,pinterest ,platform. Of course, if you are an advertiser of e-commerce platform, then congratulations! This platform also has a function called shopify spy, and you can use the same function.
The best part is that here you can discover monetization strategies of competing Publishers, track viral trends and attract more new advertisers.
Key Features:
You can search Facebook,admob and pinterest for all kinds of advertisements in different platforms ,
It can be different types, different countries of all kinds of advertising Analyze your campaigns
Top Stores Shopify spy ads,
Including Product Database, and Trending Products
The most important feature is that it's free.
Of course, these advertising data does not mean that we can do network marketing, but this is only part of our marketing. Let's take a look at using a free trial adspy tool, there are four ways to study advertising data.
1.Advertiser
This feature allows you to find out where your advertiser is serving ads. Imagine you decide to advertise a product. All you have to do is insert the domain name in the advertiser search field.
You can then view demographics, all ads (text, banner ads, native ads), and information about publishers, even their sites.
Tip: We recommend that you sort your creatives by exact search, as it will show you the best ads first!
2.Publisher
If you want to show ads on specific platforms, like Facebook ads, this section is for you. For different platforms, you can search for information for the same advertiser, ad type, and advertiser list.
You can check all the ads placed on it, the duration of the ad, and other details.
3.Keywords
This section is great for researching specific ads. For example, you can view the information for the keyword "shoes" in the image below.
You can also choose the ads that are most interesting to you.
Searching by keyword is a very useful tool if you want to see advertisers in a particular market.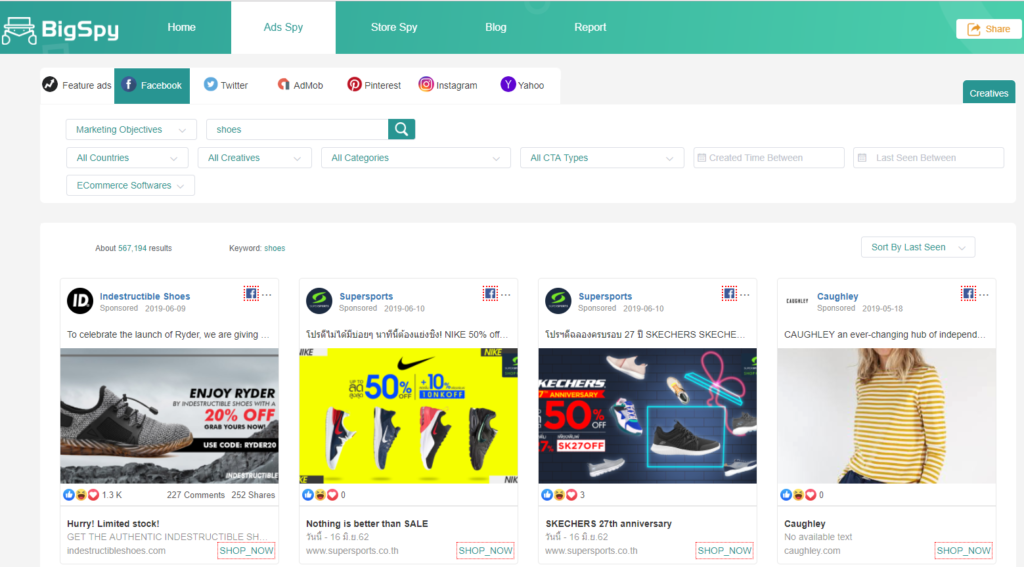 4.feature advertising
This section is worth exploring because it shows you the best ad creative type, which allows you to check current industry trends and design the right ads.