How To Find Popular Facebook Ads?
Facebook has always been our biggest platform for social marketing. After all, Facebook has hundreds of millions of users active on the day, so marketers in various industries have started to do Facebook ads marketing, but no matter for Facebook ads operating experience with years of experience, it is still new to Facebook ads. Operators want to know which Facebook accounts are the most popular, and which Facebook advertising accounts do users like to watch?
If we have a Facebook account and we want to promote a product, then we may have done a lot of advertising ideas, and then test the type of ads that users like, little by little, which is a waste of us. Time also cost us a lot of energy.
So, is there a tool that can solve this problem? The answer is yes.
BigSpy Facebook ads spy can easily solve this problem, it can help us find popular Facebook ads, well, now start to focus on dry goods.
First, open the BigSpy official website, then register an account, (registered an account here to have all the permissions), then we enter the ads spy navigation bar, where we can choose Facebook, Twitter, Instagram, Admob, Pinterest, Youtube, Yahoo, etc. The ad above the data, here we focus on Facebook ads spy, if other friends are interested in these ad spy tool, you can sign up for an account to experience.
After logging in to an account, we can see that this navigation data can be selected, Marketing Objectives, All Countries, All Creatives, All Categories, All CTA Types, ECommerce Softwares, etc., so this greatly gives us a lot of conveniences, we can Filter the data with these specific variables and find our Facebook ads. Here is an example: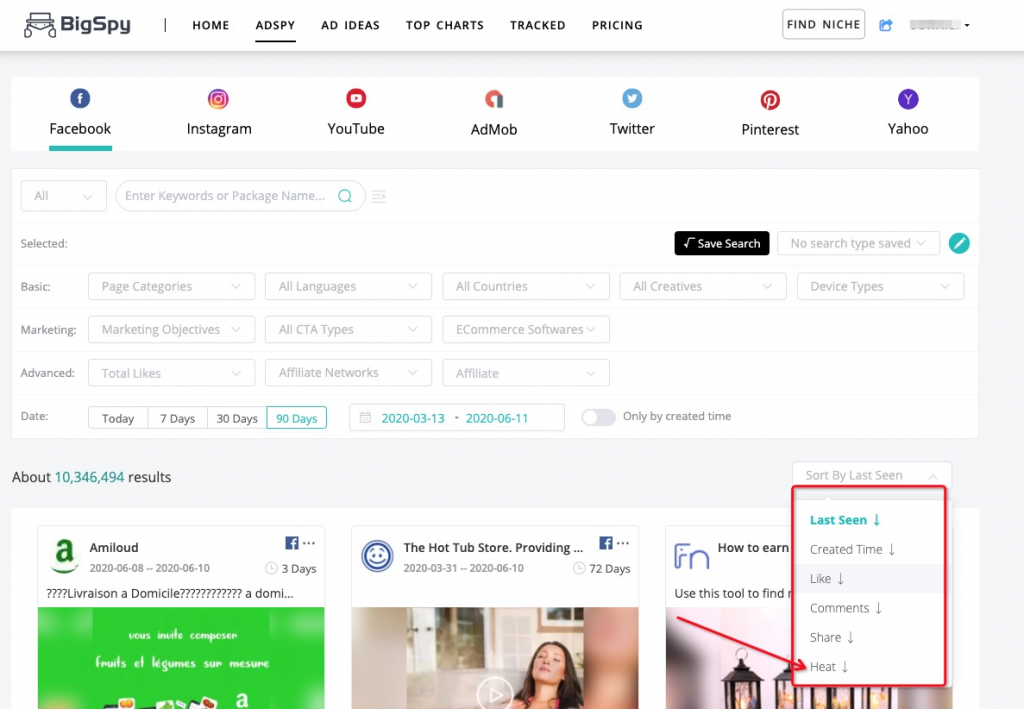 For example, I am a marketer selling shoes. I want to advertise on Facebook and want to open up the US market. Then I search for shoes on it, and I can choose to see a lot of Facebook ads and even find me. Peers, of course, we can also see the likes, sharing, and popularity of these advertising data. With these data references, we can analyze these advertising data and find the creative material that is suitable for us to make Facebook ads.
The above is our free Facebook tool to find popular Facebook ads, here you can choose any industry or product, you can choose the country and region to promote products according to your understanding of the industry, you can also choose the results according to e-commerce or shopping website.