8 Ways To See Competitors Facebook Ads
As we all know, Amazon and Facebook have huge user groups, so the advertising business is very hot, especially Facebook advertising is the new giant of online advertising.
Now everyone has a Facebook account, and almost all businesses advertise on Facebook. So there's a huge opportunity here.
You might ask, how do you stay ahead of the pack when you're competing in a crowded field like Facebook? Do you need to spy on other Facebook ads?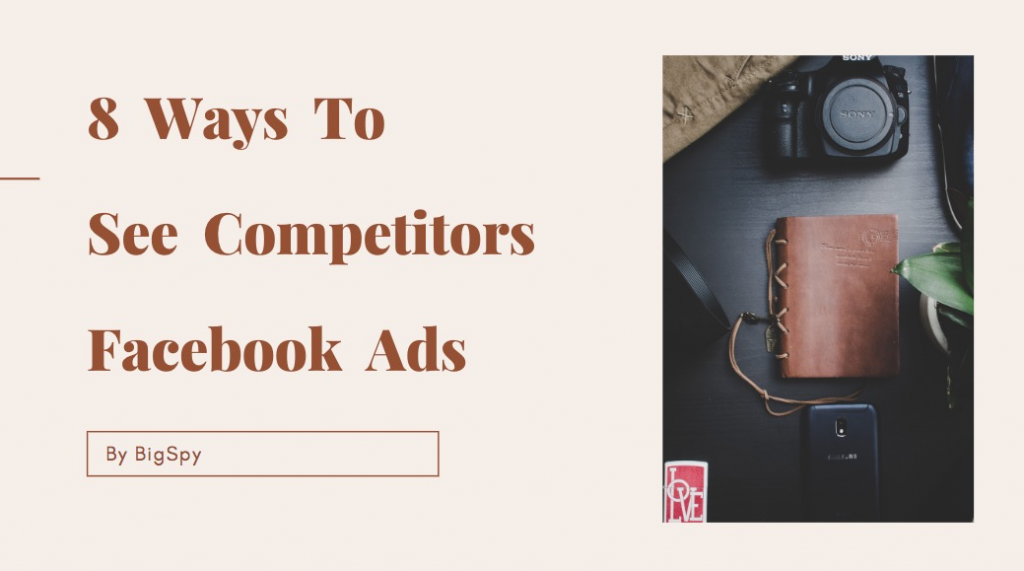 In this article, we'll teach you more about the art of espionage so you can master the process of using Facebook AD spy.
Monitoring a competitor's Facebook AD (or any AD, really) isn't always easy. It is difficult in history, but its value is incredible.
There used to be a lot of good options in the market, but Facebook quickly crowded them out or they disappeared for other reasons.
Because the spy tool is fast, the game changes quickly.
Since then, it's been like a desert in the field of competitive analysis for Facebook ads. But recently, some new and exciting Facebook spy tools have entered the space.
1.BigSpy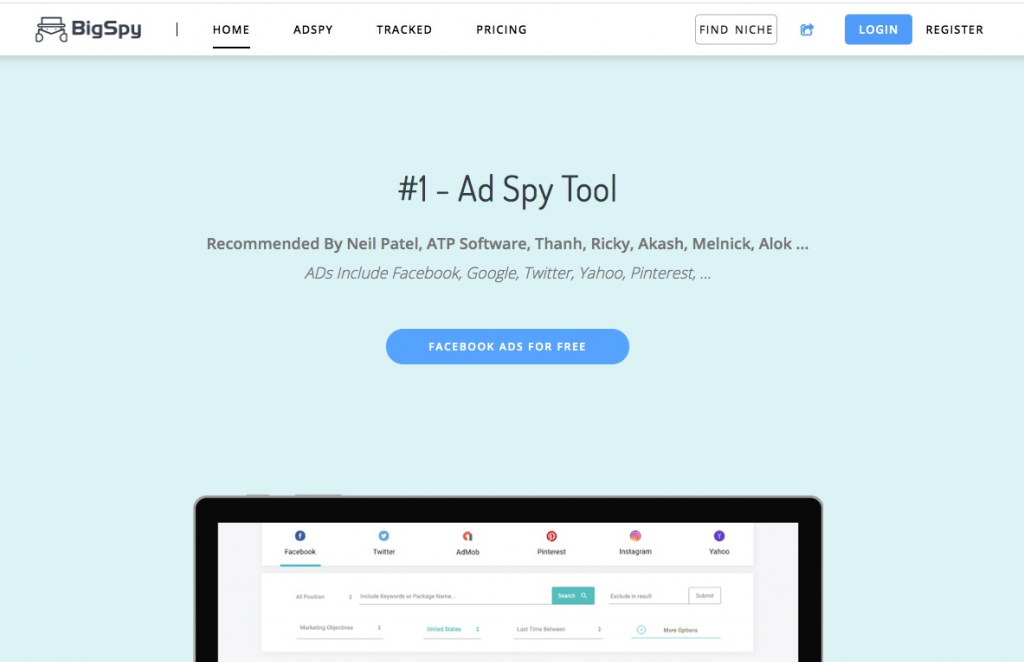 A free tool, bigspy, has crept into people's lives. The company is primarily known overseas for its massive amount of data, as well as its specialized ad-spy tools, Facebook's ability to run AD campaigns (now a fantastic product), a data reporting and analytics feature, as well as twitter ads spy, and store spy tools.
It lets you search for all the ads you want from your competitors or them, and provides some solid insights.
To use this competitor analytics tool, register and log into the bigspy account, and then click the "ads spy" toolbar option. From here, you can search by keyword, country, industry, and a few other options.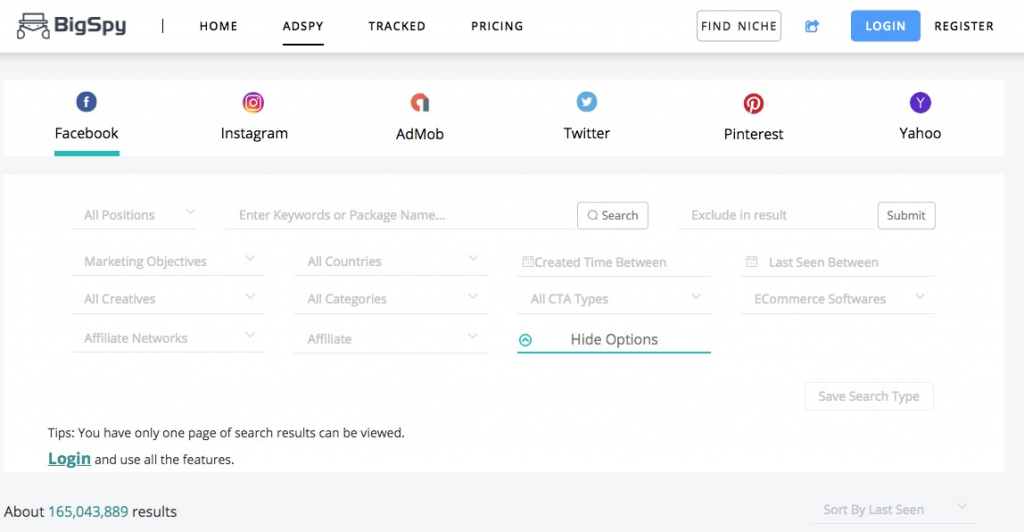 Bigspy, I've always thought this was a great Facebook ads spy tool, not just because it's free, but because of its powerful data analytics capabilities.
With this data, we know which ads are always winners and which are total losers. If you know an AD has been running for months or years, and it's been tested for fragmentation, it's probably a winner.
Still, bigspy is a much better tool than groping around in the dark. Using this AD spy tool, I bet you'll get some ideas about graphics and AD copy that you wouldn't think of experimenting with on your own.
We recommend searching and focusing on companies that use direct marketing strategies, and you know they do well on Facebook. You're more likely to steal ideas that are actually useful, which in turn leads to more marketing ideas for your product.
2.Facebook ad library
Facebook ad library is Facebook's recently added feature to find competitors' Facebook ads. To quickly see competitors' Facebook ads on Facebook, you need:
Step 1: Log in to your Facebook account, search for "Facebook ad library", and open the ad library page.
Step 2: On the Facebook ad library page, enter the name of a competitor and search by advertiser name. (Facebook currently only supports advertiser search)
Step 3: See what ads your competitors are running. The Facebook ad library displays ads that competitors are running.
In the Facebook ad library, there are three filtering methods:
Country: contains more than 180+ countries, you can choose any country
Time: Do more to view ads in the past 90 days
Advertising channels: Contains four advertising platforms: Facebook, Instagram, Audience Network, Messenger
On the Facebook ad library, you can view competitors' Facebook ads for free. And by screening the country, determine where your competitors are advertising.
3.Facebook FanPage
In addition to searching for competitor ads in the Facebook ad library, and to see competitor's Facebook ads, there is another way to open the competitor's fanpage page. In the lower right corner of the Facebook FanPage, you can see the "Fage Transparency" box Click "see more" to get the following page.
Click "Go to Ad Library" on this page and you can see the ads that your competitors are running.
Click "View Details" under each ad, you can see the specific copy and ad creative of this ad.
This is also a way to see competitors' ads on Facebook. It also contains three filtering methods to let you know the advertising channels and geographic locations of competitors.
2.AdSpy
AdSpy is an advertising spy tool focusing on Facebook and Instagram. AdSpy is known and loved by users for its multiple filtering options. AdSpy collects 4 million creatives in 180 countries. Log in to adspy account, you can find competitors' ads through searching and filtering.
Want to see competitors' facebook ads, adspy is a good choice. Because adspy has a variety of filtering methods. Especially when your ad involves foreign business, adspy can monitor a total of 183 countries.
adspy has a powerful search function, adspy not only supports ad search, but you can also search for reviews of ads. In addition, adspy also analyzes other information such as the landing page and advertising audience of each advertisement.
Pricing: $ 149 per month
3.Adbeat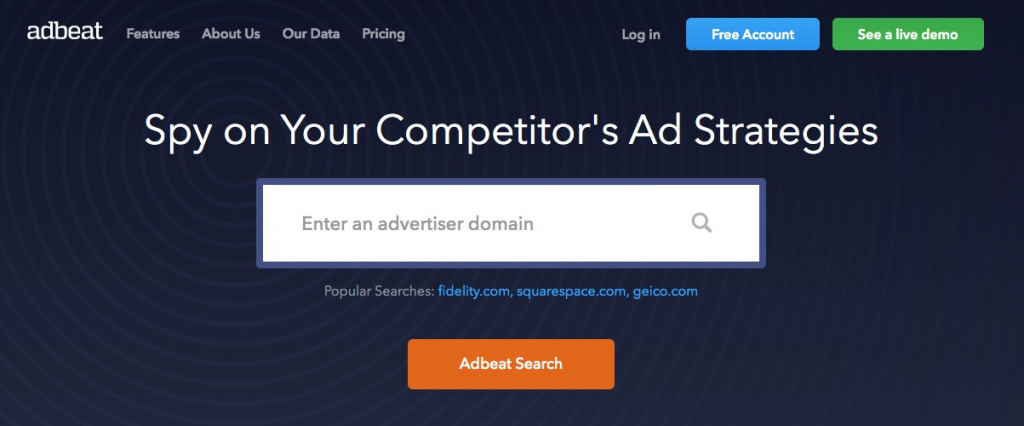 Adbeat is a competitor social media traffic analysis tool. Adbeat monitors competitors' advertising strategies to show users the best-flowing Facebook ads in each domain.
Adbeat cannot see all the Facebook ads of competitors, but it accurately displays the specific traffic of each ad. Enter any domain name in Adbeat, and users can see a detailed analysis of the domain's advertising channels and high-traffic advertising for each channel.
Adbeat is more intelligent and data-oriented. With Adbeat, you can better understand your competitors.
Pricing: From $ 249 per month
4.Adplexity
Adplexity is a tool dedicated to viewing competitors' Facebook ads. And, Adsplexity divides Facebook ads into 6 categories. They are: desktop, mobile, native, push, e-commerce, and carriers.
Adplexity was founded in 2008, and its founders used Adplexity to change the marketing rules of the entire advertising industry. Adplexity is therefore also loved and used by many people. Adplexity can view Facebook ads in 32 countries. Adplexity has 10 filtering options, users can see competitors' Facebook ads by multiple directions by country, advertiser, publisher, etc.
Pricing: Each advertising system of Adplexity has a different price, ranging from $ 149 per month to $ 249 per month
5.Anstrex
Anstrex is a spy tool for push ads and native ads. Anstrex's database contains more than 10 million creatives in 92 countries. Anstrex is an advertising tool designed to monitor competitors. A special feature of Anstrex is the competitor alert. Anstrex will send a competitor alert when the competitor has any changes in their advertising actions.
Anstrex supports multiple advanced filtering options such as country and language. Anstrex can also monitor each click and bid history of ads.
Anstrex is a multi-faceted tool to see competitors' Facebook ads.
Pricing: From $ 59.99 per month
6.Social Ad Scout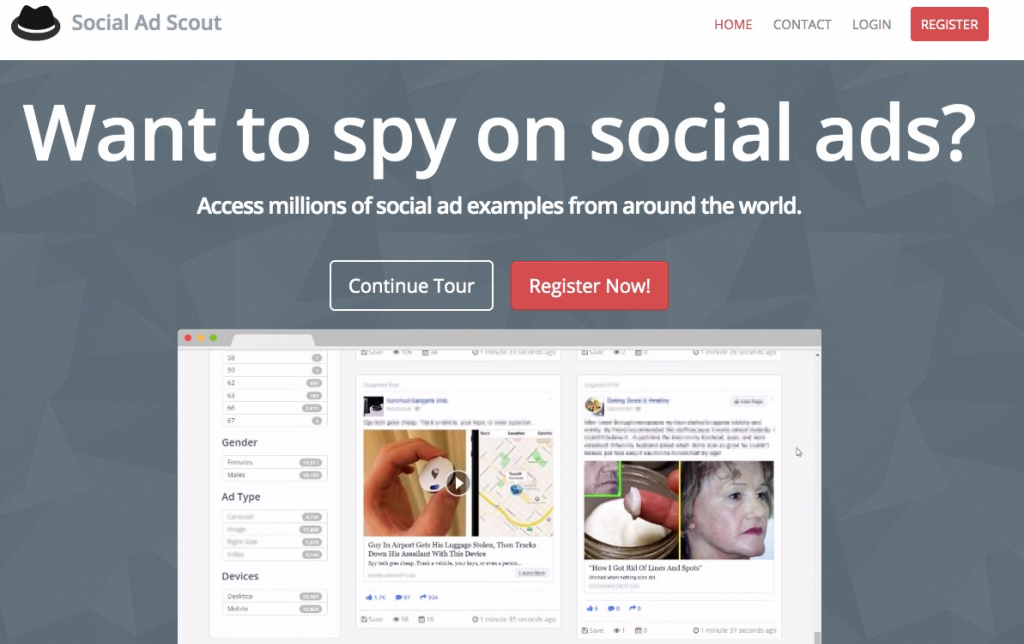 Social Ad Scout is a traditional social ad spy tool. It can currently monitor 21 million social ads in my country. It also contains multiple advanced filtering options, such as geographic location, language, age, ad runtime, and more.
With Social Ad Scout, users can master competitors' advertising strategies while improving the brand's image and value on Facebook and social media. In addition to its diverse ad filtering capabilities, Social Ad Scout also analyzes the positioning and audience of ads, as well as detailed page details of ads.
Although Social Ad Scout can only search for ads in 21 countries, its filtering options are powerful.
Pricing: $ 147 per month
What do I need to pay attention to when seeing competitors' ads?
1.Suitable competitors
Want to see competitors' Facebook ads, we must first find the right competitors. It is necessary to select several suitable competitors to analyze from the aspects of the product, company size, competitor's advertising budget, and deployment of advertising personnel, and learn successful experiences.
In particular, most ads will be tested A / B when they are launched. We need to track the results of the ads to see the results of this test.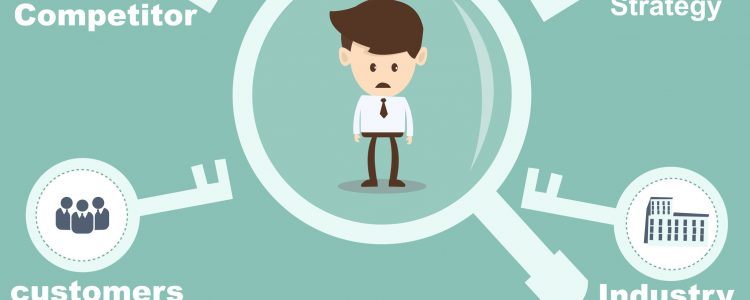 2.Successful advertising
We don't just copy others' successful ads, we can succeed. When looking at successful ads from competitors, we also need to pay attention to the creative use of ads, ad copy, ad position, ad schedule, and many other advertising factors.
BigSpy can download ad creatives and track ad performance. Seeing competitor Facebook ads is the first step we need to make. What we have to do after that is to study and imitate, and use BigSpy to check the effectiveness of the ads. If you are sure that this ad is suitable for your brand, then you can use BigSpy to download and run this creative.
The above are 8 ways to see competitors 'Facebook ads. And 2 details that need attention when researching competitors' ads. Hope everyone will learn more promotion and optimization methods when they see competitors' ads.
In addition to e-commerce advertisers placing ads on Facebook to promote products, Amazon is also the largest third-party platform. Here are free Amazon product selection tools worth trying - Amzchart.