5 Best Free Shopify Ads Spy Tools In 2020
Recently, many people give me a message, said that they want to find a free Shopify ads spy tool, I was in a Google search for free spy tools for Shopify store advertising but found that many are paid tools. Here I don't want to discuss payment tools because some small-scale companies do not use payment tools, then we have to discuss the five best Shopify ads spy tools in 2020.
FindNiche
Speaking of free Shopify ads spy tools, you have to mention FindNiche. Strictly speaking, FindNiche is a free niche analytics tool for AliExpress & Shopify. I usually use it to choose potential winning dropshipping niches. There are several indicators that I am more concerned about, such as:
1. In the short term, the number of orders has increased significantly
2. The order growth rate is positive for more than 2 weeks
3. The popularity in Google Trends continues to rise or gradually rises in steady fluctuations.
4. The supplier price of the product is low, but the selling price in Shopify is high, in other words, the product profit is high.
5. etc.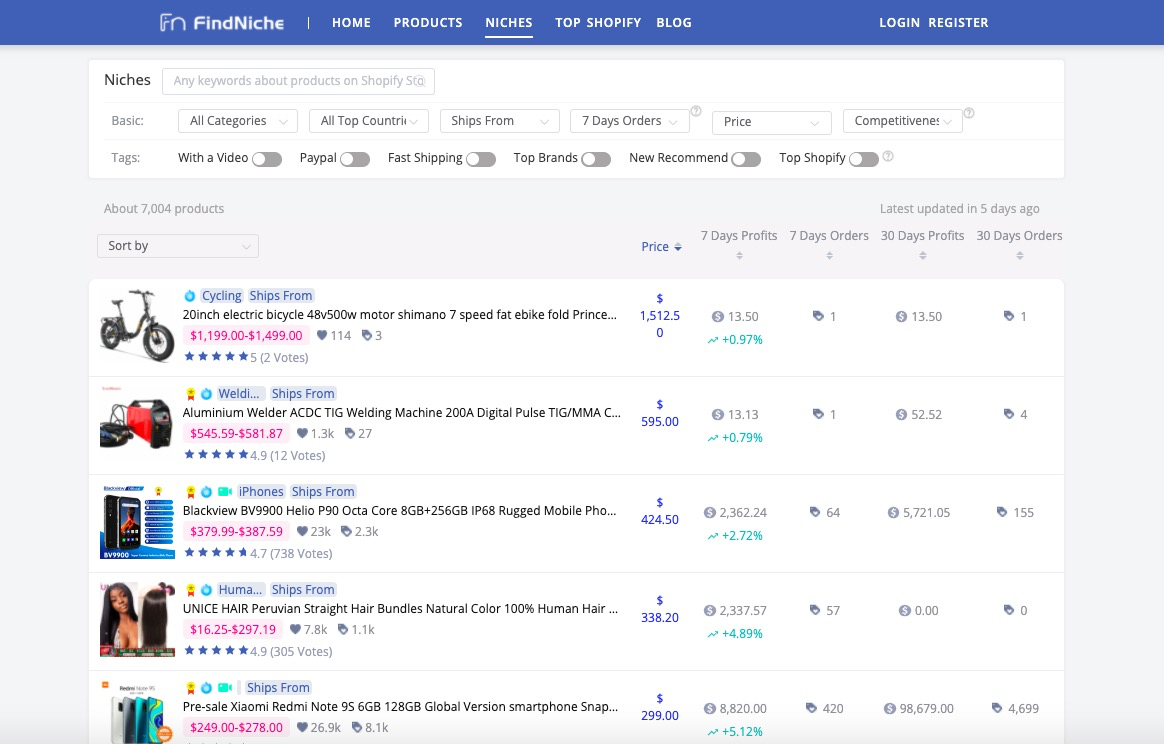 But what will be ignored by many people is another core feature – Shopify store analysis. In the "Top Shopify" section, we can see the Shopify store which has been advertising recently, and the system will rank according to their number of advertisements.
In addition, we can also check the Facebook popularity of the Shopify store, global rankings, target countries, etc. We can search for relevant competitors by searching with keywords. For example, by searching for the keyword "shoes", we can see all the Shopify stores that sell shoes. And you can directly link to the homepages of these stores to study how they conduct store operations. You can also view the number of advertisements they have recently placed and so on.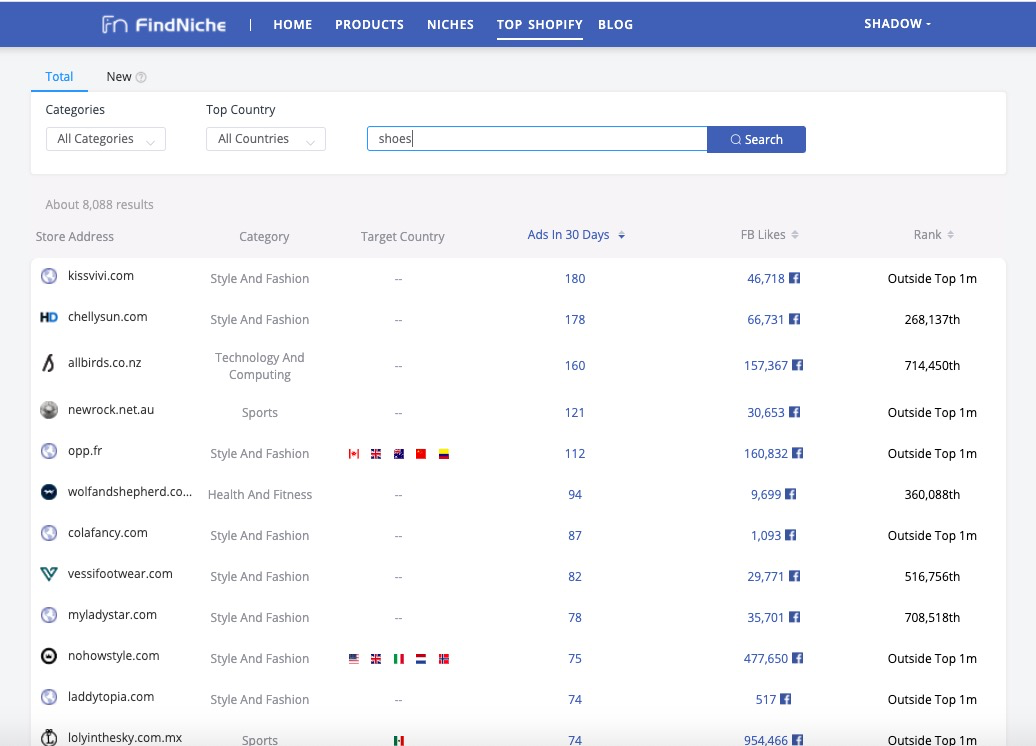 As we know, only when we study the advertising strategies of competitors, as well as their traffic channel sources, target countries, and other information, can we find our own positioning, establish advertising strategies, and ultimately succeed.
BigSpy
BigSpy is a fantastic free advertising spy tool. The reason for choosing BigSpy is because of Neil Patel's recommendation. I have to say that after using it for a long time, I think BigSpy is deserving highly recommended.
First of all, it has a relatively large amount of data, and I can search for any major platform creatives I want. It is especially helpful that I can search for our competitors through BigSpy, and understand the creatives and advertising strategies of the competitors.
Second, BigSpy almost covers common mainstream platforms, such as Facebook, Instagram, YouTube, AdMob, Twitter, Pinterest, etc. At the same time, we can sort in different ways, such as CTA Types, page categories, keywords, etc.

Let's take a closer look at what useful information BigSpy gives us.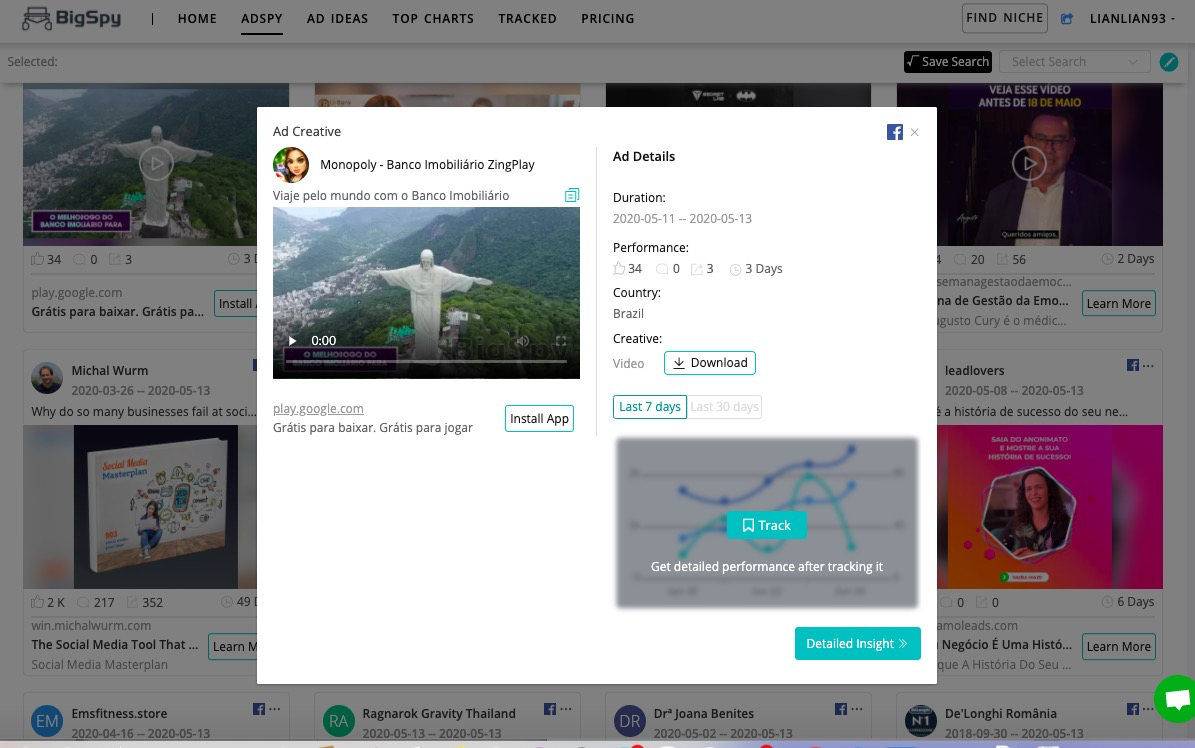 We can see the detailed information of each ad, including creatives, advertising period, performance, country, etc. Of course, BigSpy provides much more than that. After unlocking advanced permissions, the information we can get will be more comprehensive.
AdLibrary Helper
AdLibrary Helper is a free Facebook ad spy tool. Its data comes from Facebook's official ad library. It can provide you an advertising list, which is more convenient and practical than the Facebook ad library. At the same time, it can spy Facebook competitors' ads data changes, so as to better perform advertising analytics.
So in what ways does AdLibrary Helper make up for the shortcomings of Facebook Ad Library?
① After searching for a certain keyword, Facebook Ad Library presents the page in the form of a list, and the ads of the page cannot be directly seen. The number of pages displayed in the list is limited. AdLibrary Helper can search for pages or ads by keywords. The results are presented in a more intuitive form, which can be compared with various data ​​at a glance.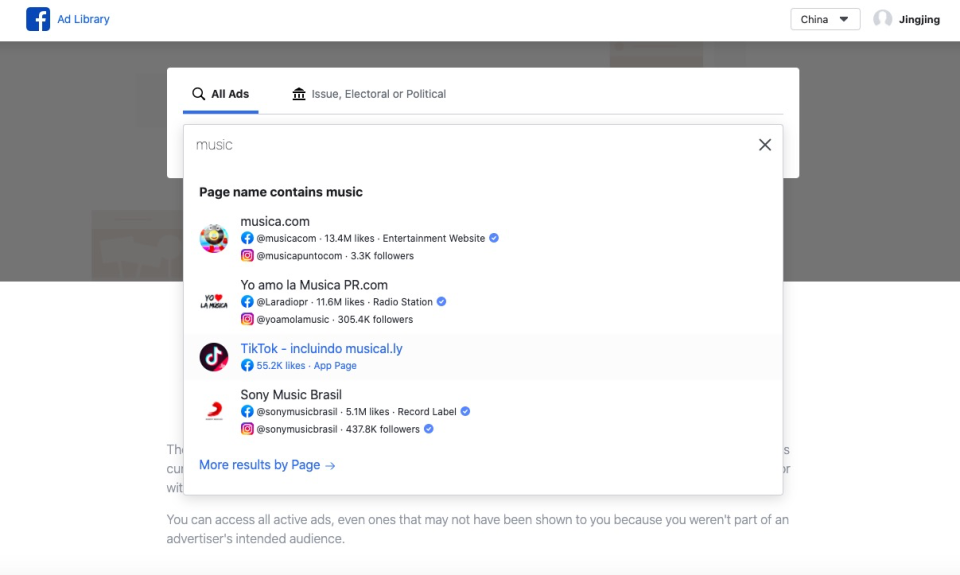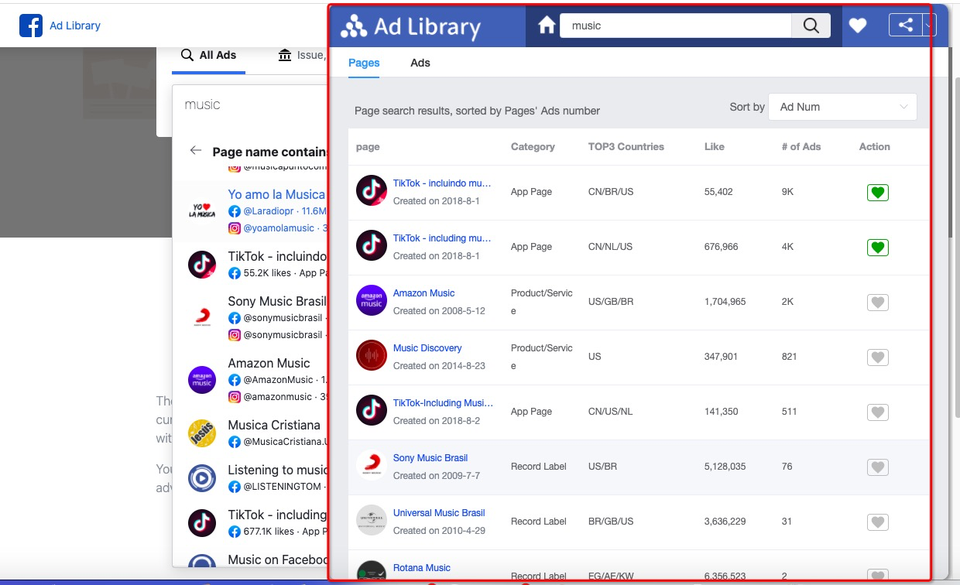 ② Facebook Ad Library can see all of its ads after entering a certain page, but it is impossible to compare these ads, but AdLibrary Helper can do it.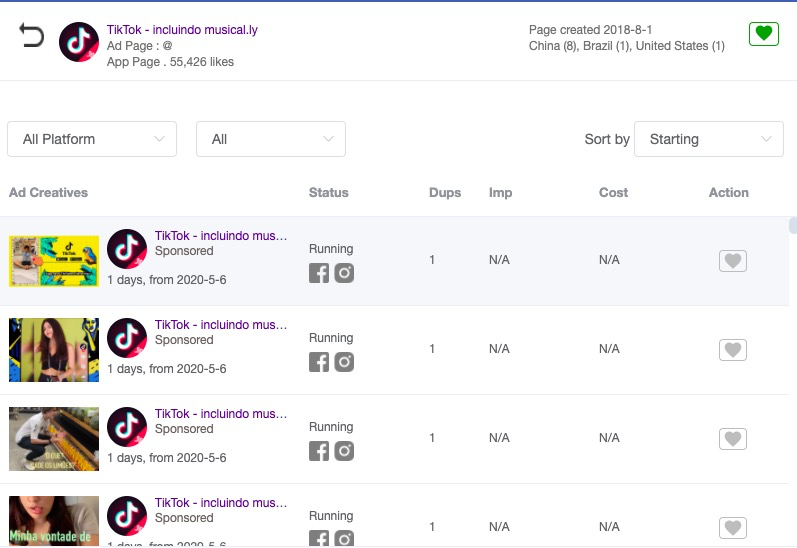 ③ AdLibrary Helper can collect and save the ads or pages you follow. After collection, you can view its data changes at any time. The Facebook Ad Library does not have this feature.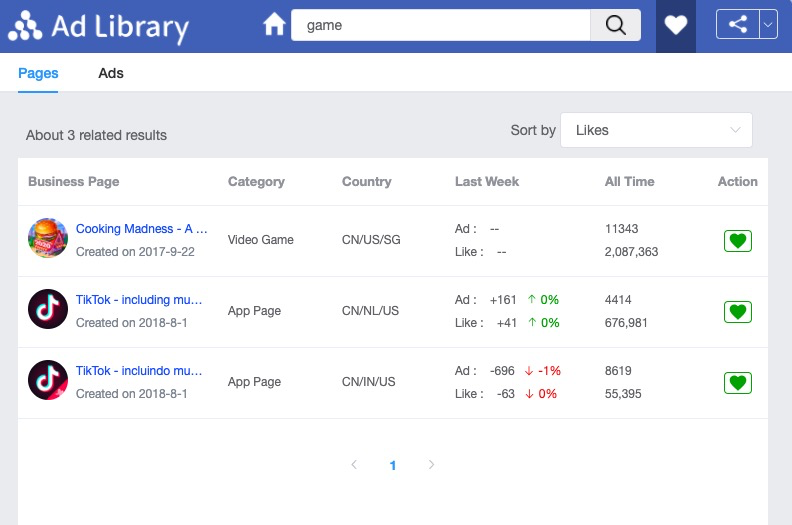 AdTargeting
AdTargeting is a free interest & audience analytics tool. You can target your Facebook audience more precisely,and uncover hidden and niche interests.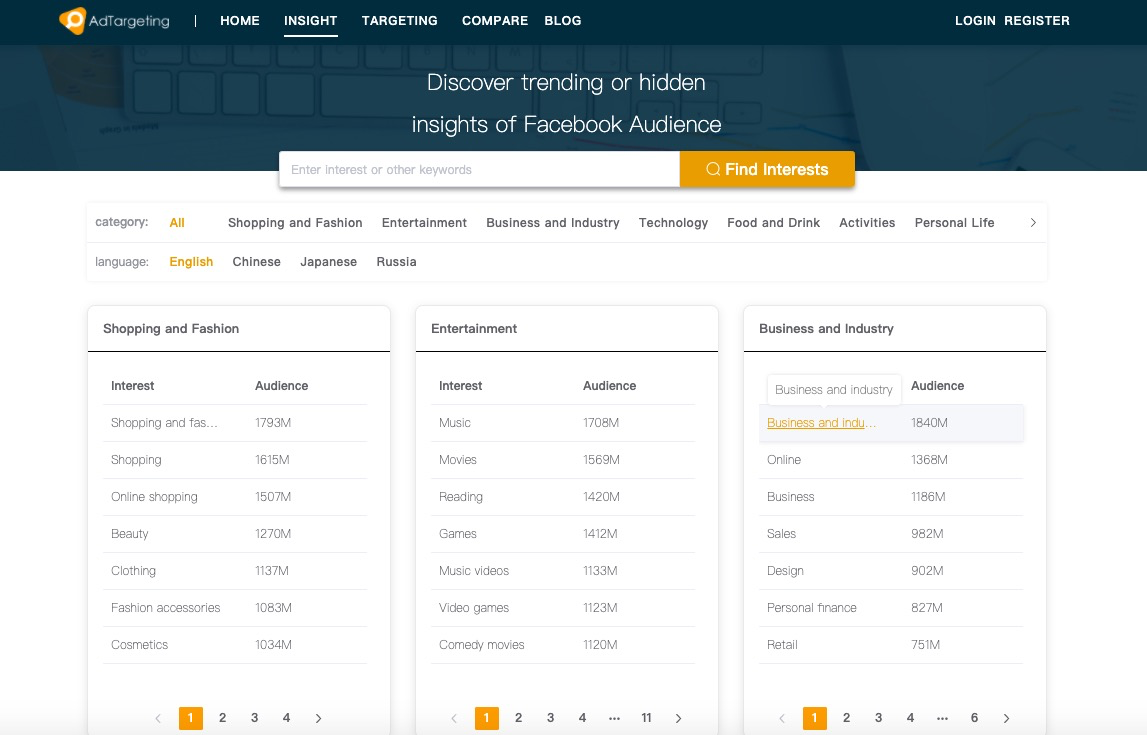 After years of cross-border e-commerce career, I know that Facebook and Google ads are the main source of traffic for our online store. Usually, we encounter these problems when advertising on Facebook:
Facebook's official interests are too little, each search result shows up only about 25 interests, which can not fully match our needs.
The interests recommended by the system have almost been abused, which leads our ROI too low.
AdTargeting can help us search for more interests than the official Facebook offers, and also provide analysis reports of targeted audiences who follow these interests. This makes our advertising more accurate and effective.
SocialPeta
Without a doubt, this is one of the best Facebook ads spy tools. From the perspective of data support, SocialPeta's ad creatives reached 770M, covering 45 countries/regions worldwide. It boasts the largest database of advertising ideas.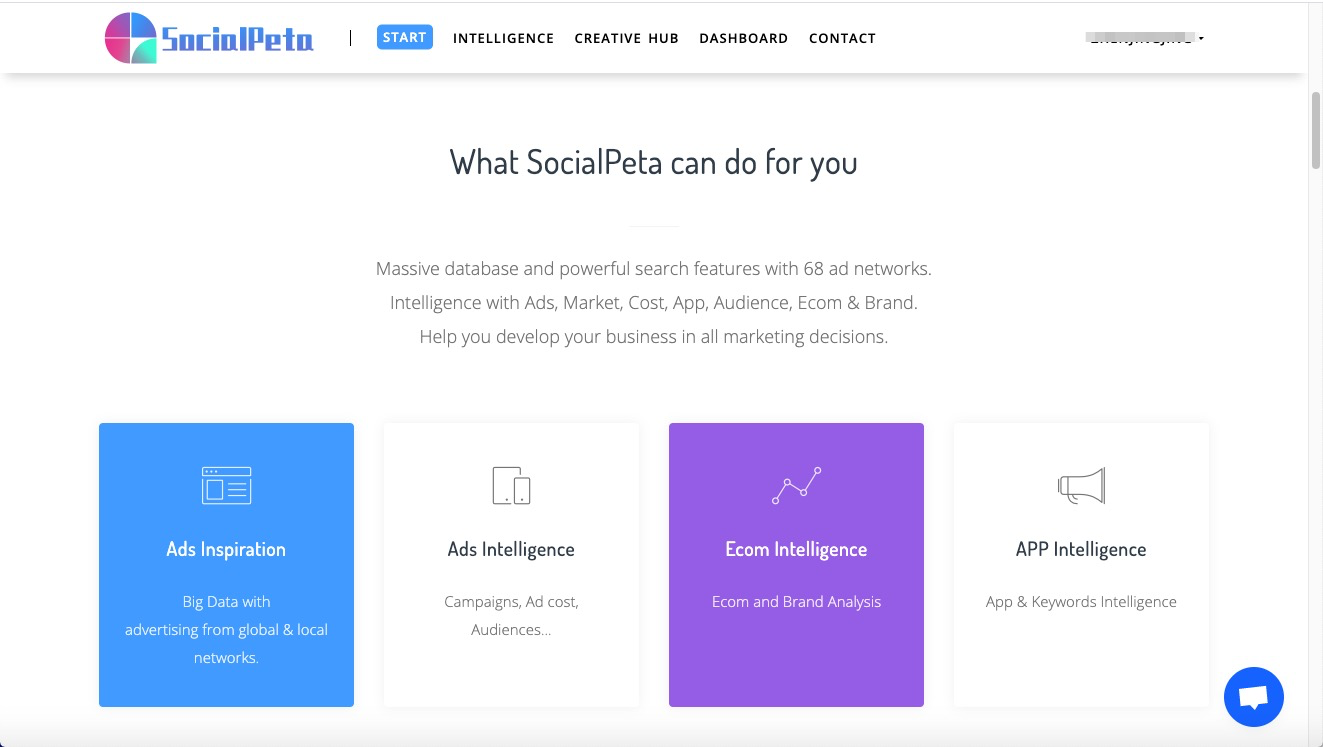 This powerful tool analyzes thousands of android apps on forward, giving you insight into your competitor's market strategy.
Big data on its e-commerce advertising and marketing strategy includes a creative analysis of the performance of more than 5 million advertisers.
A key feature of the tool is that you can find insights from competitors you don't even know and track their advertising campaigns.
There are all kinds of free services. However, the site will require you to upgrade to an advanced version for certain services.