How do advertisers use Facebook to weather the new coronavirus crisis?
External challenge
Difficult
Opportunity
Implementation details
Conclusion
From February to April, new coronaviruses began to erupt around the world, and mass gatherings in various countries were cancelled one after another, which means that all kinds of offline retail transactions will be restricted to a great extent. Revenue will be greatly reduced.
With the outbreak of new coronaviruses, offline retail stores had to be closed, and orders from major brands were reduced by about 80%. They must urgently reform themselves.
See how brands that have transformed themselves and successfully implemented countermeasures have achieved their goals through Facebook Ads.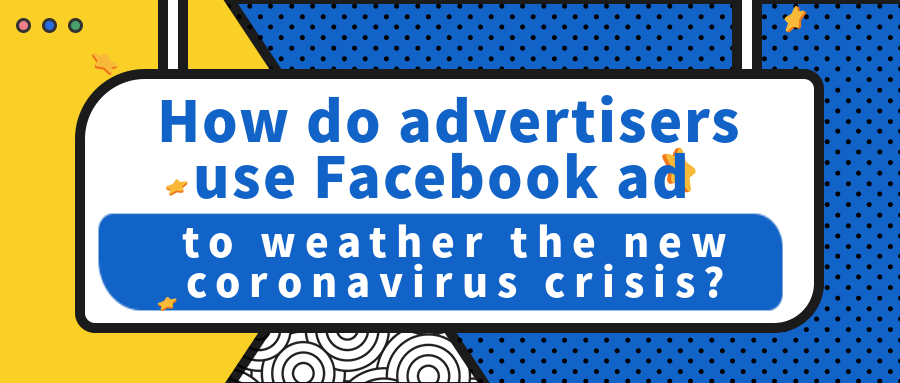 Due to the rapid impact of new coronaviruses around the world, many customers reduced their outing actions and placed online orders instead.
This has brought about drastic changes to the offline retail industry. Many shops have to be closed, and only a few special industries that sell essentials and epidemic supplies survive.
To make matters worse, if the retailer does not trade, it will also have an impact on the retailer who provides retail goods. Trade and Commerce will cancel the retailer's orders in the next quarter, resulting in a predictable decline in orders.
As a result, most physical offline stores have turned to online sales business strategies, and use Facebook Ads to effectively "get traffic."
Most brands have opened Shopify stores, and a few have not. However, due to the limitations of brand impressions and traditional sales models, most of the brand 's Shopify stores are only used to promote impressions. Most brand fans have not cultivated the habit of buying online. After all, these brands generally have discounts and hidden benefits Go offline. At the same time, consumers are used to experiencing brand services and product experiences offline. Now that they have shifted their focus to online, the habit of attracting and influencing consumers in a short period of time has become the primary problem to be solved.
Shopify works closely with Facebook, which means that the materials needed for advertising are ready, such as Facebook pixel tracking and product catalogs. With the establishment of a new brand on the website, the dynamic release of Facebook and Instagram combined with some low-budget advertising creation to increase brand awareness, which is enough to tell consumers: "Hey, we have created a new online store." Guess what, consumers who are unable or unwilling to go out due to the epidemic are more willing to do at home now? From March to April, the retention of users of major social media on the Internet will increase unprecedentedly. This makes the transformation and expansion of the brand very fast and easy.
Choose products to promote
In order to maximize sales in a short period of time, it is too late to spend a lot of time testing advertising campaigns. Therefore, brands have to make their own guesses about all products sold. Products like outdoor users are obviously not the best choice. Household items such as home wear, pajamas, blankets, slippers, and other household items are good choices.
Due to the influence of the new filling virus, the time for consumers to go out is significantly reduced, and many of the consumer scenarios that come with it no longer exist. For example, the cosmetics industry should transfer the main beauty products to the skin care product line. The product can be discounted.
Use dynamic advertising remarketing
Facebook is the location of the top flow, but the conversion of traffic may not be available at once, and even the most urgent promotion is hard to escape from the cognitive → conversion link. Remarketing ads will alert potential customers to ask them to return to your homepage and complete the purchase.
The production of advertising also needs to save time and cost as much as possible to help it enter the market faster. Dynamic product advertising is a good choice. Facebook users can see the same recommendations as the products they are interested in, and the Shopify app also helps Facebook, which automatically synchronizes the product catalog.
Remember, giving special offers during remarketing is a very useful marketing tool. For consumers who are already interested but hesitant, this may be a trigger for conversion.
When you seize the opportunity of this online conversion, there may be other competitors that have either preceded the business opportunities you have found or come after. In this headwind battle, online users are very important. The so-called confidant knows no battle, when your thinking is exhausted or incapable of transforming, go and see the high-quality advertising ideas of those competitors. They may bring you different ideas. Here we recommend BigSpy, you can view related ideas.
For example: select ads created within the last 30 days and sort by the number of likes to find the most interactive material display method and conversion copy.
You can even speculate on the audience segment where your product should be served by viewing the ad 's audience.
The impact of the epidemic on the retail industry is inevitable, but one of the most important things you can do is to establish contact with customers during this time.However, don't over-sell it will cause the user's rebellious psychology, that the heat of the epidemic will also damage the brand's reputation.
What do you think? What Facebook advertising strategies have you adopted to ensure your business safety during this difficult time? Leave us a message and let us know!