Is there a Facebook AD spy tool free?
A few days ago I saw a post on the Internet, a friend asked: "Is there a free Facebook AD spy tool? Is there a way to see what the biggest Facebook ads are? I know a tool &, but their tool costs 200 dollars a month so I'm looking for an alternative."

There are a lot of ad spy tools on the Internet now. Some of these tools say that their ad search is best, and some say they have the largest ad database. In such a complicated tool, advertisers may be lost in such false propaganda. At this time, all advertisers need to do is use them, use personal experience to identify the differences between these tools, and choose the most suitable ad spy tool.
At first, I didn't know much about advertising spy tools, and then as the advertising channels increased, I used a variety of advertising spy tools such as Facebook, Twitter, and Youtube. I am more and more familiar with the ad spy tools that are popular on the market. When I look for ad spy tools, I generally search for "Facebook AD spy free" on Google and then try about 15 websites. In addition to two or three truly free tools, many other tools are paid, and there is no trial permission.
The following is the experimental results of my time, this is my experience analysis of ad spy tool-free:
1. Adespresso
This tool is also good, just look at the title, you will find it is free. But in fact, it is not free to use at will. It only provides a free additional spy function for customers who have already paid. In the site I was told that this is charged, divided into four packages, is not cheap, you are familiar with ad spy tools, you can try.
2. AdLibrary Helper
AdLibrary Helper is a chrome extension, you must install it before you can use it. This is a completely free Facebook ad spy tool. The data of this tool comes from Facebook Ad Library, and then function optimization based on Facebook Ad Library. Facebook Ad Library is Facebook's official database of advertising ideas. It helps us monitor competitors and finds popular advertising ideas. But I often have 2 biggest annoyances when using Facebook Ad Library, search restrictions, and no ad save.
Now that AdLibrary Helper has broken this restriction, we can search for keywords arbitrarily and get relevant advertising ideas. And advertisers can collect any ad you like. Compared with Facebook Ad Library, AdLibrary Helper is more intuitive and convenient to search for ads. After collecting advertisements, it is faster to conduct analysis and research.
If you have been using Facebook Ad Library, you can now use its upgraded version-AdLibrary Helper. Open chrome's online store, search AdLibrary Helper or directly open https://chrome.google.com/webstore/detail/adlibrary-helper/elmjpllbojmpngokjcclfklllfelmgfn.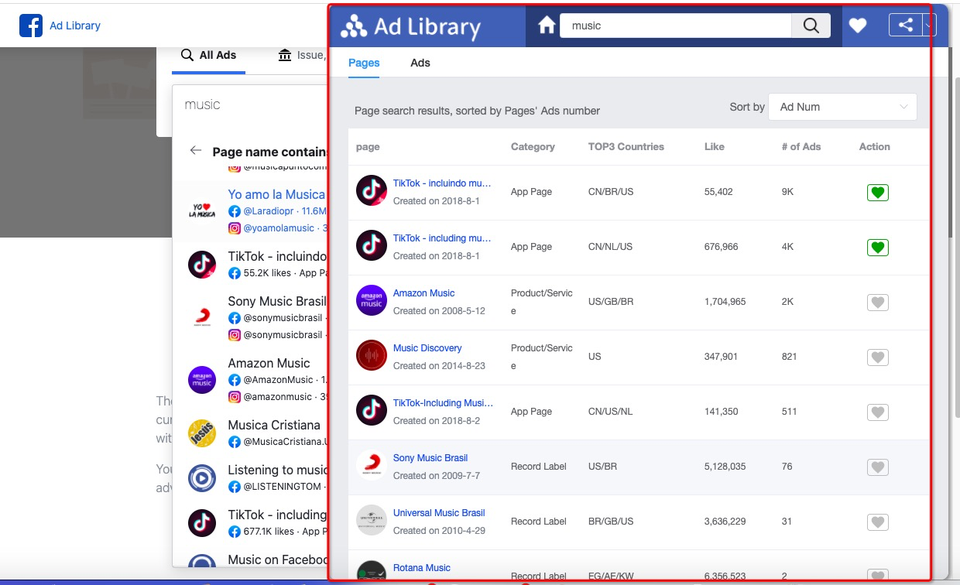 3. BigSpy
BigSpy was created in 2018, and by 2020, BigSpy already has millions of registered users. In just three years, BigSpy is well known and used by many users in spy tools. This tool is powerful because it has billions of ad creative data inventory. BigSpy can monitor Facebook ads related to 40 countries, 76 languages, 7 social media, 10 affiliate networks, and 5 e-commerce software. BigSpy is perfect as a spy tool. It also has 5 keyword searches, 14 advanced filtering, and 5 sorting methods. These technical backgrounds and data foundations provide BigSpy with a strong spreading gene, so how quickly can BigSpy gain users' love.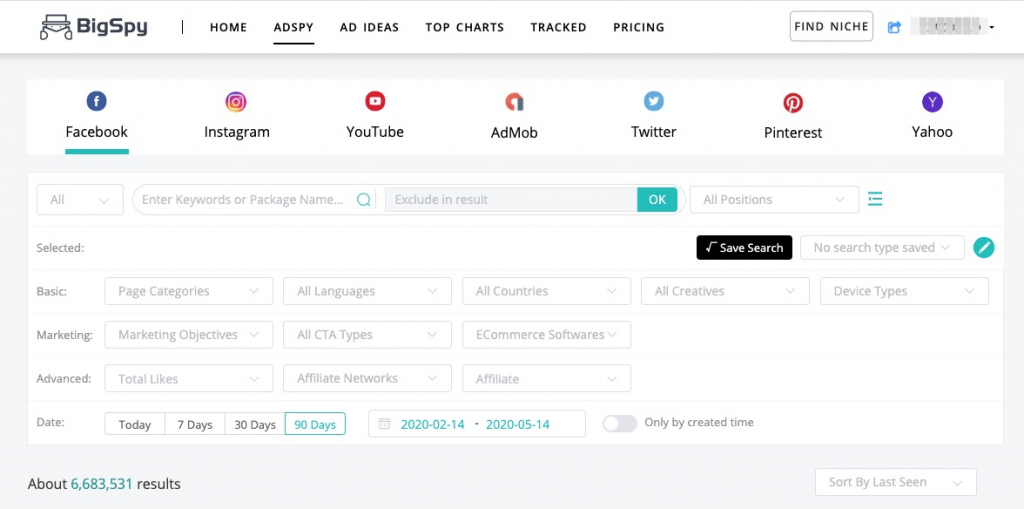 BigSpy's power is not only reflected in these advertising data crawling and user search, but also in advertising analysis and tracking. Click any ad, you can see the changes in user response of this ad in the last 30 days, as well as ad analysis such as ad time, ad audience, and landing page analysis.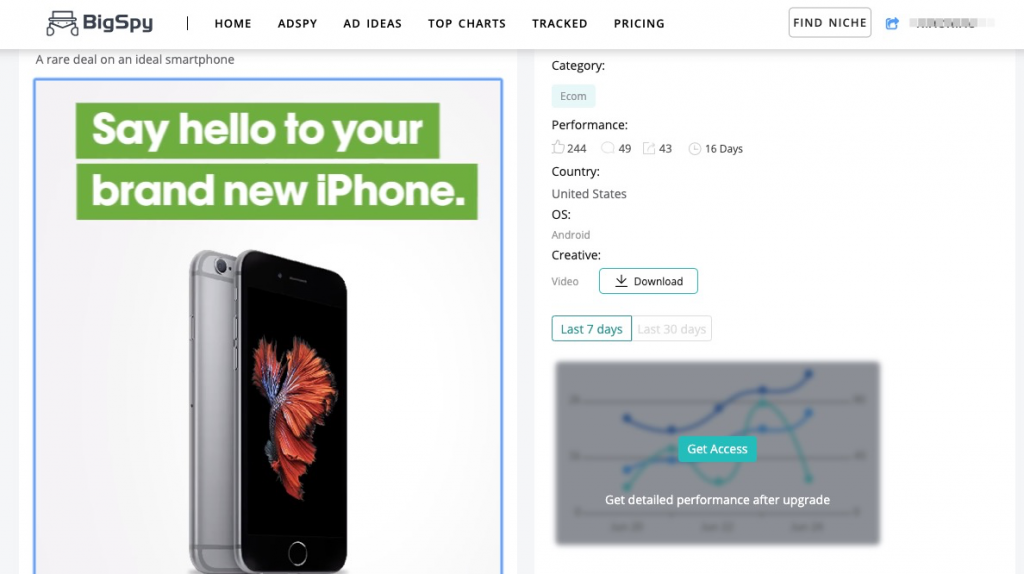 In addition, BigSpy is an ad copy spy tool. Here, you can find a successful Facebook ad copy.
BigSpy supports the free version, and free users can use most functions. Even if advertisers want to use more features, BigSpy's paid version of the basic package is also an exciting price, it only costs $ 9/month to use. Or advertisers can get free access for 1 week by inviting 2 friends.
In summary, my favorite ad spy tool free is BigSpy. Because compared to other tools, this is already a mature ad spy tool. It can help you find popular ad creatives, monitor competitors 'ad dynamics, and even target ad audiences and analyze ad strategies.
Let's have a look at how the BigSpy ads spy tool is used.
First, we visit https://bigspy.com/, then access adspy the columns, you will see Facebook, Twitter, Pinterest, and so on, and then find a Facebook ad spy this section. of course, in order to more convenient we use, we can register an account, then enter a product in Facebook ads and keywords, and then look at the competitor's advertising, what are the most popular ad, Which ad ideas can provide us with reference and so on.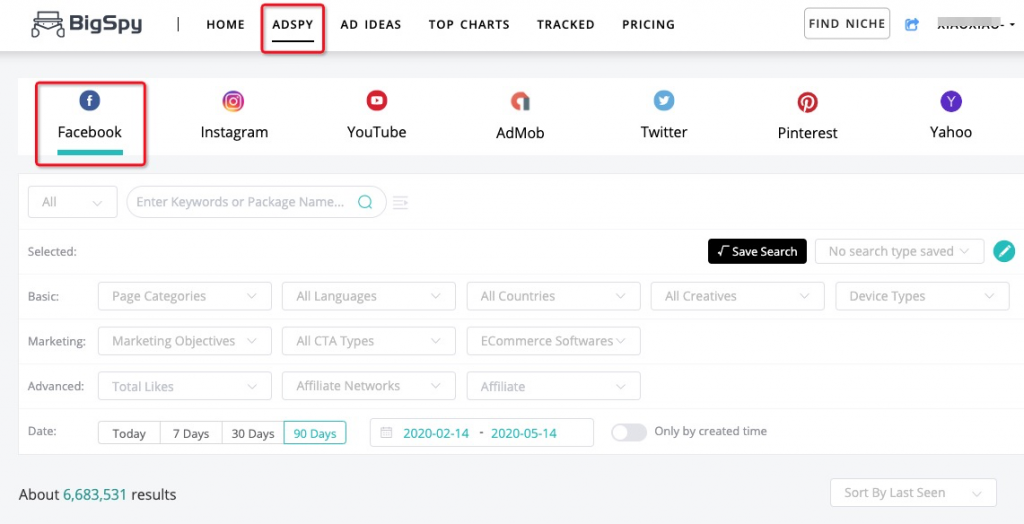 Of course, if you think this tool is good, then you can share it with your friends, or share it with your Facebook, Twitter, and other social accounts to benefit more friends.