#1 TikTok Ads Spy Tool
BigSpy gives you all the resources you need to spy on competitors' TikTok ads.

To get a head start, it's time to use it to analyze the best TikTok ads examples, learn what's working, and get inspiration for your business.
Start for Free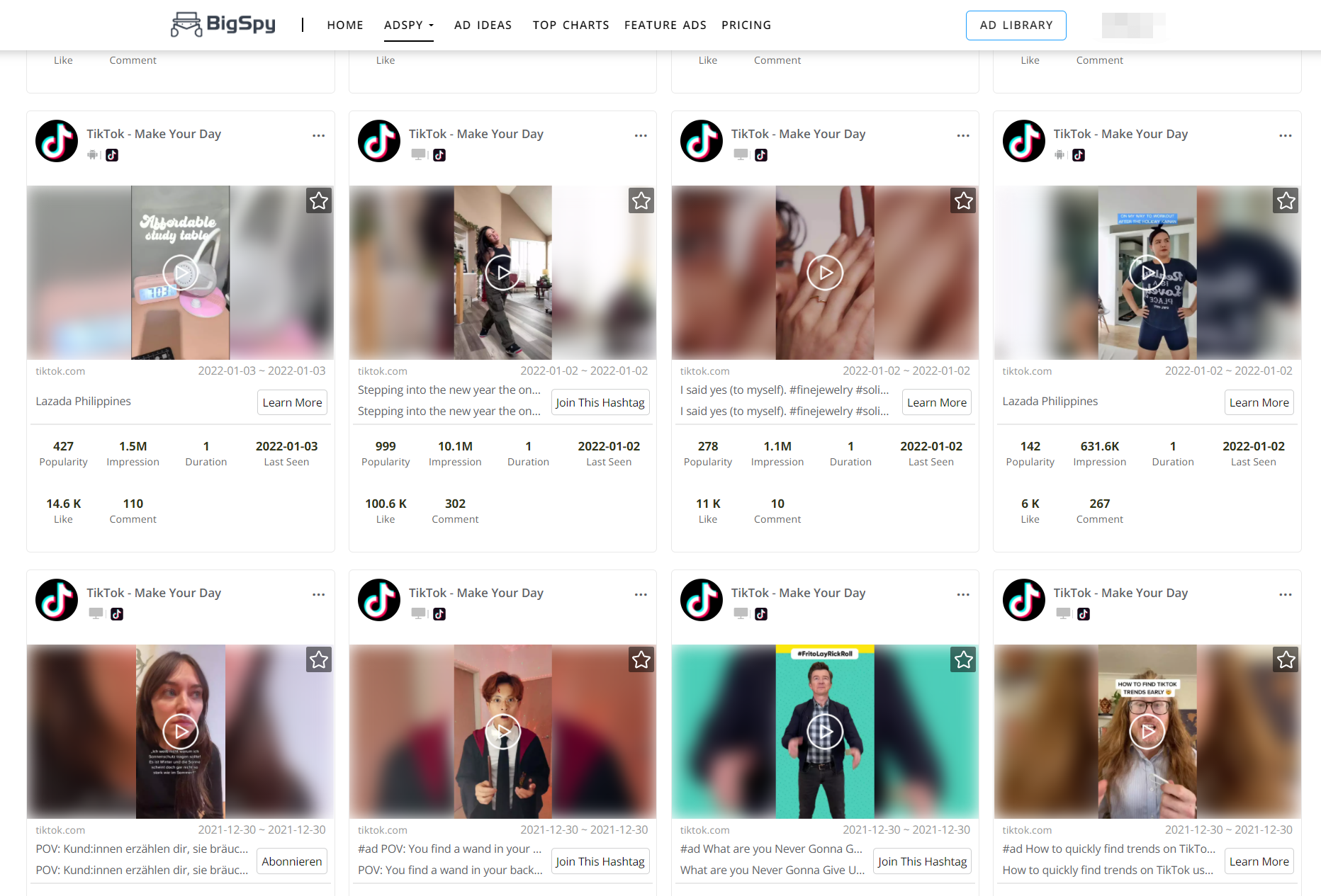 The Right TikTok Ads Spy Tool Hype Up Your Business.
Know Competitors' TikTok Ads Strategy Exactly

Tracking your competitors is a great way to see how people in your space are running TikTok ads and provide you with a significant competitive advantage.

We monitor the most profitable TikTok ads for you! Advanced options for searching, filtering, sorting, and analyzing are available.
Search Now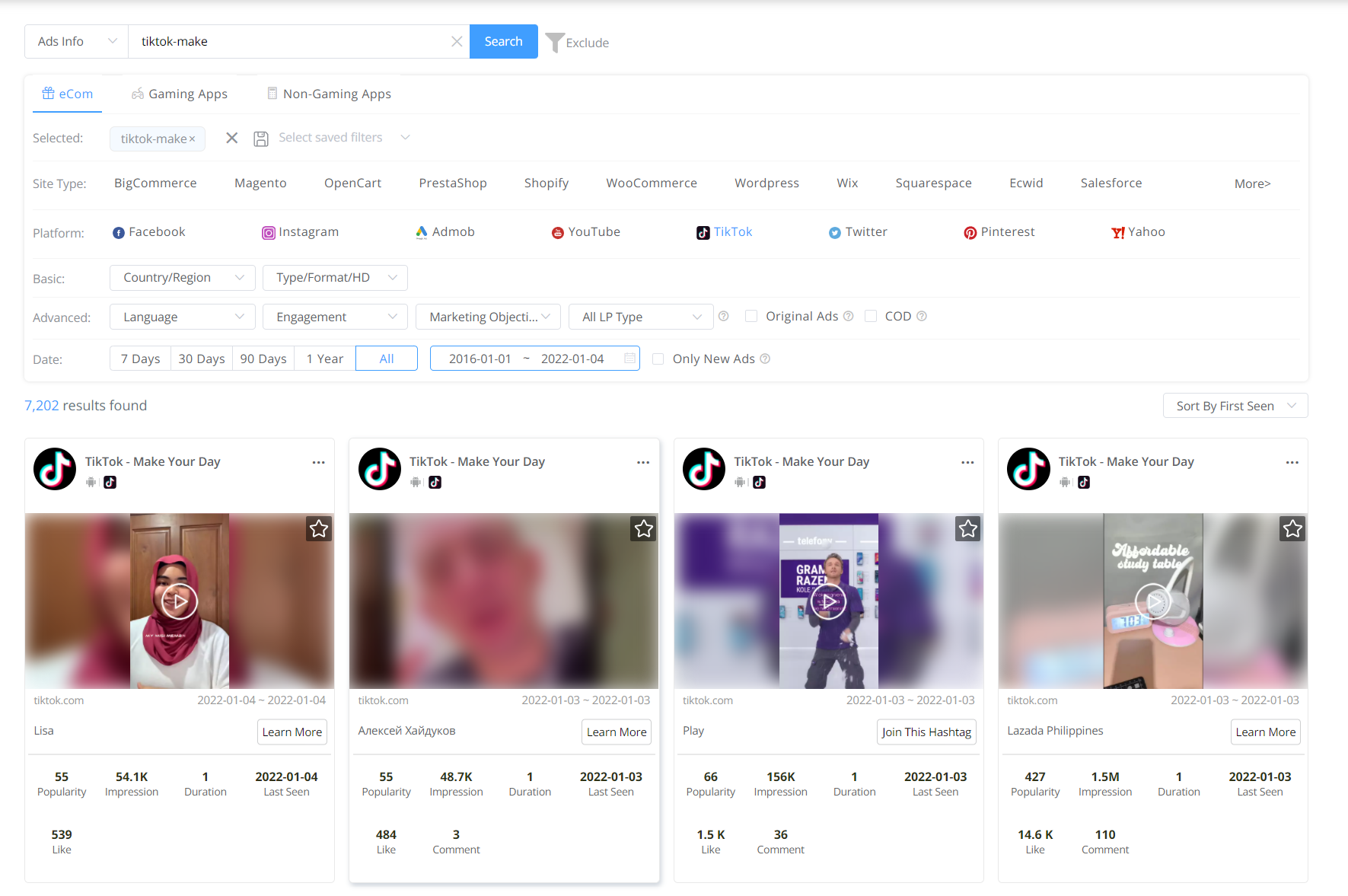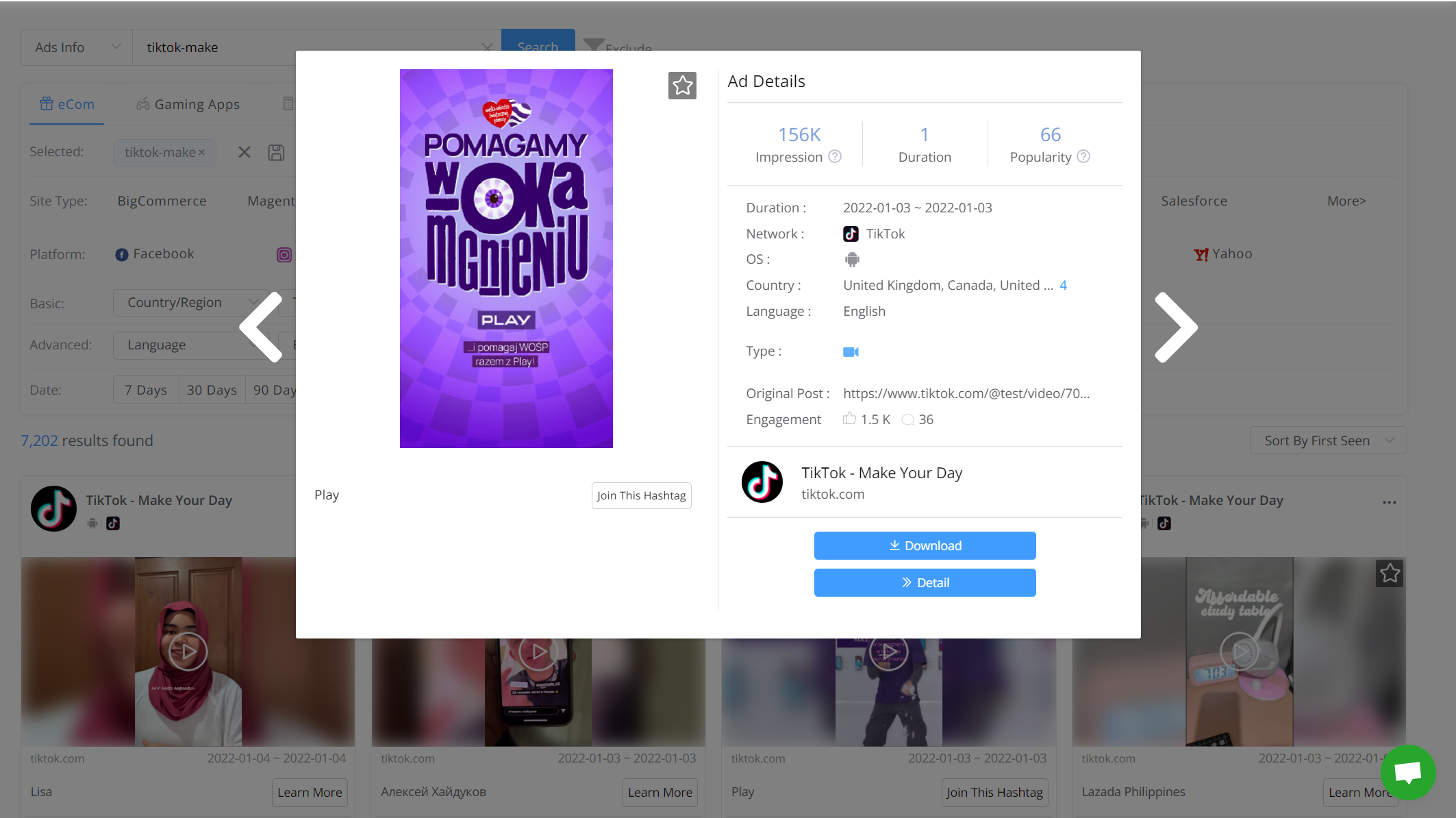 Learn From TikTok Ads Best Practices Easily

If you've been struggling with creatives or targeting, a closer look at the marketing leaders' strategies may jumpstart your next brainstorming session.

We give you the advantage to analyze every aspect of your competitors' TikTok Ads strategy.
Check Now
Get Ideas for New/Hot Products from TikTok Ads

More and more sellers are promoting their products through TikTok ads, which is a new creative way to reach potential customers, especially young people.

We support you in tracking best-performing TikTok ads and winning products, especially from e-commerce, games, and apps.
Explore Now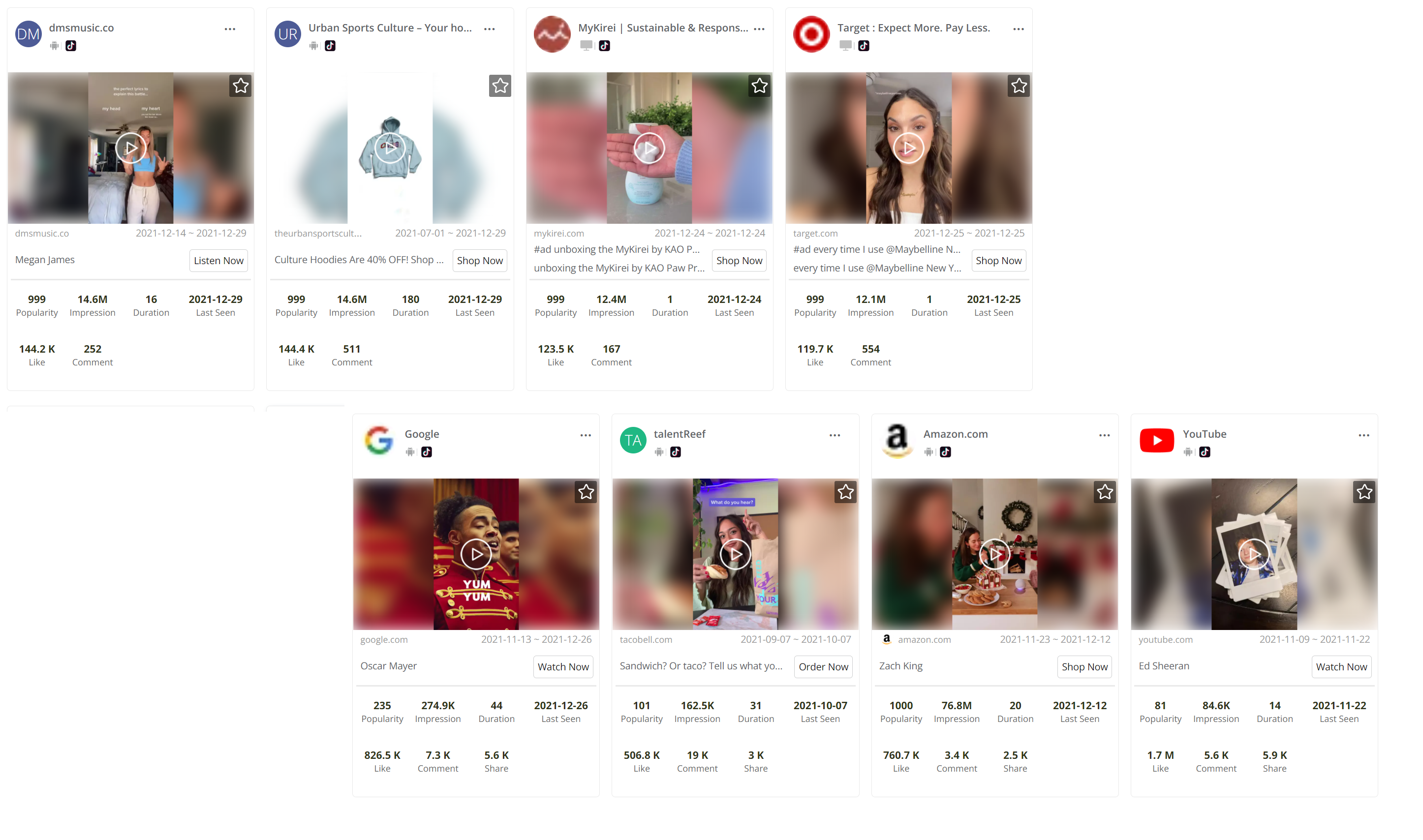 Remove the Guesswork with TikTok Ads Spy Tool!
FAQ
Frequently Asked Questions
1. About TikTok Ads Spy
2. About TikTok Advertising
TikTok offers a variety of ad types and then uses its own algorithm to deliver ads to the right target market. TikTok categorizes ads into three parts: campaigns, ad groups, and ads. Brands are asked to pick a campaign objective, target audience demographic info and a bidding method. TikTok Ad options include:
- TikTok In-feed Ads: appear natively in the feed
- TikTok Brand Takeover Ads: appear when users open the app
- TikTok Branded Hashtag Challenges: appear on the Discovery page and encourages users to create content and use the desired hashtag
- Branded AR content: appear as branded stickers, lenses and other interactive content
- Custom influencer package: appear as sponsored content created by an influencer
TikTok Ad budgets start at $50 minimum at the campaign level and $20 at the ad group level. You are able to control costs based on different bidding methods on TikTok Ads Manager. There are some specific campaigns may help you benchmark your own spending:
- Online gaming marketplace G2A used video ads to achieve 12 million impressions at $0.16 CPM and $0.06 CPC.
- Mobile games publisher Playa Games used video ads to achieve a 130% return on ad spend with a €0.06 CPC.
Similar to other social media ads manager, TikTok Ads Manager is a useful tool to create, launch, manage and process ad campaigns on TikTok.
TikTok's ads library tool supports searching for the best performing TikTok ad campaigns by vertical and region to get inspiration from their methods.
Each platform offers unique benefits and targeting options. It totally depends on your business and your target audience.

(1) TikTok Ads VS. Facebook Ads
- Lower competition:
TikTok is a relatively new marketing platform. Relatively speaking, you don't have to worry about the fierce competition on TikTok. At the same time, the same fact means that there are fewer ads on TikTok, making it easier and cheaper for you to stand out and reach your audience.
- Younger Audience Targeting:
There are differences in the main user groups of these two platforms. About 41% of TikTok users are between the ages of 16 and 24. In comparison, 31.3% of Facebook users are between the ages of 25 and 34.
- Specific Ad Types & Formats:
TikTok does not allow static image ads, only video ads with a vertical ratio of 16:9. TikTok has a unique ad format, the branded hashtag challenge.

(2) TikTok Ads VS. Google Ads
- New Advertising Channel:
The biggest advantage of Google Ads is the huge audience size. With more than 40,000 search queries per second, no other search engine can offer an audience as large as Google's potential. However, TikTok surpassed 1 billion users in September 2021, and TikTok ads can now reach a global audience of approximately 825 million adults (18+).
- Unique Ad Style:
Both financially strong brands and smaller ones can advertise on TikTok in the form of in-feed, short video ads. What's more, there's a style of advertising that only TikTok can offer. The ads don't look like ads and blend in completely with the user-created videos.
Our All-In-One Solutions
---
The best and cheapest ad spy tool, with competitive Ads intelligence from 80 countries and 23 languages, covering 7+ social platforms