6 Free Tools to Monitor and Track Your Competitors' Ad Campaigns
After entering the 21st century, with the development of science and technology, marketing has entered a diversified era. In this rapidly developing and changing world, in order to not fall behind the times, in addition to constantly understanding the latest trends, Carefully study the competitor's marketing strategy.
A key step in understanding your competitors: monitor and track your competitor's online advertising campaigns. There are many advertising channels for marketing. How can you accurately grasp the advertising information of competitors for the first time? What good tools are available to help us monitor and track competitors' online activities faster?
1.Semrush
Semrush is a tool for keyword research that helps us analyze google keywords, research competitors' google ads, and view display ads.
1. Competitor website traffic statistics
Steps: Enter the competitor's website domain name and you can see the traffic statistics of the competitor's website.
The competitor data displayed includes website organic search traffic, website paid traffic, the number of keywords, traffic value, country, and other data.
Use Semrush to monitor how much traffic from a competitor's website traffic comes from Google ads, and how much it costs, based on these two data to determine the effectiveness of competitors' google ads.
2.google Display Advertising detailed data
Steps: Click on "Display Advertising" in the left column
Enter the competitor domain name
Countries where competitors are advertising, gender, age, and interest of advertisers
Ad type, ad style, days of ad delivery, google keywords, landing page, ad image, and text
Using Semrush, you can analyze the keywords, competitors used, and advertising time of competitors' google ads in more detail, and have a deeper understanding of competitors' display ads.
With over 800,000,000 keywords, Semrush can directly view competitor keywords and track whether competitors' traffic is stable through keywords.
Pricing: Semrush starts at $99 per month
2.Alexa
Alexa is a tool focused on analyzing competitors. Alexa ranks websites and can clearly see the gap between competitors and our website.
By monitoring the website, Alexa finds out how competitors are outstanding in terms of traffic, keywords, backlinks, and more. Then benchmark your site to identify gaps in the strategy, and determine the strengths and weaknesses you can take advantage of.
Alexa can monitor the gap between competitors and their own websites, and gives optimization suggestions, mainly for SEO, with less advice on advertising monitoring.
Pricing: starting at $149 per month
3. Similarweb
Similarweb is a comprehensive analysis tool for competitor websites. With Similarweb, you can visually see the proportion of website traffic sources.
The results of Similarweb analysis of competitors mainly include website traffic ranking, website traffic overview, traffic source area, traffic acquisition method, main access content, website audience, competitors, and so on.
Website Traffic Profile: Similarweb will update the total number of visitors to the site in the previous month at the beginning of next month.
Traffic source area: Similarweb will analyze the traffic percentage of each country on the website.
Ways to get traffic: comprehensive analysis of each website traffic source channel, common channels are: direct source, organic search, social media, third-party channels, mail, display advertising
Through the traffic acquisition method, you can see which channel the competitor mainly relies on to obtain traffic.
For example, we search for alibaba.com
You can see that it's the main way to get traffic is a direct source and organic search.
Similarweb also analyzes the data for each source in detail:
For example, Alibaba's third-party source website is mainly aliexpress.
In Social Traffic, we can see that the main source of traffic for Alibaba social media is Facebook.
In top publishers, we can see the main display channels. The display channel of Alibaba is mainly yahoo.
4.SocialPeta
SocialPeta is a social marketing ad analytics intelligence tool that monitors ad creatives, ad performance, and more.
The social channels currently supported by SocialPeta are: Facebook, Youtube, Instagram, Google, Reddit, twitter, yahoo, and many other comprehensive platforms.
1. Find competitors' ad creative
SocialPeta uses big data analytics to find the most eye-catching advertising ideas, and the need to evaluate advertising data and creatives. Learn about popular creatives by country, ad category, and platform. And through the creative ideas of different industry types, get the creative design inspiration, and create high-quality creative materials.
2. Get competitors advertising strategy
Monitor competitors, identify competitors' competitive advantage, monitor market performance and advertising effectiveness of competitor products, and develop effective response strategies
Monitor competitors. Compare ad channels by country, category, platform, and idea, and find the best ad channel and ad style for you
Pricing: starting at $59 per month
5.BigSpy
BigSpy is an ad creatives and copies spy tool. BigSpy monitors and tracks ads from many social channels. You can also use search filters to see the specific ad styles of your competitors and the performance of your ads.
The social platforms supported by BigSpy are: Facebook, Youtube, Twitter, Pinterest, Instagram, AdMob, Yahoo
1. Search filtering function: select the most suitable advertisement from various angles such as advertising time, advertising format, advertising creative, industry, crowd, activity, etc., and also input the brand name of the competitor, the industry keyword, etc. Ways to find the ad you are looking for!
2. Tracking and collection function:
Click on the top right corner of any ad and there are three options: track, favorites, search.
Track: After clicking track, you can track the ad performance, ad audience, landing page for the last 7 days, or the last 30 days.
Favorites: If you feel that this ad is very good, or if you want to check the effect of this ad, you can choose to collect, and all the ads in your collection will be displayed in your personal information.
Search: Click on "search" to find all the ads that this advertiser has posted.
BigSpy can sort the multiple ads that are queried. There are six ways to sort them: first time, last time, like, comment, share, heat.
From these six sorting methods, you can find the latest ads, historical ads, and more popular ads.
4. Ad Creatives And Copy Analysis
BigSpy has a report page that periodically updates top10 ads in every industry. BigSpy collects advertisements from various industries according to the user's reaction and analyzes the best 10 advertisements. Based on these advertisements, we can see how users prefer ads in the industry and which ads are more popular.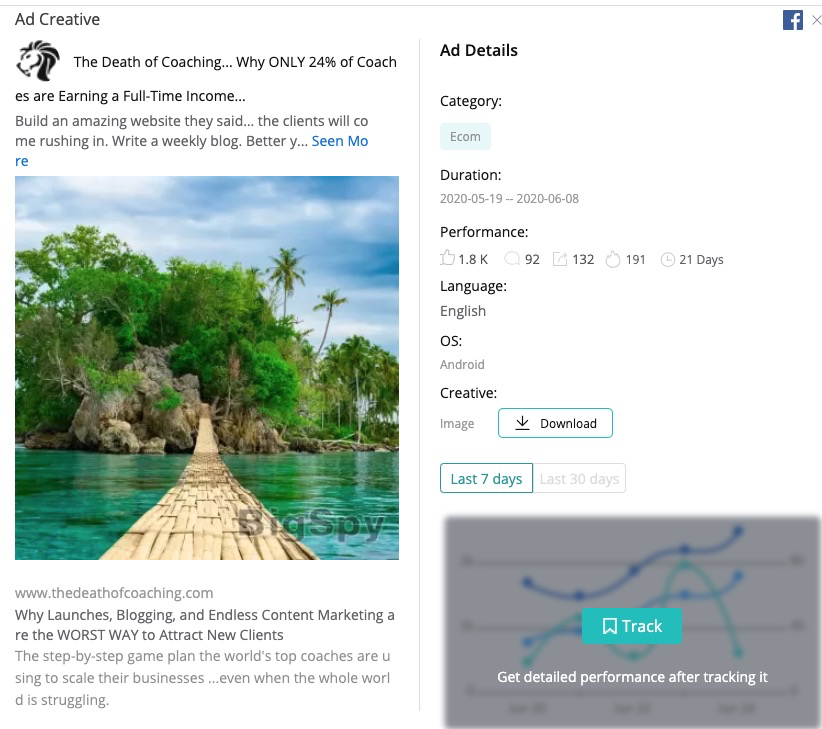 5. Monitor competitors' ads
BigSpy is a monitoring tool. We can use bigspy to view ads from competitors on multiple social platforms such as Facebook. The creatives, advertising time, user response, ad audience, and other data of these ad operations can be seen.
6.FindNiche
FindNiche is a dropshipping niches finder tool for AliExpress and Shopify, which contains detailed information from more than 1,000,000 products, 11,000 niches, and 700,000 Shopify stores.
More than that! It integrates AliExpress and Shopify, and you can check your Shopify competitors' Facebook page and ads as well, also, you can check one product that is selling well on AliExpress as well as are popular on Facebook and then check how many Shopify competitors are selling this one, allowing to know if there is a chance for you to make a splash.
1.Find your Shopify competitors' Facebook ads
You can easily find your Shopify competitors' Facebook page through FindNiche. As it has shown below, when I search this term "socks" on the search bar, then I get results regarding Shopify stores that are selling socks or socks related products, then I could check their target countries, past 30-day Facebook ads, as well as their FB likes. And I can also enter into their store and their FB page to check what kind of marketing strategies they take to promote their Shopify stores.
2.Discover more dropshipping niches creative ads that are popular on Facebook
FindNiche is designed for dropshippers to find more dropshipping niches, the truth is, they made it. In one of their features, they will update 20 dropshipping niches picked through the AI algorithm on a daily basis. You can get a huge amount of product detailed information from it, such as product's price on AliExpress, Shopify store's selling price, product resell profit, as well as the number of Shopify stores that are selling this product, and more importantly, you can directly click to check the advertisement of this product on FB (as shown in the figure below). Find out the secrets of these FB ads regarding popular niche products, steal some inspiration or ideas from the successful cases, to optimize your ads, and make smarter decisions for your e-commerce business.
The above six tools can monitor and track competitors' online advertising activities, including semrush mainly monitors google advertising campaigns; SocialPeta and BigSpy mainly monitor social platform advertising campaigns; And FindNiche mainly used to find dropshipping niches as well as FB ads of these niches, meanwhile, you can spy Shopify competitors; Alexa and similarweb mainly conduct all traffic to competitors Monitoring, including advertising campaigns.
Among these tools, BigSpy is free, and other tools can be used for free trials. If you want to have a detailed understanding of the competition, you can use the above tools to monitor and track Competitors' Ad Campaigns!